It's Hard to Understate Marvel's Importance to Disney Plus Fifty-two percent of subscribers would ditch the service if Marvel wasn't included, and 57 percent would pay extra for Marvel content if asked
Written By – Stephen Lovely, Managing Editor | Published: April 6th, 2021
Even before Disney Plus launched in 2019, it was clear what fans should expect. Disney pledged that its streaming platform would be the "forever home" of films from beloved Disney-owned franchises like Star Wars. And no franchise — not even Star Wars — was as big as the Marvel Cinematic Universe, the wildly popular comic book-inspired film family that includes some of the highest-grossing and most popular movies ever made. To find out just how vital Marvel properties are to Disney Plus, we examined popular attitudes toward Marvel properties and studied the relationship between Marvel fandom and Disney Plus subscribership.
Key findings:
When it comes to excitement surrounding new MCU content, sequels overtake new developments. Marvel fans are most excited about Deadpool 3, Black Panther 2, and Guardians of the Galaxy 3.
As the X-Men integrate into the MCU, Disney may want to move that content to the top of the slate. Gambit is the #1 character fans want to see that Marvel has not yet brought to life.
The MCU is critical to the success of Disney Plus – over 4 in 10 people say that Marvel content is the main reason they subscribe.
Marvel's Dedicated Fan Base
The Marvel Studios model of interconnected films and franchises has changed how Hollywood does business. But, as other studios and franchises have shown, the Marvel formula isn't as easy to reproduce as it may seem. Above all, these movies and TV series are popular: as simple as it may sound, people just like these movies.
But just how popular are Marvel films and TV shows? We found that an outright majority of respondents self-identify as Marvel fans. A full 40 percent consider themselves to be "huge" fans, while another 26 percent say they're "somewhat" into Marvel. The broadly popular Marvel universe has almost no true "haters:" only 14% of viewers are "not at all" fans.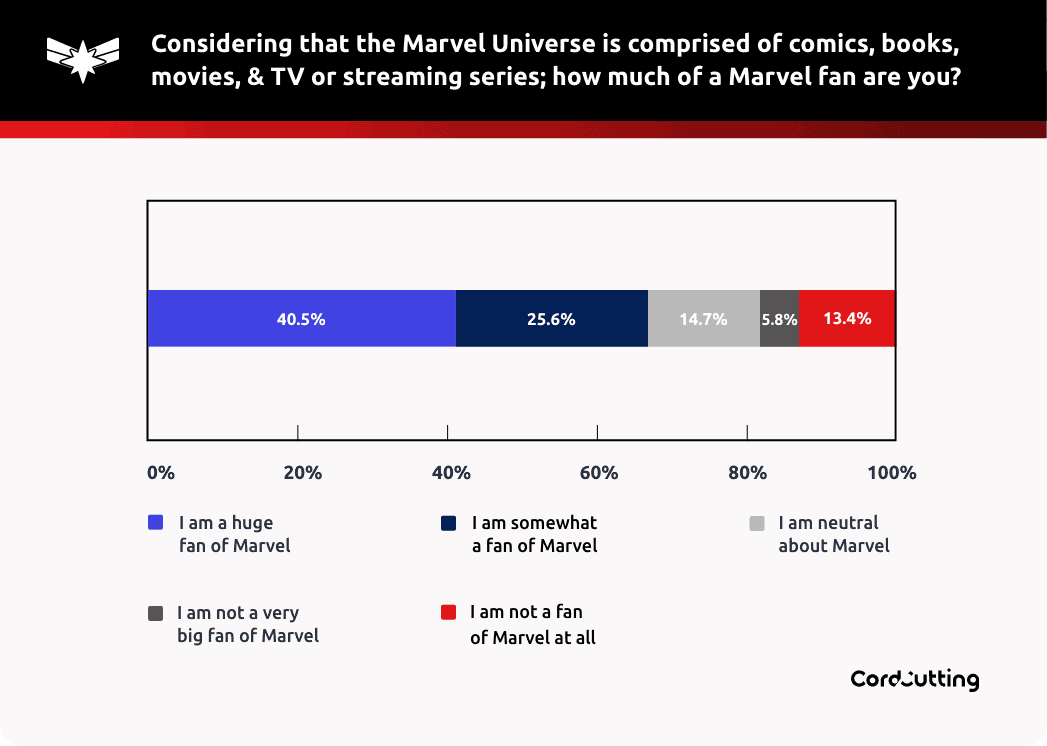 The combination of die-hards and casual fans is an impressive demonstration of Marvel's success. It's not hard to find pop culture touchstones that are either deeply popular among a core group of super-fans or broadly popular among casual fans, but it's rare to find something that, like Marvel, is both.
Marvel has taken full advantage of this unique position. Its films and TV shows interconnect, rewarding die-hard fans with fully realized versions of comic book stories while keeping casual fans on the edges of their seats with cliffhangers and tie-ins. For Marvel fans, there's always a next film or next show — with plenty of hype to go with it.
Marvel's Hype Machine
Marvel Studios and Disney Plus have a huge number of projects scheduled. But which ones are building the most hype?
When forced to choose, fans gave top props to "Deadpool 3," a planned sequel to a franchise that started under Fox ownership before Disney acquired 21st Century Fox in a blockbuster deal. Other sequels ranked high, too: Black Panther 2 and Captain Marvel 2 both loom large in fans' imaginations.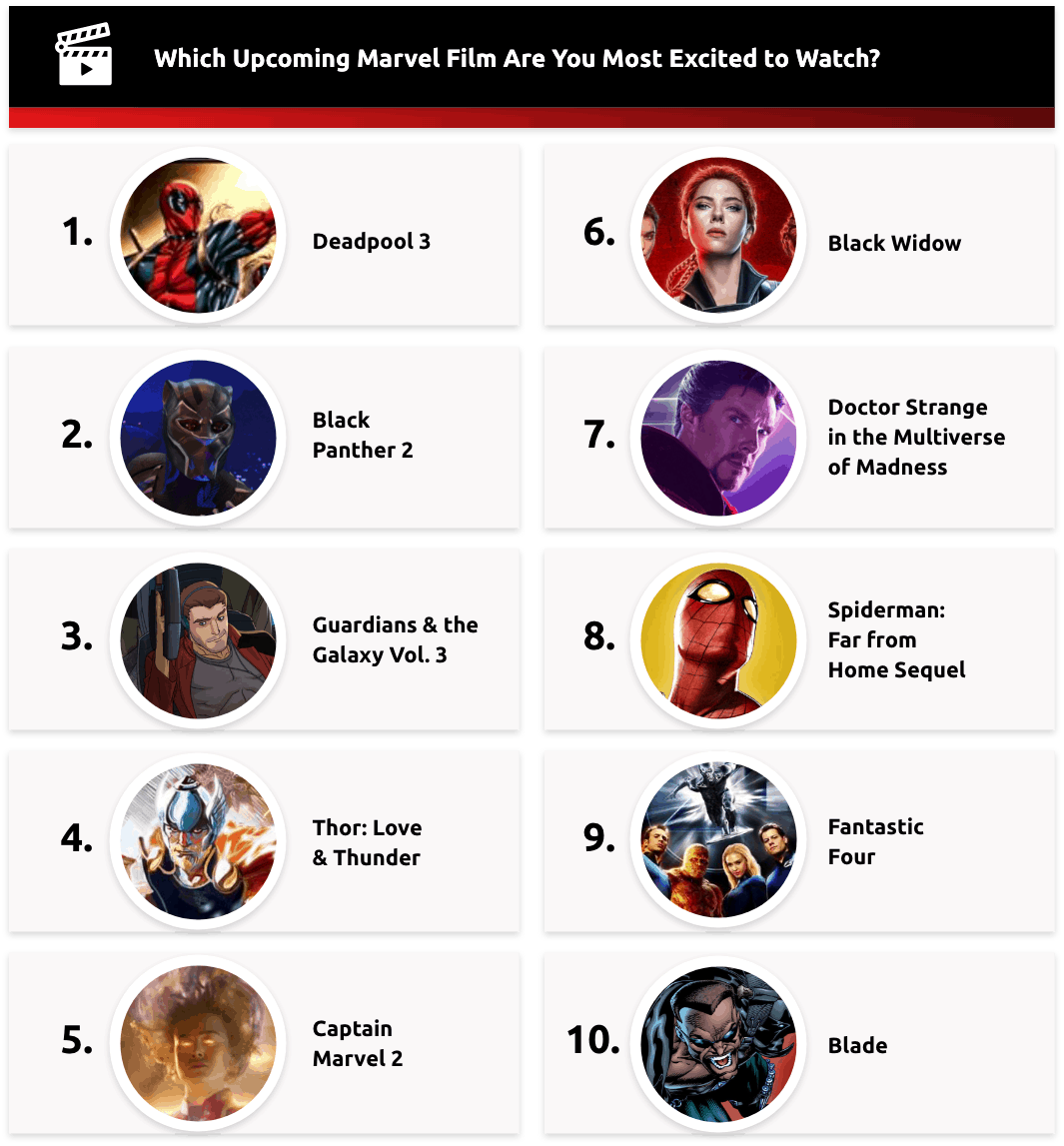 It's worth noting that Marvel buffs have long had to deal with certain omissions from the Marvel Cinematic Universe because the rights to some big characters — including the Fantastic Four, Deadpool, X-Men, and (for a time) Spider-Man — were in 20th Century Fox's hands rather than Marvel Studios'. Thanks to the Disney-Fox merger, Disney is bringing the full family together at last. This helps explain the hype for Deadpool's latest film, as well as for the Fantastic Four's planned movie.
On the TV side, fans are by far the most hyped about "Ms. Marvel," with 43% of fans placing it in the Top 3 series they're most excited about watching. This is closely followed by "The Falcon and the Winter Soldier," "She-Hulk," and "Loki," each one being highly anticipated by about a third of fans.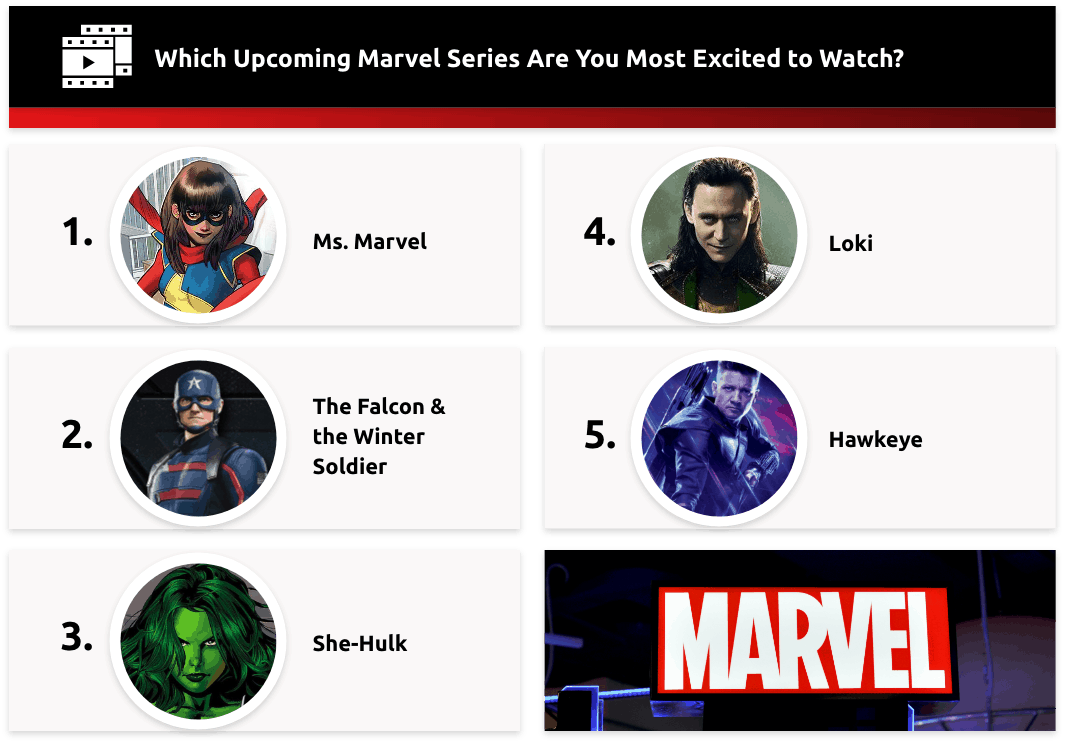 Building Characters
Marvel's upcoming movies and shows are clearly highly anticipated. But fans don't limit their excitement to specific planned titles. Marvel fans are very opinionated about which characters they'd like to see next — regardless of whether a film or TV show has been confirmed for that character.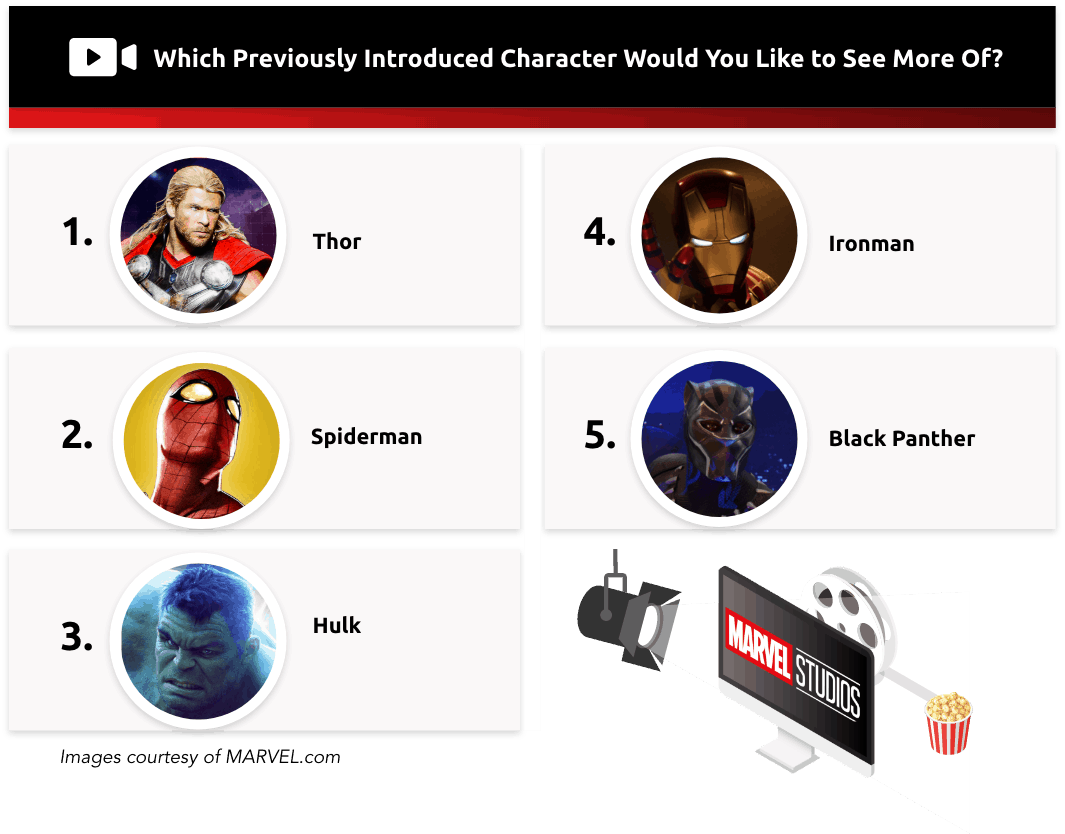 Among characters that have already made their MCU debut, the ones that fans most want to see more of are Iron Man, the Hulk, Spider-man, and — most of all — Thor. Interestingly, Captain America is a far less popular pick. That may be because the version played by Chris Evans seems to have left the MCU for good, but Iron Man — whose arc in "Avengers: Endgame" seemed at least as final as Captain America's — doesn't seem to have any issues with fans thirsting for more content.
As for characters who haven't yet come to the Marvel universe, enthusiasm is understandably high for the imminent arrivals of the iconic Fantastic Four and the X-Men. Clearly, Disney and Marvel Studios have done a good job of ensuring character debuts that fans are clamoring for, because most fans were hard pressed to name a new character that Marvel hasn't already brought to life. Rising to the top was Gambit of the X-Men. Fans have been waiting for a standalone Gambit film to be on the big screen since 2014, but development was scrapped after Disney bought 21st Century Fox. Fans will have to wait to see if he finally gets screen time in the upcoming X-Men title.
Marvel Content is the Lifeblood of Disney Plus
The hype is good for Disney Plus, which will be the home of Marvel Studios' new TV series as well as the eventual home of the theatrically released MCU films. Disney Plus' packed released schedule suggests that Disney understands just how crucial Marvel content is to the success of its streaming service. With all due respect to Star Wars and Disney's animated classics, it's difficult to understate just how crucial the MCU is to Disney Plus' success. A huge portion of respondents who subscribe to Disney Plus — 43 percent — identified Marvel content as the "main reason" they pay for the service. Fewer than five percent said it was a total non-factor.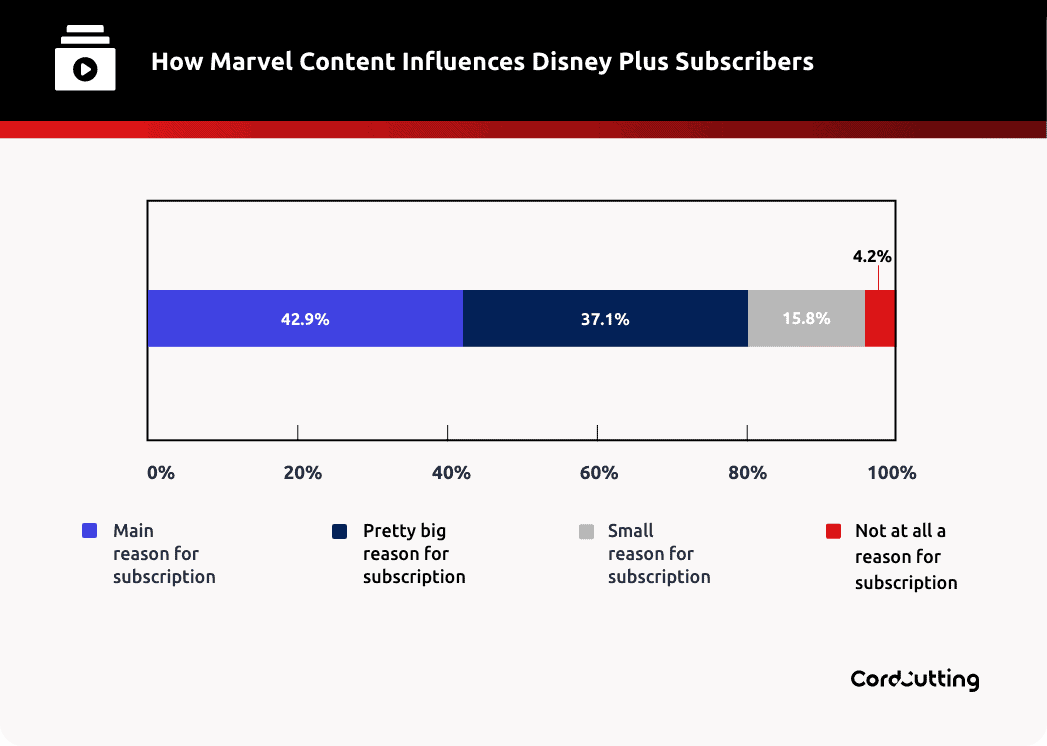 A majority of Disney Plus subscribers told us they'd cancel the service if Marvel content left the platform. Another 21 percent weren't sure; only 28 percent committed to sticking around. Given Disney Plus' subscriber base of 95 million, that's a potential loss for Disney of roughly $410 million a month! The good news for Marvel fans (and Disney) is that Disney owns Marvel Studios, making a split between Disney Plus and the MCU prohibitively unlikely.
These results are impressive, but not unusual; pollsters know to expect aggressive responses to questions like this. But, by the same token, respondents are typically reluctant to admit they'd pay a penny more for a given service or product — and this is where our results become particularly impressive.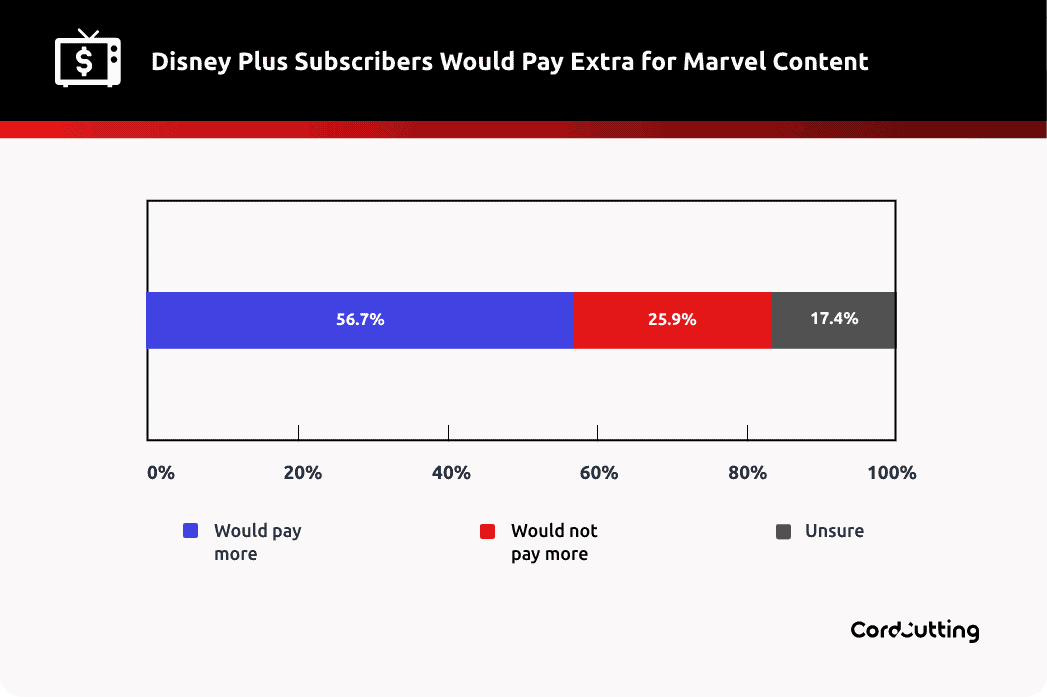 A stunning 57 percent of respondents told us they'd be willing to pay more for Marvel content if Disney offered that content as a paid add-on, rather than as a part of the usual Disney Plus subscription.
Fan and Super-fan
Marvel's broad popularity makes it important to a huge portion of subscribers. But the deep commitment of Marvel's super-fans is on another level.
As expected, a huge number of Marvel super-fans identified Marvel Studios content as the main reason they subscribe to Disney Plus. Sixty percent said they'd cancel Disney Plus if Marvel content was removed — nearly double the (still significant) figure for casual fans.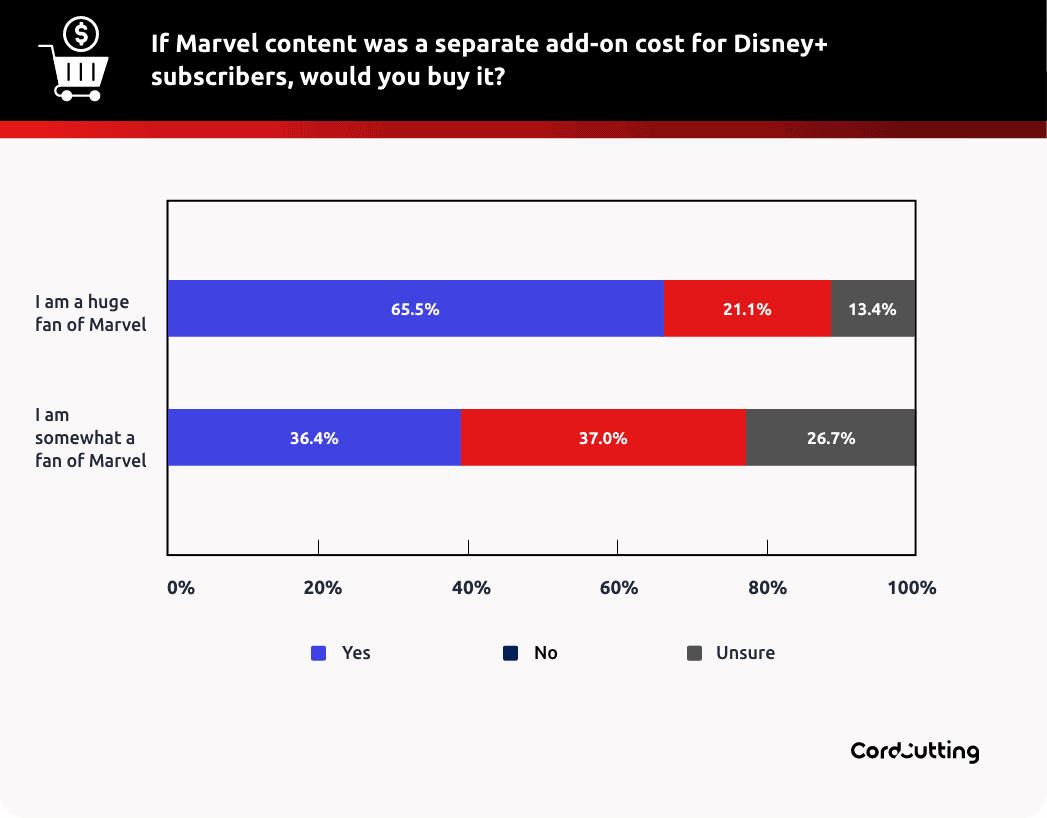 Sixty-six percent of die-hard Marvel fans said they'd pay extra for Marvel content if it were not included in the standard Disney Plus subscription. That's remarkable, though the 36 percent figure among casual fans may be even more telling: even to less serious Marvel fans, the superheroes are crucial to the Disney Plus experience.
Disney Plus had nearly 95 million subscribers at last count, a figure that makes our results even more eye-popping. The 57 percent of subscribers expressing a willingness to pay more represent more than 54 million subscribers, making even a small price increase of $2 worth $108 million a month. Of course, Disney would also have to worry about the potential fallout among the roughly a quarter of all Disney Plus subscribers who say they'd refuse to pay extra for Marvel content.
Of the two groups, super-fans were more likely to already subscribe to Disney Plus.

How Can Disney and Marvel Cater to Casual Fans and Super-fans?
It's clear that Marvel enjoys huge numbers of both serious fans and casual viewers. Both of these groups are into Marvel movies and TV shows, but there are important differences between them.
While both casual fans and super-fans are excited to see the Fantastic Four — widely considered to be the biggest Marvel Comics franchise not yet in the Marvel Cinematic Universe — make their MCU debut, casual fans are actually a bit more likely to cite the Fantastic Four film as one they're looking forward to most. Die-hards, for their part, were more likely to indicate excitement for the upcoming Disney Plus series "Loki."
The enthusiasm gap for "Loki" may have something to do with Loki's less prominent status (or his identity as a villain rather than a hero) — but it might also be explained by a knowledge gap. The heroes in "The Falcon and the Winter Soldier" aren't necessarily Fantastic Four-level characters, either, but the enthusiasm gap for that show is much smaller than it is for "Loki." Since "The Falcon and the Winter Soldier" has the benefit of a big Disney Plus ad campaign, this suggests that enthusiasm gaps for shows and lower-profile heroes could shrink as release dates creep closer and Disney begins putting its considerable muscle behind promotional efforts.
In other words, just as with the films, the super-fandom of die-hard Marvel buffs may help drive the expansion of the Marvel Universe into more niche ventures like "Loki" and the upcoming "Hawkeye" show — but the breadth of the MCU's popularity (and the deep pockets of Disney) ensure that casual fans get interested, too, converting niche characters into pop culture icons and funding future dives into the stories of supporting characters and villains. It's a recipe for success that seems unlikely to stop working anytime soon.
About Cordcutting.com and this research
Cordcutting.com explores streaming media in America and beyond. To support our mission of helping consumers make the best cord-cutting and streaming choices, our research team examines consumer behavior, tendencies, and trends in streaming media consumption. Our polling and research inform our coverage of the streaming space, which also includes reviews and comparisons of every major streaming TV service, platform, and device.
For this research, we surveyed more than 850 U.S. adults about their Marvel Cinematic Universe fandom. Further research was conducted with 545 adult American Marvel fans who currently subscribe to Disney Plus. Our survey was conducted online. Our sample is selected and weighted in order to best reflect the demographics of the nation at large.