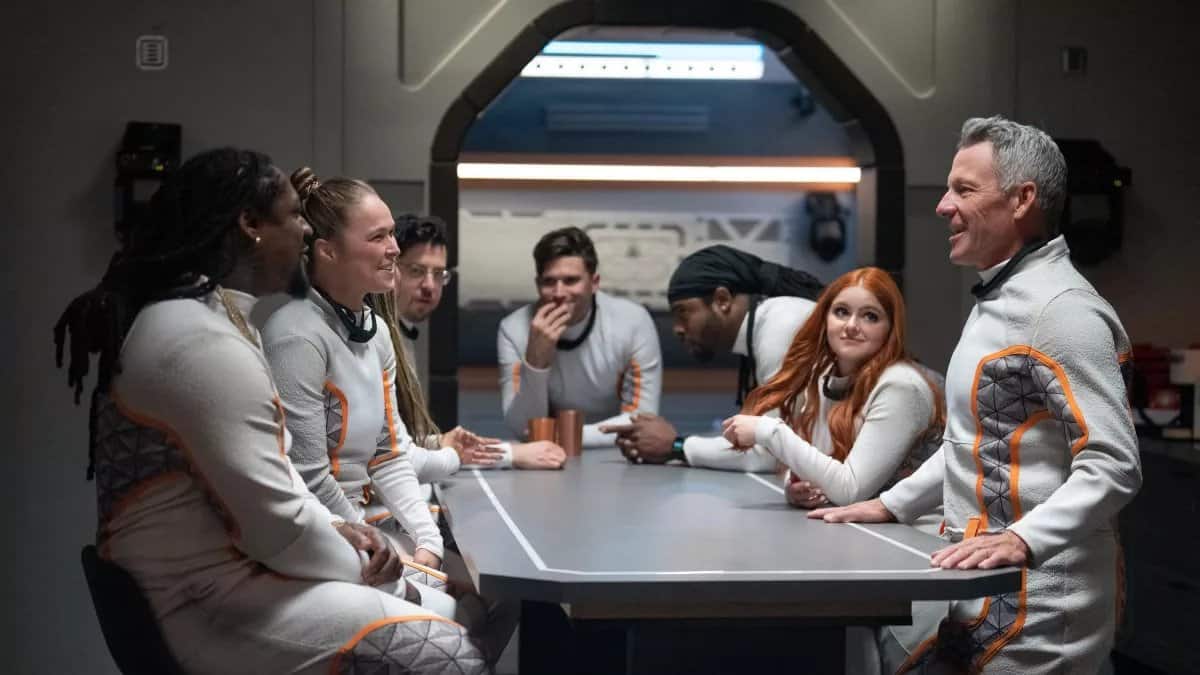 We're now through two full episodes of "Stars on Mars," and the competitive picture is beginning to take shape. Marshawn Lynch has lost his grip on the base commander job, Tom Schwartz has lost his ability to count to four, and Tallulah Willis has lost her spot in the hab. Let's take a look at how it all shakes out in this week's power rankings.
---
Past power rankings:
---
1. Richard Sherman
Last week: 2 ↑
Sherman seems to be playing the game more seriously than his pal Marshawn, and both men still have the advantage of each others' allyship — no other cast members seem to have teamed up in quite the same way.
2. Porsha Williams Guobadia
Last week: 3 ↑
Porsha's fear of heights was a liability in this week's elimination challenge, which involved rappelling down the side of a cliff to reach some "Martian caves." But Porsha overcame the challenge admirably, and she looks like a strong player as we enter week three.
3. Lance Armstrong
Last week: 5 ↑
Lance's image rehabilitation project is going swimmingly so far. His charm seems to be working on his fellow celebs, too. Plus, his efforts to help Porsha through her fear of heights will only further contribute to his reputation as a team player in the early game.
4. Ronda Rousey
Last week: 4 ↔
Ronda is one of the athletes who seems to be taking the competition relatively seriously. All of the challenges so far have had physical components, so it's hard not to think that the jocks have an advantage.
5. Marshawn Lynch
Last week: 1 ↓
After failing to secure a second term as base commander, Marshawn seemed to check out of the game — though not out of the commander's private bedroom, which commander-elect Tallulah Willis allowed him to keep. He refused to meaningfully participate in this week's elimination challenge but nevertheless escaped elimination, seemingly on vibes alone. Marshawn is a star, but he won't be able to run on vibes forever.
6. Natasha Leggero
Last week: 8 ↑
Natasha pushed for the role of mission specialist for this week's episode — a smart move, since we now know that the base commander can get the boot, but the mission specialist cannot. Of course, Leggero presumably won't be mission specialist again next week, so she'll have to find another way to get by.
7. Ariel Winter
Last week: 10 ↑
Ariel had a bounce-back episode after a rough week one performance that included her mistaking cyclist Lance Armstrong for deceased astronaut Neil Armstrong. This time around, Ariel stepped up and requested a tougher assignment during the big challenge (she swapped spots with Tom Schwartz, who promptly flubbed the easier assignment).
8. Tinashe
Last week: 6 ↓
Tinashe's performance in the second episode was nearly identical to her first: She came across as perfectly competent and got almost no screen time. She's a CordCutting.com "Stars on Mars" favorite, but she needs to find a way to stand out.
9. Adam Rippon
Last week: 11 ↑
Rippon was competent and charming in this week's episode. He didn't have any standout moments, but he contributed solidly. It made for a nice recovery from his rough debut, in which he narrowly avoided elimination.
10. Tom Schwartz
Last week: 9 ↓
Tom is having a miserable time of it in the early going. This week, he landed the easiest job in the emergency mission — sticking a hose in a barrel and reporting back progress as it filled — and managed to botch it. Tom miscounted and misreported the team's progress in their doomed effort to fill all four barrels. Though he dodged elimination, he has now been on the proverbial chopping block in both episodes. Tom enters next week with a rough track record and a room full of co-stars who think he can't count to four.
---
Eliminated: Tallulah Willis
Last week: 7 ↓
Tallulah managed to win the base commander job in Episode Two, only to meet with failure in the emergency challenge. The team's flop made Tallulah eligible for elimination, and mission specialist Natasha Leggero sent Willis packing.
Eliminated: Christopher Mintz-Plasse
Last week: N/A
Poor McLovin was booted in the series premiere. Things move fast on Mars, and Mintz-Plasse just couldn't get out of the gate cleanly.