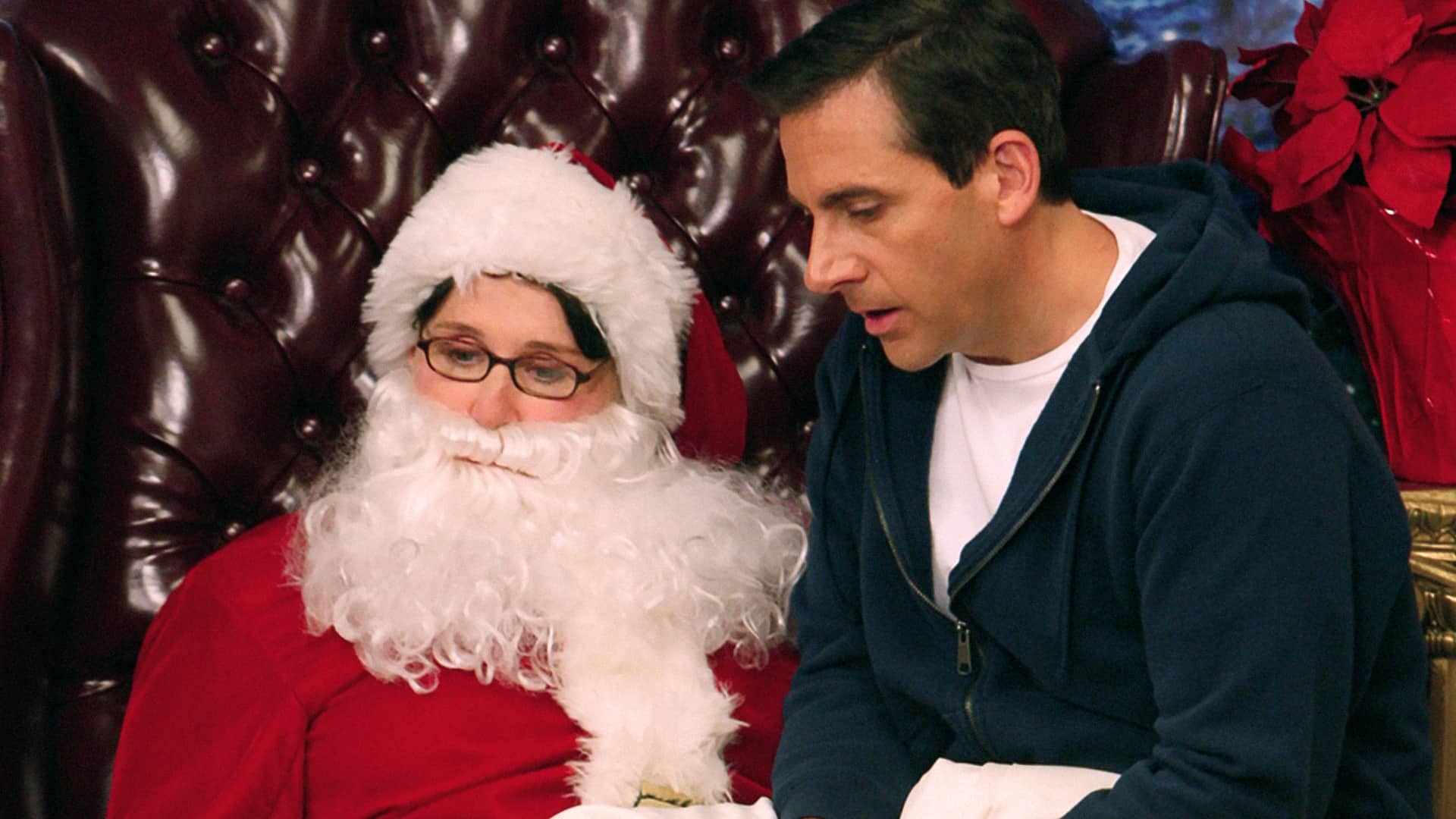 It's everyone's favorite time of the year again – Christmastime. With it comes the list of movies that we rewatch annually with our partners, family, and friends. But what should you watch while you're preparing for their arrival and a movie would be too long?
The classic NBC show "The Office" fits the bill. The episodes are short, sweet, and filled with all the best cringeworthy moments. Unforgettable Michael Scott (Steve Carrell) yearns for each year's Christmas party to top the last one, butting heads with the Party Planning Committee when he demands too much.
The characters of "The Office" are so realistic that they feel like family – a dysfunctional family you can watch from afar. Enjoy some laughs while wrapping presents with Dunder Mifflin: the people person's paper people!
All nine seasons are available to stream on Hulu Premium, Peacock, and fuboTV.
Season 2, Episode 10: 'Christmas Party'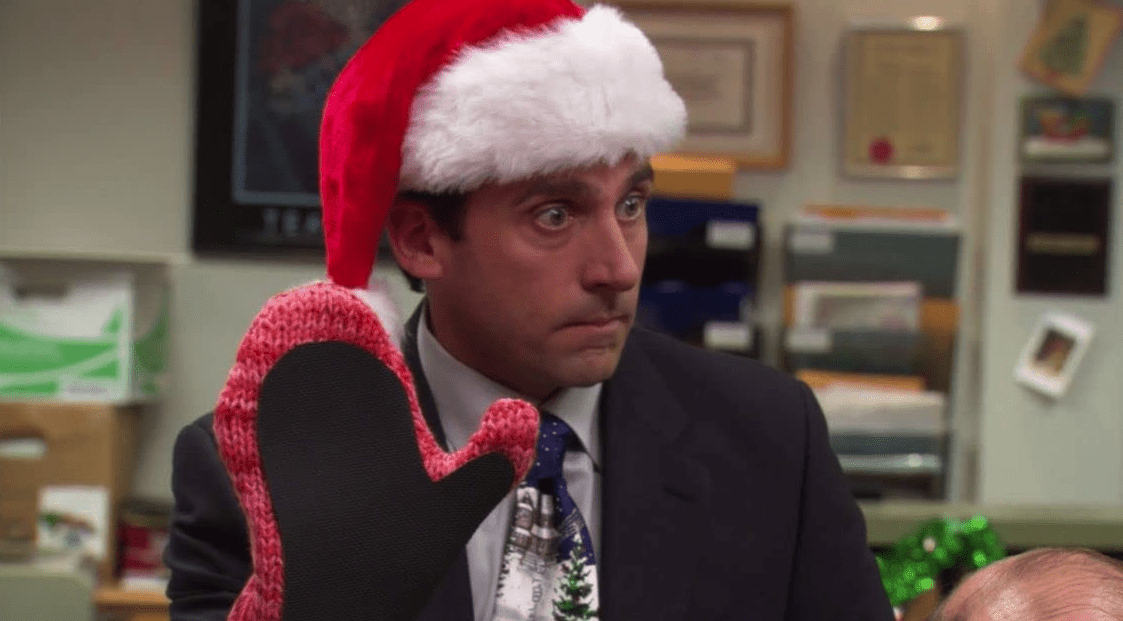 There are many reasons to love "The Office" Christmas party episodes, and the first one certainly sets a high bar. From Michael's immaturity to Jim's (John Krasinski) and Pam's (Jenna Fischer) will-they-or-won't-they, the episode is chock-full of classic moments.
For the Christmas party, everyone draws a name from a bowl for Secret Santa with a limit of $20 for the presents. We quickly learn that Michael got a bonus from the company and didn't adhere to the limit when he purchased an iPod for Ryan (B.J. Novak). It isn't until Michael opens his present from Phyllis (Phyllis Smith) and finds a homemade oven mitt that the Secret Santa turns into a Yankee Swap.
It's then that Jim's heartfelt gift of the teapot that Pam had been yearning for with a special note inside lands in the hands of Dwight (Rainn Wilson). Chaos ensues and almost everyone is unhappy about the outcome of Yankee Swap. Realizing his error, Michael decides to liven up the party and bring Christmas cheer in the form of alcohol – against company policy.
This episode of "The Office" does a wonderful job of capturing all the awkward moments that most of us have experienced during present exchanges, like learning that your co-worker loves posters of babies dressed up as adults or the person who drew their own name and didn't tell anyone. It may be cringe-inducing to watch, but since it's not your family and friends, you can laugh it off.
Season 3, Episode 10: 'A Benihana Christmas'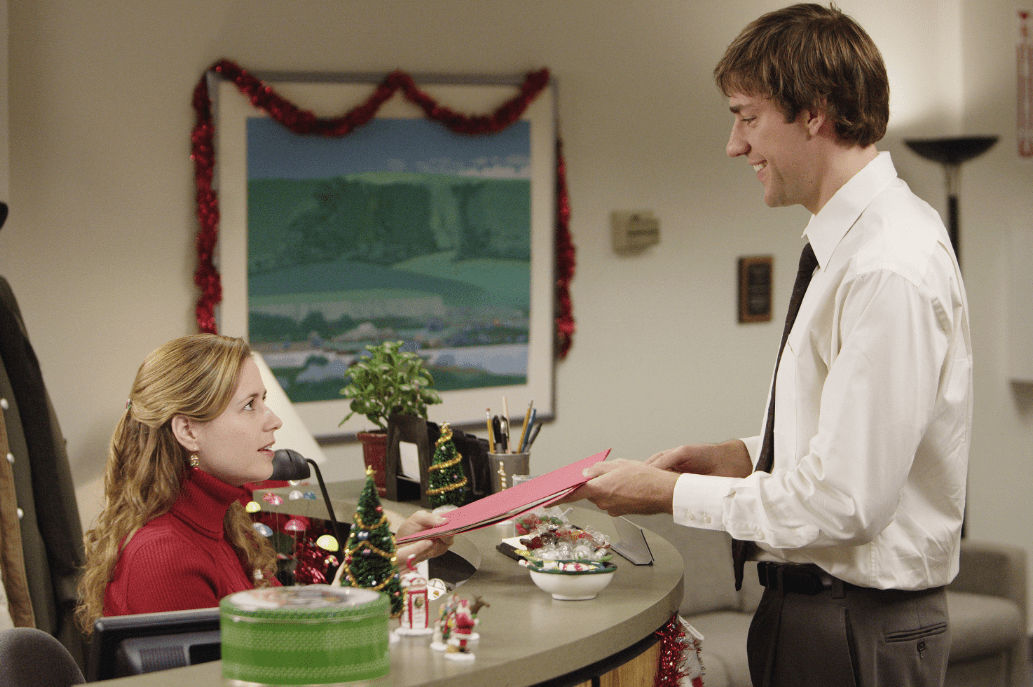 This holiday episode begins with us finding out that Michael sent out holiday cards with a family ski trip photo of his girlfriend, Carol (Nancy Carrell), and her kids and his face photoshopped over the ex-husband's. Carol ends the relationship and leaves.
Pam's gift to Jim is contained in a folder – she's been sending Dwight messages from the CIA, and it's up to Jim to decide what the secret mission will be. However, Jim turns down the gift stating that he doesn't want to keep doing the same things now that he's the "Number 2" guy in the office.
The tension continues to build when the Party Planning Committee meets. Angela (Angela Kinsey) nixes all of Karen's (Rashida Jones) ideas and eventually asks Karen to leave. Pam then suggests to Karen that they should plan their own party to rival Angela's. During all this drama, Andy (Ed Helms) decides to help Michael through his sad time by taking him out to Benihana for a long lunch.
Pam and Karen's party turns out to be a success regardless of Angela's sabotage, and after seeing how sad Angela is at her attendee-less party, they propose to merge the two. Michael struggles when his rebound girl leaves (the waitress from Benihana who came to the office party). By the end of the night, Jim has decided to accept Pam's gift, and they tell Dwight that the CIA is sending a helicopter to pick him up for a mission.
With a fantastic mix of heartache, pranks, and office politics, this episode portrays the wonderful reality and complexity of interpersonal relationships. Plus, ending with a good laugh is always ideal.
Season 5, Episode 11: 'Moroccan Christmas'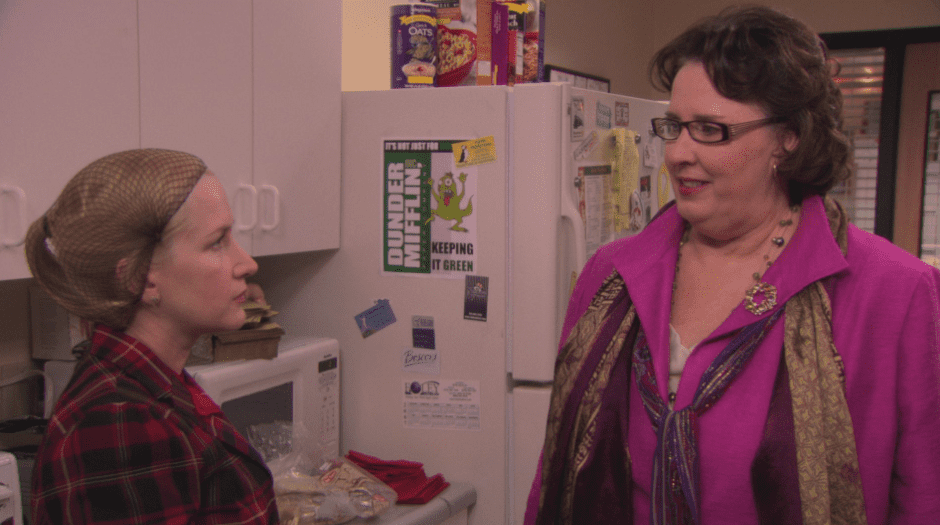 This episode is a little different because the Party Planning Committee is headed by Phyllis instead of Angela due to blackmail. Phyllis knows that Angela has been having an affair with Dwight and uses this knowledge to her advantage. Phyllis decides to throw a Moroccan-themed party. Alcohol is served and Meredith (Kate Flannery) takes full advantage, letting her alcoholism run rampant and catching her hair on fire.
After an intervention that doesn't go well, Michael takes Meredith against her will to a rehabilitation center. Meanwhile, after researching the season's top toy, Dwight has been collecting and selling for a profit all of the Unicorn Princess dolls in town. After being pushed around all day, Angela decides she's done. Phyllis announces Angela's affair to the entire office, but Andy, Angela's fiancé, was in the annex and doesn't hear it.
This episode is full of drama, from blackmail and affairs to consumerism and addiction, all done in a silly way, leaving you thinking, of course, that's how it happened. 
Season 6, Episode 13: 'Secret Santa'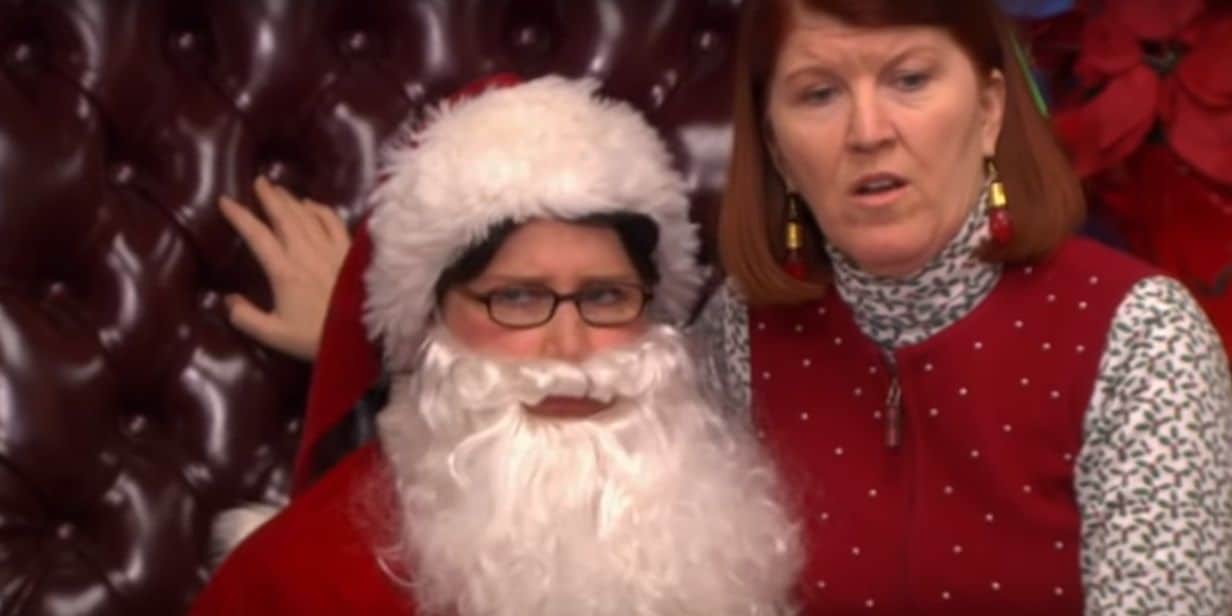 The fate of Dunder Mifflin hangs over the office, killing the holiday mood. Jim and Dwight team up to try to raise spirits. Oscar has a crush on a new warehouse employee, and Pam tries to set them up. Michael calls David (Andy Buckley) for clarity on the company and mistakenly tells the office that Dunder Mifflin is going under when only corporate is being let go.
Phyllis and Michael clash over who gets to play Santa, and both arrive at the party dressed up. Throughout the entire episode, Andy sends Erin (Ellie Kemper) gifts; he pulled her name in Secret Santa and pulls out all the stops to show his affection by gifting her the 12 Days of Christmas. Hilariously, the gifts seem innocent enough in idea, but in execution, they turn out to be chaotic.
This episode plays with the idea of romance gone wrong, which is always a fun time. With the two Santas clashing, it reminds us that although people have disagreements, most of us (not Michael) can compromise.
Season 7, Episode 11: 'Classy Christmas'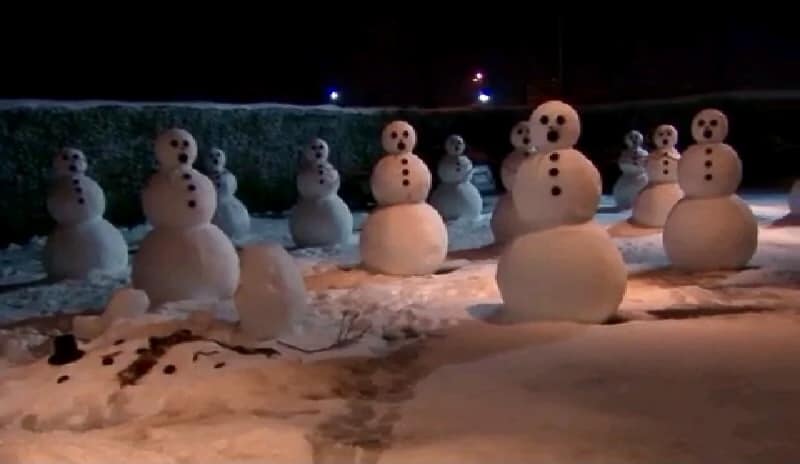 Season 7's Christmas episode is the last holiday episode with Michael. When Michael finds out that Holly (Amy Ryan) will be replacing Toby (Paul Lieberstein) in HR while Toby is out for jury duty, Michael tells Pam to ditch the party she has already planned and replace it with a "Classy Christmas." However, Michael is disappointed when he learns that Holly is still dating A.J. (Rob Huebel) and takes it upon himself to vandalize a Toy Story doll that A.J. gave her.
The women in the office learn that Holly is upset that A.J. hasn't proposed yet and encourage her to give him an ultimatum. Pam is worried that Jim won't like her present, a homemade comic book, "The Adventures of Jimmy Halpert." Darryl's daughter stays with him for the holiday and he worries she isn't having fun so Michael dresses up as Santa for her. Meanwhile, a snowball fight between Jim and Dwight gets out of hand very quickly.
This episode is a favorite for many reasons, one of which is, of course, the epic snowball fight. "Classy Christmas" also brings attention back to what Christmas should be about: spending time with family and friends and giving heartfelt gifts.
Season 8, Episode 10: 'Christmas Wishes'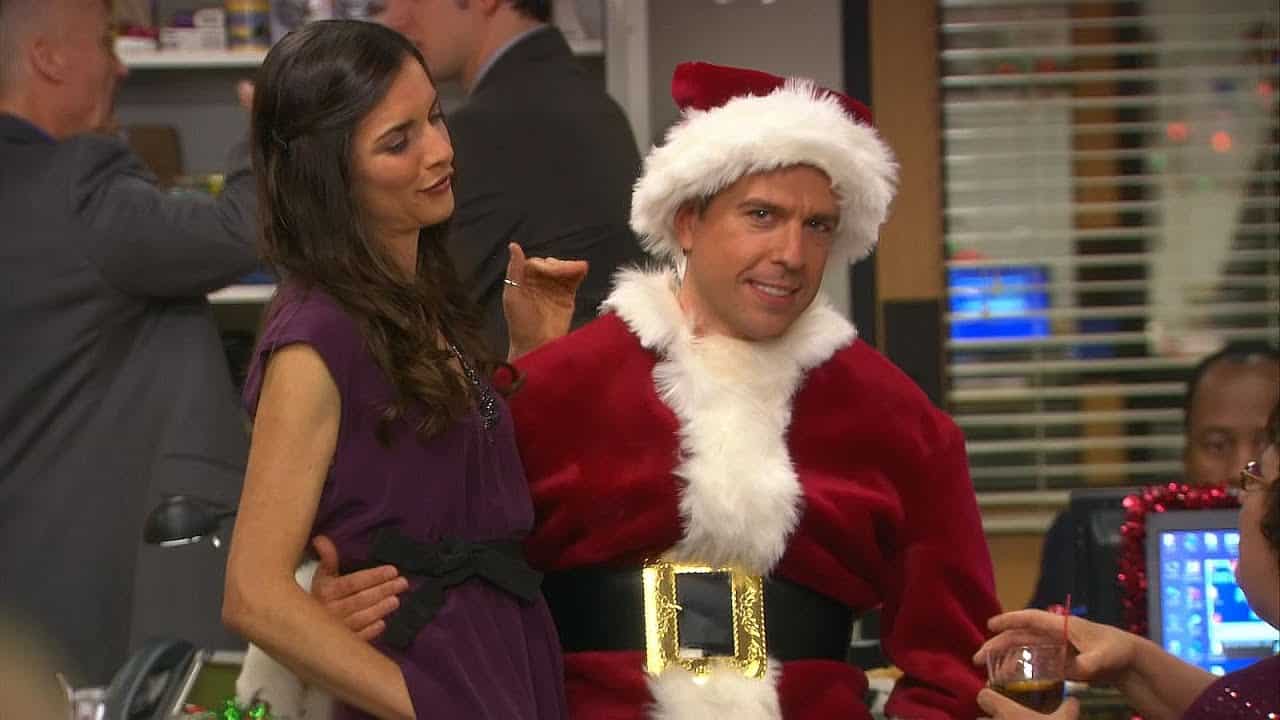 At Andy's first office Christmas party as manager, he takes it upon himself to make everyone's holiday wishes come true. All he requires in return is for everyone to be nice to his girlfriend, Jessica (Eleanor Seigler). Robert (James Spader) is upset about his marriage ending and spends the party as a bartender and enjoying Erin's company, much to Andy's dismay.
Erin finds the joy of drinking for the first time and gets very drunk and disorderly. Jim and Dwight's pranking causes mayhem, and Andy tries to discipline them, but it backfires, causing them to 'prank themselves' and frame each other.
We love the way this episode takes us back to the core of the office culture: pranking between co-workers and simple office parties.
Season 9, Episode 9: 'Dwight Christmas'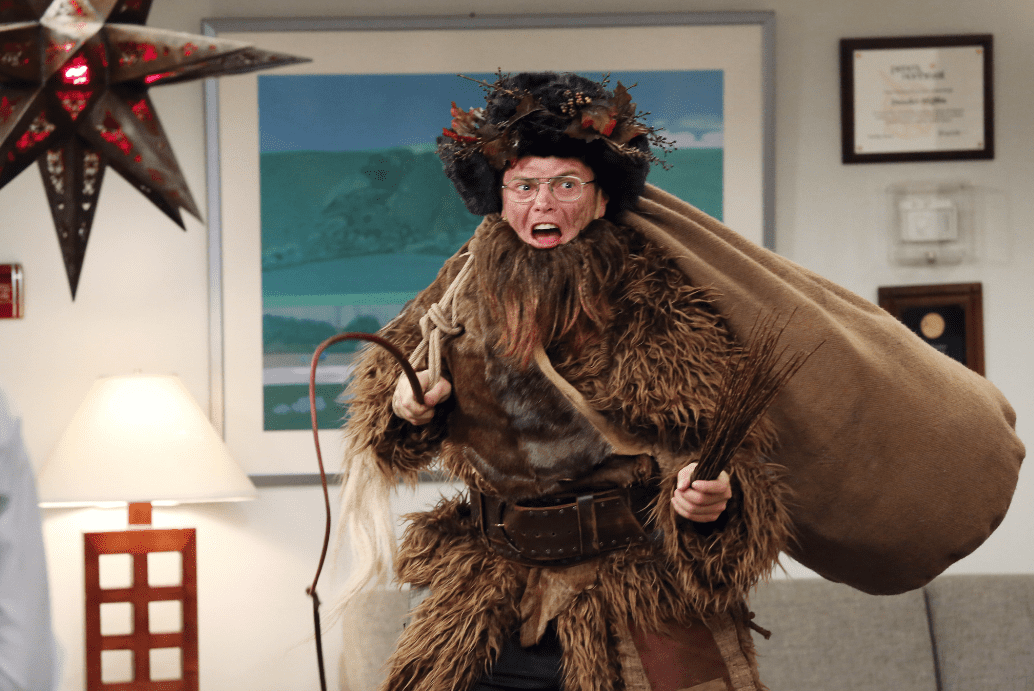 In the last holiday episode, and possibly the most memorable, Dwight takes over and treats the office to a traditional Schrute Pennsylvania Dutch Christmas. He dresses up as gift-bringer Belsnickel, brings in traditional Dutch foods, and gets the office to play "impish or admirable." Unfortunately, Jim has to leave partway through the day to go to his sports marketing job in Philadelphia, causing Dwight to get upset and end the party early.
When Jim returns unexpectedly, the festivities begin again. Meanwhile, Erin is mad at Andy, who is away on a sailing trip without her, and spends the day with Pete (Jake Lacy) watching "Die Hard." The two grow close and enjoy each other's company more than they should. Toby bores Nellie (Catherine Tate) with details from the Scranton Strangler case on which he was a juror. Nellie ends the discussion, apparently after many hours, by kissing Toby.
This is a fan-favorite episode for the entertaining aspect of learning about Dwight's family traditions. One thing to note is the evolution of Jim and Dwight's friendship, which has changed over the course of nine years.