Thinking about cutting the cord? You should know that the choice isn't just about getting rid of cable. It's also about deciding what to replace cable with! That's why we're here for a showdown: Hulu vs. cable. What makes Hulu one of our favorite streaming services, and how does it measure up against cable? We'll give you all the basics below, so read on.
Hulu: A Netflix-like on-demand service and a cable-like live TV service
Pros
Affordable on-demand plans
Optional live TV service is cheaper than cable
Recently aired content available on demand
Popular and critically acclaimed original series and movies
Cons
Cheapest plan comes with ads in on-demand content
Smaller library than Netflix
Cable: The old-school TV solution
Pros
Familiarity
Easy to get all the channels you want
Cons
Expensive
Inflexible long-term contracts
Hidden fees and early termination fees
Huge monopolies and lack of consumer choice
Not as mobile and flexible as streaming solutions
How are Hulu and cable similar? How are Hulu and cable different?
Ditching cable for a streaming service like Hulu doesn't mean losing all of your favorite TV shows, movies, and TV channels. You'll get a lot of the things you love back when you sign up for that streaming alternative. But streaming services can be very different from one another. Some are a lot more like cable than others.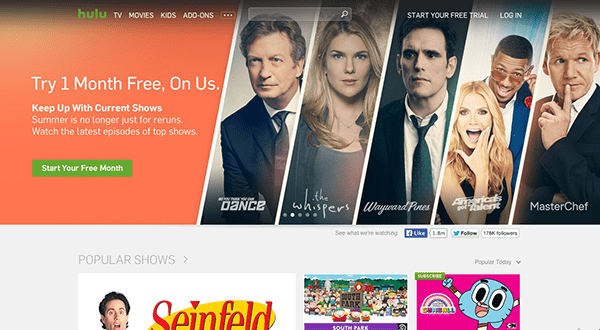 Hulu is an interesting case, because it offers two different types of streaming service. Hulu's most basic (and most affordable) service is an on-demand subscription service. In other words, it's a lot like Netflix: You pay a monthly subscription fee, and in return you get unlimited access to Hulu's library to TV shows and movies. You can pause and play the content whenever you want, and you can watch as much as you want for as long as you want to.
Hulu also has a live TV "multichannel" service called "Hulu + Live TV." It's significantly more expensive than regular old on-demand Hulu, but it will give you a lot of great things to watch. Hulu + Live TV is basically just a streaming alternative to cable: For a monthly fee, you'll have access to live streams of many of the same channels that cable and satellite offer. That means live sports, news, and more on channels like AMC, CNN, ESPN, HGTV, and TBS.
By default, Hulu has ads in its on-demand content. You can pay more to remove those ads. However, there will always be ads in the live channels on Hulu + Live TV (just like there are always commercial breaks on cable — remember, these are the same live channels with the same programming).
Hulu vs. Cable: What Can Watch?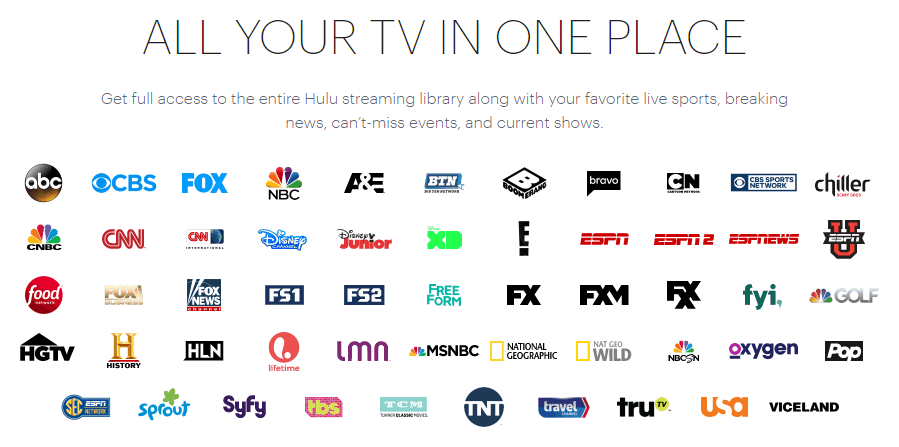 With cable, you know you're getting whatever is on the live TV channels you pay for, plus (if you're lucky) some on-demand content. Good news, streamers: Hulu can match all of that!
Hulu's basic on-demand service includes a fairly large library of licensed and original content. Hulu's library isn't quite as huge as those of some competitors, like Netflix. But there's a lot to watch there, including familiar TV hits from popular networks, high-grossing Hollywood blockbuster movies, and some great Hulu original movies and TV series.
Hulu's originals are an especially sweet part of the deal, because you won't find them anywhere else. Shows like Difficult People and The Handmaid's Tale help set Hulu apart from its competition. If you want to watch these shows, Hulu is the only place to go!
That covers us for on-demand content, but we're not done yet. What about Hulu + Live TV? With Hulu + Live TV, the content you'll get looks a lot like cable. You'll have live streams of dozens of TV networks, including just about all of the familiar ones that cable viewers love. We're talking about AMC, ESPN, HGTV, TBS, TNT, and so on. For more details on Hulu's lineup, check out our Hulu + Live TV channel list.
How Much Would You Spend on Hulu vs. cable?
Hulu makes a really good substitute for cable, because it can offer tons of the same content you'd get with a cable contract for a whole lot less than that contract would charge you.
We think that Hulu's on-demand service is really affordable. It costs just $5.99 per month. That's significantly less than Netflix, and it's way less than cable! You can pay an extra charge to cut commercials out of your on-demand programming.
Hulu + Live TV is pricier, of course. You'll have to pony up $54.99 per month to get the live TV service. That's not as cheap as on-demand streaming, but it's still cheaper than most cable deals. Of course, you'll want to take a closer look at the contracts you've signed and the alternatives you're considering, because the math can change depending on bundled phone and internet arrangements and other factors. (If you're struggling with the math, try using our cord cutting calculator!) Though your mileage may vary, we consider Hulu to be a pretty good deal under almost all circumstances.
Hulu vs. Cable: Should You Replace Cable With Hulu?
If you're choosing between Hulu and cable, you're really making two decisions. First, you're deciding if you should cut the cord. We think that's a great idea in a lot of cases, but your personal decision will come down to your priorities and your budget. We can help you decide if it's time to cut the cable bill, but the final choice will be yours!
The second decision that you have to make is whether to subscribe to Hulu. We think Hulu's on-demand service is a great deal, and it's certainly much cheaper than cable (in fact, you may want to subscribe to Hulu even if you don't cut the cord). We're also big fans of Hulu + Live TV, and we think you'll find that it does a really good job of replacing the things you liked about cable while adding new advantages.