Netflix vs Cable TV
Last updated: September 21, 2022

Starts at $6.99/mo
vs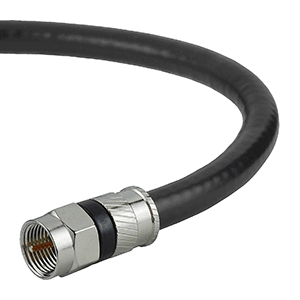 Starts at $/mo
There are lots of ways to get video entertainment these days. You can subscribe to a streaming video service like Netflix. You can pay for a standard cable package from a local provider in your area. You can try to get something cable-like by checking out a skinny bundle streaming TV service. You can purchase TV shows and movies from a digital storefront. You can even do it old-school and rent DVDs from the local Redbox — or use Redbox's own online streaming service. All of these are options available to you today, and all will help get TV shows or movies onto your TV screen.
If you want to compare the two options that are most different, however, it's always going to come back to Netflix vs. Cable. One could be considered the catalyst of the whole cord-cutting movement: It's the service by which you can still watch TV shows and movies without having to pay the cable company an exorbitant amount every month. And the other? That is, of course, cable. Cable gets a bad rap, but it does have some advantages that you may decide are worth paying for.
Today we're taking a fresh look at Netflix vs. Cable. We'll tell you about the pros and cons of each, how much they'll cost you, and which we believe is the better deal.
Netflix: The original on-demand video streaming service, and still arguably the best
Pros
Three affordable price tiers
Large library of TV shows and movies
Good original programming
Cons
No live TV
Pricier than some competitors
Cable: The old-school stalwart in TV entertainment
Pros
Live TV, including sports and news
Won't eat up internet bandwidth
Can be bundled with internet service and/or phone service
Cons
Large, inflexible bundles
Can get very expensive
Watching on other devices can be tricky
May involve long-term contracts
Confusing promotional prices and hidden fees
What's the Difference Between Netflix and Cable?
Sometimes it's tough to compare two services that do the same thing. Comparing and contrasting two streaming video products? That can be difficult, because they ultimately function in a similar way. Fortunately, that isn't a problem here.
Netflix is a streaming video service that operates by using an internet connection. It offers an on-demand library of TV shows and movies that you can watch on your TV, laptop, smartphone, or tablet. Those TV shows and movies cover a wide variety of genres and interests, ensuring there's a little something for everyone. And Netflix is very convenient: Anywhere you have an internet connection, you can have Netflix. In fact, you can even download videos on supported devices and watch movies and TV shows on Netflix in places where you don't have an internet connection.
Cable, on the other hand, is a TV service that's piped into your home directly from a provider. Cable is all about the here and now, broadcasting live TV shows and sports into your home so that you're always up to date on whatever's happening. And though some cable providers enable you to stream TV when you're not at home, it's not a universal feature. One leg up cable has on Netflix, however, is that it won't eat up your precious internet bandwidth. Someone can watch TV while someone else is watching YouTube videos, playing an online game, or what have you. If you have a house full of Netflix viewers, your available bandwidth could be stretched thin — depending on what internet service you have, of course.
What You Can Watch on Netflix vs. Cable
Netflix does what it does very, very well. When you pay for a Netflix subscription, you get an enormous, constantly evolving catalog of TV shows and movies. There are past seasons of hit shows from networks and cable TV channels. There are blockbuster films that Netflix has around for a limited time. There's definitely some "filler" content in there, but you may enjoy that filler — who doesn't like a little trashy TV once in a while? Besides, there's never a shortage of higher-quality content. Netflix's critically acclaimed titles include some of its own original programming and original movies. With Netflix, you get all of this for a fairly cheap monthly price. (We'll talk more about that price in a moment.)
Cable, on the other hand, focuses primarily on live TV rather than on-demand content (though most pay TV providers offer both). Cable can at least stand up to Netflix on the TV show side of things. If you're all about seeing shows as they air, cable TV has you covered. And cable has sports, too, which means you can watch the big game while it's live and cheer for your favorite team. Cable isn't as strong on movies, however. Some cable channels show movies, but you'll often have to put up with a shrunk-down, censored version of films. And though you can get dedicated movie channels added to your cable package, that'll cost you extra on top of an already-expensive cable bill.
How Much Will You Spend on Netflix vs. Cable
Your budget is really going to like Netflix. If you're okay with watching TV shows and movies on a smartphone or tablet, you could potentially get by with the base Netflix subscription, which costs $9.99 per month. If you want to step up to better video quality — and stream on another device at the same time — that tier only costs $15.49. There's even the option to go all out with the $19.99-a-month tier. That gets you 4K video and streaming on four screens at the same time. That might end up covering your whole household with room to spare. Netflix's middle plan is its most popular, and we'd recommend either of the top two.
Cable is a lot more expensive than Netflix. You can bundle cable TV service with internet service, which might help bring the cost down. (And let's be honest, you're going to need that internet service anyway.) But even if your total bill ends up being $100, $120, $140, or more than that, you're still paying a whole lot more for cable TV than you would pay for Netflix and your internet service separately. And those price examples, by the way, are typical for the lowest-tier TV package. If you step up for more movie channels or more sports channels, your bill will likely be even higher.
Netflix vs. Cable: Which Should You Choose?
When it comes to Netflix vs. Cable, your decision will probably come down to what you want out of the service you choose. If all you want is a library of content you can watch on family movie nights or on rainy days, and you're cool with missing out on live TV shows and sports, then Netflix will suit you just fine. If you must watch TV shows as they air, however, or if sports are important to you, cable might be the better option — though you may also want to consider a live TV streaming service like fuboTV or Sling TV.
In our opinion, it's tough to beat Netflix. For less than the price of a family dinner at McDonald's, you can get a huge library of TV shows and movies for an entire month. All of that entertainment is accessible on a number of devices, and it can travel with you anywhere you have an internet connection. Cable does have its perks, but the pros are outweighed by the cons. Cable can be incredibly expensive and — both in viewing and in price — very inflexible compared to Netflix.
It's our position that Netflix offers you the most bang for your buck and the most freedom. If you subscribe to Netflix, your wallet will thank you. And if you're on the go a lot, you'll appreciate having all of that content at your fingertips.
Of course, Netflix isn't your only cable alternative. If you're ready to cut the cord, you'll have a whole world of options at your fingertips.