Philo vs YouTube TV
Last updated: September 22, 2022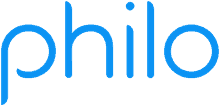 Starts at $25.00/mo
vs

Starts at $72.99/mo
Are you ready for a skinny bundle showdown? Okay, so maybe you're not in the know about what that term means, exactly. Don't worry — we've got you covered. This is our breakdown of Philo vs. YouTube TV.
Philo: The skinniest of bundles for the lowest of prices
Pros
Very affordable for a live TV service
Great selection of entertainment channels
Simple user experience
Cons
No sports, news, or local networks
Few add-on options
YouTube TV: Google's live TV streaming service, packed with top channels
Pros
Comprehensive live TV channel selection
Strong selection of premium add-ons
Cons
True cable replacement doesn't come cheap
Single bundle offering limits price and package flexibility
What's the Difference Between Philo and YouTube TV?
A skinny bundle is a streaming TV service that, as the term so helpfully points out, bundles a bunch of channels together into one tidy package. The "skinny" part contrasts them with the bloated bundles you might be used to from your experiences with cable or satellite — though the skinny bundles aren't all equally skinny. The skinny streaming versions of live TV bundles tend to be cheaper. There are a number of skinny bundle services out there, including some that aim to help you achieve a very specific entertainment objective.
Philo is a lesser-known service that gets rid of a few expensive channels in favor of a wide variety of entertainment options. YouTube TV, meanwhile, is a more straightforward cable TV replacement. Today we're going to look at the pros and cons of both, and help you decide which will better fit into your life.
What You Can Watch on Philo vs. YouTube TV
As we mentioned previously, Philo is all about covering a wide swath of the entertainment spectrum. If you're a fan of cable networks like AMC, BET, BBC America, and Comedy Central, then you'll like Philo: It grants you access to all of those channels and more.
That's what you get, but what do you miss out on? Well, Philo doesn't have deals with local networks, so you won't be able to watch shows on your local ABC, CBS, NBC, or Fox station. And if you're a sports nut, Philo asks you to do without channels such as ESPN, NFL Network, and the various Fox Sports options.
YouTube TV, meanwhile, attempts to house everything under one roof. Just about everything Philo has (save for some of the more niche networks) can be found on YouTube TV. Do you want access to your local networks for news, TV shows, and more? YouTube TV can do it. Do you want channels like ESPN, NFL Network, Fox Sports, and NBC Sports? YouTube TV has those, plus a smattering of other sports networks to choose from. And let's say you want some premium movie channels, such as HBO or Showtime. YouTube TV lets you add those as extras. You can either watch these premium channels live or use their video-on-demand services to watch later.
Where and How You Can Watch Philo vs. YouTube TV
One important question you should ask about a streaming video service is this: what devices does it support? After all, you don't want to pay for a subscription to something, only to find out later it doesn't work on your smartphone, smart TV, or PC.
Fortunately, we have some good news when it comes to both Philo and YouTube TV. Both services have a lot of device support.
Philo can be watched via web browser, iPhone, iPad, Android smartphones and tablets, Android TV, Roku, Apple TV, Amazon Fire TV, and Chromecast. Of course, if your smart TV happens to use software from Roku, Android TV, or Amazon Fire TV, Philo will work on those, too. There is only one big omission we're seeing, and that's in the realm of video game consoles. If you like watching TV through your Xbox One or PlayStation 4, it doesn't appear as though Philo has a client for either of those platforms. That's something to keep in mind.
YouTube TV, meanwhile, appears to hit just about every device you might potentially own. You can use the service on the web, iPhone, iPad, Android smartphones and tablets, Roku, Apple TV, Amazon Fire TV, and Chromecast. In addition, YouTube TV also supports PlayStation 4 and Xbox One. And if you have a smart TV manufactured by LG, Samsung, Vizio, or Sharp, YouTube TV works with their operating systems, as well.
DVR on Philo vs. YouTube TV
Old habits die hard, right? Even though you're thinking about moving to a skinny bundle internet TV service, you might still want DVR. After all, you could potentially watch TV anywhere, but who says you'll always be able to? Both Philo and YouTube TV have unlimited DVR included with their packages at no extra charge. You'll have to look at the fine print, however, to see how the two differ in this category.
For Philo, there are no limits to how much you can record using the service. If you want to set up every channel to record just about every TV show imaginable, there's nothing stopping you. You'll have to be quick to watch those recordings, however, and this is one area Philo might lose some people. Any shows captured using DVR are only stored for one month. After that, they go bye-bye, and you'll have to wait for reruns to catch that episode you were hoping to watch.
YouTube TV, on the other hand, isn't quite so strict when it comes to DVR storage. You can still go hog wild like you might do with Philo, recording everything under the sun so that you never run out of things to watch. YouTube TV, however, allows you to keep your DVR collection around for nine months — eight more months than Philo. If life gets in the way, as sometimes it does, then you might appreciate the extra time YouTube TV gives you to catch up on your favorite shows.
How Much You Will Spend on Philo vs. YouTube TV
Here's where things get interesting — and where you learn just how expensive sports channels can be. Philo and YouTube TV both offer a lot of channels in their packages. Both offer DVR. There is an enormous gulf, however, between the price of Philo and the price of YouTube TV.
Philo is very much the budget option, since a Philo subscription is just $25 and provides access to more than 60 channels without requiring you to sign a contract or pay for a cable box. The lower price is possible because of the many big-name channels Philo leaves out of its offering. If you want those channels, there's no way to add them, with the exception of a few premium channel add-ons — and that doesn't include any sports or news. For the most part, what you see in Philo's base bundle is what you get, and you'll have to take it or leave it.
YouTube TV wants you to have it all — and it wants you to pay for the privilege. The service has gone through many price hikes in recent years, adding channels along the way, and a one-month subscription to YouTube TV now costs $65 a month. You get to weasel out of the contracts and cable-box rentals, just like with Philo, but you're ultimately paying for the pricey sports channels Philo tries to do without.