For the vast majority of people, modems are just an obligatory device that helps bring the internet to their home. Most people usually don't want to do a lot of research into modems, nor do they want complicated devices that require expert knowledge to set up. For this reason, many consumers choose to rent a modem through their internet provider. However, we recommend buying your own modem for a number of reasons.
Reasons why you should buy a modem:
If you plan to stick with the same internet provider for a while, you can end up saving hundreds or even thousands of dollars in modem rental fees.
Modems you rent or purchase from internet providers are usually a basic model, which could negatively impact your internet speed.
Buying your own modem gives you the ability to choose a modem that meets your needs in terms of internet use and stable connectivity.
Most modems are compatible with multiple providers, so even if you switch to a new internet provider, you might be able to use your purchased modem.
For example, let's say that you choose an Optimum internet plan. With all of Optimum's internet-only plans, you have the option to rent a modem for $10 per month or purchase your own modem. If you rent, you'll pay $120 per year each year you stay with Optimum. Let's say that you go with the Netgear CM500 which costs $44. If you do the math, you'll see that you'd only need to stay with Optimum for at least five months before your modem will have paid for itself.
What's the difference between a modem and a router?
A modem is a device that connects your home network to the internet. Alternatively, a router is a device that allows your computer, smartphone, tablet, or any other compatible device to connect to your home network. Wireless routers create what is known as a "WiFi" connection.
People often experience this sequence of events in reverse order. For example, your smartphone connects to the WiFi emitted by the router. The router connects (usually via ethernet cable) to your modem. Finally, your modem connects (via cable, satellite, or other means) to the wider internet.
The confusion between modems and routers is made worse by the fact that there are many two-in-one devices. In other words, you can have a modem that also functions as a router. This way, you can cut down on the number of devices you need to have an internet connection and WiFi in your home.
You will need to know the capabilities and specifications of your modem to know whether or not you need to buy a router. Combo modem-routers are becoming increasingly popular, but many of the more budget-friendly modems do not include WiFi capabilities.
The best cable modem in 2021
ARRIS SURFboard SBG8300 DOCSIS 3.1 Gigabit Cable Modem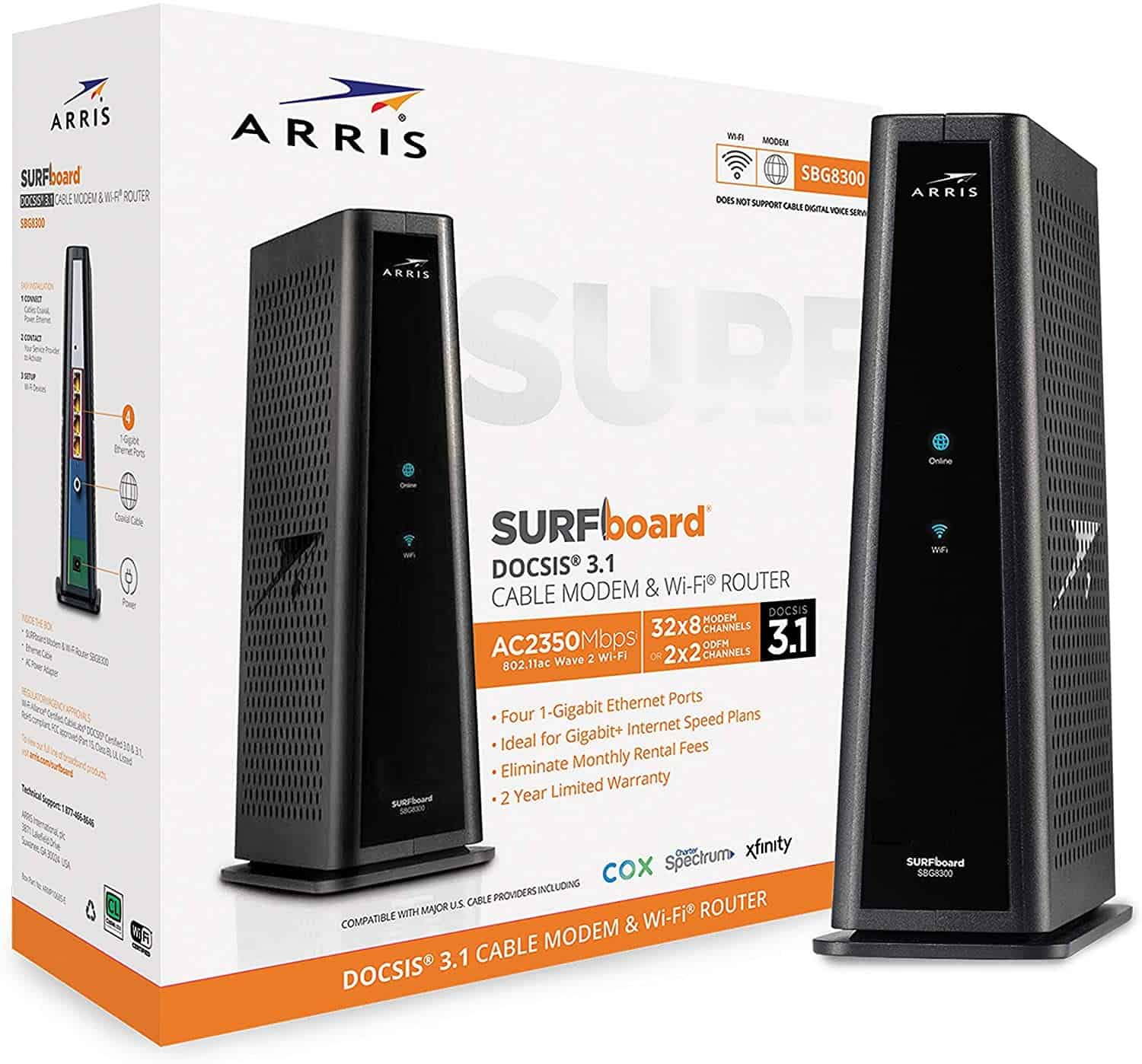 | Price | $292.63 |
| --- | --- |
| Supported Speeds | Up to 4 Gbps |
| Warranty | 2-year limited warranty |
| Size | 9.3 x 2.9 x 8.1 inches |
While the ARRIS Surfboard SBG8300 is not the cheapest modem on the market, it is the best in terms of price, speed, reliability, and features. It can handle internet speeds up to 4000 Mbps, which is far above the standard 600 Mbps that most modems provide. And like all ARRIS modems, the SBG8300 comes with a 2-year limited warranty in the event that your device arrives broken or experiences malfunctions.
The SBG300 is best for people who want to set it and forget it. The setup is very simple, even for people who have little or no experience working with modems. The best part is that it also functions as a router allowing you to limit the number of devices sitting on your desk or shelf. You also don't have to worry about buying another modem/router soon considering DOCSIS 3.1 is the best available to consumers at the moment.
The one drawback to ARRIS modems is their technical support. If you need technical support outside of what's covered in your modem's warranty, ARRIS requires you to subscribe to the ARRIS Assist Premium Support Program. The price of a subscription varies depending on your subscription length, but even the per-incident cost ($49.99) is expensive. Luckily, ARRIS's popularity makes it easy to find DIY troubleshooting tips on YouTube or forums like Reddit.
Best affordable modem for Spectrum, Cox, and Mediacom
Netgear Cable Modem CM600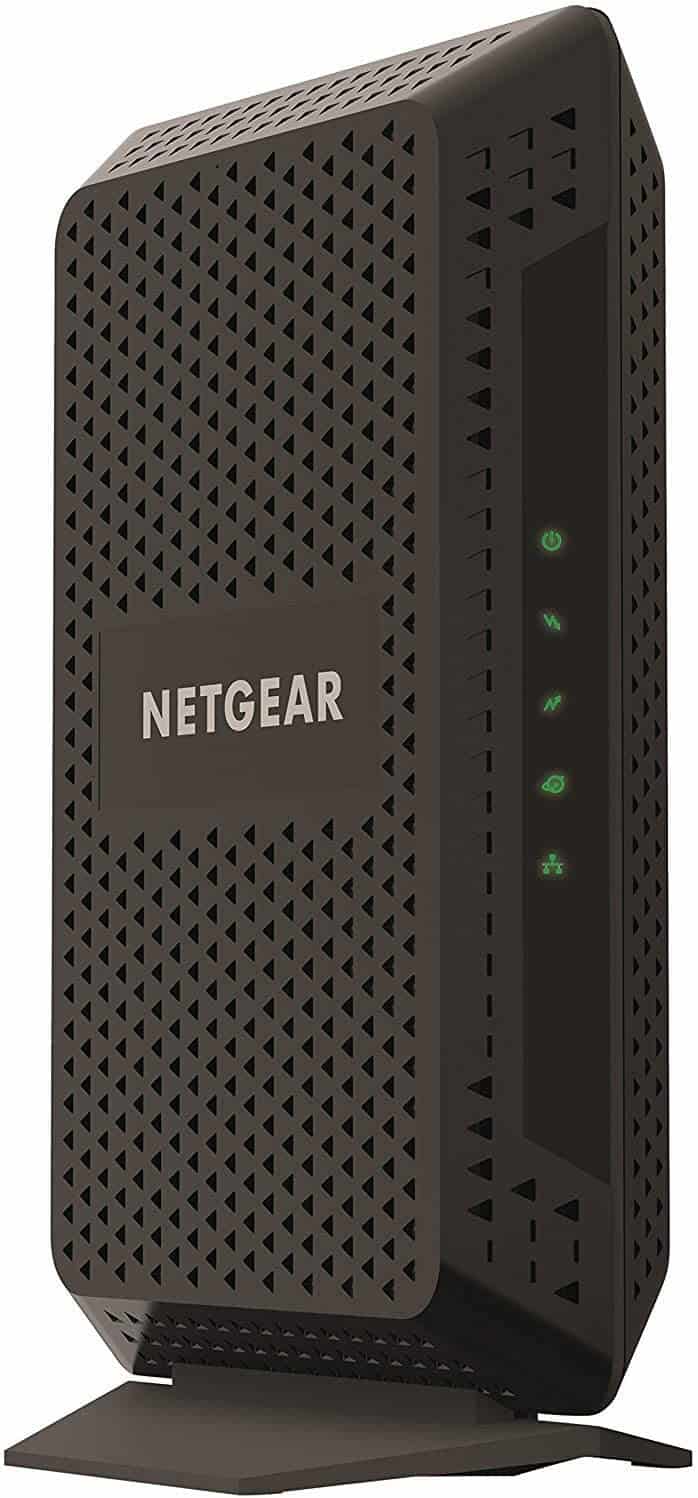 | Price | $74.49 |
| --- | --- |
| Supported Speeds | Up to 1 Gbps |
| Warranty | 5-year limited warranty |
| Size | 8.7 x 2.4 x 5.3 inches |
The Netgear Cable Modem CM600 is the most affordable, high-speed cable modem that is compatible with Spectrum, Cox, and Mediacom (among others). Netgear states the CM600 can handle gigabit speeds, but providers like Cox, Spectrum, and Mediacom only approve this modem for plans with speeds up to 400 Mbps. So it's not the fastest modem in terms of supported speed, but it is one of the more affordable choices if you have an internet plan with up to 400 Mbps or less. There's a chance you may get speeds faster than 400 Mbps, as some users have reported speeds closer to 500 Mbps, but don't hold your breath. What's most important is that you won't have to worry about your modem bottle-necking your connection because of its speed limits.
Besides price, my favorite thing about the Netgear CM600 is its warranty. Netgear provides a five-year warranty limited to malfunctions not caused by user-error. Just be sure to register your modem when you buy it so you're able to receive technical support, the latest news, and software/firmware updates.
While the CM600 is great for the budget-conscious, it is one of the biggest modems on this list. It's taller than most modems and will need more overhead clearance if you plan on putting it on a shelf. Despite this drawback, the CM600 has gotten stellar reviews on Amazon, with most users praising the device for its easy installation and high-speed performance.
Best affordable modem for Xfinity
Netgear CM500-100NAR DOCSIS 3.0 Cable Modem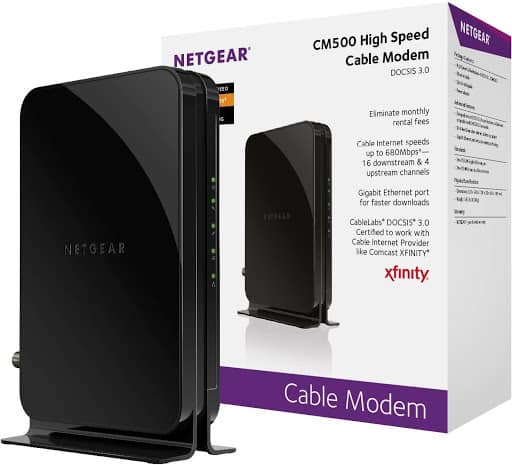 | Price | $44.00 |
| --- | --- |
| Supported Speeds | Up to 680 Mbps |
| Warranty | 5-year limited warranty |
| Size | 7.28 x 4.88 x 2.36 inches |
The Netgear CM500-100NAR DOCSIS 3.0 Cable Modem is truly a bargain. With speeds up to 680 Mbps, it far outpaces many other modems that cost well over $100. As an added bonus, the Netgear CM500 modem is small and extremely light, weighing in at just 0.62 lbs. With such a small size, you shouldn't have a hard time finding a place for it if you redecorate or reorganize every couple of months like me.
While the Netgear CM500 is compatible with most major cable providers, it's important to note that Xfinity has one of the highest modem rental fees of any major internet provider at $14 per month. Whether you choose Xfinity or another cable provider, the Netgear CM500 modem would pay for itself in less than five months.
The only thing that would keep some from purchasing this router is its limited plan support for Xfinity. Xfinity only approves this modem for plans with up to 200 Mbps (i.e. their Performance Starter, Performance Select, and Performance Pro+ plans). Fortunately, Xfinity approves the successor to the CM500, Netgear's CM600, for plans with speeds up to 400 Mbps.
Best affordable modem for Optimum
ARRIS Surfboard SB6183-RB DOCSIS 3.0 Cable Modem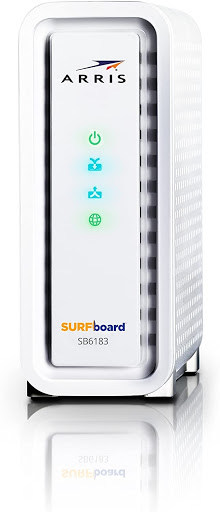 | Price | $34.34 |
| --- | --- |
| Supported Speeds | Up to 686 Mbps |
| Warranty | 2-year limited warranty |
| Size | 1.75 x 5.13 x 5.25 inches |
The ARRIS Surfboard SB6183-RB DOCSIS 3.0 Cable Modem is the lowest-priced modem on our list. While its listed supported speed is up to 686 Mbps, the manufacturer recommends using this modem with plans no faster than 300 Mbps. If you have Optimum (or its sibling Suddenlink), you'll be limited to one plan, Optimum's up to 300 Mbps or Suddenlink's up to 100 Mbps plan.
Having up to 300 Mbps is more than enough speed to handle 2-3 people on a Zoom or Microsoft Teams call while another is streaming their favorite show. But I only recommend the Surfboard SB6183 if you have no anticipation of your internet usage increasing.
Like most popular modems, ARRIS Surfboard SB6183 is easy to install, only requiring you to plug a few wires and contact Optimum for activation. Reliability isn't a question as ARRIS Surfboard modems are among the highest-rated in their class. In fact, most cable internet providers also approve of this modem making it one of the most universal on our list. If you ever decide you need more speed, be sure to contact Optimum for the modem requirements first. As of now, Optimum only approves DOCSIS 3.0 modems.
What to look for when buying a modem
Compatibility
Whenever you're shopping for a modem, compatibility should be your top priority. Nobody wants to buy a modem, bring it home, and then find out that it doesn't work with their existing internet plan. First, decide which ISP you plan to use (based on what's available in your location) and then confirm that the modem of your choice is compatible with your internet service provider. There are only two requirements normally: DOCSIS 3.0 or 3.1 and a certain number of downstream/upstream channels.
DOCSIS
DOCSIS, or Data Over Cable Service Interface Specification, is an international standard allowing providers to transmit internet over cable lines. There are two versions of DOCSIS commonly seen when looking for a modem, DOCSIS 3.0 and DOCSIS 3.1. DOCSIS 3.0 offers download speed up to 1 Gbps while DOCSIS 3.1 allows up to 10 Gbps. Most cable providers approve of DOCSIS 3.0 modems, which are more affordable, but they typically require a DOCSIS 3.1 modem if you want speeds faster than 400 Mbps.
Downstream and Upstream Channels
Downstream and upstream channels refer to the sending and receiving of data between your home network and your provider. Usually, you'll see something like "16×4" — the first number is the number of downstream (download) channels you have, and the second refers to the number of upstream channels.
Don't let channels trip you when you're shopping for a modem. As a general rule of them, the higher the number, the higher speed your modem can handle. If you're having a hard time, you can play it safe by looking for a DOCSIS 3.0 16×4 modem like the ARRIS Surfboard SB6183.
Price
It goes without saying that price is always an important factor when buying a modem. Usually, cheaper modems have lower speed capabilities and no WiFi functionality. However, there are plenty of bargains out there. If you want to buy a cheap modem that doesn't have WiFi capabilities, you'll also need to factor in the price of a router. Most standard modems range from $40-$100, while most routers cost between $20-$80. Modem-router combos are generally more expensive, ranging from $60-$250, depending on the brand, speed, and ISP compatibility.
The best way to ensure you get your money's worth is to choose a modem that is universal among the top five cable providers like the ones listed above. You'll see savings within the first year of service (unless you buy the ARRIS Surfboard SBG8300).
Warranty and Support
Most modem manufacturers provide some form of warranty on their devices. However, it's always important to read the fine print. For example, some manufacturers will not honor the warranty if you buy a refurbished model or a device through a third-party retailer. Fortunately, most major retailers like Amazon offer 30-90 day warranties on modems and similar electronic devices.
Technical support is also extremely important. If your device is out of warranty, manufacturers like ARRIS require you to pay for over-the-phone technical support. In any case, most manufacturers provide some form of free technical support via phone, email, or live chat. Many consumers don't think about support until after they've made a purchase, which is a big mistake. If you buy a device from a company that offers little or no technical support, you could be out-of-luck if and when you experience technical difficulties.
Security
Cybersecurity is an increasingly important issue for many consumers. Unfortunately, some modems are more secure than others. Generally, you should look for some of the following security features when shopping for a modem and/or router:
Built-in antivirus software
The ability to edit SSIDs and passwords
WPA2 encryption
Built-in DoS attack protection
Parental control settings
Domain filter options
Built-in VPN capabilities
Built-in Firewall protection
While price and compatibility might be your top priorities when shopping for a new modem, warranties, customer support, and security are equally important.