A Quick Disclosure
It's our policy to always let readers know up-front if we're reviewing devices we got for free. In this case, Hauppauge was kind enough to send us a free device. As always, this won't affect our objectivity.
The Device
The WinTV-dualHD tuner itself is a little USB stick with a coaxial jack on one side. There's a bit more in the box, though, including a USB extender (in case the little stick doesn't fit in your setup), a small antenna (10 mile range), a tiny remote (it's the size and shape of a credit card) with a battery, and an installation CD.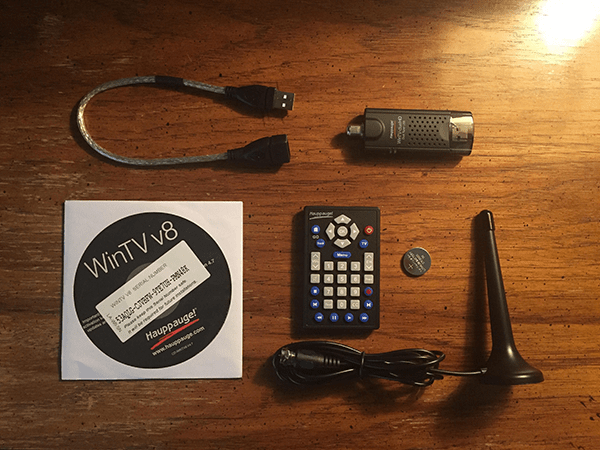 The little antenna is pretty underpowered (more on that later), but the rest of the hardware is great and looks pretty good, if a bit utilitarian. The USB extender is a nice touch, and the remote was really convenient when watching TV.
User Experience
Setting up the WinTV-dualHD tuner is very easy, though it's very much an old-school Windows installation and not one of those crisp one-click affairs that many cord cutters may have grown used to. You plug in the device and antenna, pop in the CD, and click first to install the drivers and then to install the WinTV program. In both cases, you'll just follow some simple prompts (and perhaps negotiate with your overzealous anti-virus software).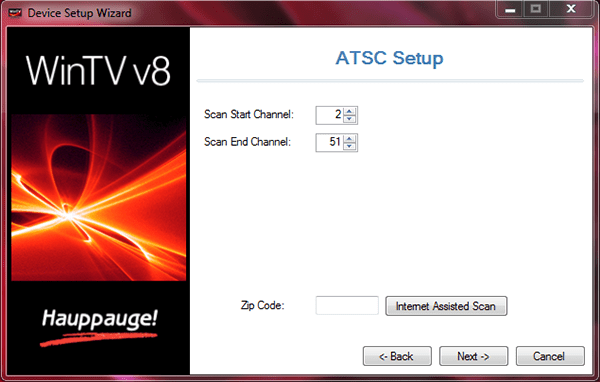 Then you open up the program, scan for channels (again, a pretty automated process), and enjoy!
Flipping channels is easy through either the on-screen controls or with the included remote. The program automatically saves the video from the channel you're watching as it comes in, so you can rewind to a point if you've missed something. You can also set manual recordings – and, since this is a dual tuner, you can watch one channel while recording another. For similar reasons, the program comes with picture-in-picture functionality.
Accessing recordings can be done through the application – you click a button and it opens up a file browser, just like you were opening a new document in Word or something like that. It's not the prettiest thing in the world, and it doesn't measure up to the nice interfaces you'll find on some OTA DVRs, but it's perfectly functional.
Broadcast/Streaming Quality
The little antenna included in the box has a range of about 10 miles, which did pretty much no good in my testing environment. It's definitely a low-powered little thing, so unless you live near the heart of a city, you should assume that you'll have to provide your own antenna. Hauppauge recommends a large rooftop antenna, which is easy for them to say, because they're not the ones paying for it. In my tests, I used a Mohu ReLeaf and everything worked just fine.
Broadcast quality through the tuner is just as good as what you'd get through your TV. The only minor difference is a slight buffering delay when changing channels, but it's really a very small inconvenience to swap for the ability to rewind and record your live TV.
Price
The model we tried out retails for a cool $99.99.
That's not cheap, but it compares favorably to the OTA DVRs that this device most directly competes with.
Verdict
It's not hard to see why PC TV tuners like this aren't exactly dominating the market with cord cutters. The WinTV-dualHD felt kind of techy and clunky as I set it up, and to get it to another screen I'd have to use a separate media server app.
Still, the more I used this thing, the more I felt like it was a great undiscovered cord cutting tool. If you have a media center PC attached to your main screen, this is a cheaper way to get OTA DVR functionality on that screen. If you're willing to invest in a media server like Plex, this no-frills OTA DVR can do just about everything that its well-branded competitors can do. It's a simple but brilliant little device that works very well, and it comes in at a very competitive price point. I recommend it.