Whether it's a Roku TV, streaming stick, or streaming player, you probably thought Roku was already in almost every shape and size imaginable. Well, think again! In this Roku review, we are going to explore the home audio and streaming fusion that is the Roku Streambar Pro. Can it do both without losing sight of the other? Let's find out!
Pros and Cons of Roku Streambar Pro
Pros
Complete streaming and sound combo
4K streaming capabilities
Expandable speaker setup
Bluetooth-enabled
Cons
No subwoofer included
Average sound quality
Inconsistent Roku menu performance
OUR TAKE:

The Roku Streambar Pro is an excellent all-in-one device for people looking for both a streaming device and a soundbar in one fell swoop. However, it's not exactly amazing at performing either one of these functionalities separately.
Roku Streambar Pro at a Glance
| Detail | Roku Streambar Pro |
| --- | --- |
| Price | $99.99 |
| Streaming resolution | Up to 4K UHD HDR |
| Connectivity | 802.11ac dual-band, MIMO Wi-Fi |
| Ports | Power, HDMI 2.0a (ARC), Optical Input (S/PDIF Digital Audio), and USB 2.0 |
| Audio | Four 2.5" full-range speakers supporting PCM, Dolby Audio, and virtual surround sound |
| Smart-device compatibility | Apple AirPlay, Apple HomeKit, Alexa, and Google Assistant |
| Other key features | Includes Roku Voice Remote Pro, Bluetooth, and mounting capability |
Unboxing and Setup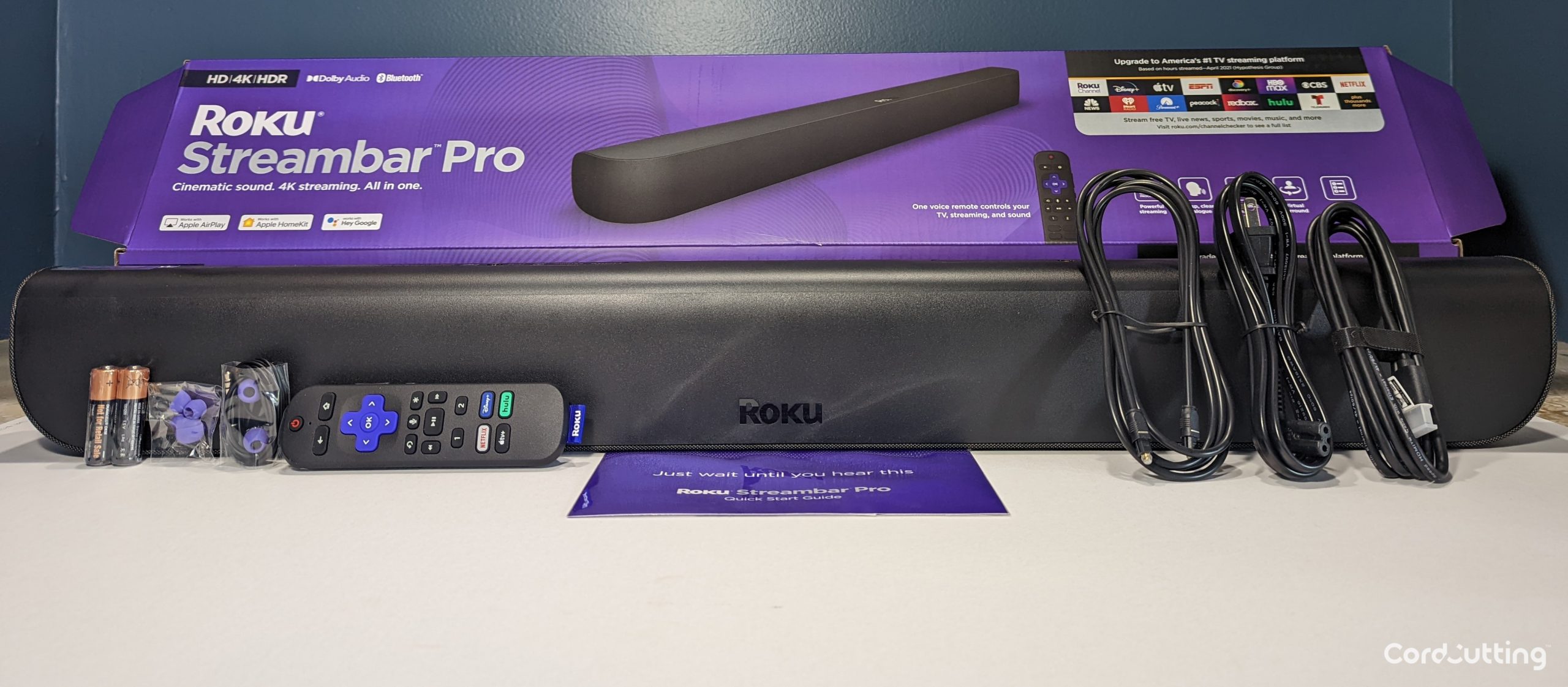 Opening the Roku Streambar Pro is like unwrapping an elaborate gift on Christmas morning. The box comes packed with everything you need to start streaming and playing music way too loud, including the soundbar, the Roku Voice Remote Pro (headphones and batteries included), a premium high-speed HDMI cable, an optical cable, and a power cable.
While we've come to expect Roku to package all these pieces into one box, we were delighted to find that Roku also threw in the optical cable. Even though the new HDMI 2.0 standard is undoubtedly a better option overall for high-quality audio, some audio enthusiasts still prefer an optical cable connection. Some of the biggest brands in sound sometimes don't even include this cable in an attempt to save on cost. So good for you, Roku.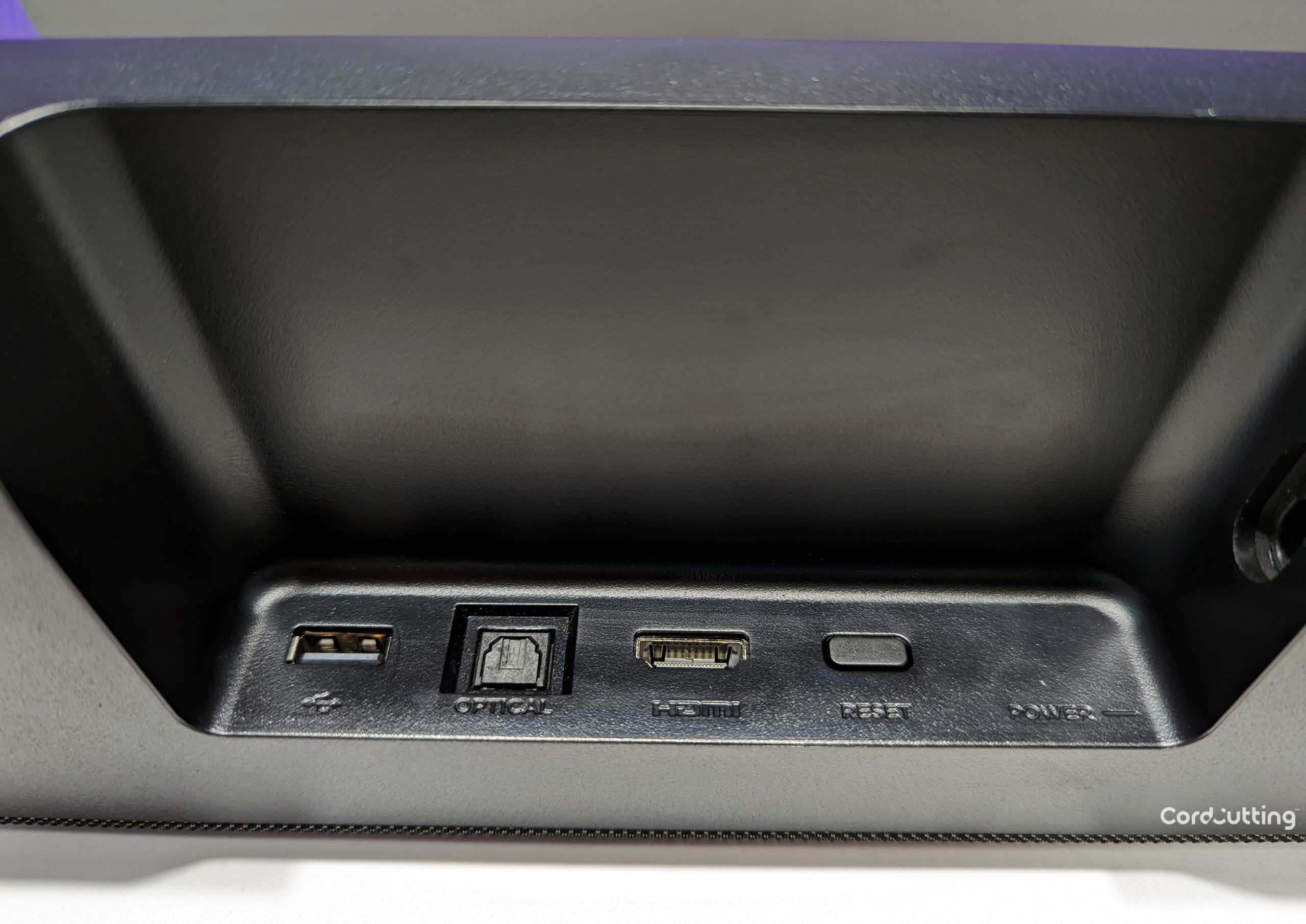 At first glance, the Roku Streambar Pro may seem somewhat intimidating by its sheer size, but looks can be deceiving. At only 5.5 pounds, the device is as light as a designer Chihuahua (and as loud as one too). This meant we could set it easily in our entertainment center without fear of dire consequences if we wanted to adjust it later. For those handier than us, the Roku Streambar Pro also includes holes in the back that allow you to mount it directly to the wall (though the mounting equipment is sold separately).
Setting up the Roku Streambar Pro was as easy as any other Roku streaming device. Simply find the final resting place for your streambar, connect your HDMI to the soundbar and the TV, and plug in your power cord. Voila! You're ready to start streaming and blaring music at inappropriate times of the day. As with other Roku devices, you will have to pair the remote, set up your account, and apply the initial updates before you can really get started, but you get the gist.
Our Experience With the Roku Streambar Pro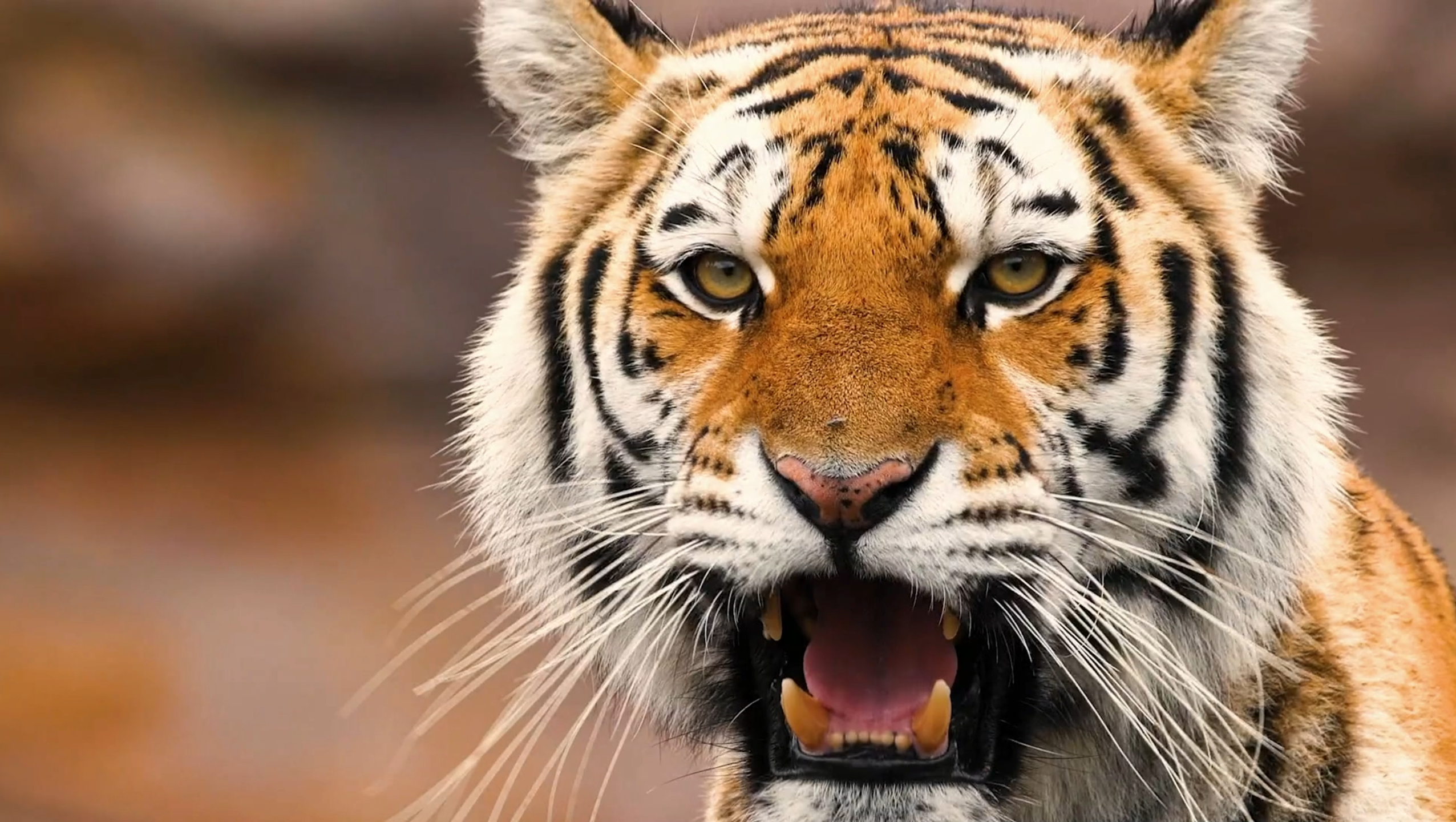 Right after the setup phase, Roku blasts you with the full effects of the Roku Streambar Pro by giving you a taste of different sounds, including two high-horsepower vehicles racing along a two-lane road, dancers performing to EDM beats, and exotic animals making their most notable noises (note the tiger above, and no, he wasn't saying, "This soundbar is gr-r-reat!"). Honestly, we give Roku a 10 out of 10 for this presentation because it sends you through a suite of sounds to immediately demonstrate the soundbar's range. However, once we dove into the Roku Streambar Pro, this menagerie was much less impressive.
Have you ever bought one of those jars of peanut butter and jelly already swirled together? It seems like a brilliant idea. You don't have to buy peanut butter and jelly separately. You don't have to get out two jars and two utensils to make your PB&J sandwich. You don't have to clean up as much mess. It's all right there in one package!
However, once you spread that misaligned mixture on your favorite slices of bread, you realize, there's something unnatural and unappealing about this combination. It doesn't spread how it should. The ratio is all off. The flavor is blueberry when you wanted strawberry. While combining the two things together seems like a no-brainer, there's something special and practical about them being separate. We felt this same sensation with the Roku Streambar Pro.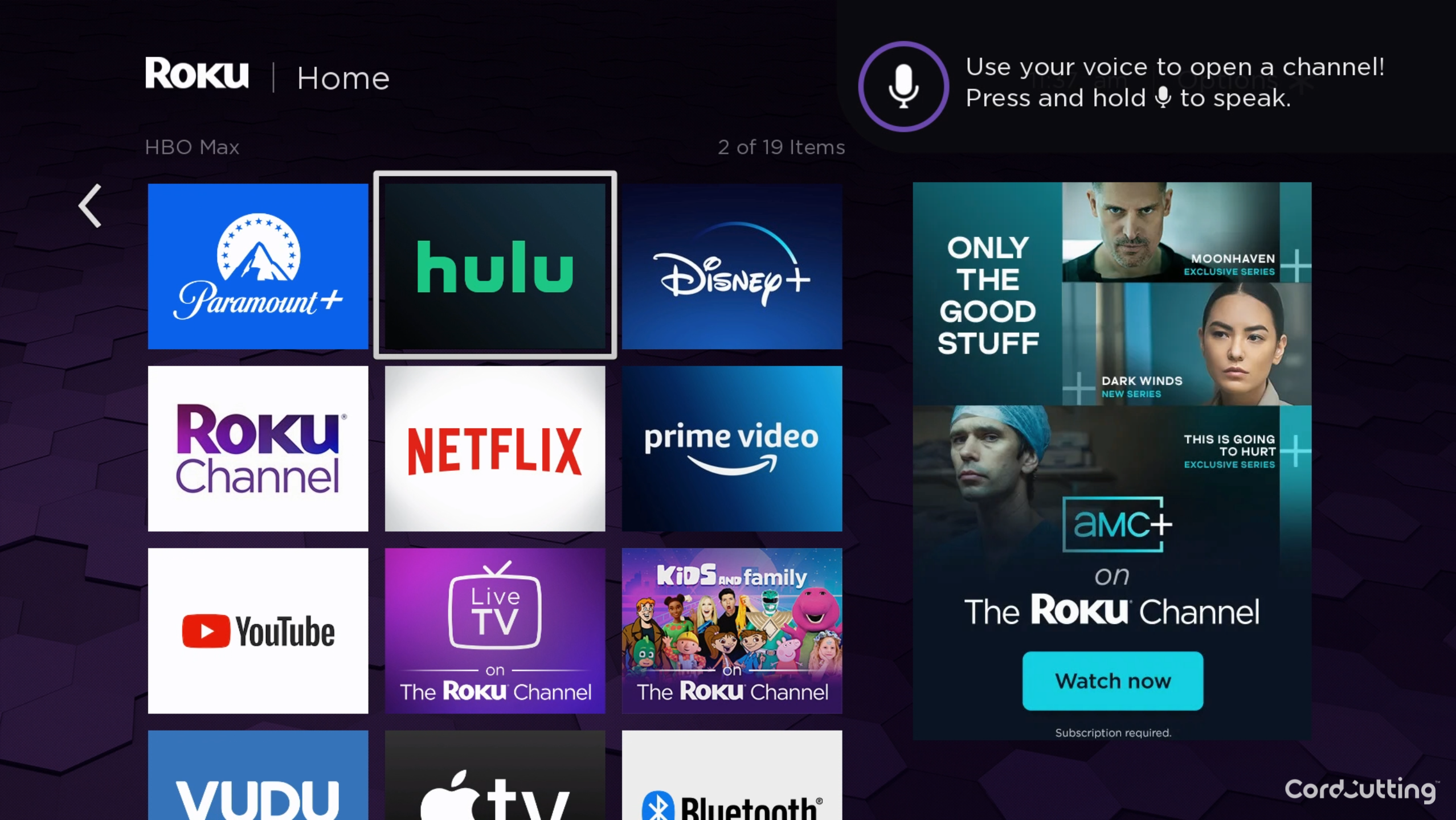 On the surface, it makes sense as a device: streaming and sound all in one place! Instead, we found the Roku Streambar Pro came up short in both categories. For instance, the Roku interface and application were exactly the same as other Roku devices, such as the Roku Ultra or Roku Express 4K Plus.
All of our favorite apps came preloaded on the home screen, including Hulu, Disney Plus, and Paramount Plus. We were presented with live TV, free TV, and on-demand content, all available at our choosing. It seemed like a seamless integration of streaming and sound. And yet, merely navigating between menus on the Roku Streambar Pro was laggy and clumsy. While other dedicated streaming players and devices from Roku offered smooth transitions from apps to the home screen and throughout the menus, we found the Roku Streambar Pro struggled to handle the requests from the Roku Voice Remote Pro.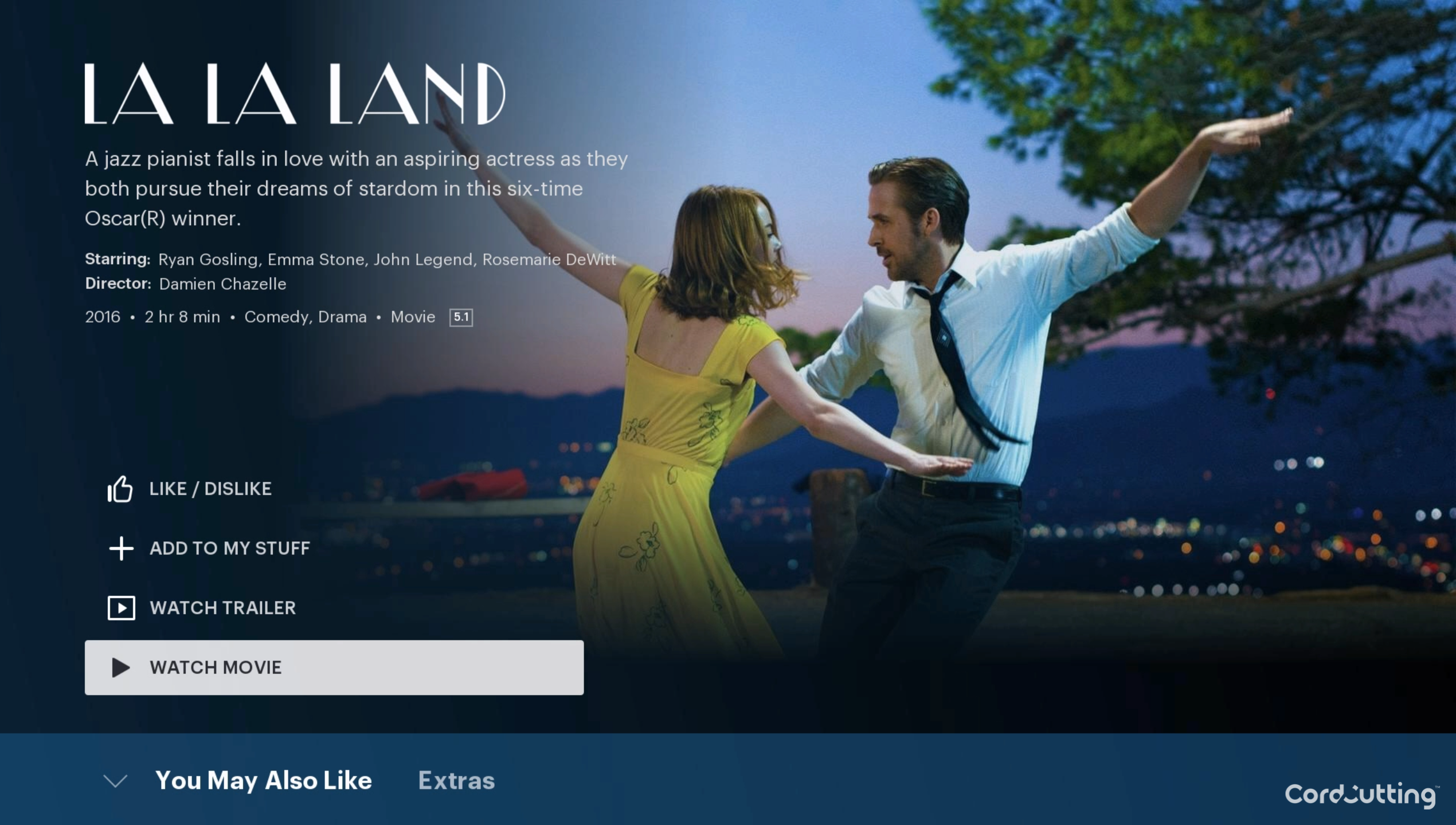 Once we launched into Hulu to test the sound on the movie "La La Land," the Roku Streambar Pro finally caught up and functioned correctly, streaming in the full 4K resolution as promised. So, if you can actually make it into the apps themselves, the Roku Streambar Pro works just as well as any other streaming device. (You just have to get there first.)
Now, we'd like to say that once we were streaming movies and TV shows, the Roku Streambar Pro really started to shine, but it was more of a dim glow. Don't get us wrong, the Roku Streambar Pro was loud: It's definitely capable of crossing the threshold needed to have your neighbors lodge a formal complaint against you with the HOA for breaking quiet time hours. But, without the inclusion of a dedicated subwoofer or surround speakers, the soundbar didn't have enough depth in the highs and lows to wow us with its quality.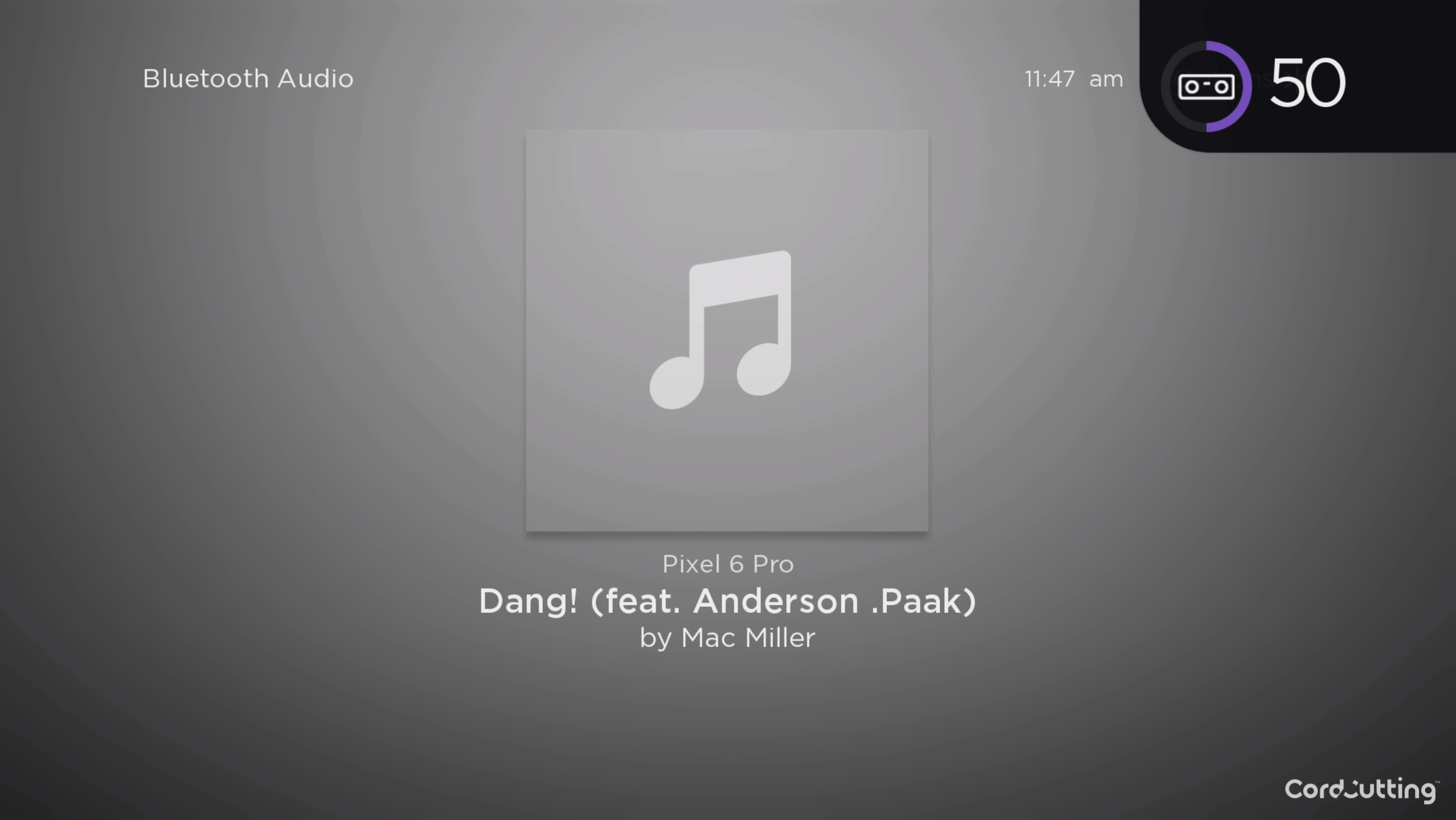 One feature we got a lot of use out of was the Roku Streambar Pro's built-in Bluetooth capability. No matter if you're Team Spotify, Pandora, or YouTube Music, with the Bluetooth connection through the Roku Streambar Pro, anyone in your home can connect to the soundbar and begin dropping beats for everyone to hear. We found connecting to the streambar to be as simple as syncing to any handheld Bluetooth speaker. So, if you need to shatter any awkward silences caused by that last episode of "Bridgerton" on Netflix, then here's your way out.
Roku Streambar Pro Sound Quality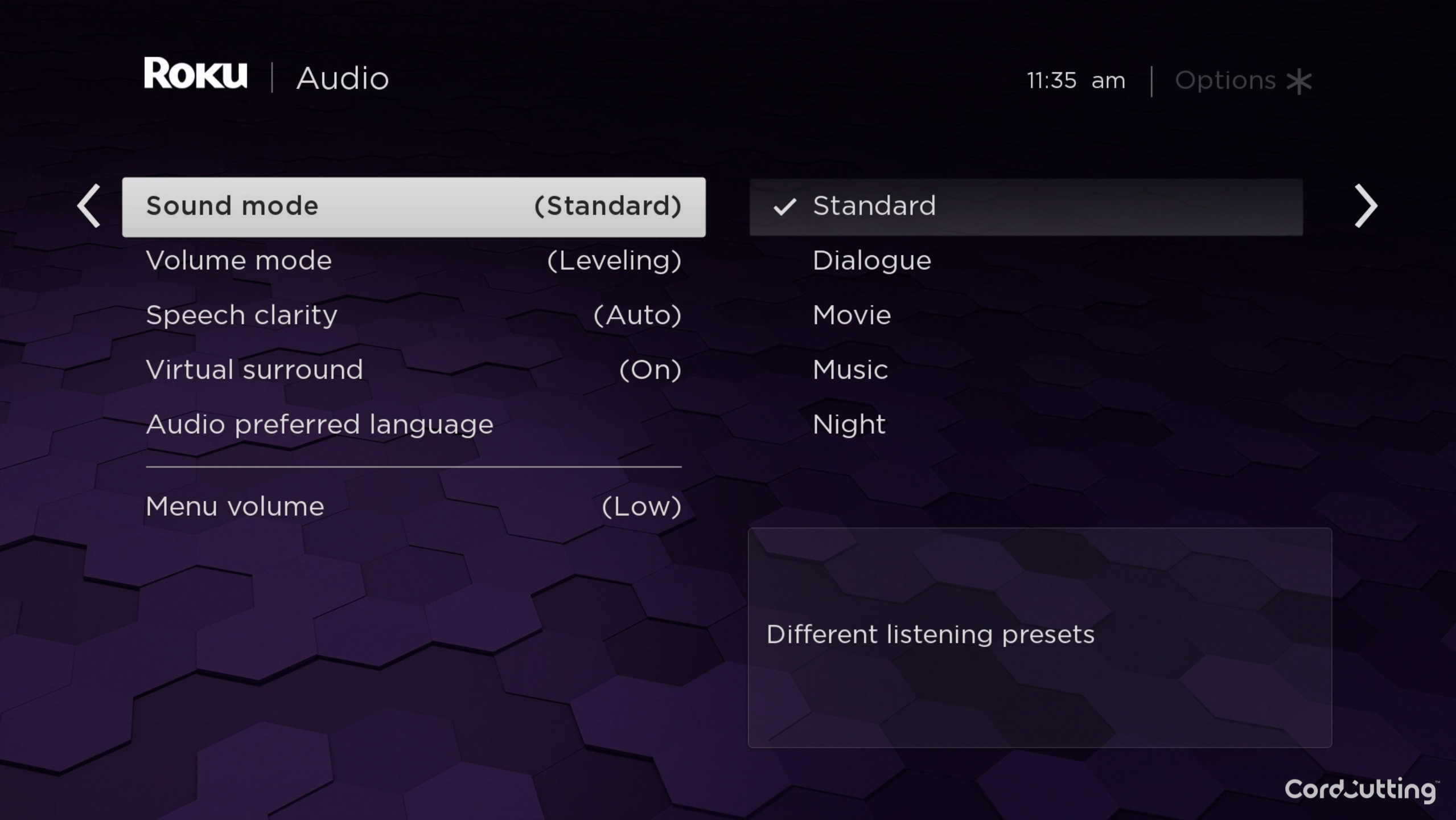 Okay, we'll admit, we are not exactly the audiophiles you'll find reviewing every soundbar, receiver, and 7.1 surround sound system that hits the shelves each month. But, we do a lot of streaming, and sound is kinda important. Well, except for you streamers out there who watch everything with subtitles enabled (who are you, and why do you do this?). So, we looked at the sound quality of the Roku Streambar Pro from the perspective of the streamer.
Our favorite feature of the Roku Streambar Pro was the ability to switch sound modes on the fly between Standard, Dialogue, Movie, Music, and Night. Watching a documentary with lots of talking? Dialogue mode lowers the background sounds in favor of conversational noise. Watching a movie? The Movie mode adjusts the sound to emulate an immersive movie theater experience. Catching up on your favorite TV show in the wee hours of the morning? Night mode lowers the bass to keep your family sawing Zs in peace.
While we weren't exactly blown away by its sound quality in general, we found these customizations allowed us to elevate the sound quality of the device by adjusting it based on our viewing habits. Adding to the mix, we could also customize the preset settings one step further by altering the bass and treble levels.
On the other hand, we didn't enjoy the Virtual surround setting in the Roku Streambar Pro. At face value, Roku claims this setting will reproduce a surround sound environment, but we found it just added a horrible echo to everything. We don't think anyone is buying this device with the belief they are getting surround sound, so it's not much of a surprise that this setting didn't work well.
Overall, the sound quality of the Roku Streambar Pro depends on how you use it. If you align the settings correctly for each of your favorite streaming shows and services, it can be a decent solution for streaming sound. But, if you plan to use it right out of the box on the basic settings, you may be disappointed — especially without Roku Wireless Speakers and Roku Wireless Subwoofer (which will cost you an arm and a leg).
Roku Streambar Pro Value
Okay, you have the Roku Streambar Pro in your cart, and you're ready for checkout. Do you go forward with the purchase, or are you having second thoughts? Don't worry; people in love get cold feet sometimes too.
For $99.99, the Roku Streambar Pro is, frankly, one of the best deals you'll find for a unique product that combines Roku's best-in-class streaming device capabilities with the resounding sound of a full-scale soundbar. One of the only other products on the market offering a similar experience is the Verizon Stream TV Soundbar with Bang & Olufsen Audio, and it retails for almost $400 (sheesh). So, if you're looking for a streaming player and a soundbar, this product is probably right for you, especially from an affordability perspective.
On the other hand, let's say you already have an amazing sound system, or you already purchased the Roku Ultra or another high-level streaming player. In this case, it might make more sense to purchase a sound system or streaming device separately. This device is best suited for those at a point in their lives where they need both streaming and sound in one go.
The Verdict: Is It Worth It?
Much like a technological liger, the Roku Streambar Pro is a unique combination of two robust streaming and sound technologies in one all-inclusive package. Admittedly, it's rare that a creature of this nature emerges on the streaming scene successfully, and maybe it's for good reason. Ligers never sustainably synthesize their lion and tiger traits. In the same sense, the Roku Streambar Pro struggles to deliver both streaming and sound quality without detracting from the other.
Be that as it may, there may still be a habitat for this device. If you're looking to build your first home entertainment setup or expand from a simple streaming stick, the Roku Streambar Pro could be the difference between just streaming content and creating an immersive experience for your home.