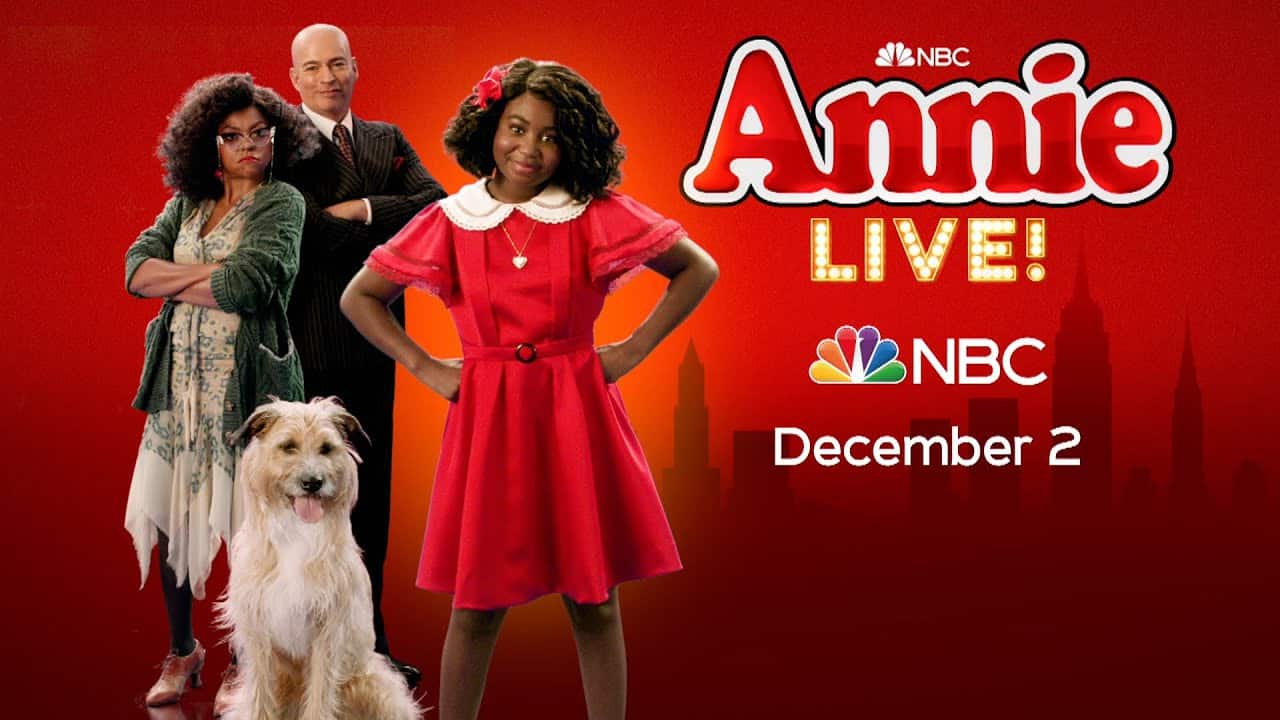 Whether you grew up with the comic book, watched the Tony award-winning musical on stage, or enjoyed the movie productions at the theatre or on your TV, Little Orphan Annie has been a fixture of American Musical Theatre. This December 2nd, the larger-than-life orphan, and her mangy mutt make their live network television debut along with an entire cast of iconic characters in a performance of "Annie Live!"
This month, the 12-year-old singer and entertainer Celina Smith performs for the first time as Annie alongside veteran performer Harry Connick Jr., in a special live performance of Annie you won't want to miss. So how do you tune in and sing along with this iconic musical performance without cable? We'll tell you precisely how!
What Channel is 'Annie Live!' On? What Time Does 'Annie Live!' Start?
Cutting the cord from cable shouldn't leave you feeling like you're in the middle of a hard-knock life number just like Annie's orphan friends. You may not have cable, but that won't stop you from catching Annie Live! on your TV. First, you need to know when and where it will air:
"Annie Live" is on NBC, Thursday, December 2nd at 8 p.m. Eastern and 7 p.m. Central time.
NBC is a local broadcast network, which means you have a couple of options for catching it on TV without cable. There are numerous options for live TV streaming services that have NBC, and you can even utilize an over-the-air alternative to tune in and sing along with the cast. So, put on your best dress and check out the best places to catch "Annie Live!" below.
How to Watch the 'Annie Live!' Online and Over the Air Without Cable
In the last decade, NBC has become the go-to network for live performance re-makes: think Sound of Music Live!, The Wiz Live!, Peter Pan Live!, and Hairspray Live!. Luckily, numerous streaming platforms carry NBC. Chances are you've already got one of these streaming services. And, if you don't, you can pick one up cheaply to access "Annie Live!" instantly. Here's the full list:
Hulu + Live TV has every sort of NBC you could ever dream of, like NBC, MSNBC, NBC Sports, and even NBC Sports Golf. Though, to watch Annie Live! all you need is the good old bread and butter NBC original. Hulu has several subscription options — just make sure you're signing up for Hulu + Live TV for access to Annie and other live programming you might want to tune into and enjoy. Check out our review of Hulu to find out everything you need to know.
While many people think it's just for sports programming, fuboTV is much more than that. It also has an immense number of other channels, including NBC. You can check out fuboTV and see how they compare against other live streaming services that offer NBC if you're interested in finding out more.
If you've got this skinny bundle already, then you'll know how affordable and enjoyable Sling TV is. Sling is not as robust as higher-priced streaming services like YouTube TV or Hulu + Live TV, but they've got a good selection of channels that would satisfy many TV watchers. Be careful though, their coverage of NBC is limited. Verify that Sling TV covers NBC and other local networks you care about in your area before purchasing.
YouTube must have decided that owning the video upload market just wasn't enough because they've launched YouTube TV in recent years, a live streaming service on par with the likes of Hulu + Live TV, FuboTV, and DIRECTV. Read our complete YouTube TV review to get the read on YouTube TV and all it has to offer.
It may be too simple to seem real, but trust us — Over-the-Air TV is very real and very free. All you need is a modern over-the-air TV antenna to get started. Installation is easy and quick, which means you'll be off and watching local TV in no time.
Can I Watch 'Annie Live!' on Roku, Fire TV, Apple TV, or Chromecast?
You don't have to plant yourself in front of the TV only to watch Annie Live! Thanks to the world's love for entertainment married with technological innovation, you can watch Annie Live! just about anywhere on any device. Check out the chart below to see how the streaming services we mentioned above match up with your favorite viewing devices.
Roku
Fire TV
Apple TV
Android TV
Chromecast
iOS
Android
Web/
browser
Hulu + Live TV
Yes
Yes
Yes
Yes
Yes
Yes
Yes
Yes
fuboTV
Yes
Yes
Yes
Yes
Yes
Yes
Yes
Yes
Sling TV
Yes
Yes
Yes
Yes
Yes
Yes
Yes
Yes
YouTube TV
Yes
Yes
Yes
Yes
Yes
Yes
Yes
Yes
More to Watch for Fans of 'Annie'
Musical theatre has been a fixture of American culture since the early 19th century, growing in popularity as it evolved from a niche form of entertainment to an experience that reaches millions of us each year in the theatre and at home. So it's no wonder, Annie Live! may not be the only musical experience you'll be craving this year. Luckily, channels like PBS and others, devoted to exploring American culture, including its performing arts, are just a click away. Check out our guide to watching PBS without cable if you're interested in exploring more.