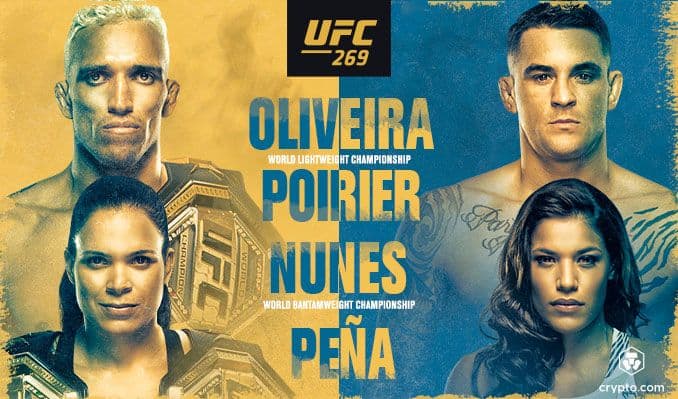 If you're a fan of the UFC or mixed martial arts in general, you have to see UFC 269. This marquee matchup features lightweight champ Charles "Do Bronx" Oliveira (31-8-0, 1NC) taking on Dustin "The Diamond" Poirier (28-6-0, 1NC). Poirier was last seen defeating Conor McGregor by technical knockout in July, but Oliveira is still the champ until proven otherwise.
Adding to the excitement of this explosive event, you'll also see a Women's Bantamweight Championship bout between Amanda "The Lioness" Nunes (21-4-0) and Julianna "The Venezuelan Vixen" Peña (11-4-0) before Oliveira and Poirier enter the octagon. With 13 wins by knockout, Nunes is a force to be reckoned with, but Peña is here to play following her submission defeat of Sara McMann back in January.
No matter what fight you're coming for, you don't have to have cable to watch UFC 269. We'll show you how to access UFC 269 and start streaming the fights in this how to watch guide.
Start Time for UFC 269: Oliveira vs. Poirier
Are you ready to watch UFC 269? Check out all the details of the event below:
When is UFC 269: December 11
Where is UFC 269: T-Mobile Arena in Las Vegas
What time does the Main Card start: 10 p.m. ET / 7 p.m. PT
What time do the Feature Prelims start: 8 p.m. ET / 5 p.m. PT
What time do the Early Prelims start: 6:15 p.m. ET / 3:15 p.m. PT
Fight Card for UFC 269: Oliveira vs. Poirier
With five different bouts on the Main Card and four featured preliminary fights, UFC 269 is packed with action and entertainment. Check out the Fight Card for all the details:
| Matchup | Weight class | Time | Odds |
| --- | --- | --- | --- |
| Oliveira vs. Poirier | Lightweight Title | Main card | Poirier -160 |
| Nunes vs. Pena | Women's Bantamweight Title | Main card | Nunes -900 |
| Neal vs. Ponzinibbio | Welterweight | Main card | Both -110 |
| Kara-France vs. Garbrandt | Flyweight | Main card | Garbrandt -155 |
| Paiva vs. O'Malley | Bantamweight | Main card | O'Malley -305 |
| Emmett vs. Ige | Featherweight | Preliminary card | Emmett -160 |
| Munhoz vs. Cruz | Bantamweight | Preliminary card | Both -110 |
| Sakai vs. Tuivasa | Heavyweight | Preliminary card | Tuivasa -115 |
| Wright vs. Silva | Middleweight | Preliminary card | Silva -335 |
How to Watch UFC 269: Oliveira vs. Poirier
This is where we usually list a bunch of streaming services that will allow you to watch the program in question. But for this fight, the list is going to be mighty short. That's because there's only one service that lets you watch UFC 269 and Oliveira vs. Poirer: ESPN Plus.
That's right: An ESPN Plus subscription is the only way you'll be able to watch UFC 269. But even then, you'll still need to give UFC and ESPN Plus more of your money if you want to see the main card matches. Those are pay-per-view exclusives, and you'll need to pay $69.99 if you already have an ESPN Plus subscription. What if you don't already subscribe to ESPN Plus? In that case, you can pay $89.99 and get both UFC 269 and a full year's subscription, which we think is a pretty good deal. It's also available to ESPN Plus customers who currently pay for a monthly plan. That monthly plan costs $6.99 per month, which means you'll save a ton of money if you buy the annual plan and UFC 269 at the same time.
If you just want to watch the preliminary matches, all you need is an ESPN Plus subscription. But we're guessing most diehard UFC fans will want to see the stacked lineup on the main card.
What if you want to know what the overall ESPN Plus experience is like? Our ESPN Plus review has everything you need to know.
Can I Watch UFC 269 on Roku, Fire TV, Apple TV, or Chromecast?
UFC 269 through ESPN Plus is available through a variety of devices. Check out this chart to ensure your device is compatible:
Roku
Fire TV
Apple TV
Android TV
Chromecast
iOS
Android
Web/
browser
ESPN Plus
Yes
Yes
Yes
Yes
Yes
Yes
Yes
Yes
More to Watch for UFC 269 Fans
Now you know how to watch UFC 269, and it doesn't matter if you root for Oliveira, Poirier, or simply chaos. All three options are acceptable, and sometimes the last one is the most fun. But what do you do when all the winners have been declared and UFC 269 is over?
Well, there's plenty of other good sports worth checking out right now. The NHL, NFL, and NBA are all in the midst of their respective seasons right now, and they aren't the only leagues playing either. We have a general guide to watching sports without cable that you should check out for more details.