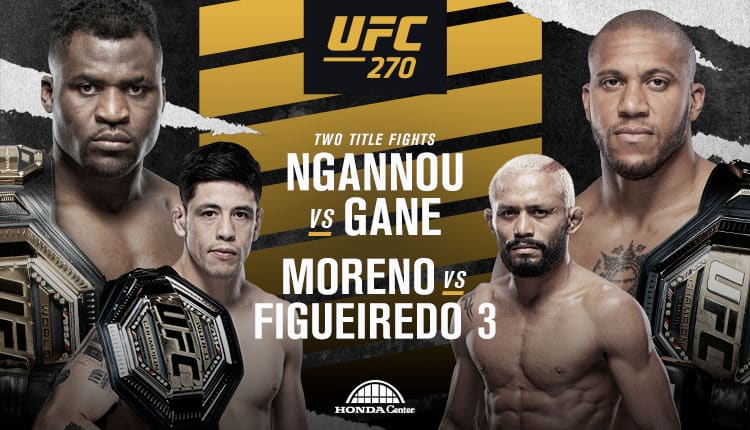 UFC fans won't want to miss out on UFC 270, which takes place January 22nd in Anaheim, California. The marquee matchup features Francis "The Predator" Ngannou (16-3-0) vs. Cyril "Bon Gamin" Gane (10-0-0) for the Heavyweight Title. It's a title unification match, which means that right now, both men have a claim to being heavyweight champ, and this match will end with either Ngannou or Gane as the undisputed champ. As former training partners, this bout is a bit more personal.
If that wasn't enough, you are getting a double title header at UFC 270 with Brandon "The Assassin Baby" Moreno (19-5-2) defending his Flyweight Title against Deiveson "Deus Da Guerra" Figueiredo (20-2-1). With Moreno beating Figueiredo in their last matchup, Figueiredo is ready to bounce back and claim his title once and for all. As the third bout between these two, this one could be the last time we see these fighters in the ring together.
Don't have a cable subscription? No problem. In this guide, we'll show you how to watch UFC 270 without cable.
Start Time for UFC 270: Ngannou vs. Gane
Are you ready to watch UFC 270? Check out all the details of the event below:
When is UFC 270: January 22
Where is UFC 270: Honda Center in Anaheim
What time does the Main Card start: 10 p.m. ET / 7 p.m. PT
What time do the Feature Prelims start: 8 p.m. ET / 5 p.m. PT
What time do the Early Prelims start: 6 p.m. ET / 3 p.m. PT
With five different bouts on the Main Card and four feature preliminary fights, UFC 270 is packed with action and entertainment. Check out the Fight Card for all the details:
| Matchup | Weight class | Time | Odds |
| --- | --- | --- | --- |
| Ngannou vs. Gane | Heavyweight Title | Main card | Gane -145 |
| Moreno vs. Figueiredo | Flyweight Title | Main card | Moreno -180 |
| Pereora vs. Fialho | Welterweight | Main card | N/A |
| Stamann vs. Nurmagomedov | Bantamweight | Main card | Nurmagomedov -195 |
| Morales vs. Giles | Welterweight | Main card | N/A |
| Barcelos vs. Henry | Bantamweight | Preliminary card | Barcelos -475 |
| Maddalena vs. Rodriguez | Welterweight | Preliminary card | Maddalena -365 |
| Gravely vs. Oliveira | Bantamweight | Preliminary card | Gravely -250 |
| Hansen vs. Jasudavicius | Women's Flyweight | Preliminary card | N/A |
How to Watch UFC 270: Ngannou vs. Gane
While we usually list a bunch of streaming services here, the list for UFC 270 is rather short. That's because there's only one service that lets you watch UFC 270 and the hotly anticipated Ngannou vs. Gane bout. Let's take a look, shall we?
That's right! You'll need an ESPN Plus subscription to watch all the action at UFC 270. Even then, you'll still need to put up a little more money to see all those main card fights. As pay-per-view exclusives, those bouts will cost you $74.99 if you already have an ESPN Plus subscription.
What if you don't already subscribe to ESPN Plus? In that case, you can pay $99.98 and get both UFC 270 and a full year's subscription. That's a good deal to us, and it's also available to ESPN Plus customers who currently pay for a monthly plan. At $6.99 per month, you'll save a ton of money if you buy the annual plan and UFC 270 at the same time.
If you just want to watch the preliminary matches, all you need is an ESPN Plus subscription. However, we're guessing most diehard UFC fans will want to see the stacked lineup on the main card.
Want to know more about ESPN Plus? Check out our review of ESPN Plus to get all the details.
Can I Watch UFC 270 on Roku, Fire TV, Apple TV, or Chromecast?
Watch UFC 270 through a variety of streaming devices. Check out this chart to ensure your device is compatible:
Roku
Fire TV
Apple TV
Android TV
Chromecast
iOS
Android
Web/
browser
ESPN Plus
Yes
Yes
Yes
Yes
Yes
Yes
Yes
Yes
More to Watch for UFC Fans
Now you know how to watch UFC, and it doesn't matter if you root for Ngannou, Gane, or simply chaos. All three options are acceptable, and sometimes the last one is the most fun. But what do you do when all the winners have been declared and UFC 270 is over?
Well, there's plenty of other good sports worth checking out right now. The NHL, NFL, and NBA are all in the midst of their respective seasons right now, and they aren't the only leagues playing either. We have a general guide to watching sports without cable that you should check out for more details.