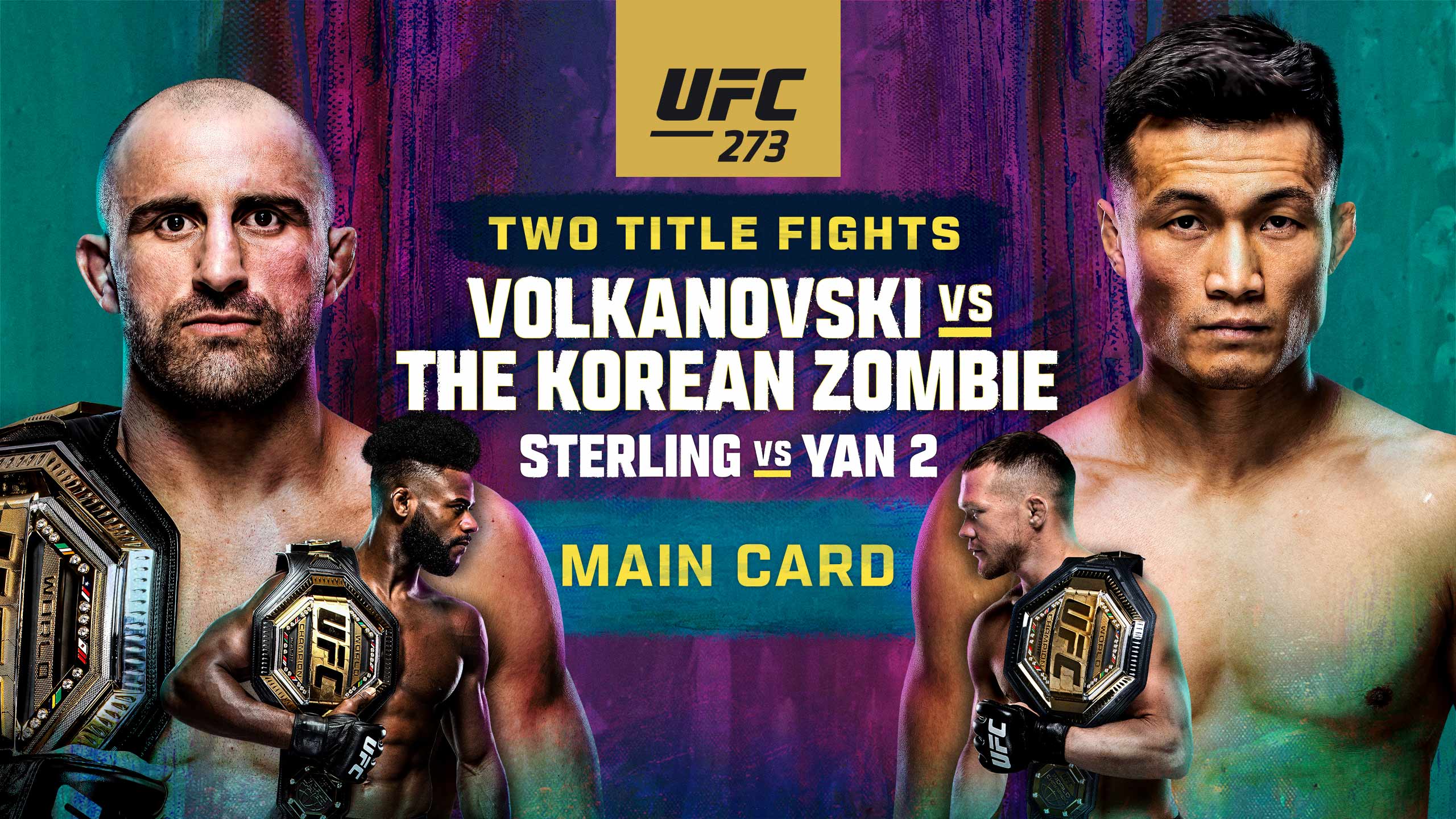 While the UFC is always full of action, this Saturday, April 9, UFC 273 is going to be stacked with plenty of knockdown, drag-out fights, including two title bouts on the main card. In the first featherweight title bout, Alexander "The Great" Volkanovski (23-1-0) is defending his stellar record against Chan Sung Jung (17-6-0), also known as "The Korean Zombie." Adding another loss to Volkanovski's record is going to be a tall order for Jung.
If that wasn't enough, this doubleheader also features a bantamweight title bout between Aljamain "Funk Master" Sterling (20-3-0) and Petr "No Mercy" Yan (16-2-0). Yan has a score to settle after being disqualified in their last meetup during the fourth round for throwing an illegal knee. That said, Sterling hasn't lost a fight in over four years.
No matter what happens, you'll want to catch this event, as it's bound to be one of the best UFC fight cards of the year. Best of all, you don't need a cable subscription to catch this UFC event. Read on to find out how to watch UFC 273 without cable this weekend.
Here is our favorite way to stream UFC 273: Volkanovski vs. The Korean Zombie:
| | Price | Channels | Free Trial | |
| --- | --- | --- | --- | --- |
| #1 | $6.99 – $13.99 | N/A | None | |
When Is UFC 273 and Where Can You Watch It?
Ready to watch UFC 273? Here are all the details about when the fight starts and where you can watch it:
When is UFC 273: April 9
Where is UFC 273: VyStar Veterans Memorial Arena in Jacksonville, Florida
What time does the main card start: 10 p.m. ET / 7 p.m. PT
What time do the feature prelims start: 8 p.m. ET / 5 p.m. PT
What time do the early prelims start: 6 p.m. ET / 3 p.m. PT
Note: You can only stream the early prelims using the UFC Fight Pass.
Fight Card for UFC 273: Volkanovski vs. The Korean Zombie
UFC 273 will have five fights on the main fight card and four fights on the preliminary card for an action-packed night of action. Here's the official UFC 273 fight card:
| Matchup | Weight class | Time | Odds |
| --- | --- | --- | --- |
| Volkanovski vs. Jung | Featherweight Title | Main card | Volkanovski -720 / Jung +500 |
| Sterling vs. Yan | Bantamweight Title | Main card | Sterling +330 / Yan -435 |
| Burns vs. Chimaev | Welterweight | Main card | Burns +360 / Chimaev -490 |
| Dern vs. Torres | Women's Strawweight | Main card | Dern -120 / Torres +100 |
| Phichel vs. Madsen | Lightweight | Main card | Pichel -120 / Madsen +100 |
| Garry vs. Weeks | Welterweight | Preliminary card | Garry -365 / Weeks +280 |
| Ladd vs. Pennington | Women's Bantamweight | Preliminary card | Ladd +150 / Pennington -170 |
| Gall vs. Malott | Welterweight | Preliminary card | Gall +160 / Malott -190 |
| Oleinik vs. Vanderaa | Heavyweight | Preliminary card | Oleinik -110 / Vanderaa -110 |
How to Watch UFC 273: Volkanovski vs. The Korean Zombie
Want to watch the UFC 273: Volkanovski vs. The Korean Zombie main fight card? You have one option: ESPN Plus. Learn more about the ESPN Plus streaming service and how to catch UFC 273 below:
ESPN Plus is the main way to watch UFC 273 this weekend. As the home of UFC, including main events and weekly UFC Fight Nights, ESPN Plus has a ton to offer fighting fans and aficionados. At only $6.99 per month, you will get unprecedented access to UFC events, big and small. Or, you can even go with the Disney Bundle that includes ESPN Plus, Disney Plus, and Hulu in one all-inclusive streaming package.
However, if you want to catch the main fight card at UFC 273, you will have to pay the $74.99 pay-per-view fee alongside your monthly subscription. For us, we recommend going all-in for $99.98 to get both the UFC 273 main card and the annual subscription to ESPN Plus. Really, just get a few friends to chip in for the fight cost, and you can keep the ESPN Plus subscription all to yourself.
If you want to watch the preliminary matches, you can use your ESPN Plus subscription, or you can stream them on ESPN.
Can I Watch UFC 273 on Roku, Fire TV, Apple TV, or Chromecast?
After you buy the UFC 273 pay-per-view match and get ESPN Plus, you'll want to be sure your streaming device is compatible. Don't worry, though, as ESPN Plus works with just about everything, including Roku, Fire TV, and Android streaming devices.
Roku
Fire TV
Apple TV
Android TV
Chromecast
iOS
Android
Web/
browser
ESPN Plus
Yes
Yes
Yes
Yes
Yes
Yes
Yes
Yes
More to Watch for UFC Fans
While it may not be the head-to-head fights found in the UFC, there are plenty of bouts in the NHL, especially with the playoffs coming up next month. Check out our guide on how to watch NHL games to catch two players throw down their gloves and start brawling on the ice.
Want to see some more traditional fighting? You'll need to read our guide on how to watch HBO. Beyond movies related to boxing like "Muhammed Ali" and "Rocky," HBO hosts classic boxing bouts between some of the best contenders of all time.