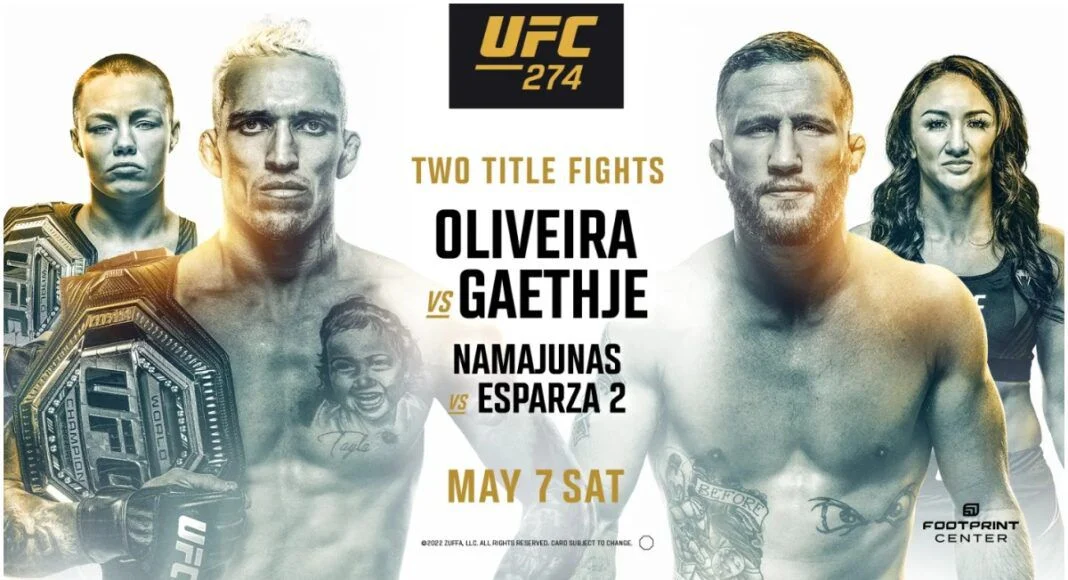 This Saturday, May 7th, UFC 274 kicks off — an event stacked with matches against top competitors in the field, including two title bouts featured on the main card. This year we'll see in the first Featherweight Title bout, Charles Oliveira aka "DD Bronx" (32-8-0, 1 NC) against Justin "The Highlight" Gaethje (24-3-0). We'll see if Gaethje will stay true to his tendency to win by KO/TKO in this match against Oliveira, who dominates in winning by submission.
Also on the docket is the women's Strawweight Title match between Rose Namajunas aka "Thug" (12-4-0) and the "Cookie Monster" Carla Esparza (19-6-0). Though Esparza has a higher takedown average (3.53 vs. Namajunas's 1.78), Namajunas shines in significant strikes per minute (4.01 vs. Esparza's 2.34).
UFC 274 is a don't miss event, as it's packed with top-ranked fighters going head to head in 15 different matches from preliminary to title match rounds. So how do you watch? Well, you won't need a cable subscription to catch this UFC event. Read on to find out how to watch UFC 274 without cable this weekend.
When Is UFC 274 and Where Can You Watch It?
Ready to watch UFC 274? Here are all the details about when the fight starts and where you can watch it:
When is UFC 274: Saturday, May 7
Where is UFC 274: Footprint Center, Phoenix, Arizona
What time does the main card start: 10 p.m. ET / 7 p.m. PT
What time do the feature prelims start: 8 p.m. ET / 5 p.m. PT
What time do the early prelims start: 6 p.m. ET / 3 p.m. PT
Note: You can only stream the early prelims using the UFC Fight Pass.
Fight Card for UFC 274: Oliveira vs. Gaethje
UFC 274 will have five fights on the main fight card and four fights on the preliminary card in which promises to be a night packed with action. Here's the official UFC 274 fight card:
| Matchup | Weight class | Card | Odds |
| --- | --- | --- | --- |
| Oliveira vs. Gaethje | Lightweight Title | Main card | Oliveira -180 / Gaethje +155 |
| Namajunas vs. Esparza | Women's Strawweight Title | Main card | Namajunas -210 / Esparza +175 |
| Chandler vs. Ferguson | Lightweight | Main card | Chandler -365 / Ferguson +280 |
| Rua vs. Saint Preux | Light Heavyweight | Main card | Rua +195 / Saint Preux -240 |
| Cerrone vs. Lauzon | Lightweight | Main card | Cerrone -180 / Lauzon +155 |
| Brown vs. Williams | Welterweight | Preliminary card | Brown +105 / Williams -125 |
| Trinaldo vs. Roberts | Welterweight | Preliminary card | Trinaldo -115 / Roberts -105 |
| Chiasson vs. Dumont | Women's Featherweight | Preliminary card | Chiasson +190 / Dumont -235 |
| Royval vs. Schnell | Flyweight | Preliminary card | Royval -240 / Schnell +195 |
How to Watch UFC 274: Oliveira vs. Gaethje
If you're ready to watch UFC 274: Oliveira vs. Gaethje you'll need to go one place: ESPN Plus. Read our guide on ESPN Plus streaming and below to find out exactly how to tune in:
ESPN Plus is the main way to watch UFC 274 this weekend. As the home of UFC, including main events and weekly UFC Fight Nights, ESPN Plus has a ton to offer fighting fans and aficionados. At only $6.99 per month, you will get unprecedented access to UFC events, big and small. Or, you can even go with the Disney Bundle that includes ESPN Plus, Disney Plus, and Hulu in one all-inclusive streaming package.
With ESPN Plus, you'll get access to most of the UFC 274 matches except the title fights. For those you'll need to purchase the $74.99 pay-per-view plan in addition to your monthly ESPN Plus subscription. The easier route in our opinion if you want to catch UFC 274 in its entirety is to purchase a years subscription to ESPN Plus and the pay-per-view privilege all in a one time payment of $99.98. After that you can relax and enjoy the show. And if its a watch party, have your friends chip in!
If you're only interested in the preliminary matches, you can use your ESPN Plus subscription, or you can stream them on ESPN.
Can I Watch UFC 274 on Roku, Fire TV, Apple TV, or Chromecast?
After you buy the UFC 274 pay-per-view match and get ESPN Plus, you'll want to be sure your streaming device is compatible. Don't worry, though, as ESPN Plus works with just about everything, including Roku, Fire TV, and Android streaming devices.
Roku
Fire TV
Apple TV
Android TV
Chromecast
iOS
Android
Web/
browser
ESPN Plus
Yes
Yes
Yes
Yes
Yes
Yes
Yes
Yes
More to Watch for UFC Fans
While it may not be the head-to-head fights found in the UFC, there are plenty of bouts in the NHL, especially with the playoffs coming up soon. Check out our guide on how to watch the NHL Playoffs to catch potential brawls on the ice plus some pretty fierce competition.
Want to see some more traditional fighting? You'll need to read our guide on how to watch HBO. Beyond movies related to boxing like "Muhammed Ali" and "Rocky," HBO hosts classic boxing bouts between some of the best contenders of all time. Or catch the latest professional boxing matches on Showtime.