Eight in ten Americans are confused by HBO's branding
On May 27, AT&T unveiled the newest on-demand streaming service on the market: HBO Max. Among other big titles, the new service includes HBO hits like The Sopranos. But, for the newest member of the HBO family, the family resemblance doesn't end there. HBO Max joins a jumbled mass of look-alike brands: HBO, HBO Go, and HBO Now are all in the club.
If you're confused, you're not the only one. We asked more than 500 adults about their awareness and use of HBO's offerings and found that HBO is very popular — but that even its own fans and subscribers appear to be baffled by its branding. Maybe HBO fans aren't sure how their version of HBO differs from other HBO brands, and some don't even seem to be sure which version is theirs. These issues may feed into relatively low awareness for HBO Max, something that may hold the service back even as it demonstrates its popularity among HBO fans.
O.G. HBO is a subscriber favorite
About half of our respondents said they had some form of HBO. This likely reflects a large number of multi-viewer accounts, which makes sense given the household nature of HBO premium channel subscriptions and the prevalence of password sharing in services like HBO's direct-to-consumer streaming arm, HBO Max.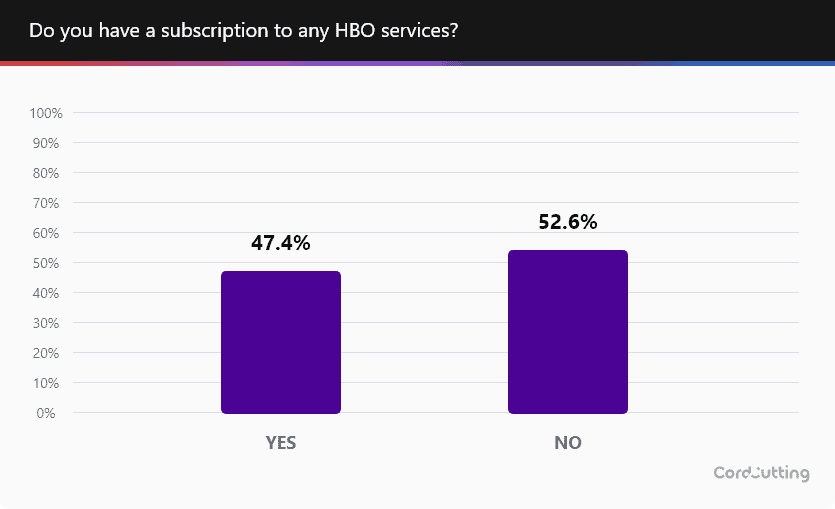 But which parts of HBO's tangled branding are these viewers gravitating towards? We asked viewers just that — and included overlapping options, like HBO Go. HBO Go is a streaming app for HBO subscribers, but it doesn't include any way to sign up directly; instead, it serves existing subscribers, who have to log into the app with pay TV credentials that prove they already pay for HBO through a cable, satellite, IPTV, or skinny bundle provider.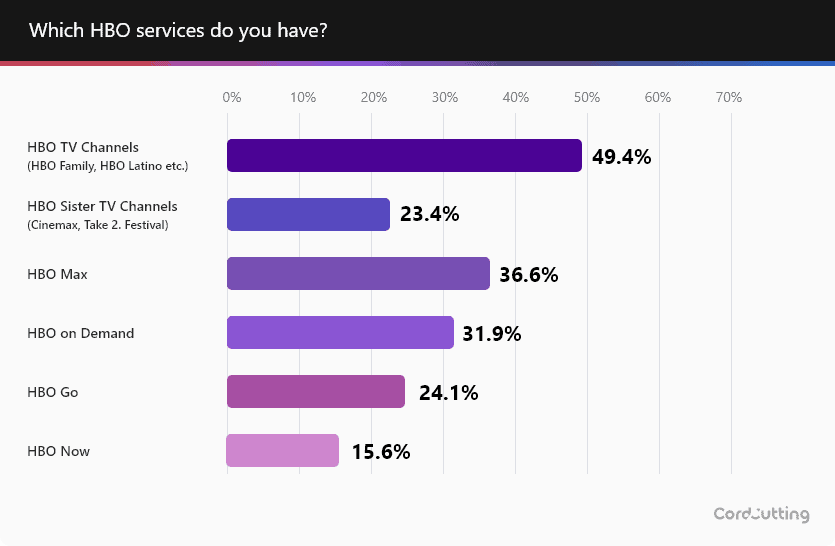 HBO's legacy pay TV arm is the brand's strongest. Despite the growth of HBO Now, HBO still has a lot of subscribers on the pay TV side, and our findings reflect that. But HBO Max looks very strong here as well.
Maximum impact?
HBO Max's figures are impressive. More than 30 percent of all respondents — and more than half of those who had HBO in some form — told us they had HBO Max. And while some might be confused by branding issues, that figure stands out against the rest, even exceeding the older and established HBO Now and HBO Go brands.
Max's strong showing doesn't seem to be owed to any particularly overwhelming brand awareness. Only a little more than half of our sample was aware that HBO Max had even launched.
The fact that only 55 percent of our respondents even knew HBO Max was out made the service's showing even more impressive. So how did the service pull it off? According to our respondents, the big gains were due to automatic upgrades from cable, satellite, and streaming providers.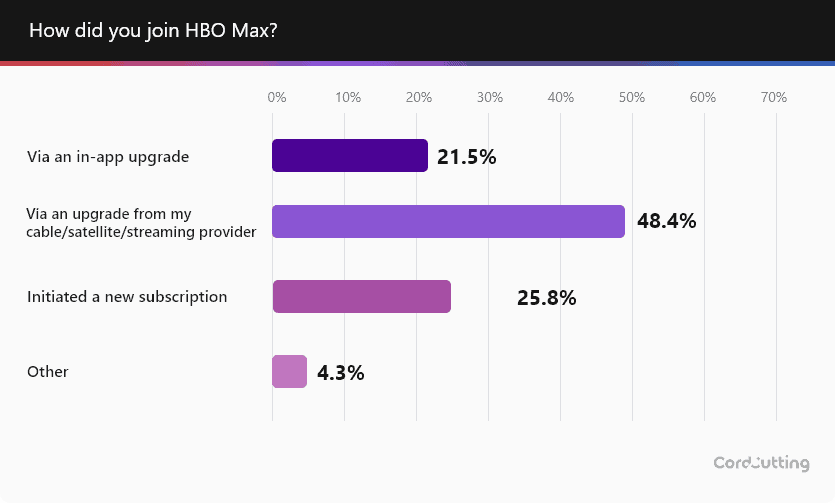 HBO parent company AT&T is promoting its new service by offering it free to customers who have HBO through an AT&T pay TV service like  DIRECTV. AT&T has also struck deals with other pay TV providers, such as Comcast, to make the same deal available to more customers.
Free upgrades are also being offered to some of those who subscribe to HBO Now, the direct-to-consumer streaming version of HBO. The upgrade offer is only for HBO Now customers who are billed directly by HBO or through select partners.
Upgrades like these were the single most common way for our respondents to find themselves HBO Max subscribers. More than two-thirds of our respondents told us they were upgraded either by a pay TV provider or within an app.
This suggests that AT&T and HBO have had a lot of success in converting current HBO customers into HBO Max customers. On the other hand, it also suggests that HBO Max's subscription gains so far are mostly limited to customers who were already paying AT&T for some other form of HBO.
That's somewhat expected. HBO Max has not yet reached the Roku platform or the Fire TV platform, which effectively cuts it off from the two largest user bases in the connected TV market. The good news is that about a quarter of respondents told us they initiated a new subscription. While this group isn't necessarily full of brand-new customers for AT&T and HBO, it at least keeps the possibility of fresh customers alive.
User confusion and HBO brands
Our data strongly suggest that HBO's branding is confusing its own subscribers.
This is particularly obvious in the case of HBO Go. The streaming app HBO Go is available to virtually all customers who subscribe to HBO through their cable, satellite, IPTV, or skinny bundle providers. Yet it appears to be either under-used, under-recognized, or both. Far more respondents told us they had HBO's TV channels and/or HBO On Demand than told us they had HBO Go.
Perhaps this just means that many customers just aren't using the HBO Go app. Customers who get HBO through pay TV providers may have access to HBO Go, but may feel that they don't "have" it because they have not downloaded or used the app. But if this were the only problem, we'd at least still expect to see HBO Go be a subset of HBO TV subscriptions. After all, getting HBO Go on its own is impossible.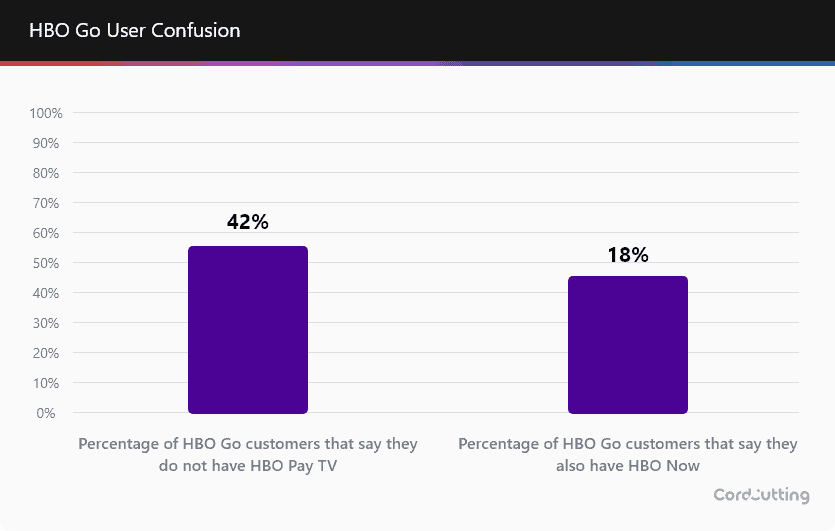 There's no option to sign up for HBO Go directly, and the only way to access content in the app is with credentials proving you pay for HBO via a pay TV provider like a cable or satellite company. Despite this, 41.9% of those who said they had HBO Go claimed the impossible: that they had HBO Go but not HBO's TV channel or HBO Max. (Since some HBO Max customers were upgraded via their cable or satellite provider, we're including it alongside the TV version of HBO in this context.)
On top of this, 17.7% of HBO Go users claimed to have HBO Now as well. That's not impossible, but it would be unusual; HBO Now is HBO's direct-to-consumer option, and users cannot use HBO Now credentials to log into HBO Go. The only way to have both HBO Go and HBO Now is to pay for two different HBO subscriptions at once.
Combined, those who claimed to do the impossible (have HBO Go with a pay TV version of HBO) and the unlikely (have HBO Go and HBO Now simultaneously) — including those who claimed both — amounted to more than half of all those who told us they had HBO Go in the first place. It's hard to square this result with anything other than major misunderstandings of HBO's brand and apps among its own user base.
And further questioning only lays out the issue more clearly.
Will branding issues hurt Max?
HBO Max's branding may prove to be a hurdle to further growth. When we asked respondents if they knew the difference between HBO Max, HBO Now, and HBO Go, the overwhelming majority told us that they did not.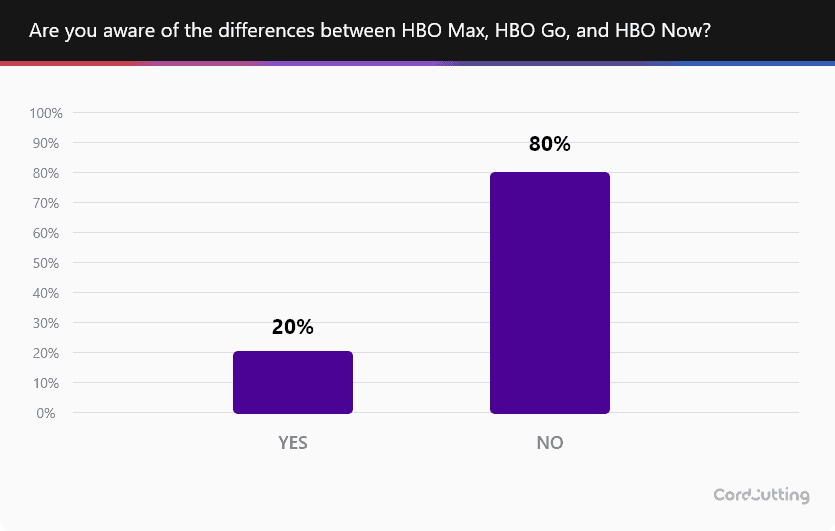 This squares with the strange answers some respondents gave when asked with HBO services they used. Many of the same people who claimed to have HBO Now, HBO Go, and even HBO Max freely admitted that they did not know the difference between those brands.
And branding confusion may have played a role in some respondents' feelings on acquiring an HBO Max subscription in the future. While some consumers have HBO Max on their radar (and, as we've already established, many already have HBO Max), the plurality told us they would not subscribe — and the second-most popular answer choice reflected either confusion or indecision.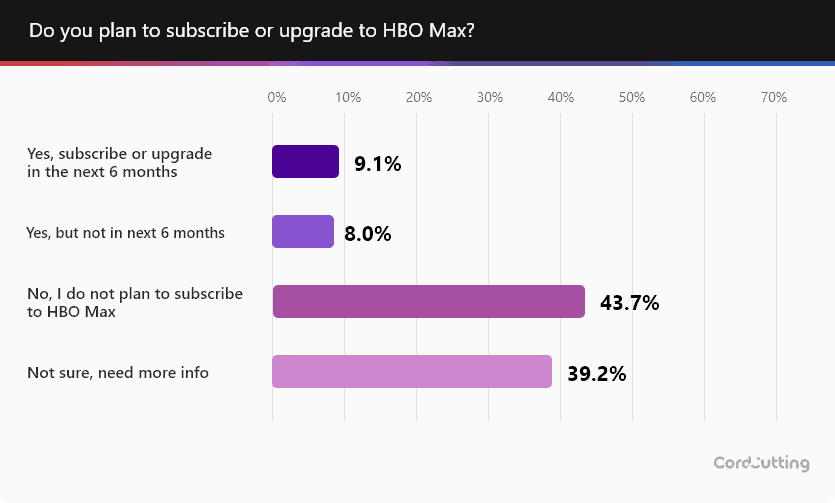 This is a problem, especially given HBO Max's current existence outside of popular platforms like Roku and Fire TV. While the figures for HBO Max subscriptions look relatively good in context, they still lag far behind the competition; for example, more than twice as many respondents told us that they subscribed to Disney+ as told us they had Max.
None of this tells us where HBO Max will go next. But the data are useful for showing us where Max is right now, both in its market and in the mind of its target audience. What we've found suggests that AT&T's jumbled HBO branding may be one of the challenges that this new streaming service will face.
About Cordcutting.com and this research
Cordcutting.com explores streaming media in America and beyond. To support our mission of helping consumers make the best cord-cutting and streaming choices, our research team examines consumer behavior, tendencies, and trends in streaming media consumption. Our polling and research inform our coverage of the streaming space, which also includes reviews and comparisons of every major streaming TV service, platform, and device.
For this research, we surveyed more than 500 U.S. adults about their use and awareness of HBO and its streaming offerings. Our survey was conducted online. Based on the most recent data published by the Pew Research Center, which found that 90 percent of American adults use the internet. Our sample is selected and weighted in order to best reflect the demographics of the nation at large.