Amazon Prime is a great service with a ton to offer. On top of everyday discounts and free two-day shipping, it's also a great deal for cord cutters. Amazon Prime comes with Amazon Prime Instant Video, a large streaming network that's trying to compete with the old guard of Netflix and Hulu. But Amazon Prime is also quite expensive – $99 a year, to be exact – so it makes sense that users may want to cancel it.
And if you're one of the users that's ready to move on, we're here to help. This is our 100% foolproof step-by-step guide to canceling your Amazon Prime subscription.
Step 1: Log In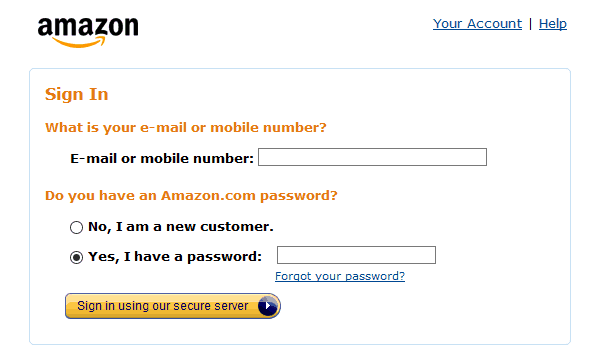 You can't tell Amazon that you don't want Prime until you tell them who you are. Log in on Amazon's website to get started.
Step 2: Click on "Your Prime Membership"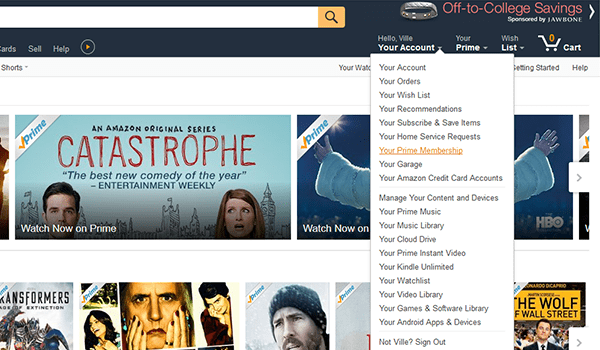 To get at this button, you'll have to hover your cursor over the "Your Account" button. The site will display a drop-down menu with "Your Prime Membership" 7 spots from the top.
Step 3: Click on "End Membership"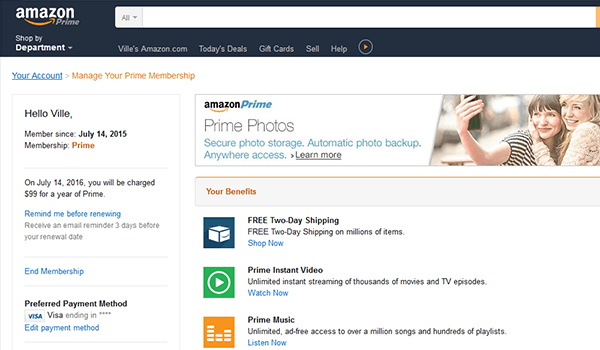 Once you're on the "Your Prime Membership" page, look at the left side of your screen. You should see a box with some basic information about your account (when you started it, when you'll be billed next, your credit card information, etc.). The "End Membership" link is right in the middle of this left-hand section.
Step 4: Confirm Your Cancellation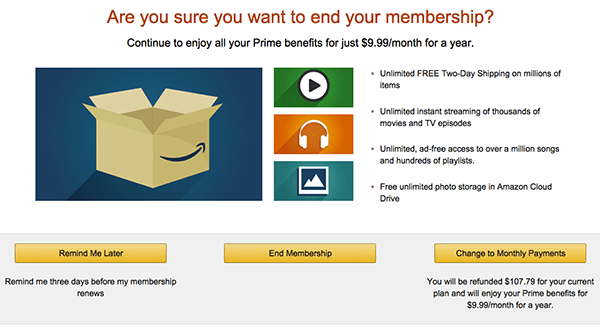 Amazon sure doesn't want you to go. The "End Membership" button will take you to a page with a few options. If you'd like, you can tell Amazon to remind you about your subscription shortly before it renews, so that you can cancel it then. You'll also have the option to change to monthly payments. Right there in the middle is the one you want – "End Membership," the same words you clicked on in the last step.
Step 5: Once More, With Feeling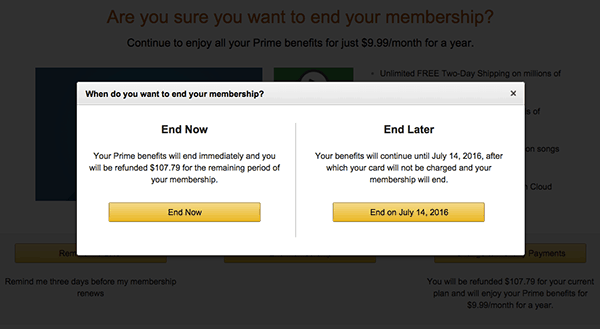 In a last-ditch effort to win you back, Amazon reminds you that you can coast to the end of the billing period (one year from your last payment) on the amount you've already paid. If you cancel right away, though, you'll be refunded for the months of prime you won't be using (we made this account just for this demonstration, so you'll see in this graphic that we're being refunded the full $99 plus tax).
Step 6: Wait for Your Refund

Broken-hearted, Amazon will redirect you to a cancellation confirmation page. They'll tell you how long your refund will take to process (2-3 business days), and you should see the words "You are no longer an Amazon Prime member" on the left-hand side under the greeting. Like a bad ex, Amazon Prime also takes this opportunity to list the great things about itself. It's too late, Amazon, we've moved on! At this stage, you'll also get a confirmation email.
An important note: In our demonstration, we cancelled our account immediately and received a full refund. This does not mean that you can create an account, order a bunch of products with free shipping, and then cancel immediately. If you place an eligible order, you've used your Prime membership this month, and your refund will shrink accordingly.