The streaming landscape is changing fast. We're entering a new era of streaming start-ups, with an increasing number of services focusing on single-genre catalogs. Some of these, like NBC Universal's comedy streaming app Seeso, are backed by major companies. Others are stand-along enterprises trying to break into a market that's dominated by major players.
One such newcomer is CuriosityStream, the documentary-only streaming service started by the same businessman that founded the Discovery Channel. Is CuriosityStream destined for greatness? Here's our full review.
User Experience
CuriosityStream does a good job of managing its content. Documentaries are sorted into four categories – Science, Technology, Civilization, and "Human Spirit" -, and those four categories are each split into eight further sub-categories. This simple system makes it fairly easy to find documentaries on a given subject, and the search feature ("I'm curious about…" the search bar reads) is reasonably well executed, too.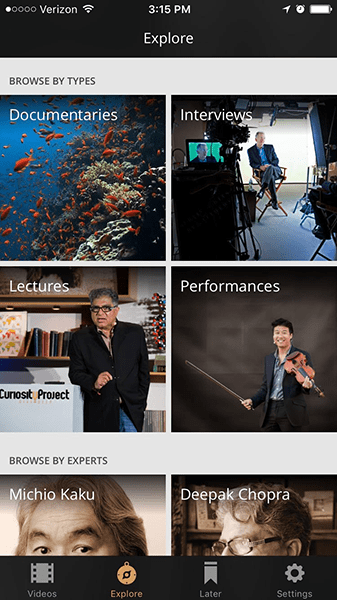 The app home pages all feature sorted rows of titles, though only a couple of rows ("Trending" and "Recently Added") are new – the rest are just the same four genres as can be reached through the genre pull-down menu. On the mobile apps, the "Explore" tab offers a little more in terms of content discovery, allowing users to drill down by types of content ("Performances," "Lectures," etc.) and the "experts" behind the films (documentary filmmakers, etc.).
You can also create a watchlist (called "bookmarks" in the app), scroll through recently watched content, and finish any unfinished videos. These functions are all on a separate tab marked "Later." I found this a convenient way to organize these functions.
Overall, the service is very pleasant to use across all platforms.
Content
As mentioned above, CuriosityStream focuses entirely on documentary content. That includes feature-length documentaries, documentary series, lectures, short clips, and more, all of which stream ad-free. CuriosityStream is serious about its documentary focus: it doesn't include reality programming or speculative paranormal programming in its lineup, though it does offer lectures and performances.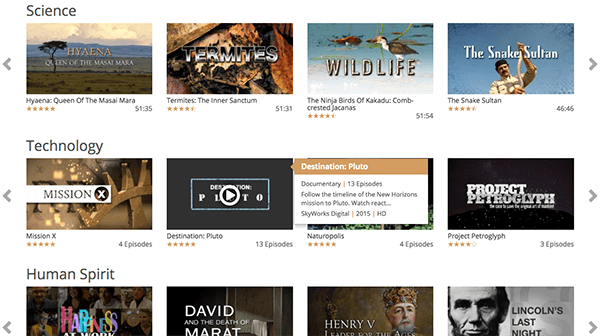 A fair amount of CuriosityStream's offerings are originals. CuriosityStream owns a production company called Curiosity Studios that has created a lot of content for the service, including a series called Curious Minds.
CuriosityStream also offers content from other producers, including BBC. There isn't much in the way of big-name documentaries (don't expect to find Planet Earth or Cosmos on CuriosityStream), but the quality of the documentaries is decent.
CuriosityStream's content is solid, but in some ways it doesn't measure up to the documentary selection that subscribers get on multi-genre streaming platforms like Netflix or Hulu. CuriosityStream offers a larger number of documentaries and cuts out the pseudoscience and paranormal stuff, but it doesn't have the big-budget documentary projects. Instead, you can mostly expect documentaries of the quality that you might see airing on PBS in the middle of the day.
Streaming Quality
The HD package was used for this review (there are also standard definition and 4K Ultra HD packages). Streaming was a strong point for CuriosityStream, which streamed smoothly and in high definition on all of the devices we tried. Initial loading times were minimal, while choppiness and freezing were essentially non-existent on all of the platforms we tried.
Platforms
CuriosityStream is available through an in-browser web app as well as on iOS, Android, Apple TV, Roku, Amazon Fire TV, Amazon Kindle, Android TV, and Chromecast (casting from browser or Android only). The lack of Chromecast support for iOS is a bit odd, given how comprehensive the rest of their platform support is.
CuriosityStream is also available as an add-on subscription within Amazon Prime. If you go this route, CuriosityStream content will be integrated into the Amazon Video experience.
The apps were very similar across all platforms, as was streaming quality. In both departments, CuriosityStream was quite strong on all devices.
Price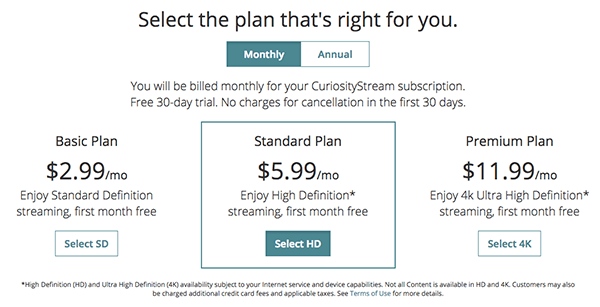 CuriosityStream offers three pricing tiers – one each for standard definition, HD, and 4K Ultra HD. They'll set you back $2.99, $5.99, and $11.99 per month, respectively. Most users will probably want the $5.99 HD package, which seems fairly priced – it costs about the same as other genre-specific services, like Seeso, and significantly less than all-in-one services like Netflix.
Verdict
CuriosityStream has a promising business model. The idea of a genre-specific streaming service makes a lot of sense and appeals to the cord cutter instinct of preferring a la carte services rather than all-in-one bundles (which remind some of us too much of cable). And CuriosityStream has done a lot of things right, including its pricing, platform support, and content discovery features.
But CuriosityStream's biggest problem is in the most important department: content. While CuriosityStream has some respectable original programming, its documentary content doesn't measure up to what's already available on mainstream streaming services like Netflix. That makes the whole CuriosityStream experiment seem a bit superfluous.