A solid option for digital rentals and free on-demand content
Redbox is more than the big red rental kiosk you find in the drugstore or grocery store. It's also an online movie marketplace that offers on-demand and live streaming video. Not everyone knows Redbox has branched out beyond the DVD and Blu-Ray business. Until I sat down to review the non-kiosk side of Redbox, I was only vaguely aware of it myself, mostly because Redbox keeps sending me emails about their online marketplace.
Redbox started in 2002 as a way to bring more traffic to McDonald's. At the moment, it's clear Redbox is attempting to expand its market as streamers like us increasingly turn away from DVDs and towards streaming. But should you turn to Redbox for your next digital movie purchase or rental? Does Redbox provide something essential that you can't get elsewhere? Let's find out in our review of Redbox's streaming and on-demand service.
Redbox Streaming Pros and Cons
Pros
On-demand rentals and digital video purchases
Free live channels
Discount deals on popular films
Easy-to-use interface
30 days to start watching rentals
Cons
Most live channels are obscure
No live TV that you can't get elsewhere
Only 48 hours to finish watching rentals
What You Can Watch on Redbox
Redbox's kiosks are known for their DVDs, but Redbox seems to realize that digital rentals are more convenient. Redbox's streaming service gives streamers the ability to rent or buy movies and TV shows. On top of that, it also offers "live channels" — constant online streams that, to me, felt almost (but not quite) like the cable channels I left behind when I cut the cord.
Do you like Divorce Court? If so, there's a channel devoted exclusively to former couples fighting it out in court. That's one of several channels in the "Crime and Scandal" category. Your other options include an Unsolved Mysteries channel and a TMZ channel. The "Entertainment" category has a channel devoted to Family Feud clips, but that's not all. There's also "The Official Bob Ross Channel." Look, we could all use some Bob Ross right now, but I can't think of any reason why people wouldn't just go online and look up Bob Ross clips on YouTube. The same is true of Family Feud clips. And if you want new Unsolved Mysteries episodes, you'll be better off looking at the Netflix series, as older episodes are all you'll find here. In other words, most of the channels have content you can get elsewhere without going through Redbox.
That's the bad news. But while the live TV section is underwhelming, the on-demand section is a lot better. The "Redbox Cinema" section lets you look at movies that are still in theaters. They're on the pricier side, as most of them are about $20 to either rent or buy. But if you want something a lot cheaper, you can browse the section of movies priced at $1.99 or less. As of this writing, that included titles like Bill & Ted's Excellent Adventure, Bill & Ted's Bogus Journey, and The Lobster (one of these things is not like the other).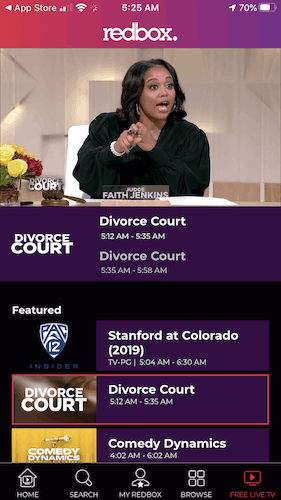 I'm not a big James Bond fan myself, but if you are one, you'll be happy to know that Redbox currently has 24 Bond movies available for rental at $2.99 each. That includes the newer Daniel Craig movies, the extremely old-school ones starring Sean Connery, and everything in between.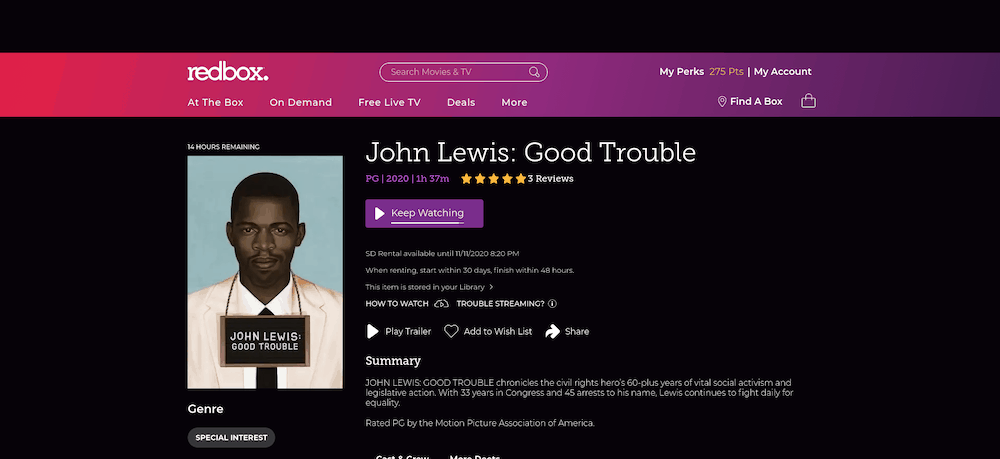 What about TV? You can use Redbox to watch some TV shows on-demand. It has episodes as well as full seasons of shows like Fargo, This Is Us, Better Call Saul, and New Girl. All those shows are available on other streaming services for no additional cost, but if you want to buy any of them for your collection, Redbox offers that option.
How It Felt to Use Redbox
One of the best things about Redbox's free live TV? You don't have to log in to watch it. I tried on both my web browser and Roku TV, and there was no sign-in required. I enjoyed that feature, and I think you will as well. Don't we all have enough usernames and passwords to keep track of? It also fits well with the idea that Redbox's live TV is something made to dip in and out of as you please.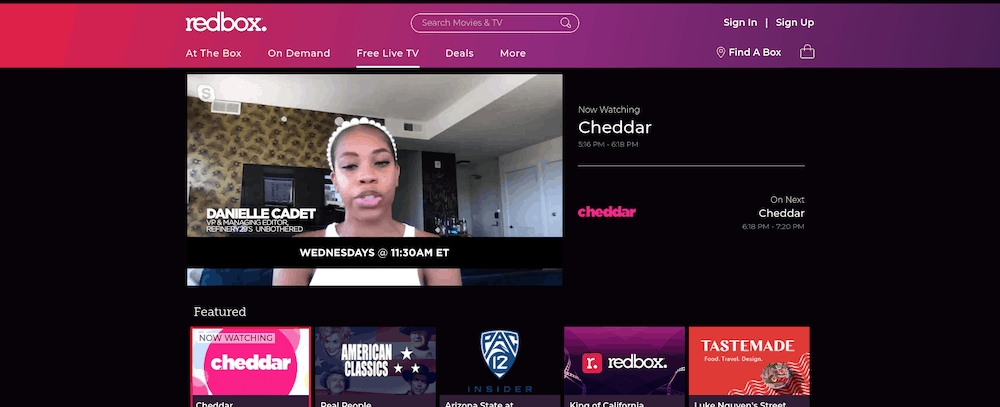 Redbox's streaming service is kind of like traditional cable TV in this sense. You can flip through the channels, try something for a few minutes, and then either stick with it or move on. One note, though: I noticed that when I highlighted a channel with the remote, Redbox switched me to that channel within a few seconds. I didn't press "OK," but I guess it decided I wanted to watch it anyway. It was a little jarring at first, but I figured it out quickly.
Speaking of things I figured out quickly: Redbox's live TV channels tend to repeat the same ads. I'm not talking about getting the same ad in every commercial break; I'm talking about getting the same ad multiple times in a single break. While I was watching the news channel Cheddar, I got the same Accenture ad six or eight times in a row. If, as the ad says, "Change is all around us," why couldn't I get a different commercial?
For now, I don't think live TV is a big selling point for Redbox's streaming service. It wasn't for me, at least, and I'm not sure it will be for you, either. Redbox's free live TV service only launched in 2020, so the situation might improve in the future. As it stands, the channels Redbox offers feel obscure, redundant, or both. Personally, I'd be more likely to turn to Redbox's website or the Redbox app for the on-demand offerings than for the live TV.
The on-demand section felt more familiar to me than the live TV section did. The live channels aren't hard to navigate, but the on-demand section seemed a little more instinctive to navigate, at least for me, because of how much it resembled the menus I'm used to from apps like Netflix or Vudu. I found it easy to browse titles by genre or go to the search box and type in a title I wanted to see.
I mentioned earlier that you don't need an account to watch Redbox's live streaming service. When it comes to paying for movies and rentals, though, this won't work: To rent or buy something on Redbox, you'll need to sign in. You can create your own Redbox account with a password, or just sign in via Facebook or Google.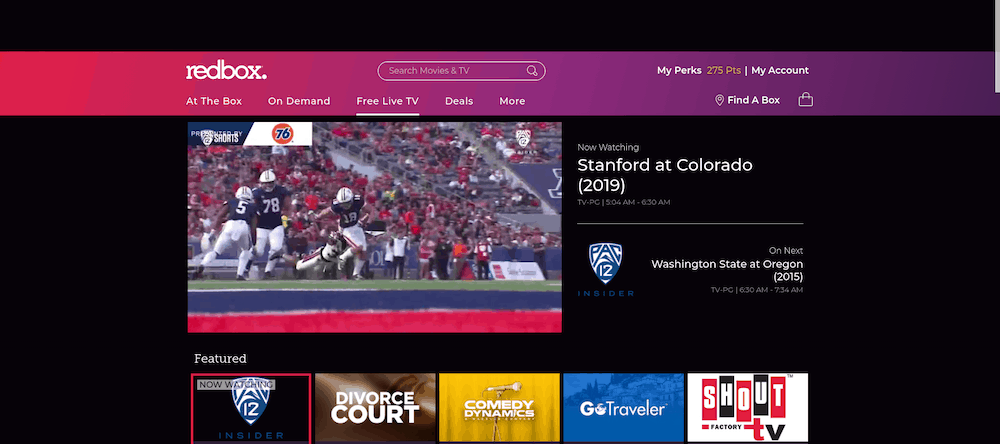 I didn't have a credit card on my Redbox account, so I had to add one for this review. When I did, Redbox immediately prompted me to change my password. That was a bit of a pain, but I'm getting pretty good at inputting passwords and email addresses on the Roku remote. It's still not fun, but it's something I got past pretty fast, and you probably will as well. Besides, this at least showed me that Redbox cared about my security.
After you rent a movie, you have 30 days to start it. That's nice, but once you start it, you have just 48 hours to finish it. That's a pretty standard window. I would love it if Redbox would give me three days instead of two. That would make it more likely I could rewatch something that really struck a chord with me. Some competitors, like Vudu, offer rentals of different lengths, but Redbox doesn't. Still, 48 hours is more than the 24 hours that some competitors stick to, and it matches the industry standard set by big video marketplaces like Amazon Video's rental and purchase section.
Rentals are one thing, but what about the movies and TV shows available for purchase? If you buy a title, it's available in your library permanently. You can't transfer digital copies of other movies to or from Redbox, though. So if you buy a copy on Redbox, you'll need to return to Redbox to access it. Redbox also lacks any option for turning your DVDs and Blu-Rays into digital copies. I would have liked to see something like the "Disc to Digital" program that earned Vudu points in our review.
Redbox Features and Streaming Quality
There weren't a lot of differences between watching Redbox content on my TV and watching it via my web browser — other than the size of the screen, of course! The biggest difference was one that I noticed when I was trying out Redbox's live TV features. The browser's live stream always seemed to be a few seconds ahead of my TV's. That's not an uncommon issue, but it's worth noting all the same so you won't be surprised. Streaming on the Redbox mobile phone app wasn't a problem, either. I didn't notice any lag times or excess buffering.
Redbox offers some 4K Ultra HD movies through its kiosks, but you can't watch 4K on-demand using Redbox's streaming service. Redbox says there are no plans to offer 4K streaming "right now," but notes that this could change in the future.
Redbox Platform Support
Redbox's platform support is decent, but it could be better, especially for the live TV feature. As of this writing, live TV is not available on Samsung devices or Android TV. The on-demand content is available on both of those platforms, though.
At home, you can watch both live TV and on-demand content via Apple TV, Roku, Vizio SmartCast, newer LG TVs, Xbox One and Chromecast. If you're on the go and want to take Redbox with you, you can use the service's mobile app, which is available on iPhones, iPads, Android phones and Android tablets. If you're on a computer, you'll be fine as long as you're using Windows, Apple, or Chromebook.
I tested Redbox on Roku, Chrome, and iOS.
Redbox Value
In my view, Redbox's streaming options offer a reasonable value. The live TV Is an especially good deal, though you may have to sit through some very repetitive ads.
For the on-demand content, the prices are in line with what I've seen from similar services. You can rent movies for as little as 99 cents, though you should more often expect to pay between $3.99 and $5.99 per film — and if the movie is still in theaters, you can expect to pay a lot more.
What about TV shows? I found single episodes for $1.99, and seasons for about $15 or $20, depending on how long the seasons are. Those are purchase prices; renting TV shows isn't an option on Redbox.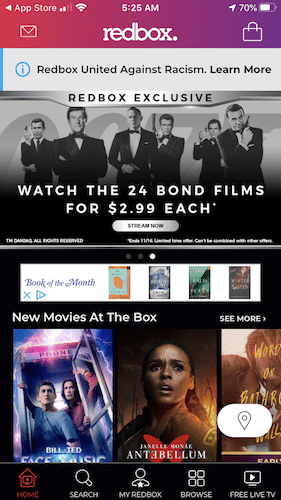 Redbox Review: Our Verdict
The on-demand segment of Redbox is a worthwhile way to watch movies and TV shows. It's not a spectacular feat of design or anything, but navigation is simple. It's not tricky to figure out if a movie you want is available. I think you'll like this service if you like to rent or buy on-demand movies and aren't already attached to a service like Amazon Prime Video.
Of course, there are a lot of rental and purchase marketplaces out there. Is there a particular reason to use Redbox instead of Vudu or Amazon Prime? In my view, there's no reason to switch from whatever service you already have a library of video purchases with.
While I'd recommend the on-demand features, I can't recommend the free live TV. It didn't offend me or anything; it's just not distinctive. I never once scrolled through the list of offerings and thought, "This here is content I can only get on Redbox." If Redbox wants to continue in the live TV game, it will need to step up and figure out a way to be more distinctive. For now, I'd issue a split verdict: Add Redbox to your on-demand rotation, sure. But feel free to ignore the live TV.