Netflix CEO Reed Hastings has called HBO his company's biggest rival, likening the Netflix-HBO battle to baseball's Yankees-Red Sox rivalry. But while HBO may be the biggest premium channel wading into the streaming market space, it's far from the only one. Rivals Starz and Showtime are also making progress as standalone streaming subscriptions.
Of the two competitors, Showtime is probably the bigger deal. So how does Showtime measure up to the competition? Here's our complete review.
User Experience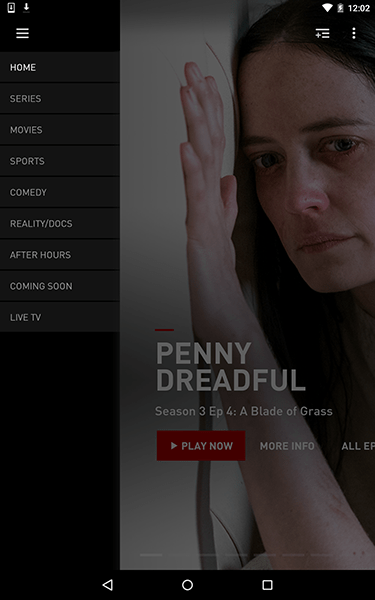 The Showtime user experience is pretty pleasant, and it's consistent across different platforms. Showtime's apps tend to open up to full-page swipe-able tiles that link to shows they're trying to promote, but once you've clicked on the menu button, it's pretty easy to find what you're looking for. Content is sorted into categories (some of which overlap). The movies appear in rows, while the series appear in tiles that are stacked vertically. Clicking on a movie gives you information like the release year, rating, duration, stars, director, etc.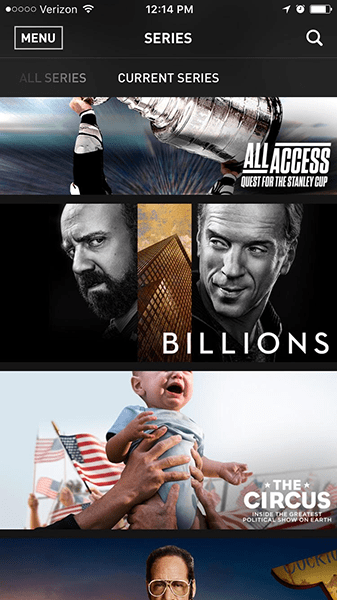 The video controls are familiar – play, pause, fast-forward, and rewind (none of that ten seconds forward/ten seconds back business). The apps remember what you watched recently, even if you watched the content in question on another device – a nice touch, and something that isn't always the case with services like this.
Overall, the apps are sleek and well-designed, if a little bit pushy about promoted original content. The Showtime user experience is a good one.
Content
Like HBO and Starz, Showtime offers streaming Hollywood films alongside its own original content. Showtime's original series include Homeland, Ray Donovan, and The Affair, plus now-concluded hits like Dexter. That's a solid lineup that probably tops Starz's offerings in the minds of most viewers, though it remains a step behind HBO, which still offers the best original series of any premium channel (and perhaps of any OTT service of any type).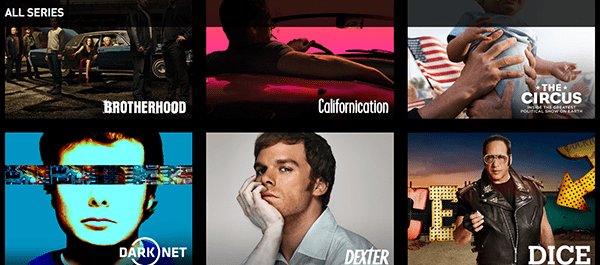 In addition to their original fictional series, Showtime has some cool sports series. NHL fans will be particularly interested in Showtime's All Access: Quest for the Stanley Cup series.
In the movies department, Showtime offers some decent films – once again, their selection seems to best Starz while falling short of HBO. At the time of this review, notable films available on Showtime included Boyhood and Snowpiercer. As with the other premium channel OTT services, Showtime's movie selection is much smaller than the Netflix and Hulu catalogs, but includes films that are newer than what's generally available on those streaming services.
In addition to all of this on-demand content, Showtime allows subscribers to stream the channel live. You can choose between Showtime East and Showtime West.
Streaming Quality
Showtime's streaming quality was very solid. I was able to stream on multiple devices at once on my Wi-Fi while still maintaining smooth HD streaming. There wasn't any notable difference between most of the different devices I tried – it seemed a little worse on Android, but the difference wasn't that huge. For the most part, Wi-Fi devices worked just as well as wired ones.
Showtime's apps offer live TV in addition to their on-demand content. I was pretty impressed to find that their live TV streams were more or less on par with their on-demand streams in terms of streaming quality.
Platforms
Showtime is available through a web app and for iOS, Apple TV, Android, Roku, and Amazon Fire TV. I tried it out on all of these platforms and found that the experience is pretty similar no matter which method you use. The app design is consistent, and the streaming quality is pretty similar across all platforms (it seemed slightly choppy for us on Android when using Wi-Fi, but it was still pretty solid on that platform and was perfect on all other devices). There's also Chromecast support on the mobile apps.
Be aware that Showtime offers two apps. There's the regular Showtime app, which is the app that your OTT login will work with, and there's Showtime Anytime, which is for users with cable logins.
Price
At $10.99, Showtime is cheaper than HBO and about the same price as Netflix or Hulu. That makes it notably pricier on a per-title basis than Netflix or Hulu. As with HBO, you're really paying for access to the original series.
Verdict
Showtime's apps are sleek and reliable, and its streaming quality is top-notch. Their content is solid, and for fans of their original series, subscribing is a great idea.
The only thing holding Showtime back is its place in the OTT pecking order. $10.99 for this content isn't a bad deal, but many users will prefer HBO's original series and Netflix's movie selection. Is there a place for Showtime as an add-on service serving viewers who already subscribe to those other services?
I think there is, though each cord cutter will have to device on his or her own budget. Showtime's offerings and apps make it worth checking out on a free trial basis at the very least.