Xumo may not be a household name, but it's a name worth knowing for cord cutters. If you're looking for a cheap way to acquire some extra streaming content, you can't beat the deal on Xumo: It's free! Xumo, which is currently owned by Comcast, is one of several streaming services that offers TV shows and movies to streamers for free — with the caveat that the programming comes with ad breaks. Want to know more about Xumo? That's what we're here for! Read on for all the details on Xumo.
What Can I Watch on Xumo?
Xumo's offerings include both 24/7 live streaming channels and on-demand content. Both are free and ad-supported.
With the live streaming channels, you can choose between different channels to watch, but you can't pause or rewind. It's much like watching a standard TV channel without a DVR. As for the on-demand content, it's generally a selection of previously-aired movies and TV episodes from the livestream channels.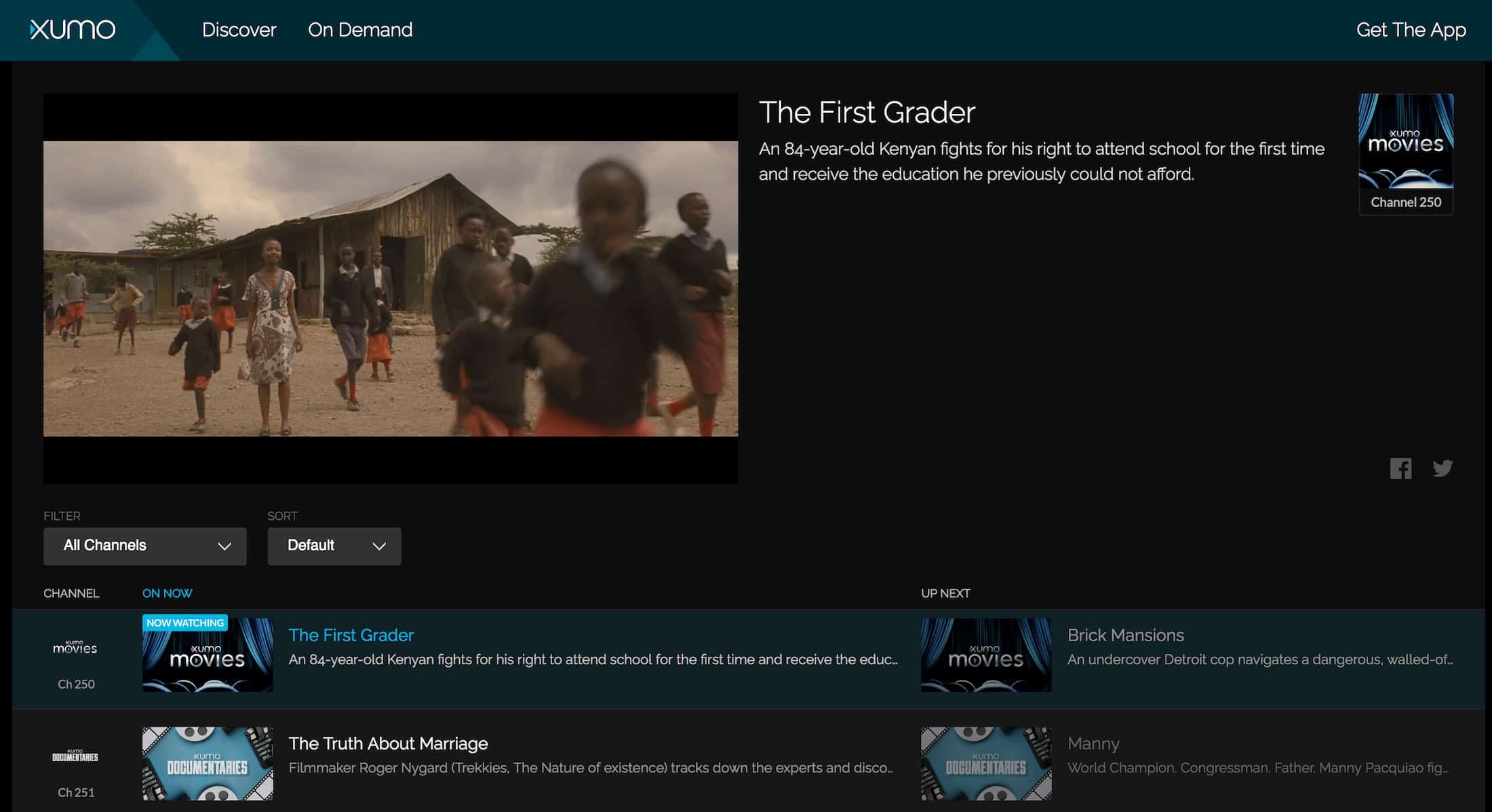 Xumo does not require a subscription for its service. In fact, they don't even have an option for you to create an account. This means that you don't have to worry about limits to the number of devices that you can watch the content on. However, it also means that any "favorited" channels will not transfer between devices, and Xumo's content recommendations won't work across devices, either. In other words, each device that you download the Xumo app on will have its own independent recommendations and favorites.
Xumo has over 190 channels of content. Many of the channels offer recognizable names, but you won't be seeing any popular new shows or anything from premium channels. Some of the channels they do have include ABC News, Fox Sports, Kabillion, and Shout Factory TV.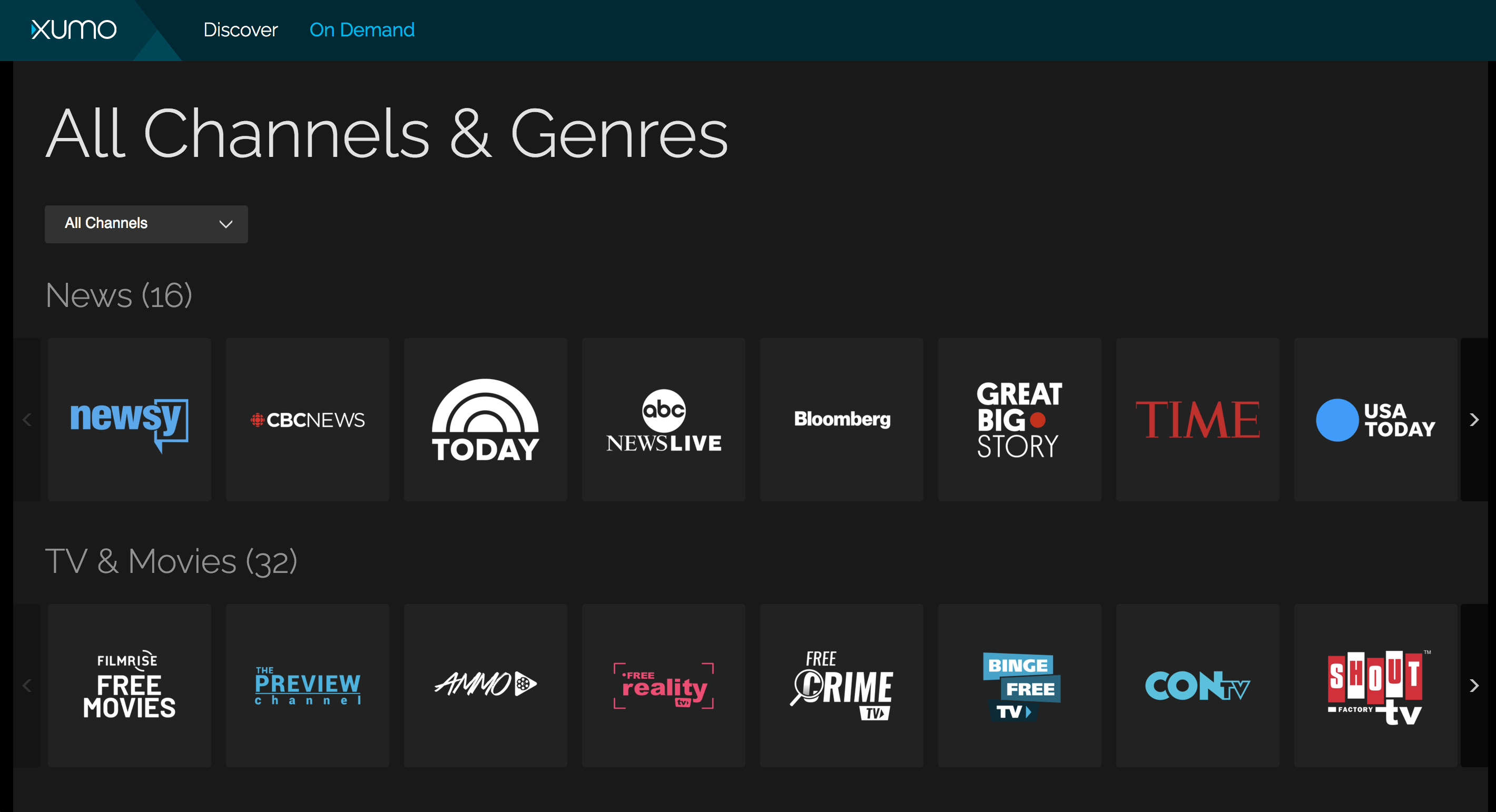 On most devices, along with the livestream channels and on-demand sections, you will see a newer section labeled "movies." This section includes additional livestream channels and on-demand content that is centered, as the name suggests, around movies. Although there are no brand new popular movies, this section does include movies from as recently as 2016 as of the time of this writing.
Here are a handful of examples of specific movies and TV shows available in Xumo's on-demand library.
Movies
Brick Mansions
The Infiltrator
Ernest in the Army
Atomic Twister
The Girl With the Dragon Tattoo
TV Shows
Family Feud
BBC's Hunter
Sonic X
Divorce Court
Funny or Die
What Devices Can I Use With Xumo?
Finding a way to watch Xumo shouldn't be a problem. It is available on most devices, with the only notable exception being video game consoles (PS4, Xbox, etc.)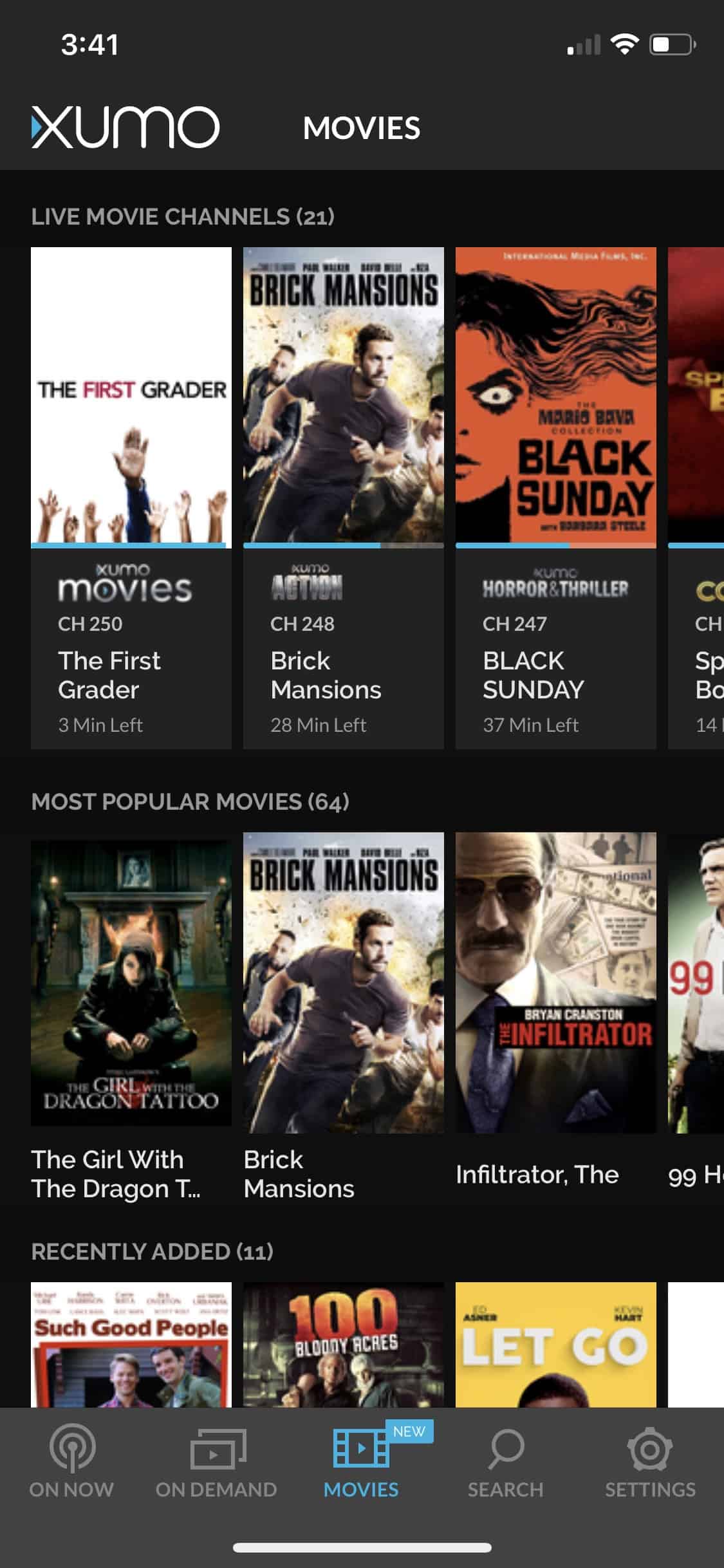 Here's a list of the devices Xumo is available on:
Streaming platforms and devices
Android TV
Apple TV
Chromecast
Fire TV
Mobile devices
Android
iOS
Fire (Amazon Fire phones and tablets)
Other
In-browser app (Mac, Windows, and more)
Select Blu-Ray and DVD players
Select smart TVs
TiVo
How Much Does Xumo Cost?
Xumo is completely free and ad-supported. There is no option for a paid version.
This makes Xumo similar to other ad-supported options, such as Tubi and Crackle. Just as with those services, you won't actually be paying anything for Xumo — but you should be prepared to "pay" by sitting through the commercials that Xumo will stick into the live and on-demand content that you watch.
Deals on Xumo
We're always on the lookout for deals at Cordcutting.com, but our deal-hunting skills aren't needed here: As there is no way to pay for Xumo, there are no deals necessary. Prices don't get any lower than free!
How to Get a Xumo Free Trial
Xumo doesn't need a free trial, because there's no paid version — the whole thing is free, with no "trial" limitations! To get started, all you need to do is download the app or go to Xumo.tv. You don't even need an account in order to watch Xumo (in fact, Xumo doesn't have accounts). You can watch everything for free without so much as logging in.
Xumo Contracts
There are no subscriptions or accounts with Xumo, so you don't have any contracts to worry about.
How to Cancel Xumo
With some free services, you may still want to know how to "cancel" — which, in the case of a free service, might just mean deleting your account. With Xumo, though, we don't even need to know how to delete a free account, much less cancel a payment. As there are no accounts and no subscriptions with Xumo, there is no need to cancel or delete your account. You can simply delete the app at any time.
Read More About Xumo
Want to find out more about Xumo? Check out our other coverage of the service and additional content related to Xumo by typing Xumo into our search bar at the top of the page. If you are still uncertain whether Xumo is for you, we suggest looking at some related alternatives, like Crackle and Tubi. Like Xumo, these services are free and ad-supported. That means you can watch anything in each service's library without paying a dime — as long as you're willing to sit through the occasional commercial break.