A free streaming service with a large library
The age of free streaming services is upon us. Over the past few years, even the big names in media have been diving into the free streaming world, and the results are pretty great for cord cutters. But more options means it's getting harder to keep track of every service and what they offer. Tubi, formerly known as "Tubi TV," has been around since 2014. In 2020, they were acquired by Fox Corporation (yes, that Fox). This follows a common trend: Many free or paid streaming services have been acquired over the past few years.
What makes Tubi unique? What do they have to offer and why should you care? Those are all great questions, and we are ready to provide some answers.
What Can I Watch on Tubi?
Before we dive into the content, it's worth taking a moment to talk about how Tubi works. All of Tubi's content is free and ad-supported. In other words, you can watch all of it without paying a dime, but you will have to sit through commercials. Tubi, unlike some other services, does not provide a paid tier or any upgrade or add-on options. The free content is all that they have, and the only way to watch it is with ads.
You don't need to create an account with Tubi. You can watch on any device just by going to their website or downloading their app. If you choose to create an account, you gain the ability to add items to your list to watch later and to pause TV shows and movies on one device and continue watching them later on that or a different device.
In October 2020, Tubi launched News on Tubi – giving users access to a selection of local news live streaming channels. This is the service's first foray into content that is not on-demand. News on Tubi is only currently available on Android, Roku, and Amazon Fire devices, but Tubi's press release states that both the device availability and channel options will be expanding in the coming months.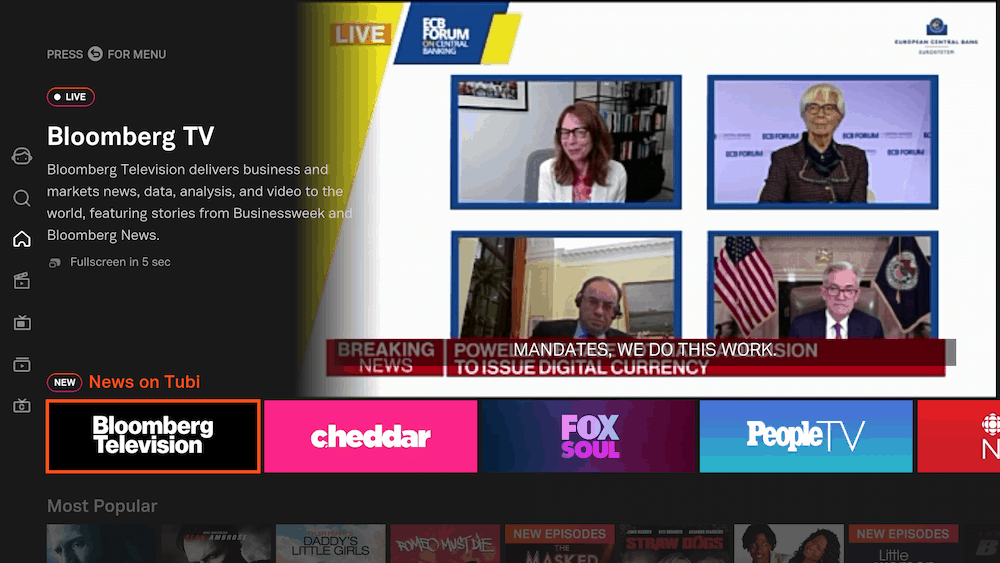 For the parents in the room, Tubi has two features that should get your attention. First, they have a Tubi Kids section on their site, which offers only kid-friendly (PG and below) content. Second, if you created an account, you can turn on parental controls to restrict the content shown in the main app to G, PG, or PG-13 ratings.
When it comes to content, Tubi offers over 20,000 movies and TV shows. Some of the service's biggest content partners are Paramount, MGM, and Lionsgate. Because of these partners, Tubi's movie options include newer and more popular content than you'll find on most other free streaming services. However, they still don't have the brand new content or original titles you might expect from Netflix or Hulu. Compared to these giants, Tubi's TV show options are more limited, although the service does have several reality TV shows and lots of kids programming.
Here are a few examples of content you could watch on Tubi right now:
Movies
Teenage Mutant Ninja Turtles: Out of the Shadows
Love Don't Cost a Thing
Batman vs. Robin
How to Train Your Dragon
Beowulf
TV Shows
The Masked Singer
Kitchen Nightmares
Hoarders
Dresden Files
Yu-Gi-Oh!
What Devices Can I Use With Tubi?
Tubi works on most streaming devices, so compatibility probably won't be a problem. As mentioned above, the News on Tubi feature has only rolled out on select devices. The only other notable difference between devices is that streaming and mobile devices offer additional ways to browse the titles compared to the in-browser app (browse by channel, only TV shows, etc.).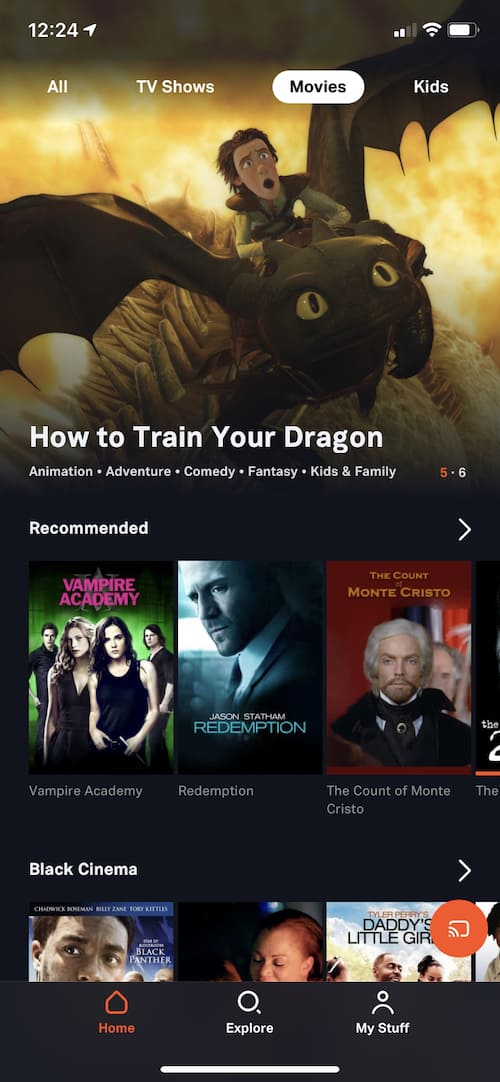 This is the current list of Tubi devices.
Streaming platforms and devices
Android TV
Apple TV
Chromecast
Fire TV
Video game consoles
Xbox One
Xbox Series S
Xbox Series X
Playstation 3
Playstation 4
Mobile devices
Android
iOS
Fire (Amazon Fire phones and tablets)
Other
In-browser app (Mac, Windows, and more)
Select Blu-Ray and DVD players
Select smart TVs
TiVo
Cox Contour
Xfinity X1
How Much Does Tubi Cost?
You just want us to say free again, don't you? Fine, here it is: free. Tubi is completely free. As we mentioned earlier, there is no option to upgrade to a paid service even if you choose to, unlike with some other free services such as Shout Factory TV.
Deals on Tubi
Free is a great deal. As much as we'd like to improve on it, we just can't. However, if you are really itching for a good deal, you can always look at our deals on other streaming services through our home page, brand pages, and social media pages.
How to Get a Tubi Free Trial
I know it's not really a free trial, but you can go watch Tubi for free right now. Just go to their page or download their app and click "Start Watching". It's like a free trial that never ends.
Tubi Contracts
You are paying nothing, and you don't even need to create an account. As you might have guessed, this also means you won't be signing any contracts. If you get tired of the service, you can just close the window or delete the app, and you will be done with them.
How to Cancel Tubi
Cancelling isn't really an issue when you aren't under contract and aren't paying for a subscription. You could just close the app and not worry about it. If you did sign up for an account, and you want to have that account deleted for privacy or security reasons, that is very easy to do with Tubi. On your Tubi account page, you can click "Delete Account", tell them your reason, and they will close your account within 48 hours.
Read More About Tubi
Are you still looking for more information about Tubi? We highly recommend our Tubi review as a next stop. You can also find all the rest of CordCutting.com's Tubi coverage by typing "Tubi" into the search bar at the top of this page. If you want free streaming, but you aren't entirely sure about Tubi, there are other options worth considering, including Crackle and Pluto TV.