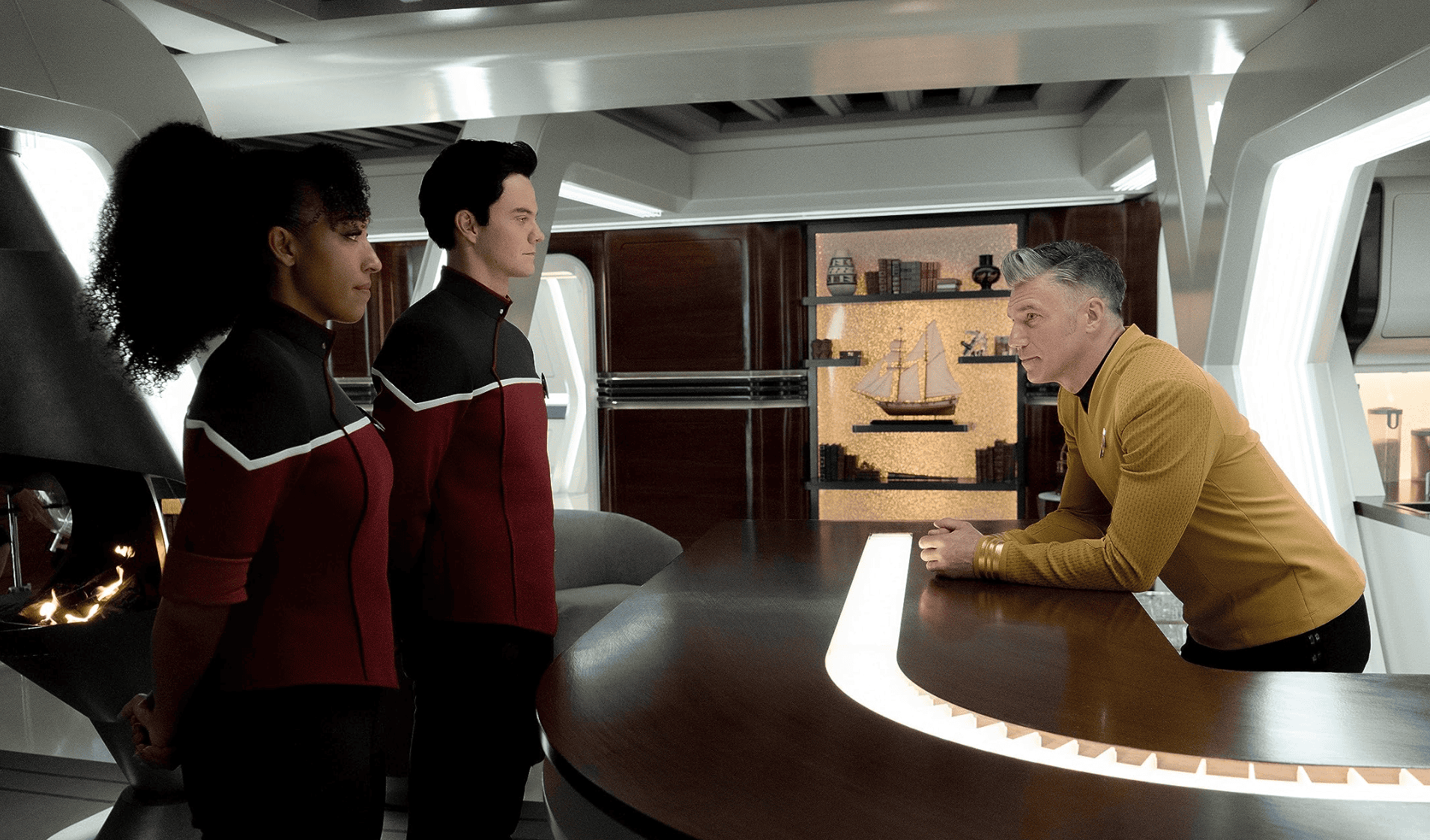 This year's San Diego Comic-Con was one for the books if you were a Star Trek fan. After teasing a "Star Trek: Strange New Worlds" and "Star Trek: Lower Decks" crossover a few months ago, the episode was released five days ahead of schedule at SDCC. If you haven't seen it yet, it's an absolute treat. Fans of both series will get the most out of it, but even if you just watch one, you'll be able to appreciate the episode nonetheless. It was double the surprise for me because I had been staying away from any "Strange New Worlds" news and trailers, so I had missed the initial announcement. After learning about the episode and watching it — with an ear-to-ear grin the whole time, I might add — I came away a bigger fan of the "Star Trek" that Paramount Plus has planned.
**Author's Note**: Light spoilers ahead for "Star Trek: Strange New Worlds."
Paramount Plus Made a 'Star Trek' Crossover That Hits All the Marks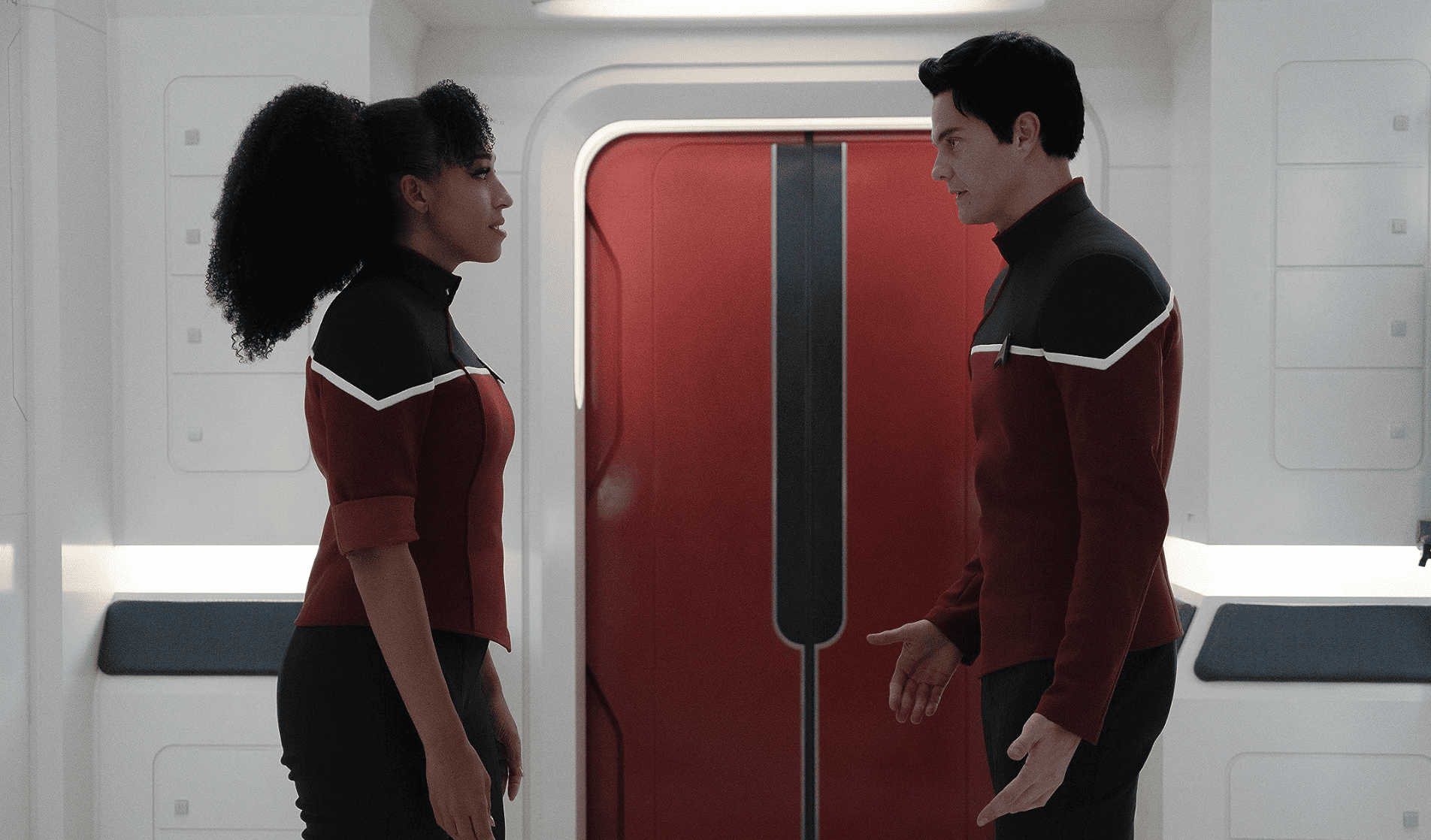 Crossovers have a tendency to be cheesy, have a thin plot, or be entirely too focused on the fan service that they lose the thread. They can seem like throwaway episodes that studio heads had willed into existence to increase the viewership of the lower-performing show, but this Star Trek crossover didn't feel that way. As a fan of both shows, the show felt balanced. Sure, "Lower Decks" did crossover into "Strange New Worlds" and there were a lot more members of the Enterprise in the crossover episode, but Ensigns Beckett Mariner (Tawny Newsome) and Brad Boimler (Jack Quaid) held their own amongst the legendary crew of the Enterprise — when they weren't being total fanboys/fangirls about it.
With the two most troublesome Cerritos crewmembers aboard, humor was expected and felt natural. Newsome and Quaid used their improv chops to bring some of the lighthearted and sophomoric comedy from "Lower Decks" to "Strange New Worlds," which, aside from a few quippy remarks and looks, never goes fully into comedy. It's understandable that "Strange New Worlds" plays it seriously, since the Enterprise deals with issues that have far-reaching consequences. So when Mariner says she wasn't prepared for "hot Spock", it feels like a moment. It's unexpected, undoubtedly true, and also funny because she's saying what everyone else is thinking. The show is full of these moments, which are in large part due to the director and ex-"Star Trek: The Next Generation" cast member Jonathan Frakes who still plays William Riker in "Picard."
'Star Trek' Feels Fresh After Nearly 60 Years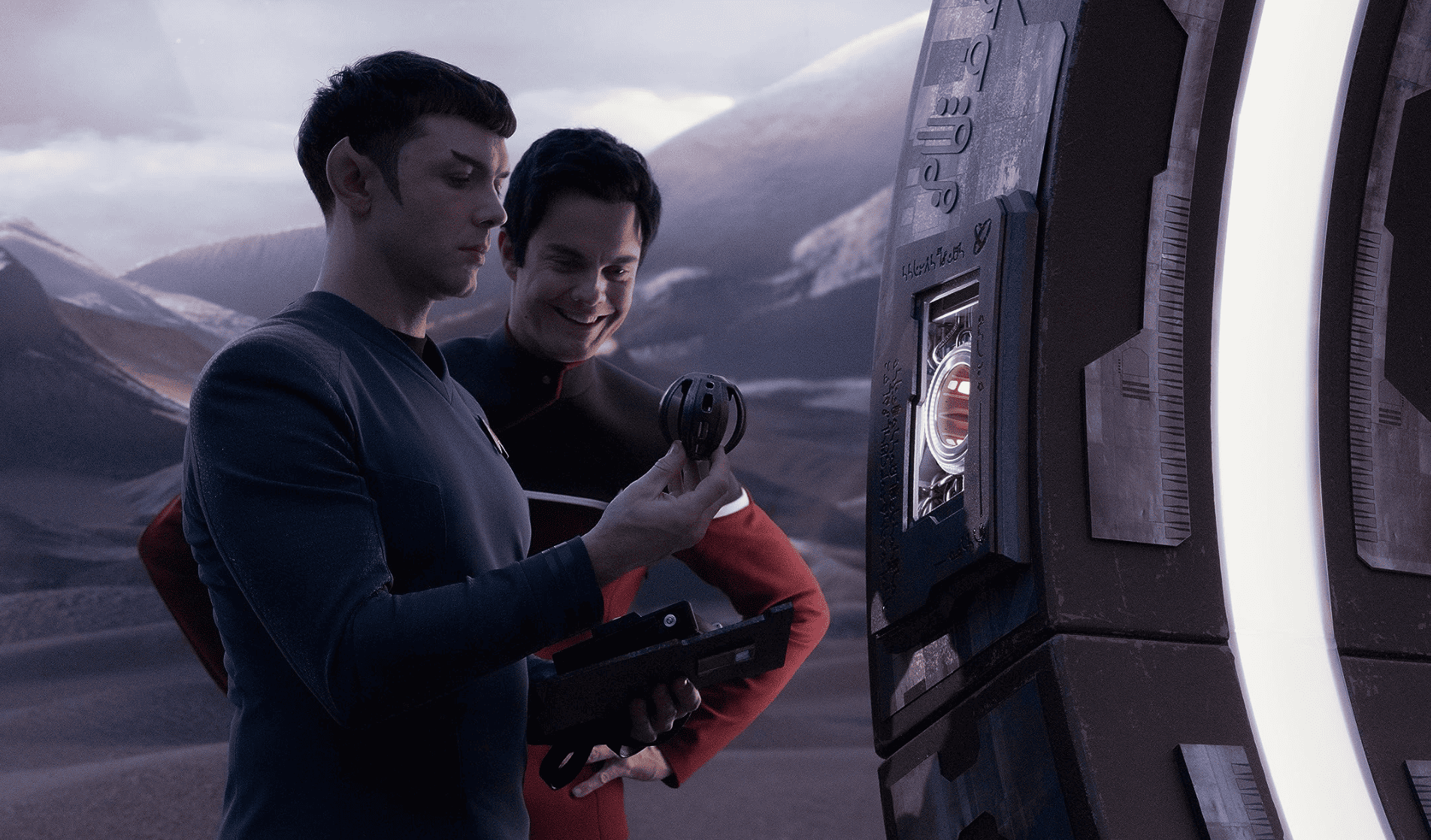 Aside from the humor, what I took from this episode is that Star Trek, a franchise that's nearly 60 years old and pre-dates the moon landing, is still original and willing to change. When compared to another space-faring franchise, "Star Wars," "Star Trek" feels fresh, whereas the other is beginning to stagnate and wear out its welcome. It hasn't always been easy. Many flops and half-finished ideas have come before, but this crossover episode signals the beginning of a new era for "Star Trek," where shows like "Picard," "Discovery," Strange New Worlds," and "Lower Decks" can exist alongside each other, each presenting "Star Trek" in a flavor that appeals to longtime fans, newcomers, fans of animated series, or those who love a good space drama.
Basically, with this lineup, there's something for everyone. As a longtime outsider to "Star Trek," the franchise never felt like it was for me until I saw "Discovery" and then "Lower Decks." Now that it's met me halfway by offering a "Star Trek" that appeals to my TV interests, I'm more willing to dive deeper into the catalog as a way to understand and appreciate the series that are being made now.
By embracing animation and then betting on its live-action success with the crossover, I see that Paramount Plus cares a great deal about expanding "Star Trek's" horizons. Paramount Plus is a streaming service that isn't focused on making series only die-hard Trekkies will enjoy because there's no money in that. Some see that as cheapening the franchise, and there may be a kernel of truth, but if series like "Strange New Worlds" are cheapening "Star Trek," I'm fine with it.
More 'Star Trek' On the Way

With every new "Star Trek" series that succeeds, a new one sprouts. Right now, there are several series either in production or still being developed. "Starfleet Academy" will follow a new class of cadets. While little has been revealed about the show, many suspect this is a "Discovery" spin-off that will heavily feature Sylvia Tilly (Mary Wiseman), who left to train cadets at the academy during season four of "Discovery."
Another show that has been long-rumored is "Section 31," another "Discovery" spin-off that will star Academy Award-winner Michelle Yeoh. After years of collecting dust, the project was officially greenlit this year with the expectation that it will begin production in late 2023, though that date may be delayed as the SAG-AFTRA strike continues. Also, "Section 31," which is the name of Starfleet's shadowy clandestine agency, has been turned into a movie. Whether it ends up being a movie, miniseries, or something in between, I'm here for anything with Michelle Yeoh.
The Second-Best Time to Be a 'Star Trek' Fan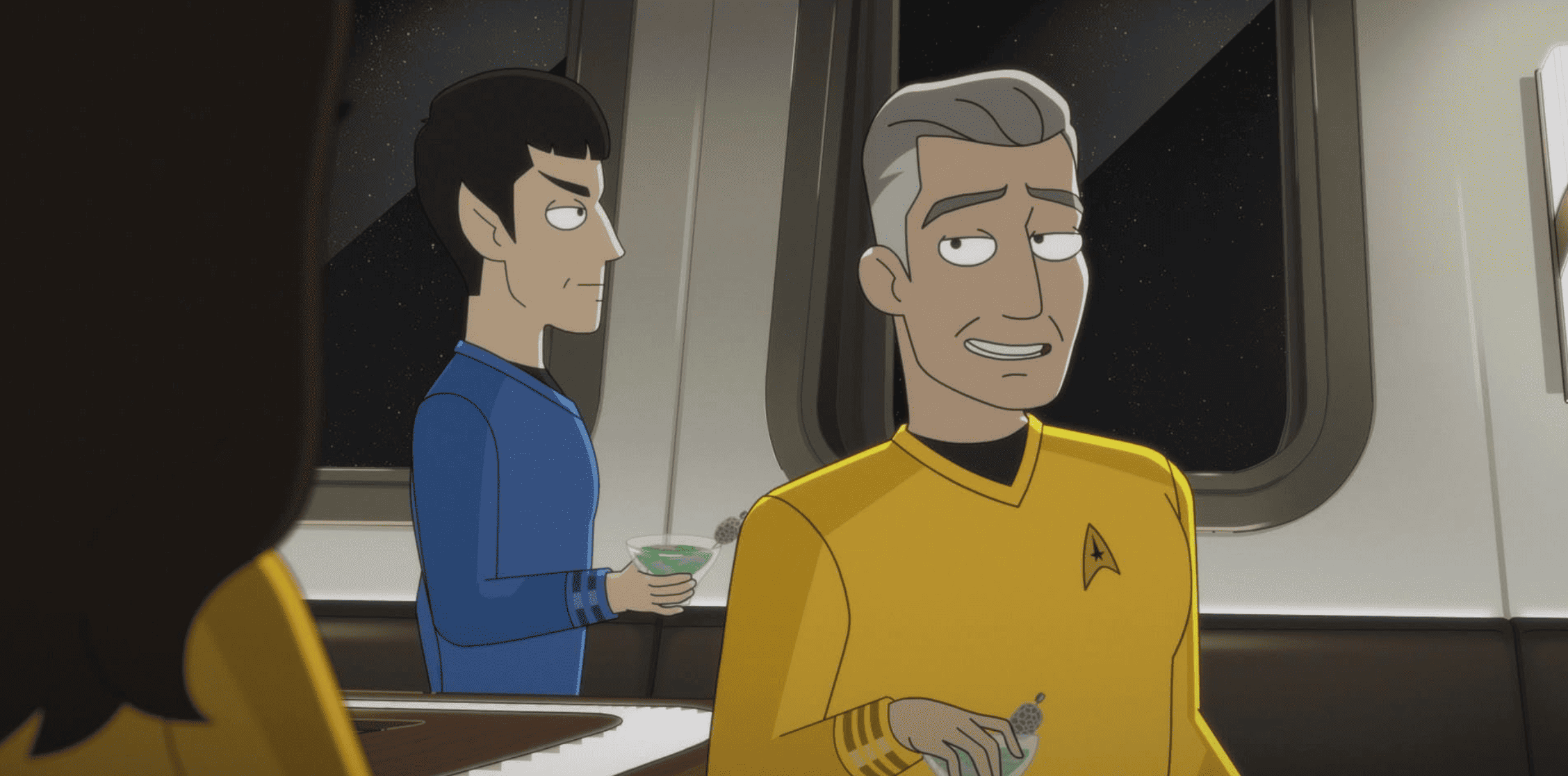 Depending on who you ask, the best time to be a "Star Trek" fan was either during the '60s when the original series aired or between the late '80s and early aughts when "The Next Generation," "Deep Space Nine," and "Voyager" were on the air. Regardless, the second-best time to be a "Star Trek" fan is right now. While "Discovery" and "Picard" have rough patches, the lineup as a whole is strong.
Now that the "Strange New Worlds" has hit its stride and is willing to take chances and be weird — i.e., the musical episode — "Star Trek" looks to be on track. If I were you, I wouldn't miss it — start with "Lower Decks" and go from there.