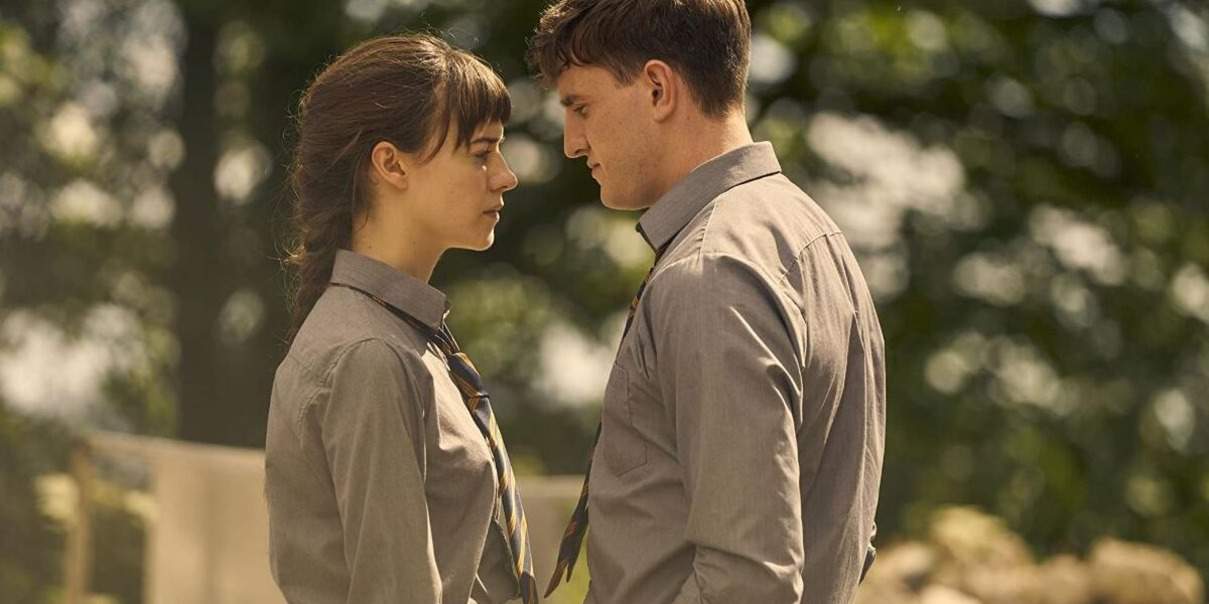 While Taylor Swift has lent her songwriting talents to a number of movies, including "Fifty Shades Darker" and "Where the Crawdads Sing," she hasn't written any songs specifically for TV shows. Which is a shame, because a team-up between a musician of her caliber and an angsty television drama would be a match made in heaven.
Fortunately, the uber-gifted Swift has a catalog of music that already fits some of our favorite shows. Look no further than Amazon Prime Video using "This Love (Taylor's Version)" to market Season 1 of "The Summer I Turned Pretty." The track perfectly encapsulated the show's vibe and the ever-evolving relationship between Belly (Lola Tung) and Conrad (Christopher Briney).
Below are six more Swift songs that epitomize some of our favorite TV couples and the key moments in their romances.
'Illicit Affairs' — Marianne and Connell From 'Normal People' (2020)
When Marianne (Daisy Edgar-Jones) tells Connell (Paul Mescal) she likes him in the first episode of "Normal People," the high school senior is flattered and isn't quite sure what to do with the information. Their mutual attraction soon becomes too hard to resist and the classmates give in to their feelings. There's a catch, however: Connell wants to keep their blooming romance a secret.
Part of the popular crowd but deeply insecure, he's terribly afraid of what his friends will think of him dating the bookish, snarky outsider. Marianne and Connell do succeed at keeping their rendezvous secret for a time, but when his pals suspect something's going on between them, Connell doesn't fess up. Instead, he denies their association, asks another girl to the school dance, and breaks Marianne's heart.
Likewise, Swift's "Illicit Affairs" details the lengths to which a woman goes to hide her, well, illicit affair. "What started in beautiful rooms / Ends with meetings in parking lots," Swift sings in a line that mirrors what takes place between Marianne and Connell. When Swift hits the bridge, she might as well be singing about Marianne's devastation at giving all of herself to a man who'd only do the same if nobody knew.
"And you wanna scream / Don't call me 'kid' / Don't call me 'baby' / Look at this godforsaken mess that you made me / You showed me colors / You know I can't see with anyone else. Don't call me 'kid' / Don't call me 'baby' / Look at this idiotic fool that you made me / You taught me a secret language / I can't speak with anyone else. And you know damn well / For you, I would ruin myself / A million little times."
'Happiness' — Joey and Pacey From 'Dawson's Creek' (1998 to 2003)
As Season 4 of "Dawson's Creek" nears its end, Joey (Katie Holmes) happily prepares for prom unaware that her boyfriend Pacey (Joshua Jackson) is growing discontent with life. Pacey's simmering unhappiness boils over at the big event, where he lashes out at the woman he loves and wrongly blames her for his insecurities and shortcomings. The blowup leads to the end of their relationship, even though the pair love each other deeply.
Much like the situation Joey finds herself in, Swift's "Happiness" tells the story of a woman trying to start over after a long relationship but struggling to make peace with the bittersweet ending of the romance. Providing the woman's perspective, Swift sings in the chorus, "There'll be happiness after you / But there was happiness because of you / Both of these things can be true / There is happiness." This is what Joey tries to come to terms with as she contemplates a Pacey-less future.
Even in the first verse, Swift — who has admitted to being a "Dawson's Creek" fan — seems to be describing Joey's reflection on that prom night gone wrong and where she's ended up: "I was dancing when the music stopped / And in the disbelief, I can't face reinvention / I haven't met the new me yet." Then Swift, the master of bridges, highlights the heart of the issue and why it's so hard for people to move on.
"I can't make it go away by making you a villain / I guess it's the price I paid for seven years in Heaven / And I pulled your body into mine / Every goddamn night, now I get fake niceties / No one teaches you what to do / When a good man hurts you / And you know you hurt him too."
'Babe' — Ariana and Tom From 'Vanderpump Rules' (2013 to Present)
In "Babe (Taylor's Version)," Swift deals with the revelation that her partner has cheated on her. She is, understandably, wrecked by the infidelity and the fact that her lover "broke the sweetest promise that you never should have made." She asks repeatedly, "How could you do this, babe?" and is clear about where the blame lies: "It's strange how your face doesn't look so innocent / Your secret has its consequence and that's on you, babe."
Swift reminds her partner about "the plans we made" and how they'd "said no one else" — they were committed to a monogamous relationship. At least, they were supposed to be. Though Swift wrote this track long before Ariana Madix discovered Tom Sandoval (her boyfriend of nine years and "Vanderpump Rules" co-star) was having an affair, it's as if the performer is singing about Sandoval's betrayal. Her tale of cheating could be Madix's heartbreak anthem.
The bridge even calls to mind Madix grappling with the thought of Sandoval hooking up with someone else (fellow "Vanderpump" cast mate Raquel Leviss) and the resulting hatred she feels for the person she once thought was her soul mate. #Scandoval indeed.
"Since you admitted it, I keep picturing / Her lips on your neck, I can't unsee it / I hate that because of you, I can't love you, babe."
'Lover' — Haley and Nathan From 'One Tree Hill' (2003 to 2012)
Swift's heartbreak-infused music isn't all doom and gloom, and neither is like "One Tree Hill." At the heart of the series is the enduring love story between Haley (Bethany Joy Lenz) and Nathan (James Lafferty), a relationship that spans all nine seasons. Swift's ode to her lover, the aptly titled "Lover," works quite well as a love letter from Haley to Nathan.
The couple, affectionately deemed "Naley" by fans, marries after only a few months of dating, fast-tracking a relationship that already feels like it's existed forever. Swift clearly feels similarly about her own beau, wondering in her song, "Have I known you 20 seconds or 20 years?" Lines like "We could let our friends crash in the living room / This is our place, we make the call" are reminiscent of when Haley and Nathan move in together in Season 2, and Swift repeating "forever and ever" is similar to Naley's "always and forever" catchphrase.
Though the vows in their Season 4 wedding are pretty perfect as is, Swift's lyrics would've made complete sense coming from musician Haley as she said "I do."
"Ladies and gentlemen, will you please stand? / With every guitar string scar on my hand / I take this magnetic force of a man to be my lover / My heart's been borrowed and yours has been blue / All's well that ends well to end up with you / Swear to be overdramatic and true to my lover."
'August' — Kelly and Dylan From 'Beverly Hills, 90210' (1990 to 2000)
Amazon Prime Video has moved on from "This Love" to Swift's "August" to promote the second season of "The Summer I Turned Pretty," but long before Belly and Conrad walked Cousins Beach, another teen couple shared a beachy summer romance that fits "August" to a tee. That would be Kelly (Jennie Garth) and Dylan (Luke Perry) of "Beverly Hills, 90210."
In Season 3 of the teen drama, Kelly and Dylan find themselves falling for one another while Dylan's girlfriend Brenda (Shannen Doherty) is away for the summer. As the start of school nears, Kelly is whisked back to reality — the one where she's alone and Dylan's attentions return to Brenda. She's left with the memories of what was and what will never be, which is exactly what Swift sings about in the chorus of her song: "But I can see us lost in the memory / August slipped away into a moment in time / 'Cause it was never mine / And I can see us twisted in bedsheets / August sipped away like a bottle of wine / 'Cause you were never mine."
The song further describes the paramours' secret get-togethers and how the woman — in this reading, Kelly — found purpose in the love affair, until it all had to end. That, once again, brings us to Swift's incredible bridge:
"Back when we were still changin' for the better / Wanting was enough / For me, it was enough / To live for the hope of it all / Cancel plans just in case you'd call / And say, 'Meet me behind the mall' / So much for summer love and saying 'us' / 'Cause you weren't mine to lose / You weren't mine to lose, no."
'We Are Never Ever Getting Back Together' — Rachel and Ross From 'Friends' (1994 to 2004)
Yes, "Friends" does end with Rachel (Jennifer Aniston) and Ross (David Schwimmer) getting back together, presumably for good. Seasons before that, though, the former couple had a short-lived reunion that ultimately only reminded them why they broke up in the first place. By the end, they are never, ever getting back together (at least for another few years).
In the Season 4 premiere, old feelings lead Rachel and Ross to give their relationship another try. Before fully committing, however, Rachel wants Ross to take responsibility for the end of their first go-round, which — depending on whose side you're on — was due to Ross cheating on Rachel or merely hooking up with someone else while they were "on a break." When Ross angrily refuses to concede, the pair have an explosive fight that culminates in Rachel yelling, "I can't believe I even thought about getting back together again! We are so over!" Ross' reply? A fake cry followed by him screaming, "Fine by me!"
All of this is right in line with Swift's "We Are Never Ever Getting Back Together," which describes the "exhausting" on-and-off relationship she shares with a boyfriend who initially promises to do better. "Remember how that lasted for a day?" Swift sings, roughly the same amount of time Rachel and Ross' reunion lasts. Noting how they "called it off again last night," Swift sarcastically mentions how she's "really gonna miss you picking fights / And me falling for it, screaming that I'm right." The angry comedy of it all is right in the wheelhouse of the Rachel-and-Ross dynamic.
"We are never, ever, ever getting back together / You go talk to your friends, talk to my friends, talk to me / But we are never, ever, ever, ever getting back together."