Amazon Prime Day 2023 is on the way, and if you've been thinking about upgrading your TV, now is the best time. With much of Amazon's technology about to go on an epic sale, you can pick up a smart TV for a fraction of the usual price. As we get closer to the biggest sales event of 2023, we're here to discuss great deals and keep you updated on the best discounts.

Amazon Prime Day Deals on Smart TVs
Purchasing a smart TV can be somewhat intimidating, especially given the number of options we now have and taking into consideration how frequently we use it. It's a purchase most of us want to get just right. With Amazon offering so many different models, it can be difficult to pick the best one. But after some research, here are just a few TVs we recommend keeping your eyes on during Prime Day sales.
Toshiba Smart 4K Fire TV Edition: Voice remote, built-in Alexa, and the ability to enjoy the Fire TV experience without having to purchase any additional devices are just a few of the things you'll get if you decide to go with this smart TV. It also features automatic over-the-air software updates, so your TV will continue to get smarter without you having to do any extra work. The 50-inch edition currently sells for $429.99, and since it's a Fire TV there's a high chance it will go on sale during Prime Day.
TCL Roku Smart TV: For those who want a good product for a low price, the Roku Smart TV is a safe bet. This TV is an Amazon best seller and provides easy access to streaming apps like Netflix, Hulu, Disney Plus, among many others. The original low price of $148.00 is already enticing enough but keep an eye on this one for potential Prime Day sales on top.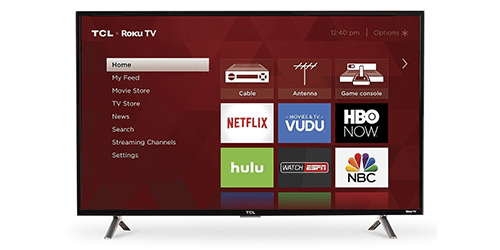 Samsung Class Crystal Smart TV: This smart TV comes with built-in Alexa and 4K UHD screen for your viewing pleasure. It also has a sleek design that helps you focus on the screen and not the TV. Their smallest size version— at 43 inches — sells for $377.99 on Amazon.
LG Gallery TV: If you're looking to elevate your space with a TV that looks like a work of art, you won't be disappointed with the LG Gallery. Impossibly thin and featuring cutting-edge pixel technology, this smart TV adds style to your home even when it's turned off. The 77-inch version is available on Amazon for $3,496.99.
Samsung Frame TV: Like the LG, this minimalist TV can accent your walls even when turned off, as it looks just like a picture frame. When you're not watching a new Netflix show, the TV turns into an art piece worthy of hanging in the Louvre Museum. Samsung offers a variety of masterful art to pick from, but if you're feeling Picasso-ish you can also upload your own picture. The TV comes with a built-in Alexa and will cost you $2,997.99.
Amazon Prime Day Savings Strategies for Smart TVs
Excited to start filling your cart? Before you do that, let's talk about some more money-saving tips. First, remember that to take part in the Prime Day fun you must be a Prime member. Sign up to enjoy the biggest sales event of the year.
During Prime Day, once you're logged into your account, the deals will have blue badges marking them as sale items. To make it easier and to get the items you want before they sell out, we recommend getting the Amazon app on your phone. This allows you to get a preview of upcoming deals and notifies you when Lightning Deals go live. Lightning Deals are limited; however, if you see something you want that appears to be sold out, you can join the waitlist. That way, if someone doesn't finalize their purchase in 15 minutes, you'll have a shot at buying it. Just click the "Join Waitlist" button for the item you want. If you have Alexa, be sure to ask her for some insider information on Prime-exclusive deals.
Other retailers are not going to let Amazon have all the fun. Many are hosting their own extensive sales, so if you're on the hunt to get the best possible deal, be sure to check the prices of the items you're interested in on Best Buy, Target, Walmart, and other online retailers.
Happy Prime Day, Amazon Fans!
Even if you're not an Amazon Prime member, there's really no reason not to sign up for a free trial and at least check out Prime Day deals. You will have access to sales on every Amazon product category, from technology to appliances and everything in between. And while you wait on Prime Day, you will also be able to check out Amazon Prime Video, with thousands of movies and TV shows at your fingertips. If you're still not a fan after 30 days, you can easily cancel Amazon Prime.
We will continue to bring you information regarding Amazon Prime Day 2023 and keep you updated on all the exciting sales, including Prime Day deals on Fire TV devices, discounts on sound bars for Prime Day, and more! Check back in with us for more details soon.