Bargain hunters know that Amazon Prime Day offers an opportunity to pick up great top-brand technology at record low prices. This year looks to be no different, as Amazon prepares for the sales event scheduled to take place this summer.
Here at CordCutting.com, we don't just concern ourselves with helping you choose the best streaming service; our goal is for you to have the best overall entertainment experience. Sound plays a huge role in your engagement during a movie or TV show: it helps to set the mood, elevate emotions, and emphasize information. Bad sound can completely ruin the entire experience and turn you off from even an Oscar-worthy production. That's why if you're hoping to upgrade your sound system, there's no better time than Amazon Prime Day sales.

Amazon Prime Day Deals on Soundbars
Whether your sound setup needs a complete overhaul, or you're simply looking to upgrade, we're here to help. Let's talk about sprucing up your audio with a soundbar. Soundbars are a great option for those who are not interested in expensive surround-sound systems, but still want a realistic and convincing portrayal of car crashes or the famous explosions that mark some of our favorite movie scenes — like the sound of Heath Ledger as the Joker, blowing up a hospital in "The Dark Knight," or Sarah Connor having a vivid nightmare of a nuclear explosion in "Terminator 2: Judgment Day." It's hard to do audio justice to these iconic scenes when most of us have flat-panel TVs with underwhelming speakers. That's where a soundbar comes in handy.
In case you're not very familiar with them, soundbars are all-in-one speakers that are sleek in appearance and require minimal space and setup. They are typically long rectangular bars containing two or more speakers, and can sit underneath your TV, on your entertainment stand, or be mounted on the wall. Many soundbars also come with a subwoofer.
If you're looking for a soundbar that's also a streaming media player (yes, they exist!), then look no further than the TCL Alto 8+ Fire TV Edition soundbar with a built-in subwoofer. This device doesn't just maximize your audio experience, but also gives you access to the Amazon Fire TV 4K streaming media player which includes streaming platforms like Netflix, Max and Hulu. This soundbar currently sells for $150 on Amazon, but as it is part of Amazon's Fire family of products, there's a high chance it will be on sale during Prime Day, so we recommend keeping an eye on it. Also part of the Fire Family is the elegant looking Nebula Soundbar with 4K HDR Support, built-in subwoofers, and Alexa voice remote. Like the TCL Alto, this soundbar has the Fire TV media player built in, giving you access to endless entertainment. The Nebula Soundbar is currently selling for $180 on Amazon.

On the pricier side sits the Sonos Beam Smart TV soundbar which will cost you $400 at its regular price. Sonos has an easy setup and comes with Alexa voice control built right in. If you're looking for something a little cheaper (and potentially even cheaper during Prime Day sales), look no further than the VIZIO Soundbar with a wireless subwoofer and a 4.5 rating from 7,837 global reviews.
For those who like the idea of having a streaming player in their soundbar, but want something outside of Amazon Fire, we recommend checking out the Roku Smart Soundbar. It offers 4K streaming, a built-in Roku player that includes free TV, news, sports and movies for the price of $150. If you like the sound of that, but want a better price, try the younger brother version, also known as the plain old Roku Streambar for $130. It's nearly the same, except the Streambar sound quality isn't as rich.
Now, if money isn't an object and you want your action sequences to shake the windows, you might want to check out the Sonos Playbar, praised for its simple setup and quality of sound. It's currently available for purchase at $699 on Amazon. Another popular option is the Yamaha Audio YAS-209BL Soundbar. It comes with a wireless subwoofer, bluetooth, and built-in Alexa voice control. It will cost you $350 at its regular price.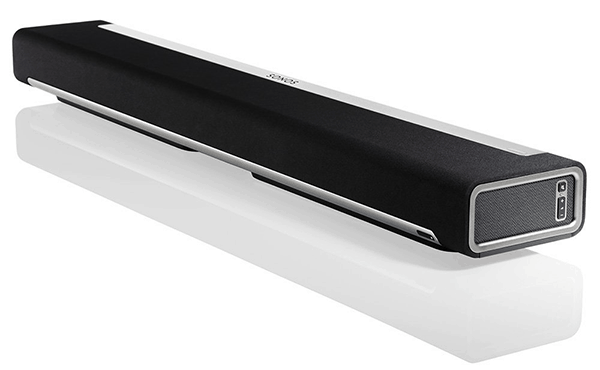 Amazon Prime Day Savings Strategies for Soundbars
Step one to Amazon Prime Day success is having a Prime account. Make sure to sign up for Amazon Prime so you can see and participate in all the sales (if you're not ready to commit, you could try the Amazon Prime free trial). When you're logged in to your account, you will see items marked for sale with a blue badge. Keep your eye on the Lightning Deals first, as they tend to sell out quickly and have a limited number of items. If you're more interested in popular brands, Amazon's Spotlight Deals will probably have something for you. We also recommend getting the Amazon app on your phone so you can be notified of upcoming deals and get a preview of Lightning Deals before they go live.
Since other retailers like Target, Best Buy, and Walmart have started to compete with their own sales on and around Prime Day, it's also a good idea to compare prices and see who has the best deal available.
Happy Amazon Prime Day!
Don't let poor sound ruin a spectacular movie. During these times when many of us skip the theater and choose to watch movies at home, it's important that we have quality sound to go along with our quality picture. Be sure to check out our coverage of other Prime Day deals, too — we have you covered for Prime Day deals on Fire TV devices and more. Happy shopping!