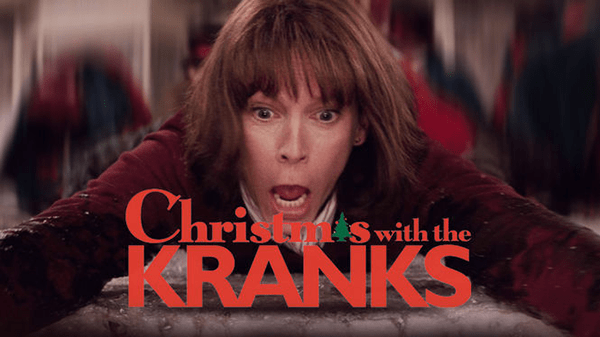 Could you imagine boycotting Christmas? For some, the thought may be easy to entertain. For others, canceling Christmas may seem like an outright assault on the very meaning of the holiday itself. Just think. No tree, no cheery music, no gingerbread, or presents. Just the bitter cold and stark, leafless trees.
That's what plays out in "Christmas With the Kranks," a laugh-out-loud Christmas comedy about a couple of empty-nesters and their plan to skip Christmas in lieu of a tropical vacation instead. What ensues is a continuous chain of mayhem as the couple encounters the wrath their neighbors and friends bring upon them for even thinking of skipping out on Christmas. This movie is a true holiday entertainment treat. So, how do you watch it if you don't have cable? Here's how.
How to Stream 'Christmas With the Kranks' Online
There are a variety of ways to stream "Christmas With the Kranks" this year without having cable, including through DIRECTV, Sling TV, Philo, fuboTV, and Amazon Prime Video. Check out each service below to learn more:
Sling TV is more or less a straight-up replacement for your traditional cable package. In fact, it's one of the best subscriptions you can get. With Sling TV, you can add STARZ as a premium option, giving you the opportunity to catch "Christmas With the Kranks" this holiday season.
In a field packed with streaming services, Philo brings something a little bit different to the table as it excludes some of the sports and cable news networks to focus on movies and TV series from your favorite channels, making it a great option for those primarily interested in popular culture. This Christmas, you can use Philo to catch some of your favorite holiday classics.
The well-known service for streaming sports, fuboTV, isn't all about sports anymore. Instead, you can find your Christmas favorites, including movies, TV shows, and more on fuboTV. Streaming with fuboTV is easy, and it comes at one of the cheaper prices on the streaming market today for what you're getting.
If you'd rather not subscribe to a streaming service, you can always rent or purchase "Christmas With the Kranks" on Amazon Prime Video. Anyone with an Amazon Prime account can use this option. Right now, you can rent this movie for $3.99 or buy it for $7.99.
Who Stars in 'Christmas With the Kranks'?
Tim Allen, star of "The Santa Clause" franchise, another series of hugely popular Christmas favorites, plays the lead role in "Christmas With the Kranks" alongside Jamie Lee Curtis. You'll also enjoy the over-serious about Christmas character acting performed by Dan Aykroyd throughout this Christmas flick. Here's the all-star lineup:
Tim Allen as "Luther Krank"
Jamie Lee Curtis as "Nora Krank"
Dan Aykroyd as "Victor Frohmeyer"
M Emmet Walsh as "Walt Scheel"
Cheech Marin as "Officer Salino"
Erik Per Sullivan as "Spike Frohmeyer"
More Christmas Movies You Should Stream Next
Here are some of our favorite Christmas movies to stream that you should check out after "Christmas With the Kranks":
"Home Alone" – A hilarious slapstick physical comedy featuring a little boy's ingenious creativity in thwarting would-be house robbers. It's a favorite among kids.
"A Christmas Story" – This is a period piece that's absolutely timeless, as all young and old alike can relate to the experiences of a little boy and his plight to achieve his Christmas wish.
"National Lampoon's Christmas Vacation" – Clark Griswald, Cousin Eddy, jello molds, Christmas trees ablaze, rabid squirrels, and jelly of the month club… need we say more?
"Four Christmases" – Live vicariously through one couple as they deal with their not-so-normal families – four of them in fact – all in one day.