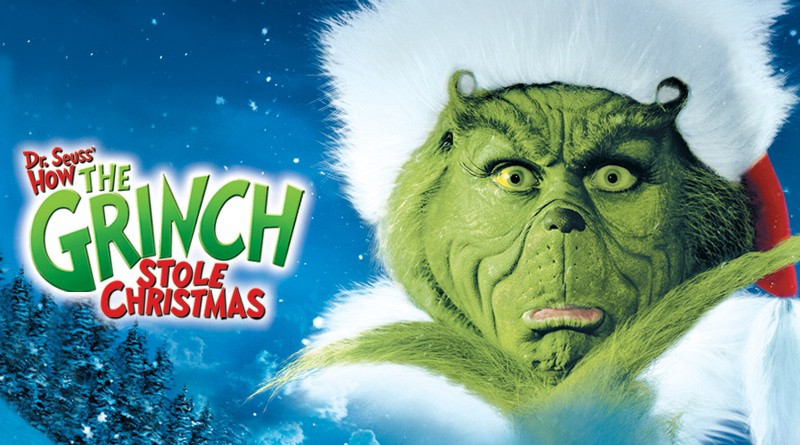 In this live-action adaptation of the Dr. Seuss classic, the curmudgeonly Grinch plots to ruin Christmas for his neighbors, the Whos down in Whoville. Meanwhile, a disheartened Who girl, Cindy Lou, becomes fascinated by the Grinch, eager to get to the bottom of his uniquely uncheery spirit. The Grinch enlists his dog to help him carry out his diabolical scheme, but is he mean enough to steal every gift, tree, and meal on Christmas Eve?
The answer to that question is the reason why I love every version of the Grinch, including Jim Carrey's hilarious rendition in this movie. Watching the evolution of the Grinch's bitterness, Cindy Lou's empathy, and Whoville's surprising reaction to the green misanthrope reminds me that Christmas doesn't always go as planned, no matter how good (or awful) your intentions. During a season filled with extravagant expectations, ramped-up materialism, and ambivalent feelings about friends and family, the movie brings a timely message.
Here are a few of our favorite ways to stream 'How the Grinch Stole Christmas':
Price
Channels
Free Trial

#1

$7.99 – $82.99
85+
30 days

#2

$64.99 – $154.99
140+
5 days

#3

$9.99 – $14.99
N/A
Some providers

#4

$8.99 – $139
N/A
None
Where to Watch 'How the Grinch Stole Christmas'
You don't need cable to enjoy your favorite holiday movies. This year you can stream "How the Grinch Stole Christmas" on one of the following platforms:
If you want access to the most popular movies and shows at your fingertips but not a costly cable subscription, Hulu + Live TV is your platform. You'll find 75+ live network channels, thousands of on-demand titles you'd find with Hulu's basic plan, and access to Hulu's award-winning original productions. While you're wrapping presents or unwinding with your family, you can enjoy the 2000 version of "How the Grinch Stole Christmas" described above or the 1966 animated adaptation since both are available on Hulu + Live TV.
Amazon delivers much more than smiling boxes these days. You can stream thousands of series, original productions, and films on Amazon Prime, including "How the Grinch Stole Christmas." Right now it's $3.99 to rent and $9.99 to buy. You can also subscribe to premium channels like STARZ and SHOWTIME through Prime's streaming video service. As an added incentive, Amazon gives customers free shipping on their other purchases when they subscribe to Prime.
Don't have Hulu or Amazon Prime Video? Don't worry! You can also stream "How the Grinch Stole Christmas" this year on Max. Max is only $9.99 per month, and it comes with a ton of amazing content. Want to learn more? Read our in-depth review of Max to find out everything it has to offer.
Who Stars in 'How the Grinch Stole Christmas'?
Jim Carrey was made for the star role, combining the humor of "Ace Ventura," the mischief of "The Mask," and absurdity of "Dumb and Dumberer" into a devilish but lovable Grinch. Check out the some of the most notable cast members bringing Dr. Seuss' picture book to life:
Jim Carrey as "Grinch"
Taylor Momsen as "Cindy Lou Who"
Jeffrey Tambor as "Mayor Augustus Maywho"
Christine Baranski as "Martha May Whovier"
Parents Guide on 'How the Grinch Stole Christmas'
Wondering if this movie is appropriate for the littles in your family? 'How the Grinch Stole Christmas' is rated PG for some crude humor. Take a look at the following chart to get a sense of what to expect from this family-favorite film:
| | None | Mild | Moderate | Heavy |
| --- | --- | --- | --- | --- |
| Profanity | | ✔ | | |
| Violence | | ✔ | | |
| Fear | | ✔ | | |
| Substances | | ✔ | | |
| Sex & Nudity | | ✔ | | |
As is typical of movies starring rambunctious comedian Jim Carrey, some of the humor in this film is really for the parents. For example, the Grinch burns a Christmas tree down with liquor and promises that "there will be Hell to pay" at one point.
Overall, we think this movie is appropriate for viewers seven and older, but caring adults should stick around to answer questions that may arise.
More Christmas Movies for You to Stream
Looking for movies like 'How the Grinch Stole Christmas'? Get the hot cocoa and Christmas onesies ready because this lineup was made for holiday snuggles:
"The Grinch" – From the directors of the Minions, this animated adaption is a fresh, comedic, and heartwarming take on the classic Grinch story.
"A Christmas Story" – This hilarious quest for the perfect Christmas gift delights viewers in every generation, one reason this film's been a family favorite for almost four decades.
"Elf" – If watching your favorite comedian bring a children's story to life is your thing, you'll love the story of Buddy, a grown man raised as an elf searching for his human father.