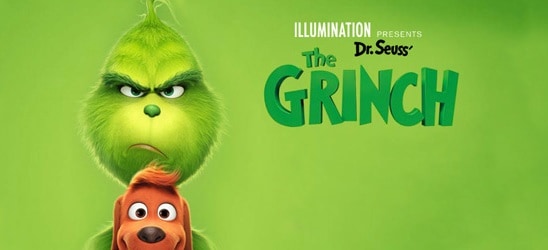 In this animated adaptation, the reclusive Grinch lives in isolation with his dog, Max, at the top of a mountain near the jolly Whos in Whoville. All the Grinch wants is quiet, but the Whos keep making their Christmas celebrations bigger and louder. The Grinch decides the only way to save himself from their intolerable cheer is to sneak into their homes disguised as Santa and steal Christmas. Meanwhile, the determined and optimistic Who-girl, Cindy Lou, decides she must find Santa and ask him face-to-face for the one thing she desperately wants: help for her overworked, single mother.
This latest iteration of Dr. Seuss' classic is my favorite Grinch, hands down. Its stunning visuals and clever storyline fuse holiday magic and real-life heartache in a way viewers of every age can appreciate. The Grinch isn't a terrifying hermit — he just prefers to be left alone more often than his neighbors (so he can rock out on his pipe organ in peace). He takes good care of his dog, has a heartwrenching origin story, and might be a better answer to Cindy Lou's Christmas wish than anyone imagined.
Wondering how to watch "The Grinch" without cable? Here's a complete list of cable-free viewing options:
Where to Watch 'The Grinch'
You don't need cable to enjoy your favorite holiday movies. This year you can stream "The Grinch" on one of the following platforms:
Who Stars in 'The Grinch'?
Benedict Cumberbatch is the most likable Grinch to steal Christmas in my book, and Cameron Seely and Rashida Jones deliver dynamic, lovable renditions of Cindy Lou and Donna Who. Check out some of the other star voices you'll hear when you watch this blockbuster animated film:
Benedict Cumberbatch as "Grinch"
Cameron Seely as "Cindy Lou Who"
Rashida Jones as "Donna Who"
Pharrell Williams as "Narrator"
Kenan Thompson as "Mr. Bricklebaum"
Parents Guide on 'The Grinch'
"The Grinch" is rated PG for brief rude humor. Here's what you can expect from this holiday favorite:
| | None | Mild | Moderate | Heavy |
| --- | --- | --- | --- | --- |
| Profanity | ✔ | | | |
| Violence | ✔ | | | |
| Fear | ✔ | | | |
| Substances | ✔ | | | |
| Sex & Nudity | ✔ | | | |
"The Grinch" masterfully tells a captivating story without incorporating elements that might offend, confuse, or frighten sensitive viewers. Overall, we think this movie is something the whole family can enjoy.
More Christmas Movies to Enjoy
Looking for movies like "The Grinch"? Check out these heartwarming takes on the holidays:
"How The Grinch Stole Christmas" – Starring Jim Carrey, this live adaptation of Dr. Seuss' Grinch is a rambunctious knee-slapper with a heartwarming twist.
"The Polar Express" – Do you believe? Watch one boy's epic train ride to the North Pole, and you may walk away with a new answer.
"Christmas with the Kranks" – When Luther and Nora Krank try to scrape together Christmas at the last second, they discover that "holiday spirit" is more than just a production.