MLB.TV is widely considered the best of these league packages. The company behind it, MLB Advanced Media, also powers the streaming services of major players like HBO (HBO switched after the notorious Game of Thrones incident). We decided to take a look at MLB.TV and see what all the hype is about. Here's what we thought.
Device Support
MLB.TV has a pretty comprehensive device support setup. They've been around long enough to have decent apps for older gaming systems like PlayStation 3 and Xbox 360 (we conducted a lot of our viewing on Xbox 360 and found the app very intuitive and reliable). Chromecast is integrated, too, and there are apps for both Android and iOS (the mobile streams are provided through MLB At Bat, which also offers scores, audio, and a "Gameday" view that overlays pitch locations and stats on a virtual field).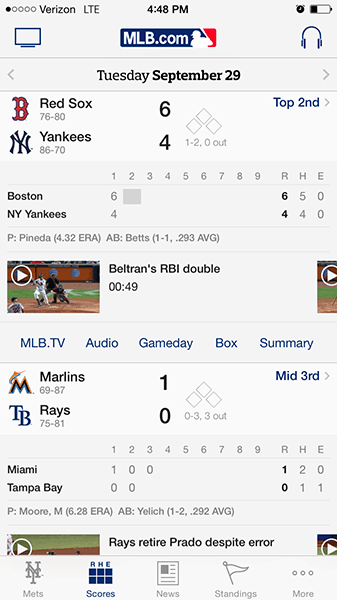 Your laptop is an option as well, though MLB.TV's splash page remains marketing-focused even when you're signed in. You'll have to click on "CURRENT SUBSCRIBERS" in the top-right to reach the menu of games. Stop trying to sell us something we already bought, MLB.TV! That small annoyance aside, we were quite impressed with all of the different interfaces.
Streaming Quality
We were pretty impressed by the quality of MLB.TV's streams. We used the same internet connection that left us less than thrilled with USTVNow's quality, but we had very few issues at all with MLB.TV. MLB.TV's streams sometimes fluctuated in video quality, but they rarely got choppy or skipped at all. Unsurprisingly, streaming was better on devices connected by Ethernet cable (like the Xbox we used) and a little weaker on wifi devices (like our laptops). Mobile streaming was quite good wherever we had service (we used a Verizon network in our review).
Content
MLB.TV includes every regular season game, with two exceptions:
You won't get nationally broadcast games, like ESPN Sunday Night Baseball, the playoffs, etc.
You won't get broadcasts that are on cable in your local area, meaning that whatever team owns your local market will be blacked out all season long
The blackouts are the infuriating thing about MLB.TV. It's expected – every league streaming service does this – but it's still awful.
Moving on to the good part: we're baseball fans, but we found ourselves watching even more games than usual when we tried out this app. It's wonderful to have so much selection, and the bonus content and little perks made things even better.
For instance, one of our favorite things about MLB.TV was the ability to put the radio audio over the video stream. It's a really cool touch, and it shows that MLB Advanced Audio really understands baseball fans. Listening to the radio while watching the TV broadcast is a classic baseball fan move, but it's pretty much impossible to do now that TV networks operate on a delay. MLB.TV makes it possible again. We should note that, rarely, we ran into streams that wouldn't allow us to use this feature. We're not sure why that was, and it was a bit disappointing.
The service also lets you go back and watch any game from the season, plus highlights and condensed games. You can find similar content for free online, so it's not a real selling point, but it's nice to have it all in one place if you're a die-hard fan.
MLB.TV lets you watch games from prior seasons, too, but their support for that is pretty limited. The full season archive only goes back to 2013. It would have been nice to see classic games. We know MLB has them all – they're all on Youtube for free right now. It seems like MLB could afford to toss in a back catalogue of classic games for a service that costs this much, especially if they're dishing them out for free on another site.
The included MLB audio subscription was a real bonus, especially because the audio feeds have no blackouts. Fans of local teams should note that you don't have to get a full MLB.TV subscription to get the audio feeds.
The Price
MLB.TV Premium was $139.99 this year. That's a pretty good value for a league that has 30 teams playing 162 games a year. The NHL is a less popular league with about half as many games, and they charged fans $159.99 last year for GameCenter Live. NBA League Pass is an absurd $199.99.
MLB.TV isn't cheap by any means, but it's a better value than most sports streaming packages.
The Verdict
Believe the hype. MLB.TV offers very smooth streaming, great device integration, and some really great perks. If you're a baseball fan and live outside the TV market of your favorite team, MLB.TV is a no-brainer.
Unfortunately, we can't recommend it for fans of local teams. For now, the best option for local fans is Gameday Audio.
For other tips on how to catch baseball as a cord cutter, check out our complete how-to guide.