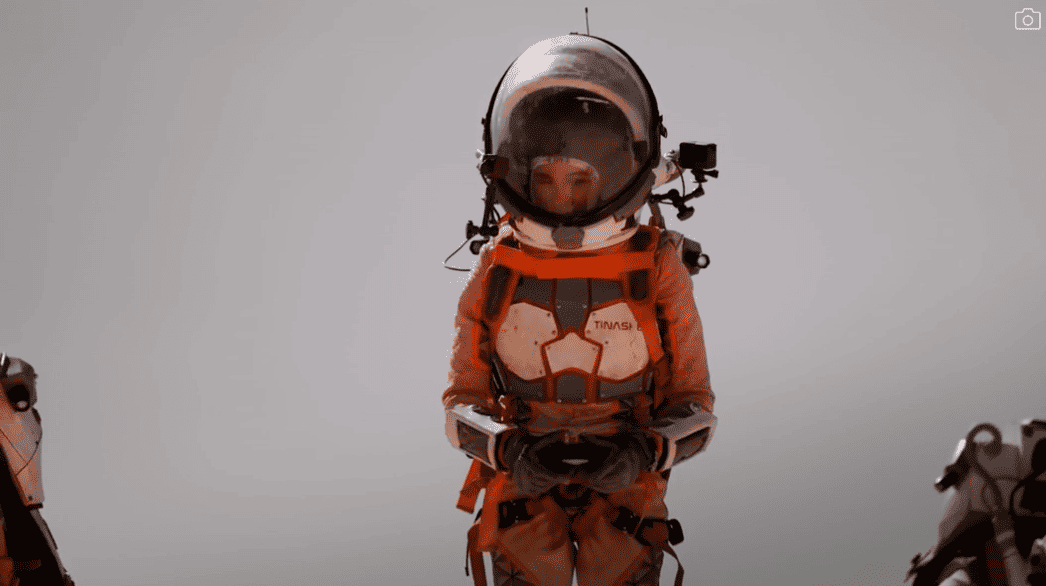 Four newcomers arrived on made-for-TV Mars in Episode Five of FOX's "Stars on Mars," and their appearance threatens to shake up the status quo in a big way. With no eliminations made in this episode, the field is packed with competitors headed into next week. Let's see which of the C-listers gave us an A-plus performance this week.
---
Past power rankings:
Week 1 | Week 2 | Week 3 | Week 4
1. Ronda Rousey
Last week: 1 ↔
Ronda is a part of the game's most powerful alliance, but she seems to be quite popular with players outside of the pro-athlete clique, too. Nobody is in a better position right now, but Ronda's reign at the top will only continue as long as the athlete's clique stays strong.
2. Porsha Williams Guobadia
Last week: 5 ↑
Porsha has forged a partnership with Tinashe and Adam Rippon, and she's in an especially good position within that clique because she has not yet served as base commander. She'd be wise to run for election once the field narrows again and eliminations become more dangerous.
3. Tinashe
Last week: 3 ↔
CordCutting.com favorite Tinashe has maneuvered herself into an alliance of sorts with Adam Rippon and Porsha Williams Guobadia. How strong that strategy is will depend on how well their triple entente can recruit new arrivals.
4. Marshawn Lynch
Last week: 4 ↑
Marshawn is the most mercurial member of the athletic alliance, but he's a dangerous player when he's putting in the effort. He remains well-liked by just about everyone except for Ariel, and is in a solid position as he heads into Episode Six.
5. Lance Armstrong
Last week: 2 ↓
Lance is a part of the powerful athlete's clique, but his popularity outside of that alliance is at rock bottom. If rival factions manage to get Lance into an elimination situation, they'll be likely to pull the trigger. Of course, they'll have to get him into that spot, first, and Lance has proven to be a dangerous player.
6. Adam Rippon
Last week: 7 ↑
Rippon is in a weird spot going into Episode Six. He's the only ex-pro athlete that's not a part of the jocks' clique. He successfully campaigned for base commander, but wasted his week of immunity on an episode with no eliminations. And if you were watching carefully, you probably spotted some rough moments during his brief reign. Marshawn Lynch forced his way into his preferred chore without consulting Rippon, for example, and Porsha stepped on Rippon's moment when she shouted out the good news that there would be no eliminations.
7. Paul Pierce
Last week: N/A
Newcomer Paul Pierce arrives with a built-in advantage: The most powerful group in the hab is full of ex-athletes. Paul looks like an aggressive player, but also a savvy one. He immediately began campaigning against another player, but correctly identified Ariel as the most vulnerable target. Then again, maybe he just found her annoying and spoke his mind.
8. Andy Richter
Last week: N/A
"Stars on Mars" rookie Andy Richter will look to avoid the fate of fellow comedian Natasha Leggero, who got the boot in last week's double elimination. He seems relatively drama-free, which could help him as he acclimates to the existing (and messy) "Stars on Mars" culture.
9. Cat Cora
Last week: N/A
For the first time since the "Stars on Mars" premiere, we have new arrivals. One of them, celebrity chef Cat Cora, plans to win over her teammates with good cooking. We'll have to see how viable that strategy is. Color me skeptical.
10. Ashley Iaconetti
Last week: N/A
Newcomer Ashley Iaconetti hasn't shown us much so far, but the rest of the CordCutting.com staff has assured me that she'll be great for the drama. Whether she'll be a great player in this game is less certain.
11. Ariel Winter
Last week: 6 ↓
Ariel is having a rough time in the Martian hab these days. After trying unsuccessfully to get the cast to turn on Marshawn, she has found herself on the short end of a rivalry with the bullying Lance Armstrong. Even with the jocks and non-jocks locked in a 3-to-3 stalemate before the new arrivals showed up, nobody seemed particularly interested in recruiting Ariel. And when the newcomers did show up, several of them took an immediate dislike to her and her bossy ways. In short: Things are not going well.
---
Eliminated: Tom Schwartz (Episode 4)
Last week: N/A
Tom was one of two people kicked out of the hab in Episode Four's surprise double-elimination (the other was Natasha Leggero). Tom's ejection seemed to have more to do with accumulation of bottom-three performances than it did with any specific mistakes he made in his final episode.
Eliminated: Natasha Leggero (Episode 4)
Last week: N/A
Like Richard Sherman the week before, Natasha actually requested to be sent home. The difference in her case was that she was absolutely getting booted off regardless.
Eliminated: Richard Sherman (Episode 3)
Last week: N/A
In easily the most shocking moment of the show so far, Richard Sherman effectively quit during the elimination phase of Episode Three. Technically in the bottom three but in no real danger of elimination, thanks to Marshawn's antics and Natasha's incompetence, Sherman declined to mount a defense. Instead he gave a short speech volunteering to be sent home. Base commander Tinashe obliged.
Eliminated: Tallulah Willis (Episode 2)
Last week: N/A
Tallulah managed to win the base commander job in Episode Two, only to meet with failure in the emergency challenge. The team's flop made Tallulah eligible for elimination, and mission specialist Natasha Leggero sent Willis packing.
Eliminated: Christopher Mintz-Plasse (Episode 1)
Last week: N/A
Poor McLovin was booted in the series premiere. Things move fast on Mars, and Mintz-Plasse just couldn't get out of the gate cleanly.