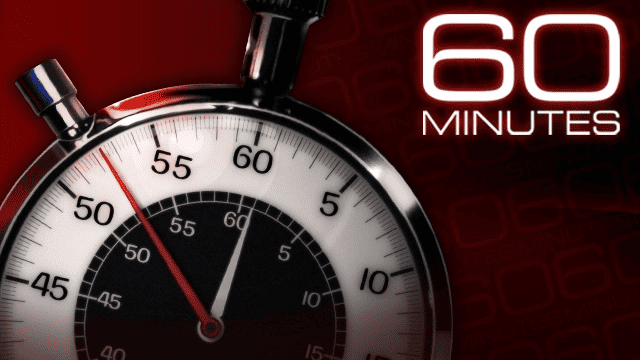 There are a lot of news programs on TV, but there's only one "60 Minutes." Since the 1960s, CBS's hour-long program has been the gold standard in news magazine-style television news. There's lots of flashy nonsense on cable these days, but "60 Minutes" still puts in the reporting legwork, and it shows. If you consider "60 Minutes" to be must-watch TV, then you may have a dilemma: How can you cut the cord without giving up watching the show? Is there a way to watch "60 Minutes" without cable?
As it turns out, there is a way — a few different ways, in fact. Below, we'll lay out everything that you need to know, including details on getting yourself a safe (and legal) "60 Minutes" livestream online as well as information on how to watch "60 Minutes" free with an antenna — no cable required!
How to Watch '60 Minutes' Online and Over the Air Without Cable
So how can you watch "60 Minutes" without cable? You can sometimes find segments on CBS's website or on YouTube, but what we want is a way to watch "60 Minutes" right as it airs, so that we're watching the same full program that the rest of the cable-watching nation is seeing. How do we do that?
To watch "60 Minutes" without cable, we need to find a way to watch the channel it's on: CBS. There are two main options here. One is to get a pay-TV service. We're talking about a live TV streaming service, or "skinny bundle." Skinny bundles are "skinny" because they slim down bloated cable channel bundles, and this helps them keep costs down.
There's another way to get CBS — and therefore "60 Minutes" — without cable. And it's free too! We're talking about antenna TV! It may be 2023, but HDTV antennas are still just as good as they have been in the past (if not better).
Catching "60 Minutes" without cable is easy, just use one of the following methods:
Can I Watch 60 Minutes on Roku, Fire TV, Apple TV, or Chromecast?
Any good cord-cutting setup includes two types of things: streaming services and streaming devices. It takes two to tango, here! Just like you can't use Microsoft Word without a computer, you can't use Hulu or YouTube TV without something to watch on. And just like you need programs to make your computer useful, you need apps to make full use of your devices.
So which services go with which devices? The good news is that, these days, it's pretty hard to go wrong. Sometimes tech companies will get into little spats and mess things up, but for the most part, the streaming companies seem to be getting along well these days. That makes it easy to stream "60 Minutes" on a Fire TV Stick, Chromecast, or any device of your choice.
More to Watch for '60 Minutes' Fans
Cutting the cord is easier when you don't have to give up great channels like CBS and great shows like "60 Minutes." But there's still so much more for you to watch, so don't stop here. Check out what's on another major network, like FOX — which is just as easy to watch online or over the air as CBS is. Or check out the streaming options, because CBS isn't the only big network with its own streaming service: NBC's parent company, NBCUniversal, has one called Peacock that we really like. There's never a lack of things to watch when you're a cord-cutter!