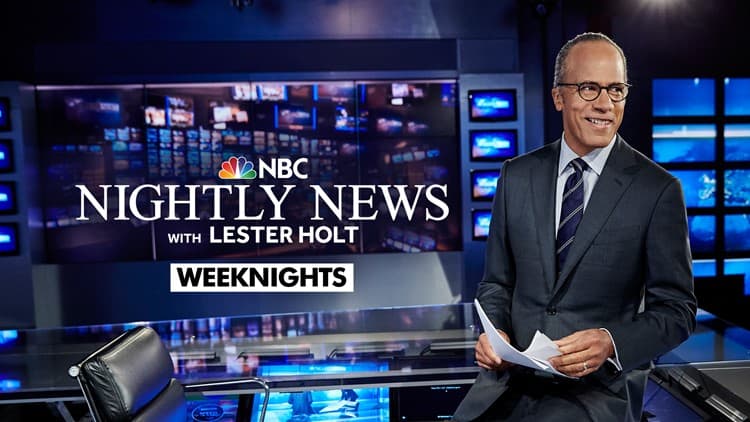 There are many ways to get your news these days. You could turn to print journalism, or the never-ending news cycles of cable channels such as CNN and Fox News. You could check out online outlets — or even Facebook and YouTube, although you should be wary of the disinformation that proliferates on those platforms. But there's a reason so many Americans still tune in to evening news programs on major networks: You know you can trust professional programs such as "NBC Nightly News With Lester Holt." But here's something you may not know: You can watch "NBC Nightly News" without cable. Below, we have the scoop on how to watch NBC's "Nightly News" online or for free with an antenna.
How to Watch 'NBC Nightly News' Online and Over the Air Without Cable
Many people assume you have to have a cable or satellite subscription to watch "NBC Nightly News With Lester Holt," but it's not true. And why should it be? When NBC's nightly news program first aired in 1970, most Americans didn't have cable and instead tuned in using TV antennas.
What has changed? An awful lot. After years of cable dominating our TVs, we can finally choose other options, such as streaming services. There are some very exciting services aiming to beat cable at its own game. Services such as Hulu + Live TV and fuboTV offer a very cable-like experience, but without the commitment, high prices, or cable box.
In other ways, though, not much has changed since the '70s. Those over-the-air broadcasts are still around, and we'll talk about watching "NBC Nightly News" free with an antenna later on.
Here are our favorite ways to watch "NBC Nightly News" without cable:
Can I Watch 'NBC Nightly News' on Roku, Fire TV, Apple TV, or Chromecast?
Your best bet for streaming "NBC Nightly News" online is to use a streaming skinny bundle such as Hulu + Live TV or fuboTV. Does this mean you have to watch the news on your computer screen? Happily, no. You can watch these services on virtually any streaming device or smart TV, including Roku, Fire TV, and Chromecast.
More to Watch for 'NBC Nightly News' Fans
"NBC Nightly News" is a compact 30-minute look at the day's news, but it's worth seeking out a cable news network if you want to go a little more in depth. We don't recommend watching it 24 hours a day, but cable news has its place. Despite the name, you don't need cable to watch cable news. You can get it through skinny bundles.
CNN is a good starting point if you're interested in sampling a cable news network. Refer to How to Watch CNN Without Cable to get started.