Plex is a powerful media server app that will let you turn your personal media collection into a watch-anywhere streaming library.
Plex supports some great add-ons, apps, and "channels." Have you tried all of our favorites?
You don't have to limit yourself to supported channels and add-ons. The Unsupported AppStore allows you to customize Plex in even more ways.
Installing the Unsupported AppStore involves downloading a bundle and adding it to your Plex plug-ins folder. Check out our step-by-step walk-through below.
Plex is a powerful media center application, and it's one of our favorite ways to manage content. But if you're using Plex the way that it comes "out of the box," you're simply not getting all of the functionality that you could be enjoying.
To get more out of Plex, we recommend checking out the Unsupported AppStore. The Unsupported AppStore gives you access to all of the apps that, for one reason or another, Plex isn't officially supporting right now. That could include apps that are still in development, as well as adult-themed apps that Plex doesn't want to publicly rubber-stamp (if you're uncomfortable with having adult apps available to download for anyone who uses Plex on your computer, you should steer clear of the Unsupported AppStore).
The original version of the Unsupported AppStore isn't working any longer, but a new version is already available. The new Unsupported AppStore is available only as a part of something called the WebTools 2.0 Bundle, which also includes a tool for viewing Plex's log and a tool for managing subtitles.
If you're ready to get started, just read on! This is our step-by-step guide to installing the Unsupported AppStore. We'll be using a Windows PC, but we'll mention any differences for Mac users when the relevant steps come up.
Step 1: Download the WebTools 2.0 Bundle
We're assuming that you already have Plex running on your computer, so we're skipping right to downloading the Unsupported AppStore. Click here to download the WebTools 2.0 Bundle (WebTools.bundle.zip), which includes the Unsupported AppStore. Note that the Unsupported AppStore used to have its own bundle, but that old version no longer works!
Step 2: Unzip WebTools.bundle.zip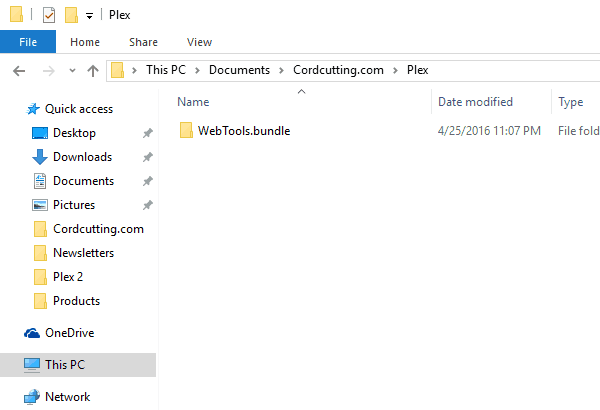 Now go check out the downloaded .zip file. Just extract it to any folder you'd like. Make sure that it ends with the .bundle extension, and meet us at the next step!
Step 3: Copy the Extracted Folder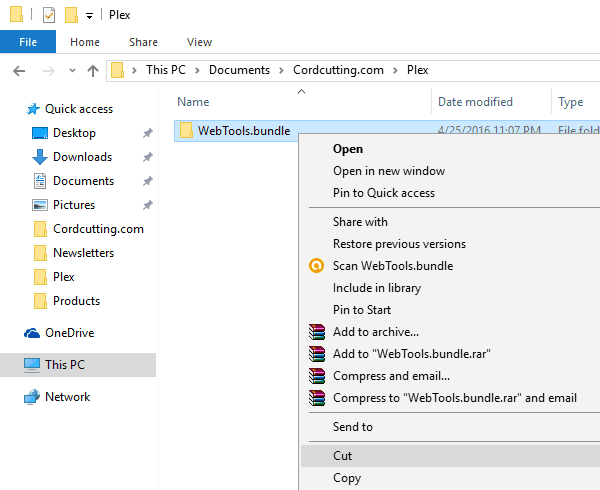 Now that the bundle is unzipped (it should just be called WebTools.bundle at this point, as shown in the image), right-click it. In the drop-down menu, select "Cut." Now you're carrying the bundle around on your clipboard, ready to put it where it belongs.
Step 4: Open the Plex Plug-Ins Folder

Look for the Plex icon in the taskbar menu (it's the bottom-right one seen here).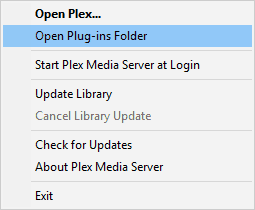 Click "Open Plug-ins Folder".
Now navigate to the Plex plug-ins folder. This is where you're going to want to put the WebTools bundle, which includes the Unsupported AppStore. To get to the Plex plug-ins folder quickly in Windows, just right-click the Plex Media Service icon on the task bar menu and choose "Open Plug-ins Folder" from the drop-down menu.
(Mac users, you can find your Plex plug-ins folder at ~/Library/Application Support/Plex Media Server/Plug-ins – use your Finder's "Go to Folder" command.)
Step 5: Paste the Bundle Into the Plug-Ins Folder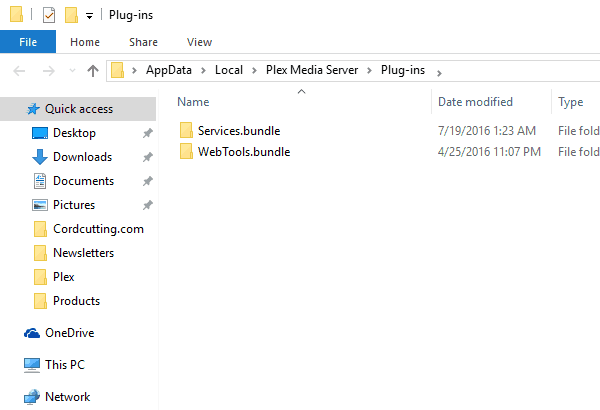 Now that you have the plug-ins folder open, just right-click it and select "Paste" from the drop-down menu. This will put the WebTools bundle into the plug-ins folder.
Step 6: Enter the Provided URLs

The new Unsupported AppStore installation method takes a couple of extra steps, so bear with us here. Once you log in, you'll find the WebTools bundle in your Channels menu. Click on it and follow the instructions, which say to enter two web URLs in other browser tabs.
Step 7: Log In With Your Plex Credentials, and Enjoy!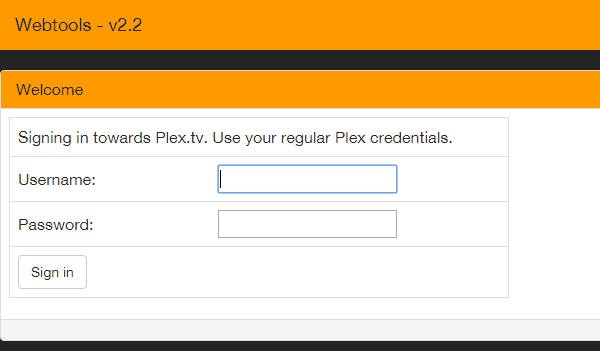 You'll be prompted for your Plex credentials, so go ahead and punch those in. The next screen will show all three of WebTools' tools. Click on the Unsupported AppStore, of course!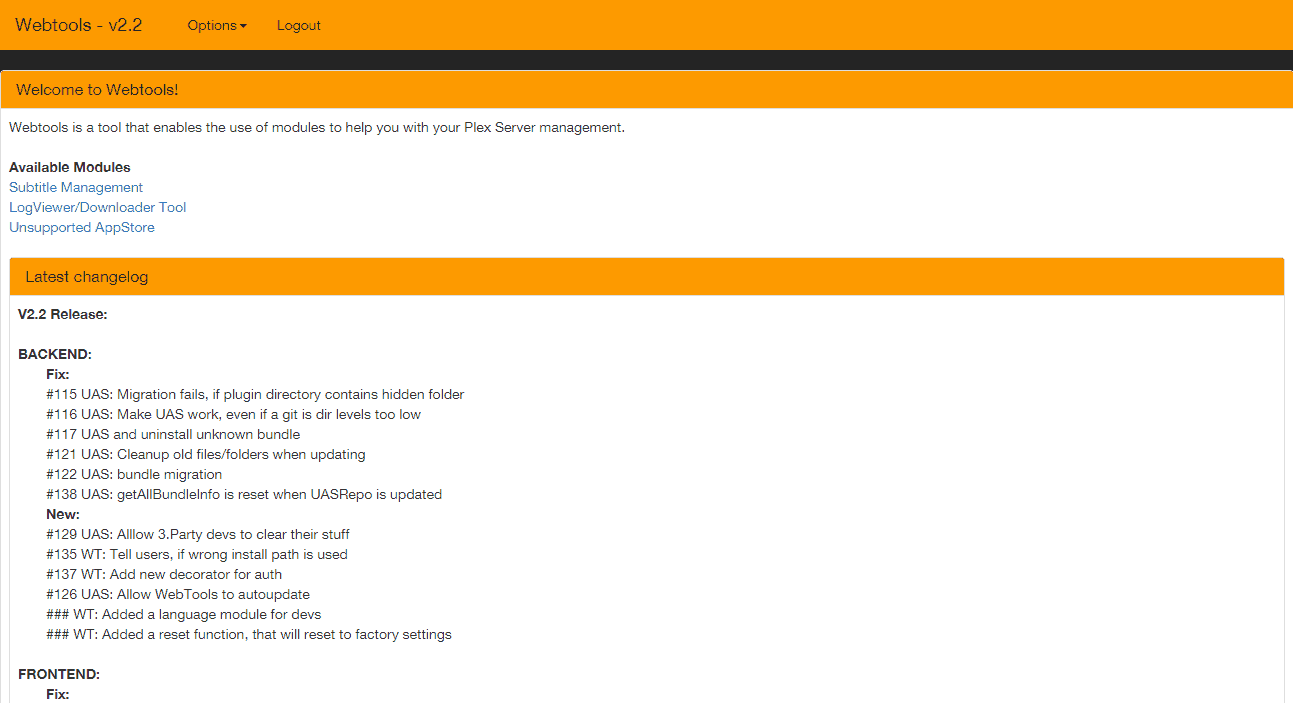 In the Unsupported AppStore, you'll be able to select all kinds of unsupported channels to try out! Channels you add this way will then appear in your Channels menu, just like all of your official channels do.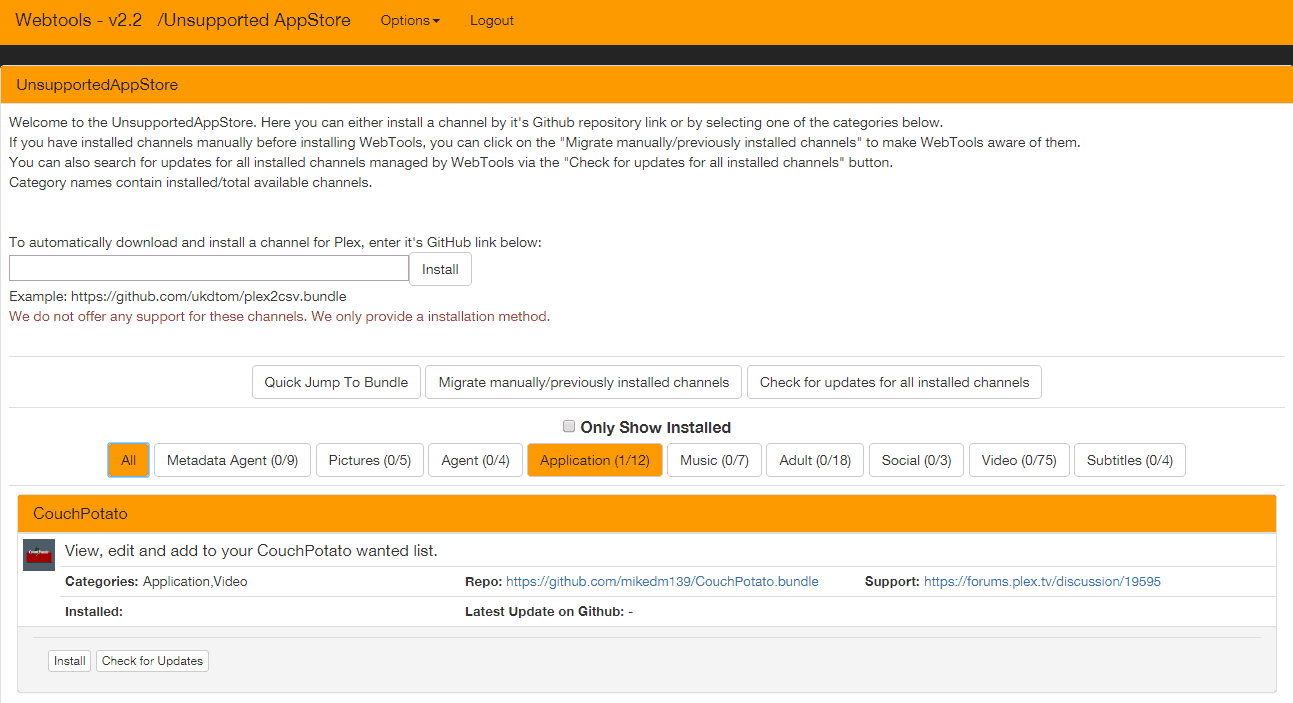 This article was updated on 7/19/2016 to include the new version of the Unsupported AppStore and to reflect changes in the installation process.