Aggregate all your media and access it anywhere
There are dozens of streaming services to choose from. Some have classic content, and some host the newest blockbusters. None of them, however, have your personal collection of movies and TV shows. You can't just upload your DVDs to Netflix and stream them to your phone.
For that, you need a media server. In this article, we'll cover what media server apps do, the unique features of Plex, and how Plex Pass differs from their free tier.
How Much Does Plex Cost?
The base features of Plex are all free for life (for more on those features, read on). Users who want to upgrade to Plex's paid tier, called Plex Pass, can choose to pay monthly, annually, or for a lifetime pass.
Plex Pass costs $4.99 per month on the monthly plan. The annual plan costs $39.99 (the equivalent of $3.33 per month). The lifetime plan is $119.99.
The only features not included in the Plex Pass are Plex Arcade ($2.99 per month) and the Tidal music add-on ($8.99 per month for standard quality or $18.99 per month for HiFi).
What Is Plex?
Plex is primarily a media server application. It does provide free streaming movies and TV shows, but that's not their main selling point. Their biggest feature is the ability to collect, organize, and stream your own audio and video files. During that process, it even attaches subtitles and metadata, like actors' names and movie descriptions. Basically, they allow you to turn your digital media files, ripped DVDs, and home movies into your own personal streaming service.
Plex has two apps: a client app and a server app. You can think of the client app as being like the one you would download for Hulu or Netflix. It's the server that makes Plex unique. The server sits on the computer, network-attached storage, or another device (see list below) that holds your media files, and — as the name implies — it serves those files to your client apps.
In 2019, Plex launched its own free streaming content, similar to what you'd find on other free streaming services like Pluto TV. This includes ad-supported movies, TV shows, and live channels, and you can access them all from the Plex client app or web app, even if you haven't set up your own Plex server.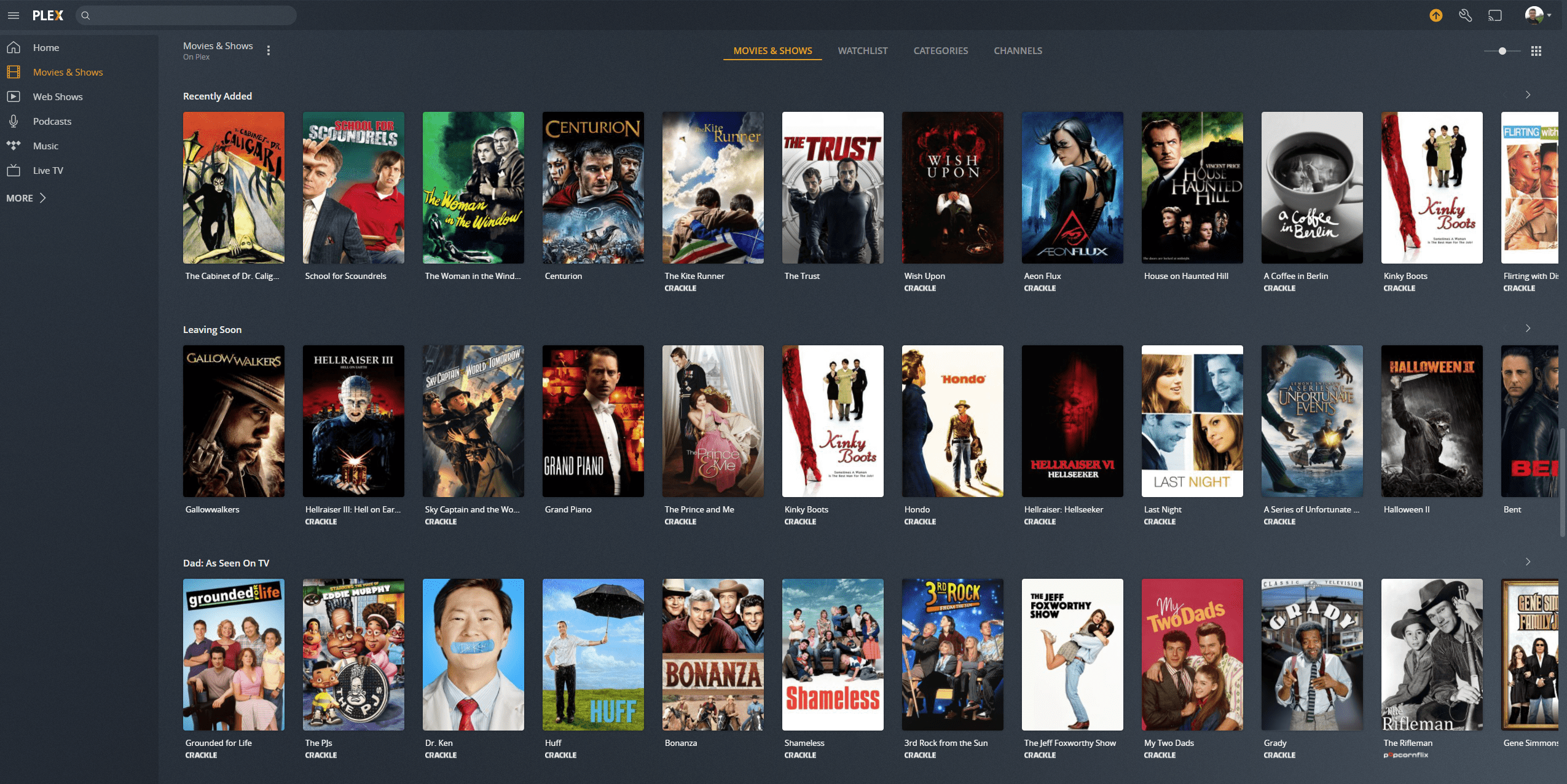 Plex Pass, Plex's paid tier, allows you to integrate free over-the-air (OTA) TV, though you'll need a TV antenna and a digital tuner to get the job done. While OTA TV is already free, Plex Pass brings it into the app and gives you the added ability to record OTA TV content to their cloud DVR. That way, you can view it from any of your devices.
Note to pre-2018 Plex users: You might be expecting me to mention Plex's plugins (also called Plex channels). However, Plex has almost entirely phased these out, and most of the more popular plugins have been incorporated into the app. You can still use the Plex Unsupported AppStore for now, but that will probably be phased out soon.
What Can I Watch on Plex?
Mostly, Plex is for watching your own library, but they do have a growing library of free content, too. Plex doesn't create any of its own shows or movies. Instead, it partners with free streaming service Crackle to bring that service's 20,000+ titles into the app. The content includes movies and TV shows from major publishing studies like MGM, Warner Bros, Lionsgate, and Legendary.
As with other free streaming services, you'll mostly find older titles or titles that failed to hit blockbuster status. Here are a few examples of the content you'll find right now on Plex.
Movies on Plex
"Aeon Flux"
"Train to Busan"
"Noah"
"Shaun the Sheep Movie"
TV Shows on Plex
"Grounded for Life"
"Anthony Bourdain: No Reservations"
"Bonanza"
"Men in Black: The Series"
Live TV Channels
The Walking Dead Universe
Game Show Central
AMC Thrillers
Along with movies and TV shows, Plex includes access to a range of podcasts and web shows. They've also recently introduced two add-on plans for Plex Pass: Plex Arcade and Tidal. Plex Arcade gives you access to old Atari games and your own emulated video games. The Tidal add-on incorporates Tidal's 250,000+ music videos and 60 million songs into the Plex app in either standard or HiFi quality.
What Devices Can I Use With Plex?
Both Plex's server and client apps have support for a wide range of devices. The only notable exception is the Nintendo Switch.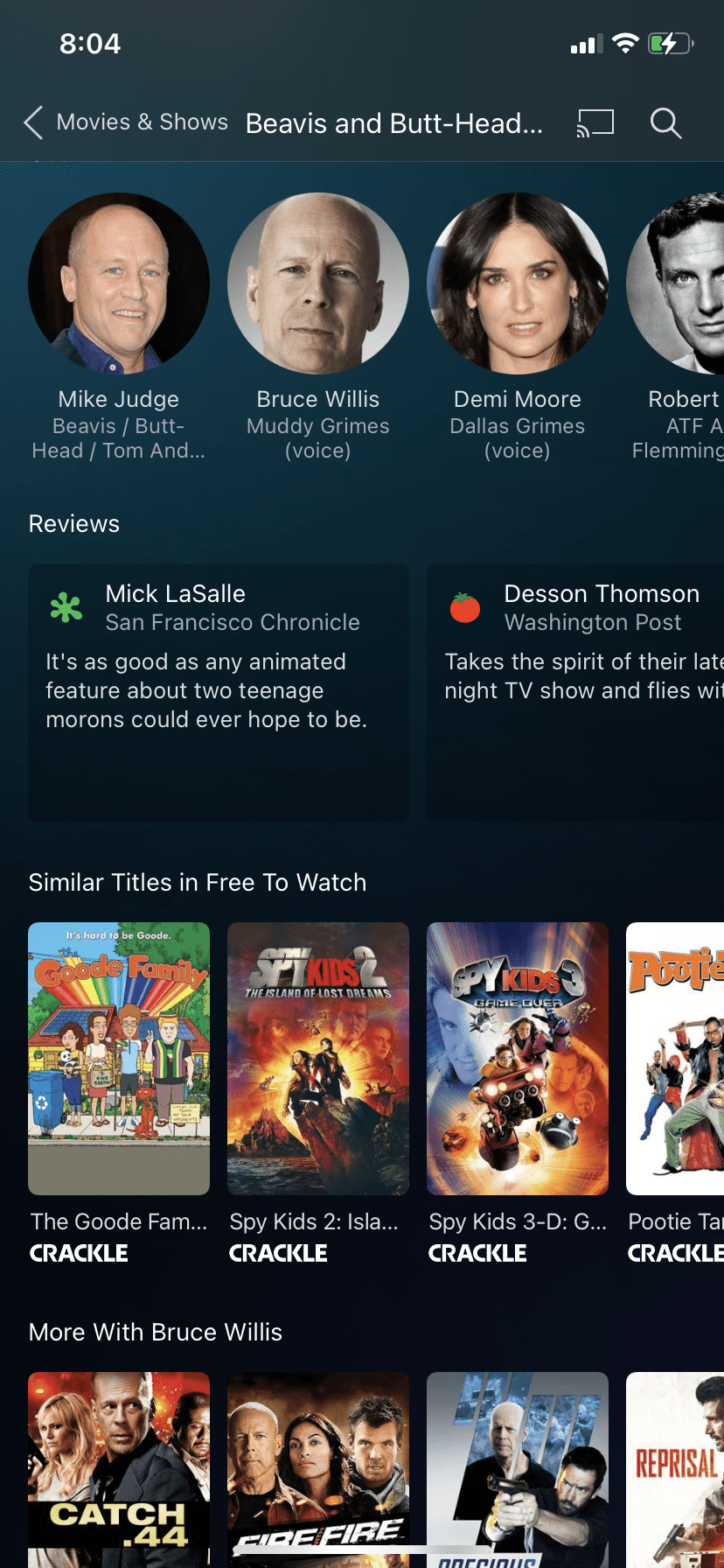 Here is the full list of compatible devices. For convenience, we've marked which devices have support for only the client app or only the server app.
Desktop/Laptop
Streaming platforms and devices

Apple TV (client only)
Chromecast (client only)
Amazon Fire TV (client only)
Android TV (client only)
Roku (client only)

Video game consoles

NVIDIA Shield
PlayStation 3 (client only)
PlayStation 4 (client only)
Xbox One (client only)

Mobile devices

Android (client only)
iOS (client only)

Other

Network-attached storage (NAS) (server only)
My Passport Wireless Pro (server only)
Netgear Nighthawk X10 router (server only)
In-browser app (client only)
Smart TVs (LG, Samsung, VIDAA, Vizio, Hisense) (client only)
Android Auto (client only)
Facebook Portal (client only)
Amazon Alexa (client only)
Sonos (client only)
Caavo (client only)
VR devices (Oculus Go, Samsung Gear VR, Google Daydream, Lenovo Mirage Solo VR) (client only)
Deals on Plex
The above prices are currently the best ones you'll find for Plex. In particular, the annual plan offers a 33 percent discount from the typical monthly price. Plex does sometimes offer deeper discounts on the lifetime plan. Be sure to check back here frequently as those discounts rarely last long.
How to Get a Plex Free Trial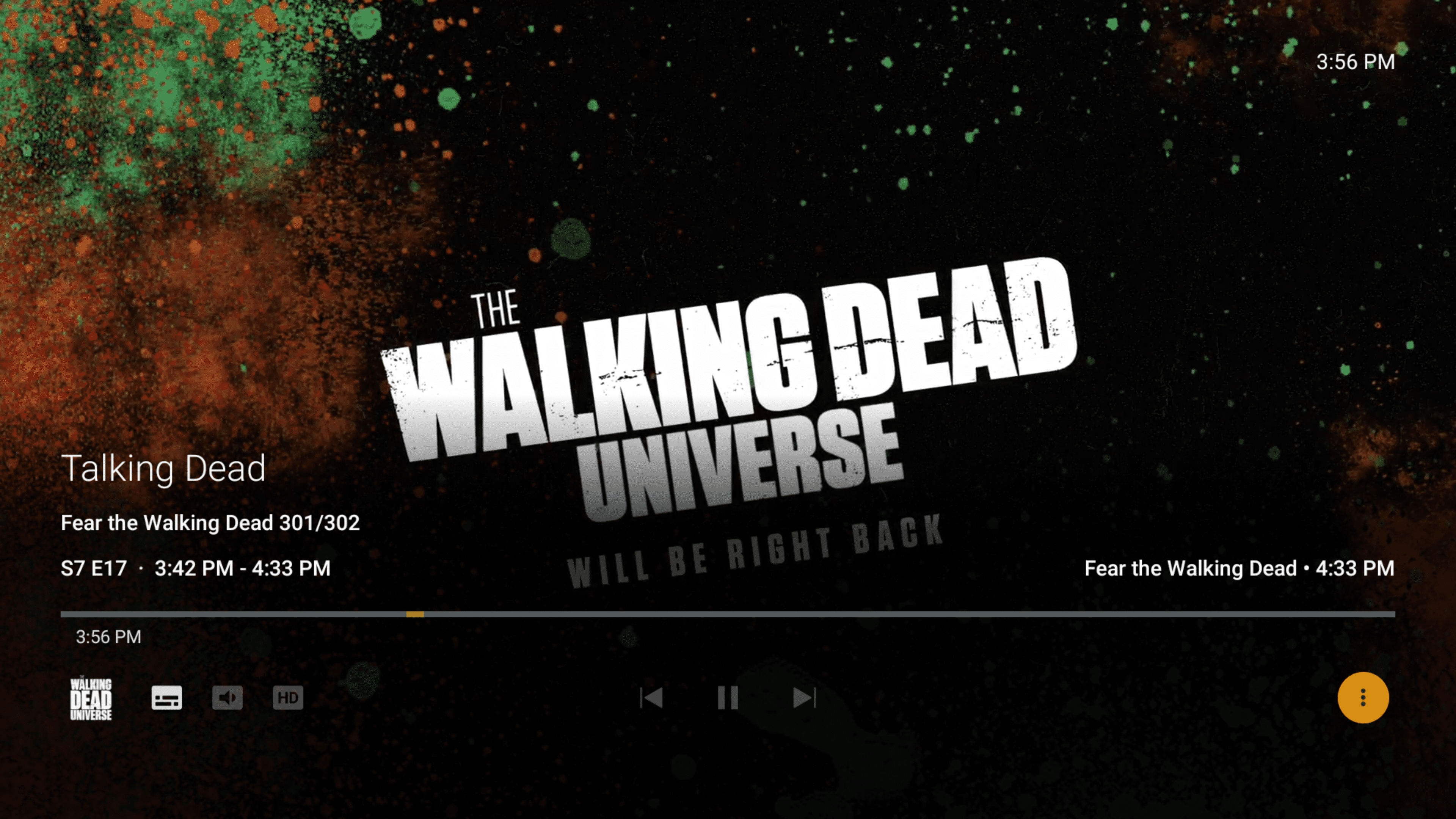 There are no free trials for Plex Pass, but the Plex free tier offers an excellent way to try out Plex. If you go with a monthly Plex Pass plan and decide to upgrade to an annual or lifetime plan, Plex will credit you for the remaining time in your current monthly subscription.
Plex Contracts
There are no contracts with Plex, so you can cancel at any point without penalty. If you are in the middle of a Plex Pass billing cycle, you'll still have access to the extra features until your next billing date. At that point, instead of billing you again, Plex will simply disable your Plex Pass features, leaving you with a free tier account.
How to Cancel Plex
Cancelling Plex Pass is easy. Just go to the Plex website, click the avatar in the top-right corner of the page, and select Account from the drop-down menu. You'll find a Subscriptions link in the first section of that page, which includes options to upgrade or cancel your plan.
Plex even makes it easy to delete your account information directly from the account page using the "Delete your account" link at the bottom of the page. That will remove all of your account information and data from Plex's servers, but it also blocks you from creating a new account using the same email address for one month.
All About Plex
Plex has a lot to offer, but it's definitely not your typical streaming provider. Be sure to check out our Plex review for a hands-on analysis of their product. You can find all of our Plex content by typing Plex into the search box at the top of this page.
If you're looking for a Plex alternative, Kodi's media player application is another excellent option. Since these are some of the best media server applications, we've also extensively covered the differences between Plex and Kodi.