Aggregate all your media and access it anywhere
Is Plex Worth It?
Plex is an impressive and feature-rich solution aimed primarily at those who already own a lot of media files. Plex also offers streaming perks aimed at those who don't need its core media server functionality.
Plex: Run your own media server to access your own entertainment — and more
Pros
Free version covers most use cases.
Very simple to set up and use.
Organizes and attaches metadata to all of your video/audio files.
Handles most audio/video file formats with ease.
Impressive device support.
Cons
Free content is mostly older.
All free content has ads.
The apps can be buggy.
Our Take: For those who want to turn their own media files into streaming content, Plex is the best choice. Those without their own stash of media, however, won't need this service.
What Is Plex?
At its core, Plex is a media server app. What that means is that it will help you host your own online server full of movies, music, and more. This service is aimed primarily at those of us who still have hard drives full of DVD rips and .mp3 files — which makes it a little different from many of the services we cover here on CordCutting.com.
Plex offers a free app and a premium paid subscription called PlexPass. In addition to the core media server features, it offers perks like streamable content.
What You Can Watch on Plex
Calling Plex a streaming service is like calling "The Walking Dead" a show about gunfights: It completely misses the point. I'll talk about Plex's free streaming content in a minute, but I want to explain the cooler feature — the Plex media server — first.
Imagine taking all of your ripped DVDs, TV shows, and music, and organizing them into one convenient library that is categorized and searchable. That's just the start of what Plex does. They pull in all of your audio and video files; automatically attach metadata (name, genre, etc.); and provide a powerful app for watching the content. You can even stream that content to all of your other devices — essentially turning your movie library into your own personal streaming service.
Of course, this works best if you have a ton of movie and TV show files on your computer. But even if you haven't been obsessively collecting video files as long as I have, you'll still find things to watch on Plex. When you are ready to grow your Plex library, you could always check out the public domain and other free (legally!) media you could be downloading with BitTorrent. If you really have no interest in hosting your own content, though, you probably want a dedicated streaming service instead of Plex.
Plex has a growing library (20,000+ titles) of their own free video content, just like you might find on a free video service like Pluto TV or Tubi. You'll find a lot of older or less popular content from Crackle, BBC, MGM, Warner Bros, and Lionsgate. The most recent title I recognized was from five years ago, but I did get the chance to watch "Tomb Raider: The Cradle of Life" and a couple of episodes of "The Dana Carvey Show." There's also a variety of web shows and podcasts to browse, although I don't see it replacing YouTube or my podcast aggregator anytime soon.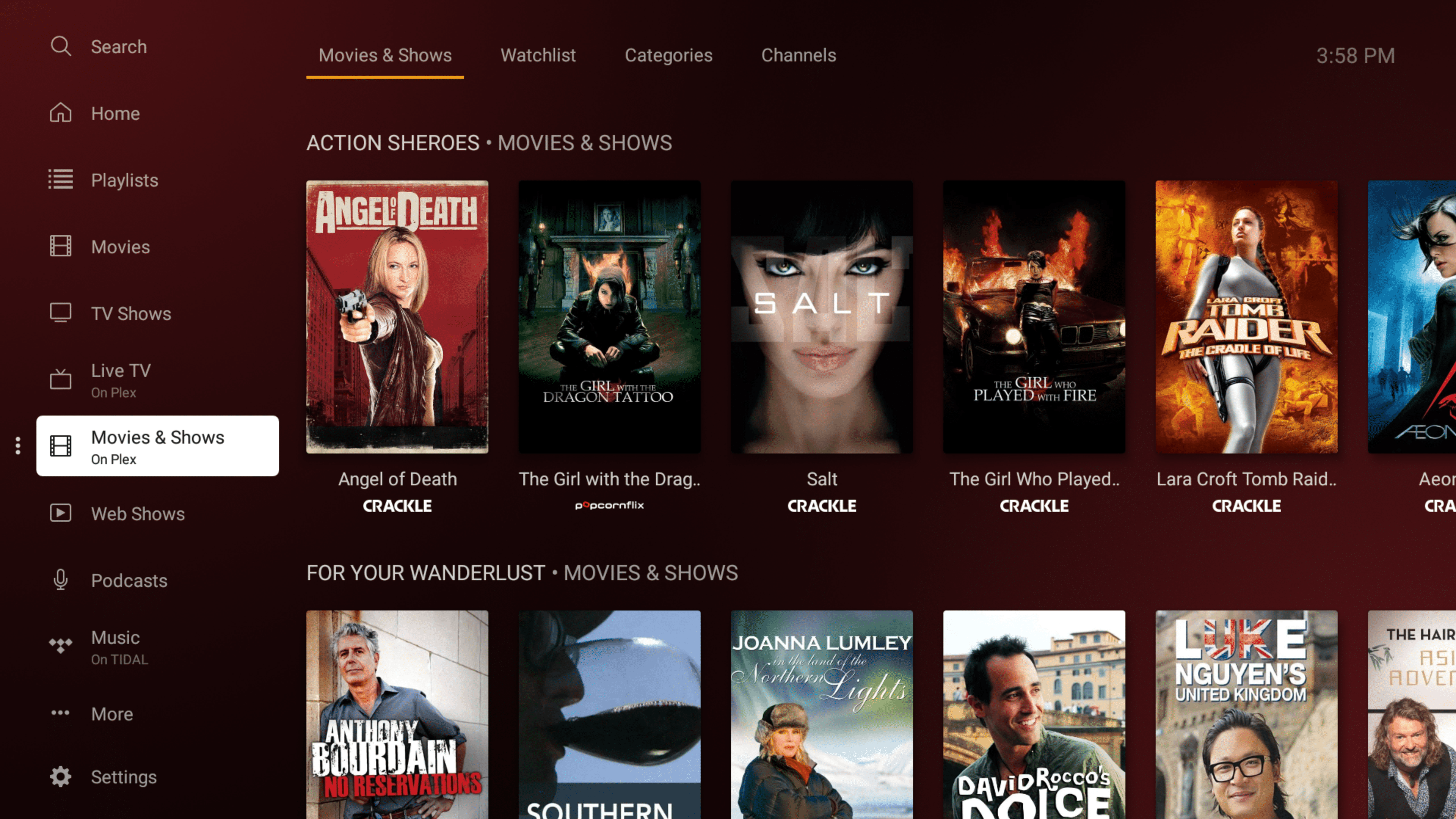 The live TV options on Plex have also been growing lately, and they were up to 174 channels at the time of this review. We're not talking about HBO or Fox, but there are a few you might recognize, including Stories by AMC and IFC Film Picks. If you want a soothing relaxation session, there's also The Bob Ross Channel. All of these channels are ad-supported.
If you have an antenna and a TV tuner, you can also watch over-the-air (OTA) TV with Plex's paid tier, called Plex Pass. Plex even provides a cloud DVR for recording all of your OTA TV content. That's a great way to grow your Plex library.
How It Felt to Use Plex
Setting up a media server sounds super complicated, but getting started with Plex couldn't be simpler. Just download the Plex media server app to whatever device you want to use to hold your new personal streaming empire. You can pick any device, but remember that your media server needs to have access to all your audio and video files. Also, you'll have access to your content only when the device is turned on. I chose my Windows desktop because it's already on 24/7. Otherwise, I would probably have used a network-attached storage (NAS) device to save on power consumption.
The Plex media server app walked me through creating my server and populating it with all that audio and video goodness I've been accumulating. Just a few clicks redirected it to my movies folder, and my media server was up and running in minutes. I was impressed by how well it handled all kinds of audio and video formats. I feel like I'm always converting files to make them compatible with new software, but Plex just did everything on its own.
The coolest part, though, was waiting for me in the client app. Plex had already attached all kinds of metadata to my media: genre, actors, directors, runtime, and so much more. And all of that information was searchable. I tested out this powerful metadata feature by searching for movies featuring my favorite Spiderman, Tobey Maguire (because with great power, well, you know). Usually, I'd have to cross-reference with IMDb to find that information. This time, though, Plex did the hard work for me, and the results they found were exactly right.
I installed the Plex client app on pretty much every device I had, and the process was incredibly easy across the board. I did notice a few technical glitches when running the app, though. The app on my Fire TV Stick randomly restarts itself at least once every few days. The web app sometimes gets stuck loading a page, requiring me to refresh. Those are minor, but there is one more aggravating issue. I've had a few cases where a video fails to resume properly and instead starts from the beginning. It seems to be rare, apparently occurring when the client loses its connection to the server while loading the video.
If you used Plex prior to 2018, prepare for a whole new experience. I was right there in the angry mob when they announced massive changes to their program. Most notably, they effectively killed off channels (also called plugins). I'm not mad anymore, though, since Plex has taken many of the best plugins and made them into Plex features. Picture almost everything you used to be able to do with a plugin — all seamlessly integrated directly into the app.
In case there are any plugins you are still missing, the Plex Unsupported AppStore still works for now, but I'd recommend that only for experienced users. And Plex has made it pretty clear that plugins will be completely killed off in the very near future.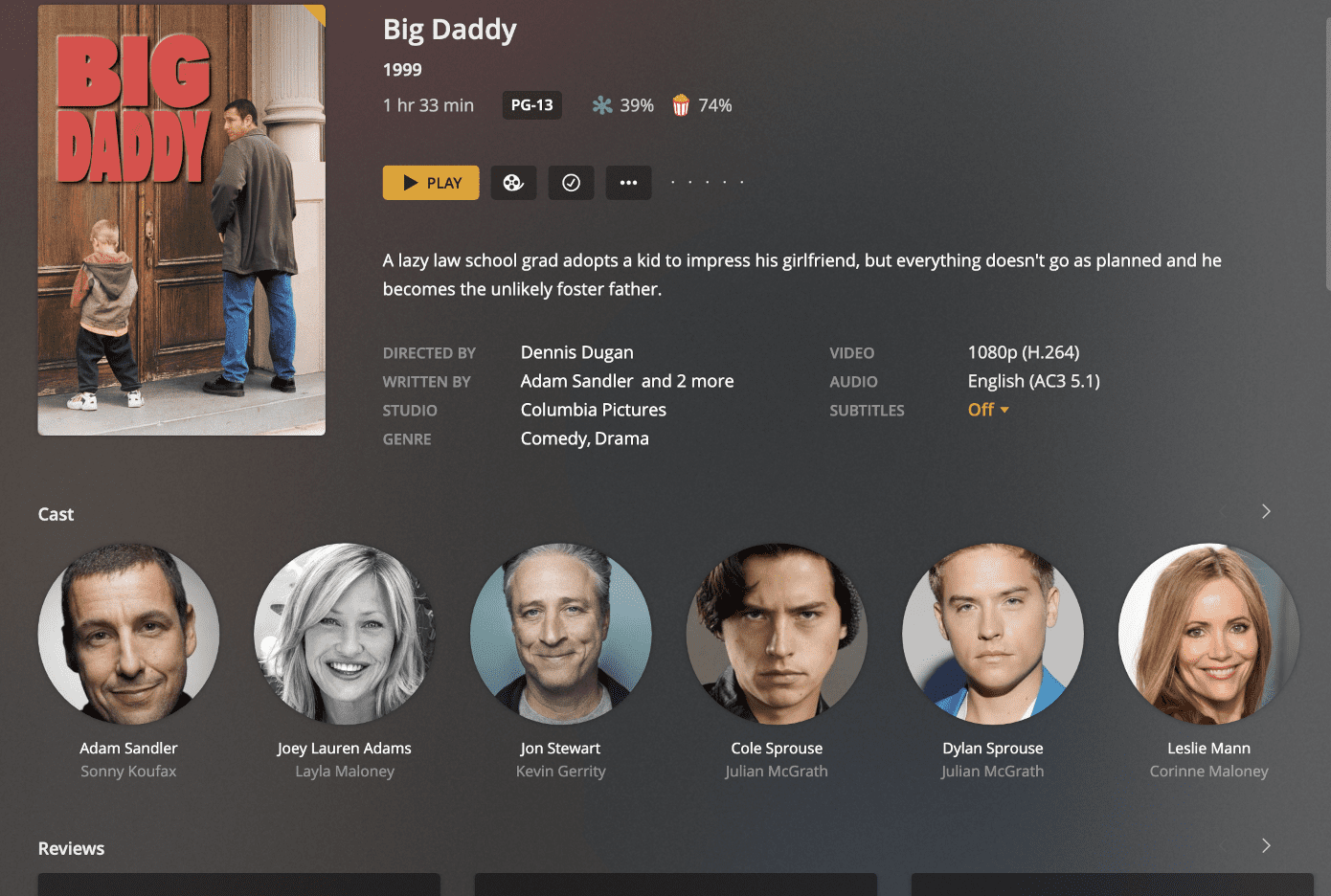 One of my favorite Plex improvements over the past few years is on-demand subtitle search. In all but the rarest cases, Plex is able to automatically find subtitles for movies and TV shows in English and often a handful of other languages. If you've ever tried to find, download, and import a subtitle file into a media player, you should immediately recognize how much time and frustration this feature can save. The subtitle search worked with even most of the obscure movies that I threw at it. The only exception was "Resident Evil: Apocalypse," where, for some reason, Plex's subtitles were so far off that they became text-based spoilers for upcoming scenes.
Plex Features and Streaming Quality
With Plex's free tier, you can serve up all of your files from a single computer or NAS device. If you want to run multiple media servers on a single account, you'll need the Plex Pass. In most cases, though, it's probably easier to just move all of your media files to a central location.
Plex offers optional remote access for your server. If activated, this feature lets you view your content from outside of your local network. With the Plex Pass, you can even download content to your mobile devices for offline viewing.
Plex Streaming Quality
Plex's live channels are all in full HD. Many of their free movies and TV shows are also in HD. Most of the time, you'll probably be using Plex to stream your own content. Thus, the streaming quality will depend largely on the video quality of your own files. If you have HD content, you'll see it in HD. The primary exception is 4K content, which Plex still has a hard time with. It works for some formats on some devices, but Plex will probably downgrade much of your 4K content to 1080p for playback.
You can adjust Plex's default video quality if you have buffering issues due to a slow internet connection. Plex recently introduced a feature to automatically adjust quality, which I find especially helpful when I'm trying to watch movies on a sketchy mobile data connection.
Plex Platform Support
Plex supports an impressive variety of platforms. The Plex Media Server app can be installed on Windows, Linux, Mac, and NAS devices. That covers essentially every device you might use for video file storage.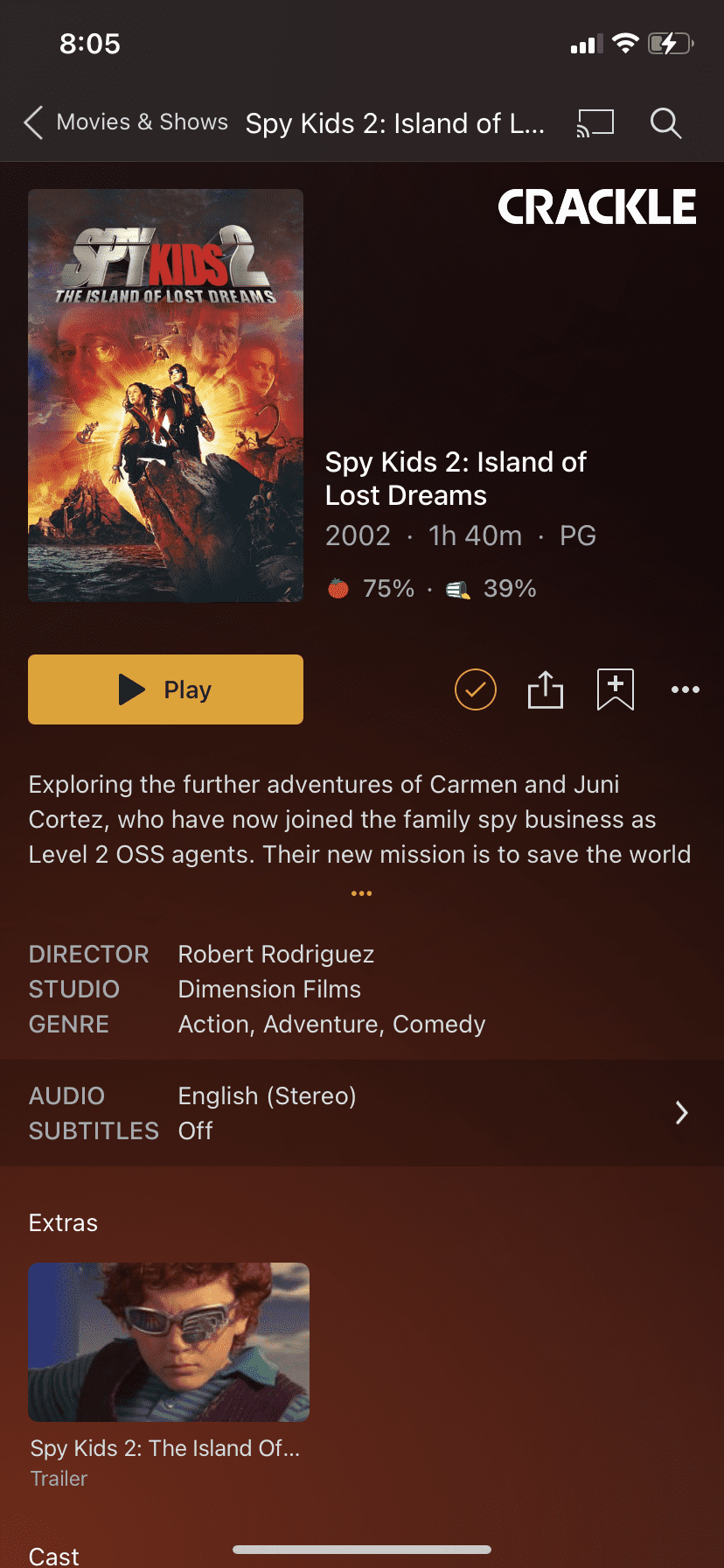 The client app supports all of the above platforms; smartphones (Android and iOS); streaming devices (Apple TV/tvOS, Chromecast, Fire TV, Android TV, and Roku); Smart TVs; video game systems (PS3, PS4, Xbox One, and NVIDIA Shield); and Facebook Portal. There's also a web app, so you can run it right in your favorite browser. You can even install Plex on VR devices or stream audio from Plex on Android TV, Sonos, and Amazon Alexa. So yeah, it's a long list. My Switch is the only device with a screen that I have that can't run Plex.
Plex Value
If you have a large collection of your own media content, Plex offers an incredibly convenient way to organize it and make it discoverable and playable on all of your devices. It's hard not to call that a good value when the price tag reads zero dollars. On the other hand, the free content that Plex supplies from their own library just isn't that great. It's worth a look, but most viewers will probably move on pretty quickly if you don't need the service for your own content.
That brings me to the Plex Pass. At $4.99 per month, $39.99 per year, or $119.99 for a lifetime subscription, it's cheaper than most paid streaming services, but you aren't really paying for the streaming content. To me, the killer features in Plex Pass are offline viewing and OTA TV with cloud DVR. Some users will find these worth the price, but many will also find that they get everything they need from Plex's free subscription tier.
Verdict: Should You Get Plex?
It's hard to compare Plex to other streaming services because Plex is not really a streaming service. If you came here looking for fresh, blockbuster content, you should consider an alternative like on-demand streaming service Max. Plex is not for streamers looking for a way to watch "Stranger Things" or "Loki" — you'll need a Netflix subscription and a Disney Plus subscription, respectively, for those.
Like Kodi's media center solution, Plex is for cord-cutters that long for a way to bring new life to their own collection of ripped DVDs, downloaded movies, and other video and audio files. If that sounds like you, then you definitely need to try Plex. And if you tried Plex before 2018, their improved apps and new features like automatic subtitling are worth a return visit.
Ready to try Plex?
We've partnered with Plex to bring our readers special offers and pricing.
See Exclusive Offer