Pluto TV is one of the more unique OTT services available today. It's a free ad-supported service, like Crackle, and it uses a live TV channel model, like Sling TV or PlayStation Vue. But Pluto TV's "channels" are not familiar cable properties like the ones that populate Sling TV. Instead, they're mostly curated channels assembled by Pluto TV employees from online videos and licensed content.
It's a unique model. But how well does it work from a user perspective? Here's our full review.
User Experience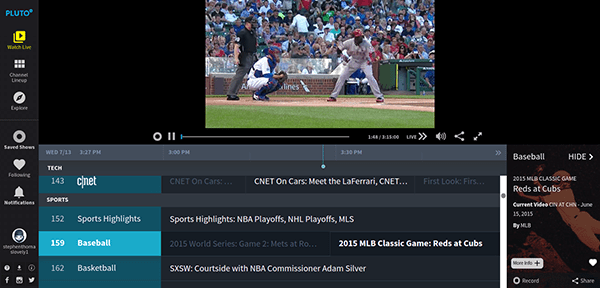 Pluto TV is pleasant to use on all platforms, and particularly nice to work with on the web app. It's surprisingly feature-loaded for a free service, and includes the ability to follow and save (DVR) shows. An "Explore" feature does a decent, if unspectacular, job in the content discovery department.
The real genius of the Pluto TV user experience is in the idea itself, which sorts a wide variety of content into cable-style channels and organizes it all on a familiar-looking TV guide. Of all of the cable-killers, Pluto TV is the best at replicating that old channel-surfing feeling. It's less interested in forcing you back to the guide or showing you what's on next than it is in letting you flip through channels.
Content
Pluto TV relies largely on free online videos to fill their "channels." You will see familiar brands, and most of these are news channels: Bloomberg Television, MSNBC, and RT America, among others. But for the most part, Pluto TV's channels are new creations, assembled from a mix of licensed major network programming, online videos, and public domain content.
That makes Pluto TV's content a pretty mixed bag. Bloomberg and MSNBC make the news selection reasonable, though the rest of the news channel spots are filled with questionable channels and slanted reporting. Breaking news is hard to come by, as even some of the branded news channels are just filled with (sometimes very old) video clips and shows rather than live streams.
Comedy is pretty well-represented, thanks to channels dedicated to late-night clips and channels from internet humor giants Cracked and The Onion. Thanks to a deal with Shout! Factory, Shout! Factory TV and a 24/7 Mystery Science Theater 3000 channel are available. Classic and 80s/90s cartoons are available, too.
Pluto TV is strongest with classic content, presumably because those programs are either rights-free or cheap. They also have a lot of channels dedicated to internet staples (funny cat videos, anyone?) and video gaming/geek culture shorts.
Weak spots include culture/lifestyle programming and sports. Sports are where Pluto TV is weakest, because they have no rights to any major events. They make do with classic games, extreme sports footage, and poker. For instance, their baseball channel likes to replay games from last years' World Series, just like my head does on long and sleepless nights.
I was able to access different channels depending on what platform I was using. The web app seemed to have the most. We'll come back to that in a bit.
Streaming Quality
Streaming was very smooth on all of the platforms that I tried. Picture quality wasn't always amazing. However, the picture quality issues were more due to all of the different places this content was coming from – home videos, YouTube series, old movies, and so on – than because of any flaws in the streaming.
Platforms
Pluto TV is available on a lot of different platforms, including iOS, Android, Roku, and Fire TV – all of which I tested it on. The user experience was very similar (and quite good) on all of them, and I didn't notice any radical differences in streaming quality.
The major difference from platform to platform is, of all things, content. Some channels aren't available on all platforms. Roku is missing the most channels; platforms that can also support full browsers, like iOS and Android, seem to have complete channel lineups.
Price
You can't beat the price of Pluto TV. It's completely free. You'll have to sit through ads, but that's true of cable and skinny bundle services, too.
Verdict
I was pretty enamored of the whole concept of Pluto TV. The service really speaks to my basic need to endlessly channel surf through bad TV, and I love that.
That bad TV is pretty bad, though. Pluto TV has had to make some real compromises on content, and some of the filler they've included is really pretty unwatchable (sorry, cat video lovers). Content-wise, you get what you pay for, and Pluto TV is very far behind pay TV skinny bundles like Sling TV. It's a little better if you're watching on PC, where more content is available.
Pluto TV is no cable-killer, but it's a fun little service that costs absolutely nothing. I had fun using it, and I recommend giving it a shot.
Please like us on Facebook to keep up to date on what's new in the world of cord cutting: