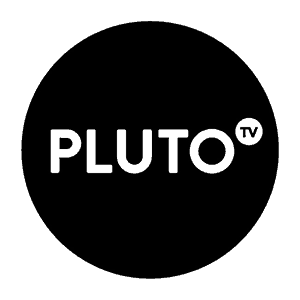 A free take on the live TV experience
If you're like me, then you love a good deal. And when it comes to good deals, it's hard to find a better price tag than one that says "free!" That's what makes Pluto TV so intriguing to streamers like us. By offering a free and ad-supported streaming experience, Pluto TV has clearly differentiated itself from paid streaming services. But can a free service really offer the same caliber of content as Netflix and Hulu do? And how does Pluto TV measure up against fellow freebies like Tubi and Peacock?
These are just a couple of the questions that I set out to answer when I tested Pluto TV for this review. So join me, and we'll journey to the far edges of the solar system! No, wait, that's the wrong Pluto. Let's try again: Join me, and we'll journey to the far edges of the cord cutter universe and discover all there is to love (or not love) about Pluto TV.
Pros
Completely free
Both live-streaming and on-demand content
Available on all major streaming devices
Lots of James Bond
Cons
No option to pay for ad-free content
Most content is at least five years old
Cross-device support is lacking
No HD
Hard to find content due to lack of search and limited filtering
What You Can Watch on Pluto TV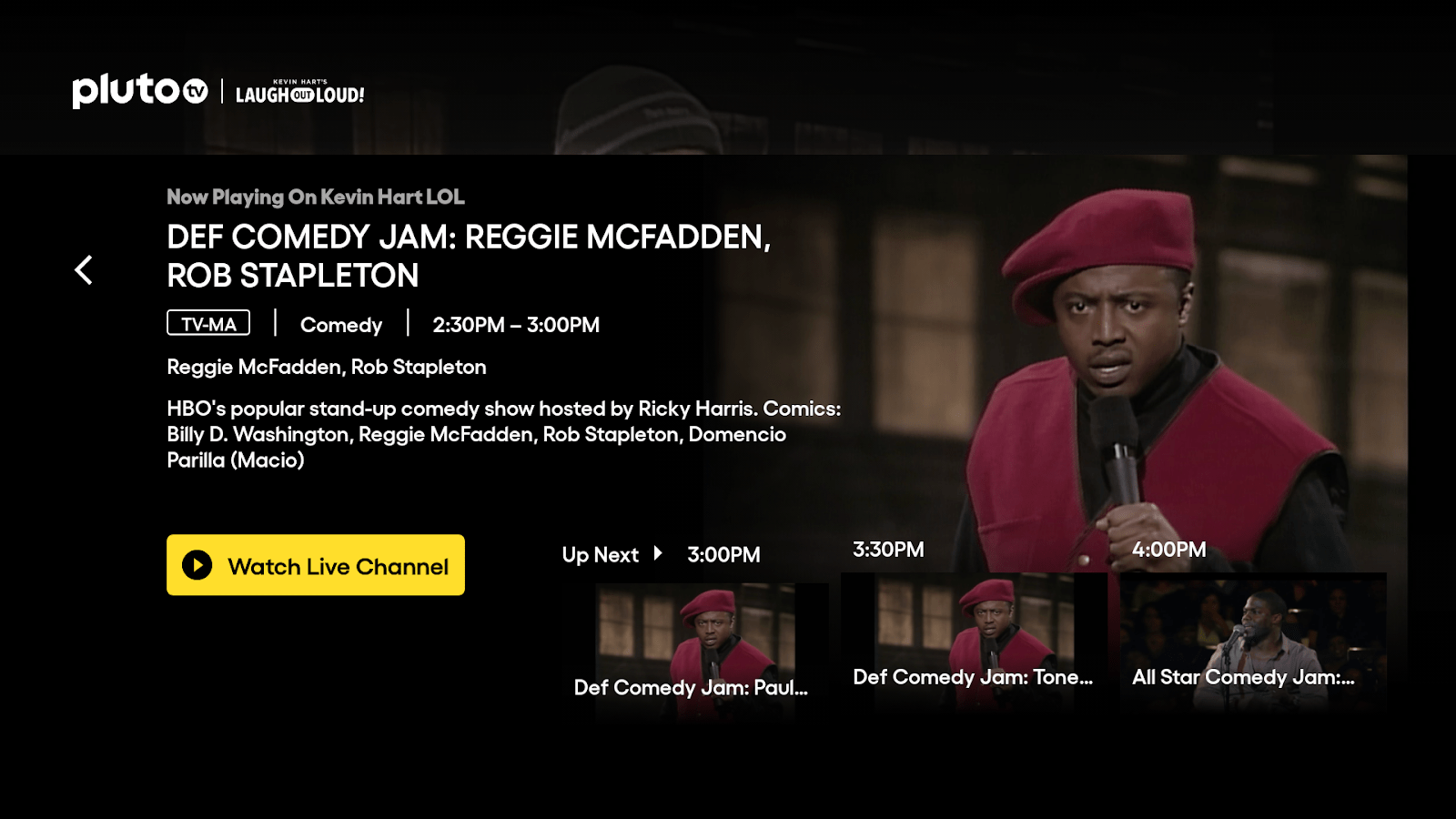 Pluto TV offers a combination of streaming that I found really interesting. On one level, Pluto TV works just like the other free, ad-supported on-demand streaming services we've tried: It's basically Netflix, but with ads (and without quite the same amount of quality films and shows).
But Pluto TV also offers live streaming channels. It's not quite a skinny bundle like fuboTV or Sling TV, but it does offer a pretty cool "live TV" experience. Pluto TV's live-streaming side includes more than 250 channels, most of which are made-up networks that Pluto TV assembled out of on-demand content, but a few of which are real, honest-to-goodness channels. A few lucky markets will find their local CBS news station on Pluto TV. Other channels include free spin-off versions of familiar cable networks — for example, I couldn't watch AMC online with Pluto TV, but I could watch a channel called "Stories by AMC." BET isn't on Pluto TV, either, but a BET-branded channel called "BET Pluto TV" is. I even spotted live-streaming channels from Shout Factory TV (which actually has a live TV "channels" service of its own). Other live-streaming channels offered me sports, kids' entertainment, classic TV, game shows, Spanish-language programming, comedy, crime, anime, and more.
I was pretty impressed with the sheer amount of content on both the live and on-demand sides. With about 250 channels and thousands of hours of on-demand content, I always felt like I had several good options to choose from when it was time to watch.
The on-demand content is just as wide-ranging as the live content. It includes full movies and TV shows, not just the short little clips that you might expect to find free online. And many of these movies and TV shows are pretty recognizable and popular, which was great to see — free services don't always have top-notch content, but I found that Pluto TV did.
What particularly stood out to me was Pluto TV's pride and joy: Its large selection of James Bond movies.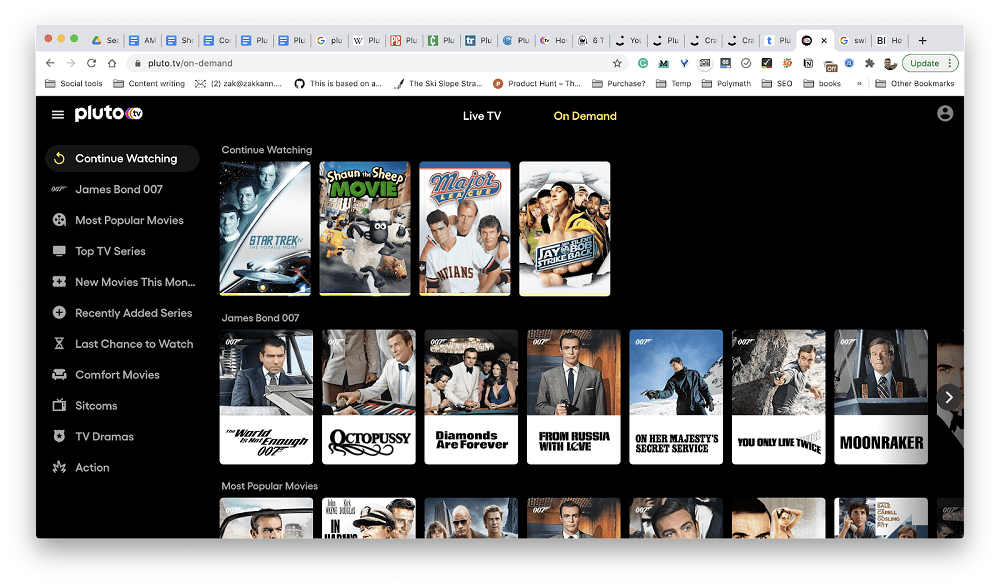 Bond's a big deal in my household, so I was pretty impressed that Pluto TV had it. Not everything in Pluto TV's catalog was this interesting, but I think that the Bond films help illustrate that Pluto TV's top-tier content is as good as anything you'd find on a paid service.
It didn't take me long to realize that most of the on-demand content was old. I love the classic Star Trek movies as much as the next guy — or maybe about 10 times as much as the next guy — but it still would be nice to get some post-2015 content on Pluto TV.
To be fair, this is a common issue with free services. Still, it certainly limits the ability of Pluto TV to become your primary replacement for cable. The live channels contain newer content, which helps — but it's just not enough. Like most free services, Pluto TV has a great top tier of content, but lacks some catalog depth and doesn't include enough new movies and TV shows. It gives you great viewing options, but it has its limitations.
How It Felt to Use Pluto TV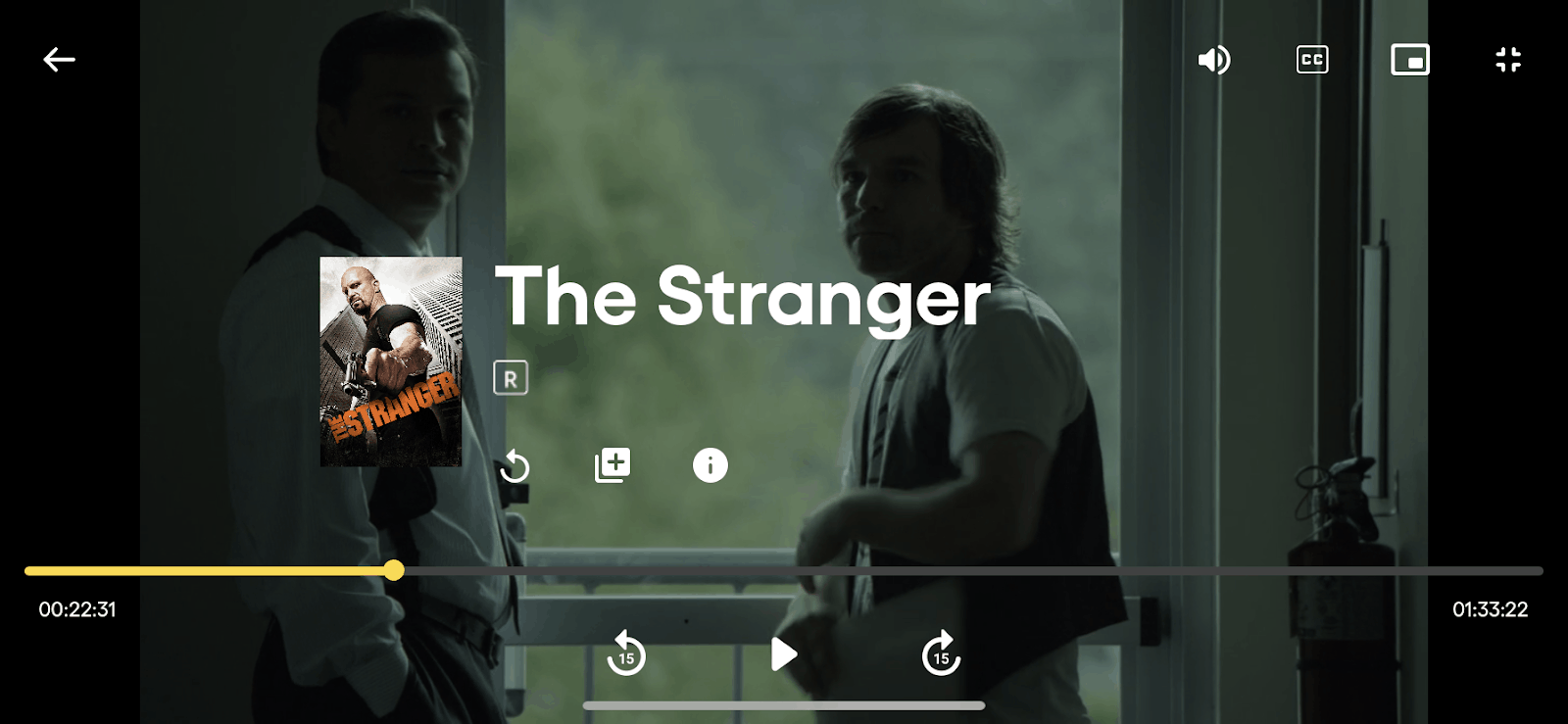 The Pluto TV interface is clean and simple. I found that it felt pretty familiar, and I think you will, too — Pluto TV's designers were clearly inspired by the classic cable TV guide layout.
Both the live-streaming and on-demand content are split into categories to make it easier to find what you are looking for. But there was one thing I was surprised to see was missing: a search feature! With roughly 250 channels and 1000's of on-demand TV shows and movies, you'll probably find something eventually, but a search would certainly help. Pluto TV's huge amount of content was a good thing, but it sometimes felt like a downside as I struggled to find the thing that I actually wanted to watch.
It wasn't just the missing search feature, either — I consistently found that Pluto TV was missing the content discovery features I'm used to seeing in streaming services. Aside from the divisions by category, I found there was no way to filter or change the view of the available TV shows, movies, or channels. Other services — like Crackle, for example — allow you to look at titles alphabetically or filter by length, content type, and other characteristics. That's completely missing here. Even the categories filter was limited: There was no way for me to see a full list of the titles in a given category. I think this is something you might find frustrating. If you didn't know which category to find Divorce Court under, for example, you'd probably never find it! That category, by the way, is "nosey."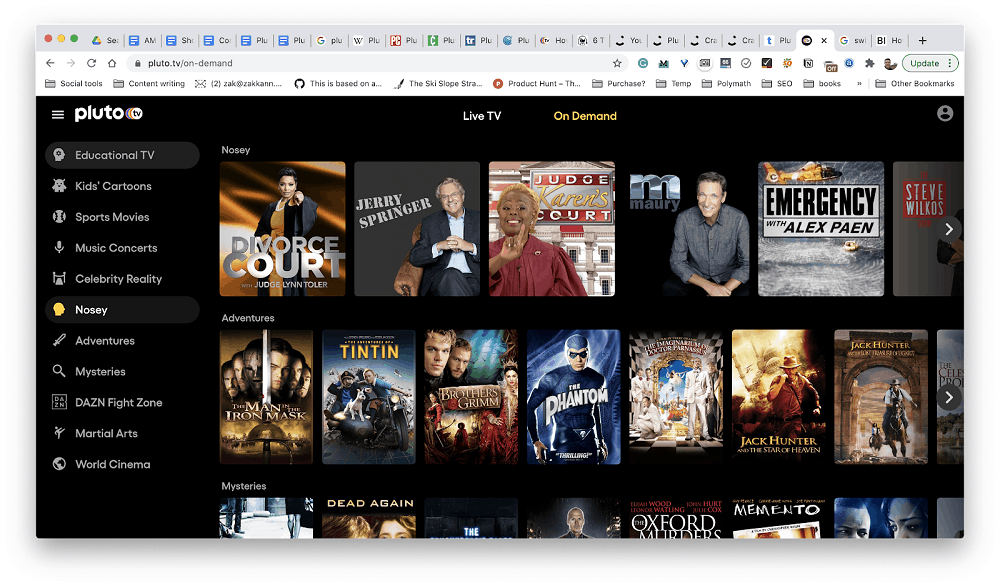 I was pleasantly surprised by the low number of commercials I saw while watching Pluto TV's on-demand content. I am happy to describe the ad experience as unintrusive. To be honest, I was not expecting to find a free service with fewer ads than the ad-supported tiers of paid services like Hulu. The live channels do often have more commercials, but that isn't entirely Pluto TV's fault; these channels (AMC, NBC, and so on) always have commercial breaks, no matter how you choose to watch them.
I wasn't wowed with Pluto TV's functionality. The interface is just glitchy enough to be annoying, though it's at least not glitchy enough to interfere with its usability (in most cases, anyway). As an example, when I scroll to the end of a row of movie options on most services, I'm used to the menu either circling back to the beginning of the list (like on Netflix) or giving me some kind of visual clue that I'm at the end of the list (like on Max). For reasons that I just can not figure out, Pluto TV chose a third option: They just spring back to the beginning of the list, with no looping option to get back back to the end quickly. On some screen sizes, I had to scroll at a fairly slow rate to actually view the last move in the lists — one false move, and I'd blow right past the final few options!
I also noticed some minor technical issues that occurred when coming back from commercials. In particular, the video would sometimes stutter and repeat a second or two of the content. It's not a dealbreaker for me, but it was very far from ideal.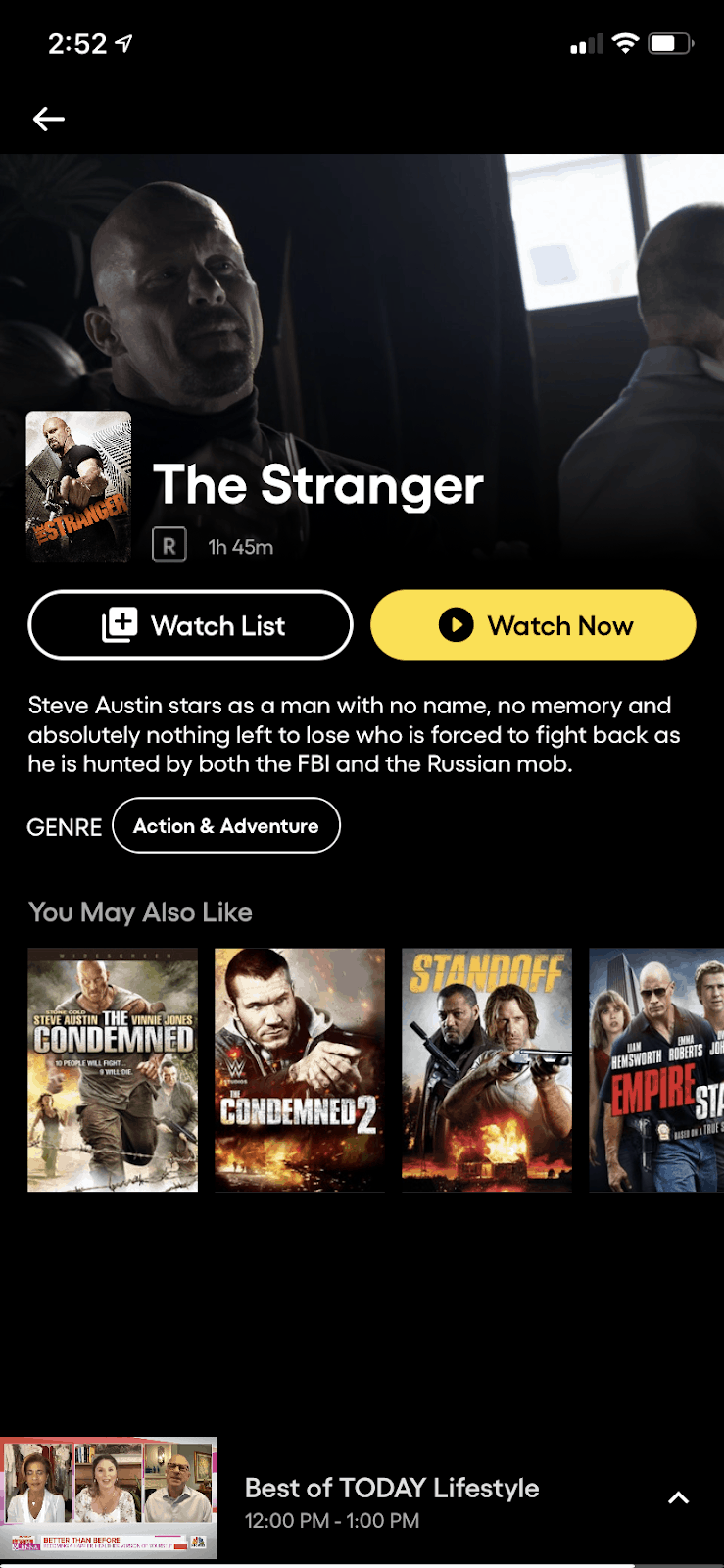 Pluto TV Features and Streaming Quality
I found that the video quality was mostly okay on Pluto TV, but could quickly tell that it wasn't HD. When I was watching on a mobile device, this wasn't a problem. On my smart TV, though, the lower quality was hard to ignore. As with several of my other complaints, this is a common issue with free streaming services.
The first feature I noticed about Pluto TV's app was the option to create an account. Many free streaming services — Shout Factory TV, for example — don't bother with user accounts. This feature has its good and bad sides. On the one hand, having no accounts would have meant no need to hand over my data. On the other hand, having a Pluto TV account allowed me to mark favorite channels, create watch lists, and pause a program on one device to resume watching it on another. Those are all great features.
Or, at least, they would be great features if they actually worked on all of my devices. Unfortunately, favorites and watch lists are only available on iOS, Apple TV, and Roku devices. They don't even work for the in-browser app!
Even the ability to continue watching a show or movie on another device seemed to have platform issues. In my testing, it appeared to only work on those same select devices: iOS, Apple TV, and Roku. As far as I can tell, there's no advantage in creating a Pluto TV user account if you are not using one of those three devices.
Speaking of missing features, there is no way to pause or rewind the live TV channels. However, this is not something I've seen a lot of free "live TV" alternatives offer, so I don't penalize Pluto TV much for it. Still, it was a bit limiting. Aside from the ability to change channels, the only thing you can really control as a Pluto TV live viewer are the closed captions.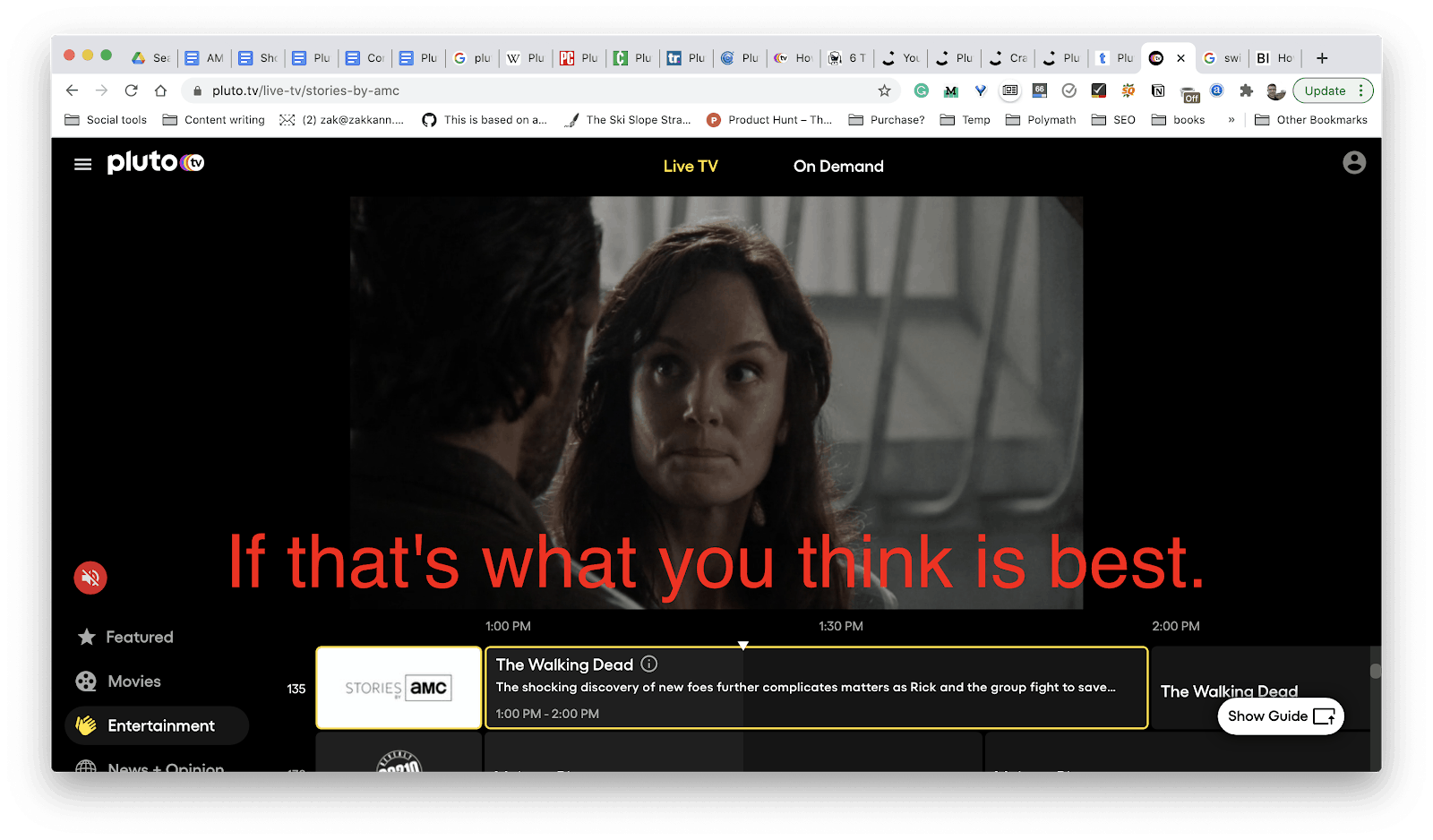 Although I couldn't change the language of the closed captions, I found that Pluto TV gave me a surprising amount of control over their appearance: I could mess with the size, font, and background opacity. At first, I thought this seemed like an unnecessary level of control. Actually, I still think it is, but https://cordcutting.com/how-to-watch/the-walking-dead/ with giant red captions kept me amused for a few minutes.
Pluto TV Platform Support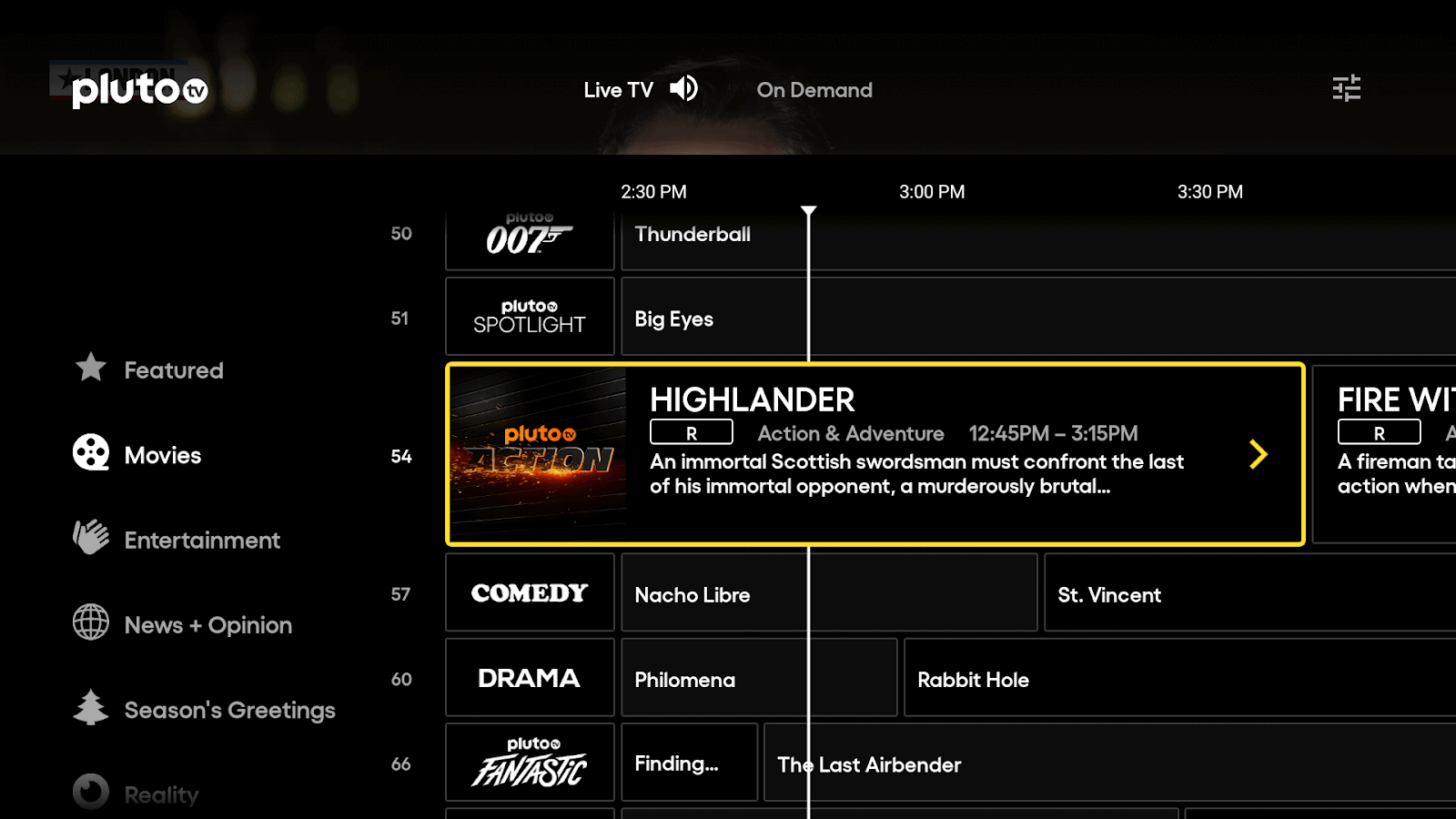 Pluto TV is available as an in-browser app, a mobile app on Android and iOS, and on most streaming devices and Smart TVs. No matter what device you have, there's a good chance you can watch Pluto TV on it. The only caveat is one I mentioned earlier: Certain Pluto TV features, such as favorites and watch lists, only work on select devices. iOS, Roku, and Apple TV users definitely get the best of Pluto TV. I was generally impressed with Pluto TV's platform support, but I would have liked to have seen them extend support for all of their features on other platforms, especially the extremely popular Fire TV platform.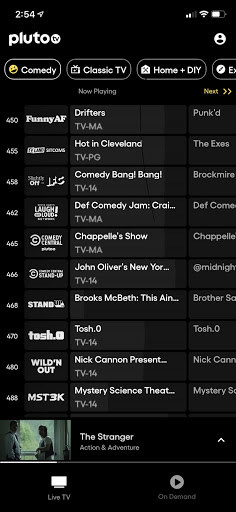 Pluto TV Value
Free is a hard price to beat. When it comes to value, Pluto TV is starting from a pretty good place. I had my issues with Pluto TV, but there were also things I loved, and getting those things for free made for a pretty good value.
Unlike several other free streaming services, Pluto TV does not offer a paid option. If you are okay with ads, and you like the content that Pluto TV has to offer, the price is right. If you'd rather pony up some cash and cut out the ads, though, you're out of luck.
Pluto TV Review: My Verdict
I love a good freebie, so I really wanted to like Pluto TV. And, in many ways, I did! The quality of the content was a pleasant surprise, and I liked the mix of live and on-demand content.
But "free" isn't a magic word. Pluto TV may be free, but any time you spend watching this service is time you aren't spending watching something else. And free services only save you money if they're replacing paid alternatives — something that I don't think many free options are good enough to do.
The things I didn't like about Pluto TV — the video quality, the age of the on-demand content, and the missing features of the app — keep me from calling it an A+ streaming service. Given its price tag (or lack thereof), Pluto TV is probably worth adding to your list as a supplement to your main streaming services. However, it's definitely not ready to stand on its own.