The popularity of anime seems to grow each year, with major streaming services like Netflix and Hulu distributing exclusive anime series. It's possible to watch anime on most streaming platforms, but none has as many anime offerings as Crunchyroll. Since Sony bought Crunchyroll and folded Funimation and its content into the streaming service, it has become the de facto streamer for anime. All that content comes at an affordable price, making it one of the best bang-for-your-buck streaming services.
Don't worry if you're new to Crunchyroll and its offerings. We'll break down everything, including which devices support the streaming app, what to watch on Crunchyroll, and how much a subscription costs.
What Can I Watch on Crunchyroll?
On Crunchyroll, there's one thing to watch: anime, or Japanese animation. Anime is a medium that can tell any kind of story. It's varied, dealing with high fantasy, sci-fi, superpowers, demons, or just plain everyday life. Apart from traditional genres, anime is also grouped into genres defined by age group or gender, but it's not meant to be taken literally. Whether you're into heavy action sequences or romance, there's an anime genre that has what you're looking for.
Shonen is meant for boys and always features a boy protagonist, but it attracts people from all walks of life. A majority of popular shows on Crunchyroll are in this genre. "My Hero Academia" is a good example of shonen anime.
Seinen, which translates to "young men," is edgier and features swearing, violence, and other themes meant for older audiences. Because seinen caters to more mature viewers, its stories are often as good as anything else on TV. "Attack on Titan" is considered one of the best seinen anime series.
Shojo translates to "young girls," and the genre is home to series that focus on romance and friendships. Shojo is often associated with romance, but it's hard to put in a box since some series have fighting sequences as action-packed as anything in a shonen anime.
Isekai features protagonists who are transported to another world or place in time, with the goal of returning home. A lot of isekai series take place in fantasy settings, but they can sometimes occur in other time periods. "That Time I Got Reincarnated as a Slime" is a great example of isekai anime.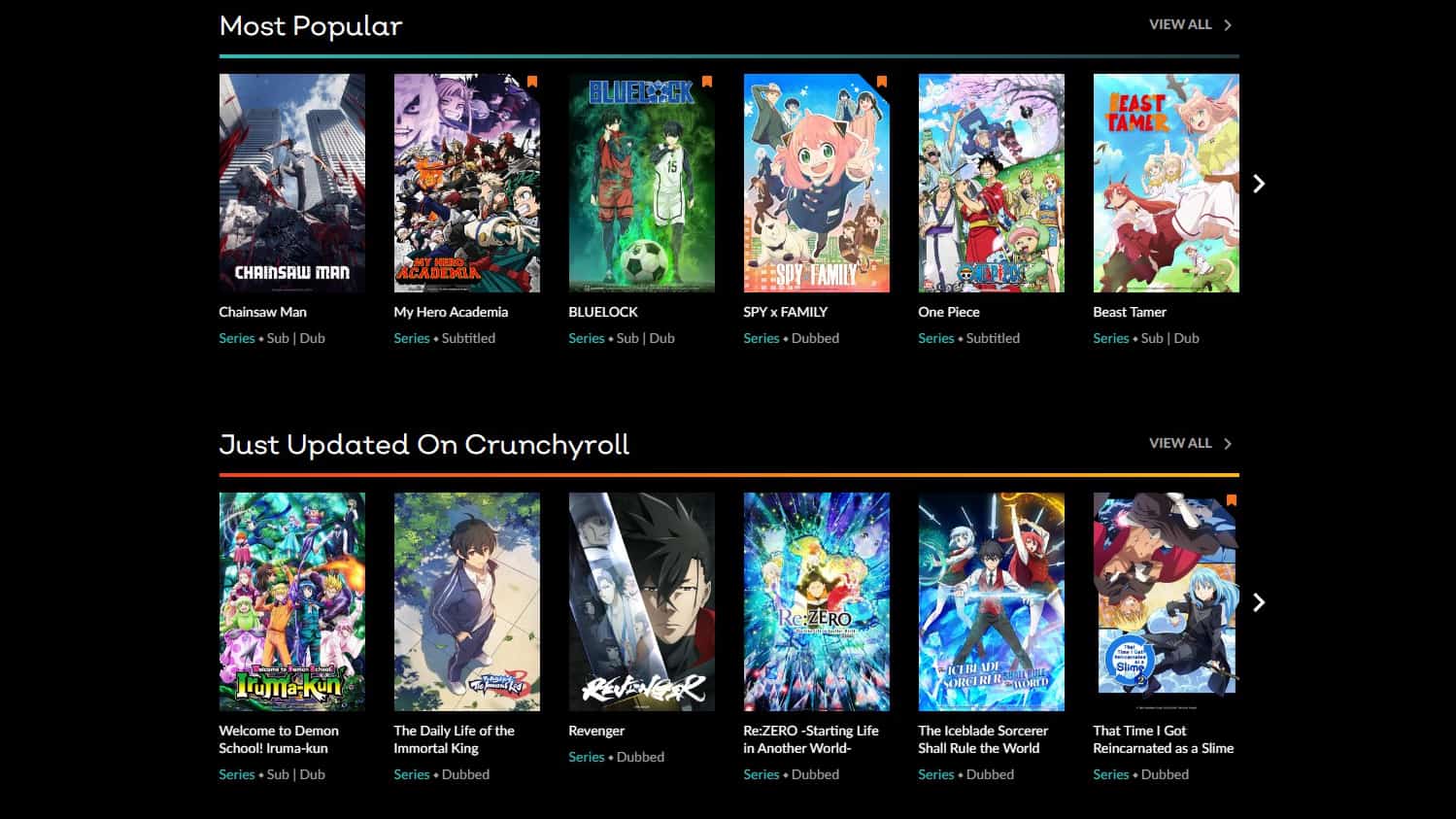 There are many more genres of anime you can find on Crunchyroll. With over 1,000 hours of content, Crunchyroll's anime library is large enough to get lost for days. If you're unsure where to start, the Most Popular category on Crunchyroll's homepage is your best bet. In the Top Picks for You category, Crunchyroll will recommend shows you may like based on what you've watched. "Chainsaw Man" is the anime everyone is currently talking about, but there are many others.
"Spy x Family"
"My Hero Academia"
"That Time I Got Reincarnated as a Slime"
"Attack on Titan"
"Bluelock"
"Demon Slayer"
"Jujutsu Kaisen"
"Mob Psycho 100"
"To Your Eternity"
"Mobile Suit Gundam: The Witch From Mercury"
That's just a sampling of some of the most-watched shows on Crunchyroll. With each new season, Crunchyroll adds new series. Most are simulcast, which means new episodes air on the streaming platform at the same time they do in Japan. Anime fans watching Crunchyroll don't have to wait weeks or months to catch up on their favorite series. In addition to the latest and greatest, the platform also houses older classics such as "Dragon Ball Z," the original "Mobile Suit Gundam," and "Cowboy Bebop."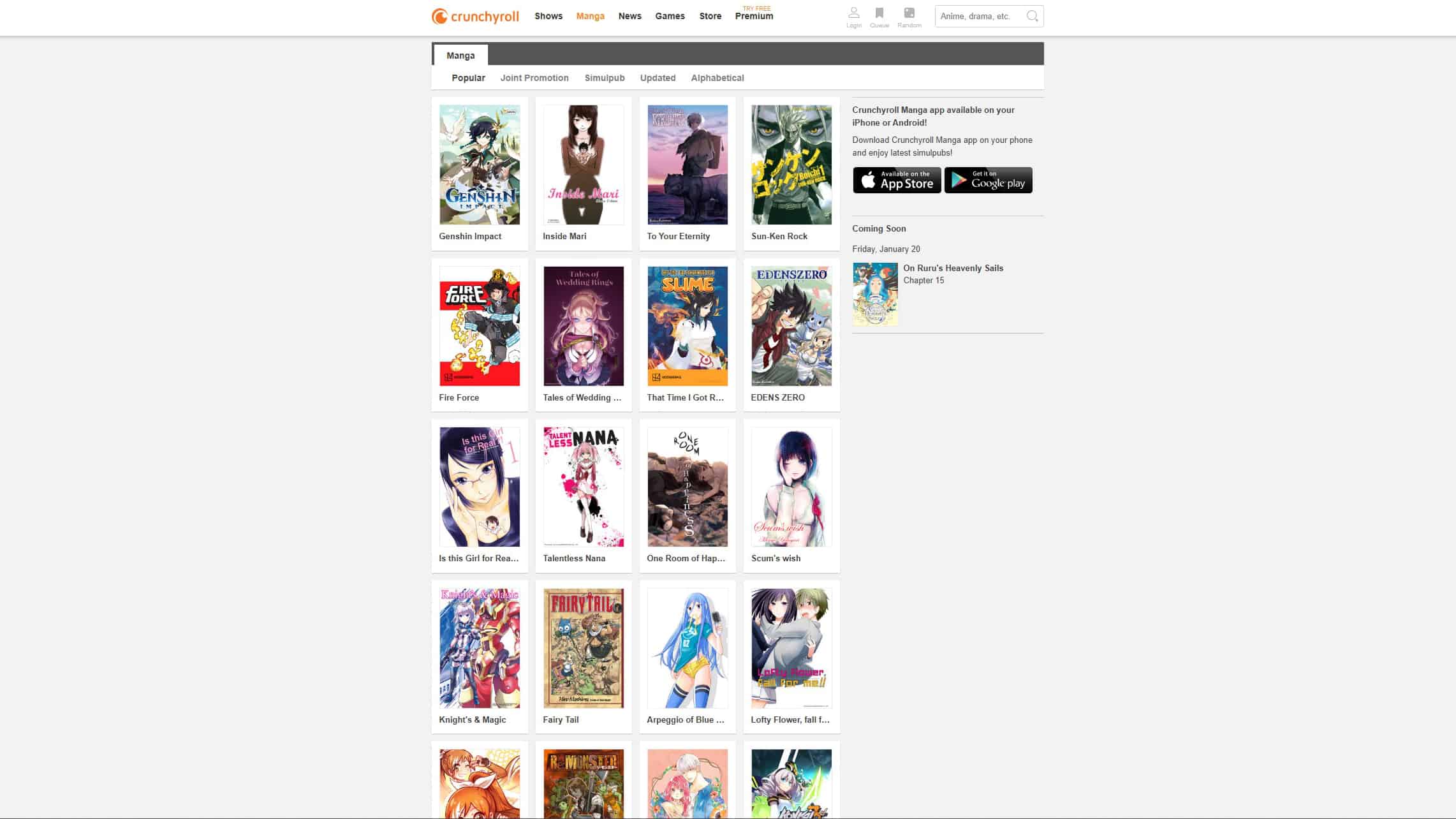 Crunchyroll may be an anime streaming service, but there's a small selection of manga, or Japanese comic, titles. The manga library includes several volumes of popular series, such as "Fire Force," "Edens Zero," and "To Your Eternity." Crunchyroll's manga offerings are limited to desktop and mobile apps, but the streaming part of the service is available on many more devices and operating systems.
What Devices Can I Use With Crunchyroll?
Crunchyroll is available on desktops, smartphones, video game consoles, and dedicated streaming devices. These are a few of the most popular devices and operating systems that support Crunchyroll:
Amazon Fire TV
Nvidia Shield TV
iPhones and iPads
Android phones, tablets, and Chromebooks
PlayStation 4 and PlayStation 5
Xbox One, Xbox Series S, and Xbox Series X
Windows devices
Web browsers
How Much Does Crunchyroll Cost?
Unlike many streaming services, Crunchyroll offers a free tier with ads. The free tier underwent some changes in spring 2022 that limited which content users could watch. Older episodes will still be available in the free tier, but you'll need a subscription to watch new simulcasts.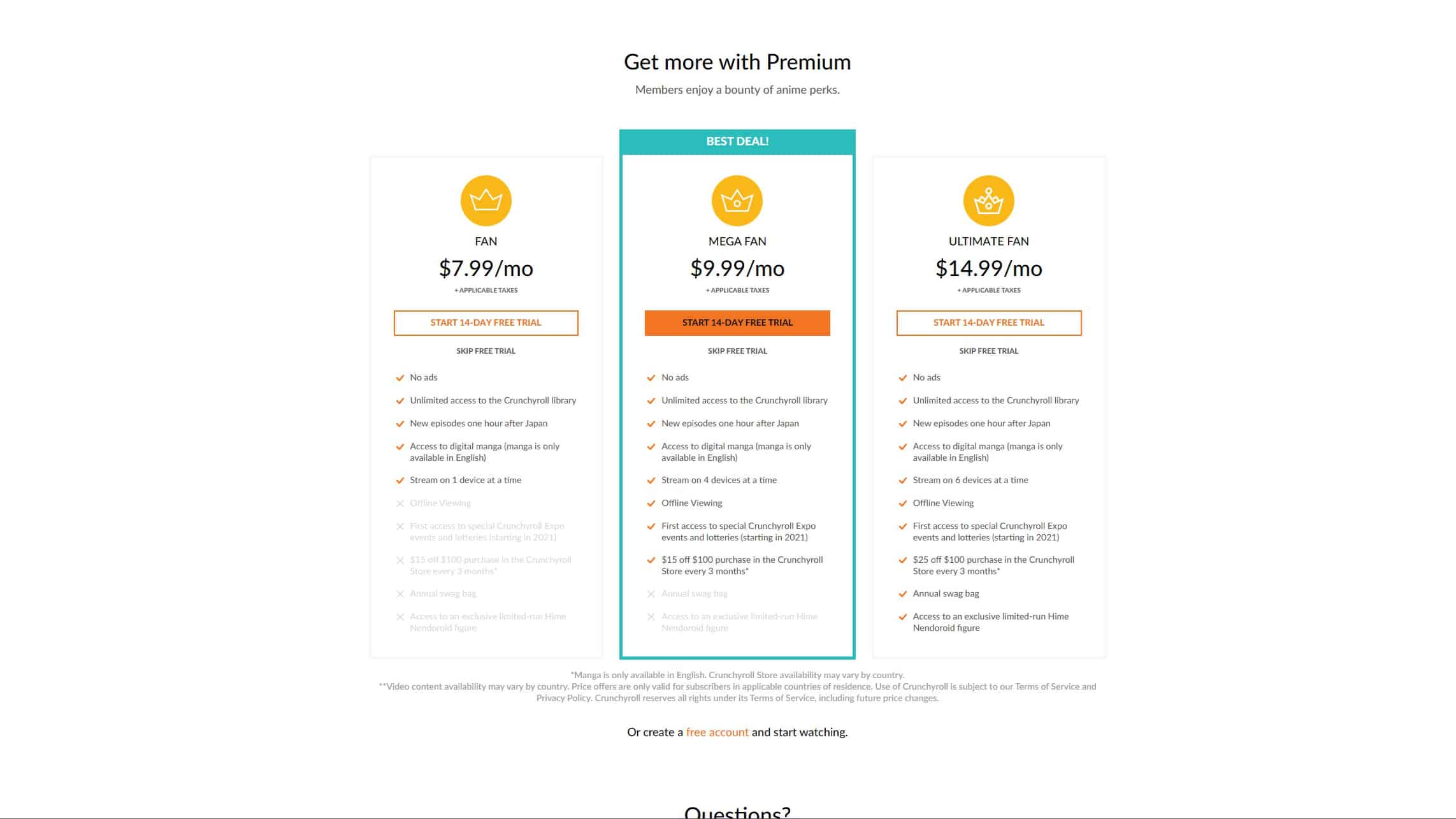 All premium subscription plans are ad-free, but the Fan premium plan is the most affordable. It includes access to manga, simulcasts, and all the content on Crunchyroll, but it limits streaming to only one device at a time. The Mega Fan monthly subscription is priced slightly higher, increasing simultaneous streaming to four devices and adding the ability to view content offline. Also included in the Mega Fan tier is early access to limited merch and store discounts. The highest subscription plan, Ultimate Fan, includes an annual swag bag, a limited-run collectible figure, and even more store discounts.
How to Get a Crunchyroll Free Trial
Crunchyroll also offers a 14-day free trial for any of its three subscription plans. You must create a free account and input your payment information.
There's another way to watch Crunchyroll content without a premium subscription, but it requires signing up for Max. If you already have Max, it's a great way to sample the best Crunchyroll has to offer. Although limited, the selection of Crunchyroll titles on Max should be enough to help you determine if a subscription is worth it.
How to Cancel Crunchyroll
Canceling your subscription on Crunchyroll is easy. If you signed up via Crunchyroll, you can go to your account settings and cancel the subscription. You can also choose to cancel recurring payments, which will continue to give you access to the content until the beginning of the next payment date. If you're doing a free trial, you can cancel any time before the trial is over to avoid being charged. Canceling a free trial will immediately deny you access to premium content and features.
The steps differ slightly when canceling a premium Crunchyroll subscription purchased from iTunes, the Google Play Store, Roku, or PayPal, but you can still cancel at any time.
Final Thoughts on Crunchyroll
Crunchyroll is a unique streaming service that has helped turn anime from a niche medium into one of the most popular forms of entertainment in the country. It has passed through several hands, but Crunchyroll is the strongest it's ever been after combining its library with Funimation's to offer viewers over 1,000 hours of anime. Crunchyroll undoubtedly remains the best place to watch the most anticipated anime series released every season.
A lot of the content on Crunchyroll is available to watch with a free subscription, while newer shows are available to watch with a premium subscription that's relatively affordable compared to most major streaming platforms. You can also watch some Crunchyroll shows on Max. If you're not a big fan of anime but still wish to sample what the medium is capable of, Netflix and Hulu have a more limited selection of excellent anime titles. If you want to see the newest, best anime series airing in Japan, there's only one place to watch them: Crunchyroll.