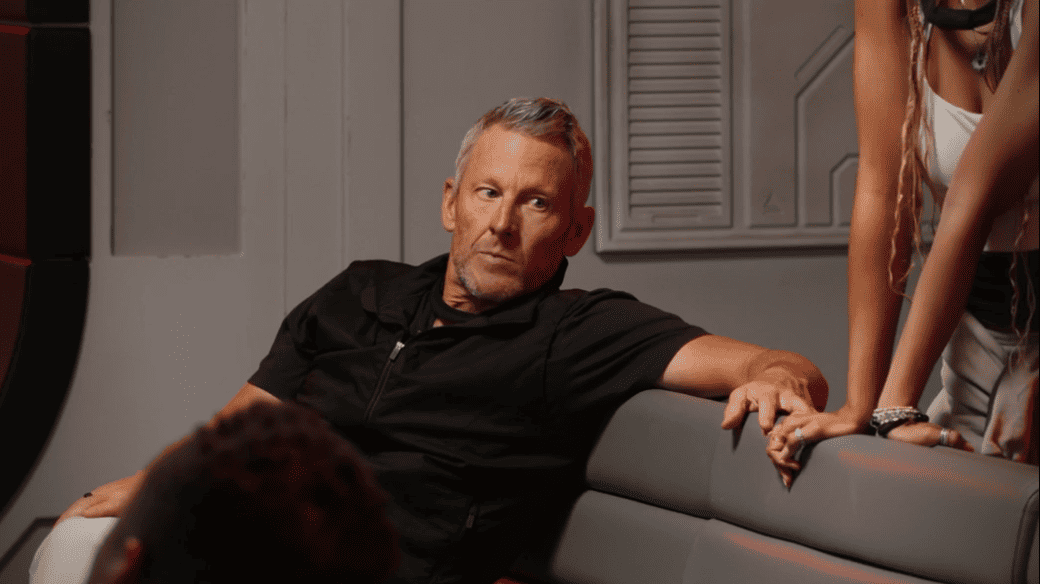 The long-simmering feud between disgraced cycling legend Lance Armstrong and "Modern Family" actor Ariel Winter burst into open war in Episode 6 of FOX's "Stars on Mars" — yet neither of the antagonists was eliminated. In the aftermath of a tumultuous episode, let's check in on our rankings.
---
Past power rankings:
Week 1 | Week 2 | Week 3 | Week 4 | Week 5
---
1. Porsha Williams Guobadia
Last week: 2 ↑
Porsha is making some interesting moves lately. First, she expressed an openness toward Lance during the base commander debates. Later, she argued for a grudge-free elimination process.This made it tougher for Ariel to do what she should have done: eliminate a member of the enemy caucus, thus contributing to the ending we got instead. This increased the power of the Lance-Lynch athlete alliance. If Porsha hops ship to the jocks, they'll have five of the 10 remaining players on board. She seems to be very aware of that.
2. Ronda Rousey
Last week: 1 ↓
Ronda remains the most sympathetic member of the athlete's team, but that didn't stop Ariel from putting her in the bottom three in Episode 6. After that slight, it will be interesting to see if Ronda closes ranks with her fellow athletes or tries to continue her balancing act. If she can stay friendly with the enemy, there may still be benefits to being the least loathsome member of the powerful jock alliance.
3. Paul Pierce
Last week: 7 ↑
Last episode, Paul Pierce was quick to align himself with the anti-Ariel crew. That almost cost him dearly in this episode, as he ended up in the bottom three with Ariel in charge. Ariel had Pierce dead to rights, but she spared him, and the athletes came out of the episode looking stronger than ever. It's beginning to look like Pierce's reckless choice was the right one.
4. Tinashe
Last week: 3 ↓
Like Porsha, Tinashe seems to favor team anti-jock without overly committing. She has helped support the back-to-back reigns of Adam and Ariel, but hasn't tied herself too closely to them. Keeping her distance may prove to be a savvy move; Adam and Ariel's terms have come and gone without them eliminating a single enemy jock.
5. Marshawn Lynch
Last week: 4 ↓
Marshawn Lynch dropped his too-cool-to-care act entirely in Episode 6, replacing it with a pretty passionate pro-Lance stance. The gloves are definitely off, and it's clear that the Lynch-Lance friendship is at the core of the jock alliance.
6. Lance Armstrong
Last week: 5 ↓
Lance finally overplayed his hand in Episode 6, and for a while it seemed sure to cost him. Lance's feud with Ariel broke out into the open as they faced each other in the base commander election. Lance's jock alliance, which also includes Marshawn Lynch and Paul Pierce, failed to deliver a majority. But solid performances in the elimination challenge — and Ariel's clear reluctance to look petty — spared Lance and his crew from any consequences. Now the jock caucus is one vote closer to control, has two candidates (Lance and Paul Pierce) who have never served as base commander, and seems sure to play with a ruthlessness that Ariel's crew has yet to demonstrate they can match. In short: Lance had a terrible episode, but ended up in an improved position despite himself.
7. Andy Richter
Last week: 8 ↑
Andy Richter seems to be doing the most of any new contestant to endear himself to his longer-tenured peers. His neutrality in the Ariel-Lance feud can't last forever, though.
8. Cat Cora
Last week: 9 ↑
Well-liked Cat Cora has flown under the radar so far, but she may need to start making moves. As Ashley's elimination shows, being neutral in the Lance-Ariel wars will not protect you from elimination.
9. Adam Rippon
Last week: 6 ↓
Rippon led the charge against Lance Armstrong in this episode by nominating Ariel Winter to run against him in the base commander race. Adam's nominee came out on top, and suddenly he and Ariel looked as strong as they have at any point in this series. But it was all for nothing: Ariel eliminated the neutral non-jock Ashley Iaconetti. The Adam-Ariel alliance has now held the base commander post for two straight episodes without managing to eliminate a single one of their enemies.
10. Ariel Winter
Last week: 11 ↑
Ariel defeated her archnemesis, Lance Armstrong, in this week's base commander elections. It was a massive victory for Ariel, who has now found a way to make herself ineligible for three of the show's five eliminations.
But Ariel showed a reluctance to use her powers to destroy her enemies, and she went out of her way to spare Lance Armstrong and his crew of pro athletes in this week's elimination. Instead, she booted the relatively harmless Ashley Iaconetti. After two straight episodes of rule, the Ariel-Adam alliance has somehow managed to only weaken its position. If that's the best they can do while in power, it's hard to imagine how they'll do when they're out of it.
---
Eliminated: Ashley Iaconetti (Episode 6)
Last week: 10
Ashley Iaconetti arrived in Episode 5 and was promptly ushered out in Episode 6. Not much happened with her in between.
Eliminated: Tom Schwartz (Episode 4)
Last week: N/A
Tom was one of two people kicked out of the hab in Episode Four's surprise double-elimination (the other was Natasha Leggero). Tom's ejection seemed to have more to do with accumulation of bottom-three performances than it did with any specific mistakes he made in his final episode.
Eliminated: Natasha Leggero (Episode 4)
Last week: N/A
Like Richard Sherman the week before, Natasha actually requested to be sent home. The difference in her case was that she was absolutely getting booted off regardless.
Eliminated: Richard Sherman (Episode 3)
Last week: N/A
In easily the most shocking moment of the show so far, Richard Sherman effectively quit during the elimination phase of Episode Three. Technically in the bottom three but in no real danger of elimination, thanks to Marshawn's antics and Natasha's incompetence, Sherman declined to mount a defense. Instead he gave a short speech volunteering to be sent home. Base commander Tinashe obliged.
Eliminated: Tallulah Willis (Episode 2)
Last week: N/A
Tallulah managed to win the base commander job in Episode Two, only to meet with failure in the emergency challenge. The team's flop made Tallulah eligible for elimination, and mission specialist Natasha Leggero sent Willis packing.
Eliminated: Christopher Mintz-Plasse (Episode 1)
Last week: N/A
Poor McLovin was booted in the series premiere. Things move fast on Mars, and Mintz-Plasse just couldn't get out of the gate cleanly.