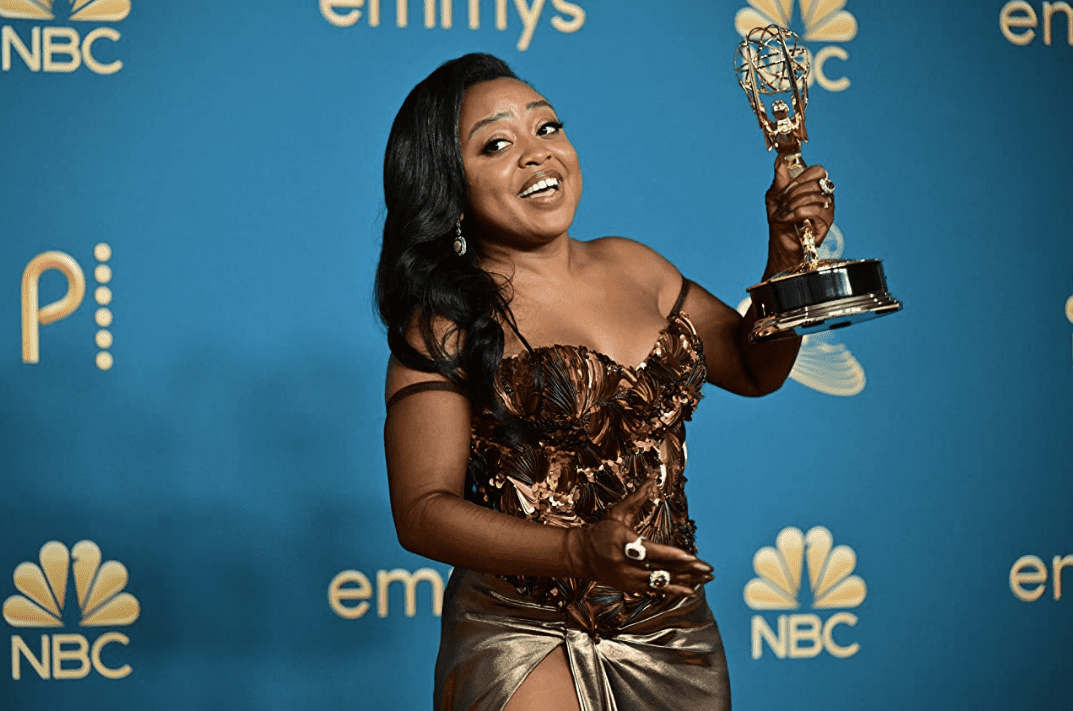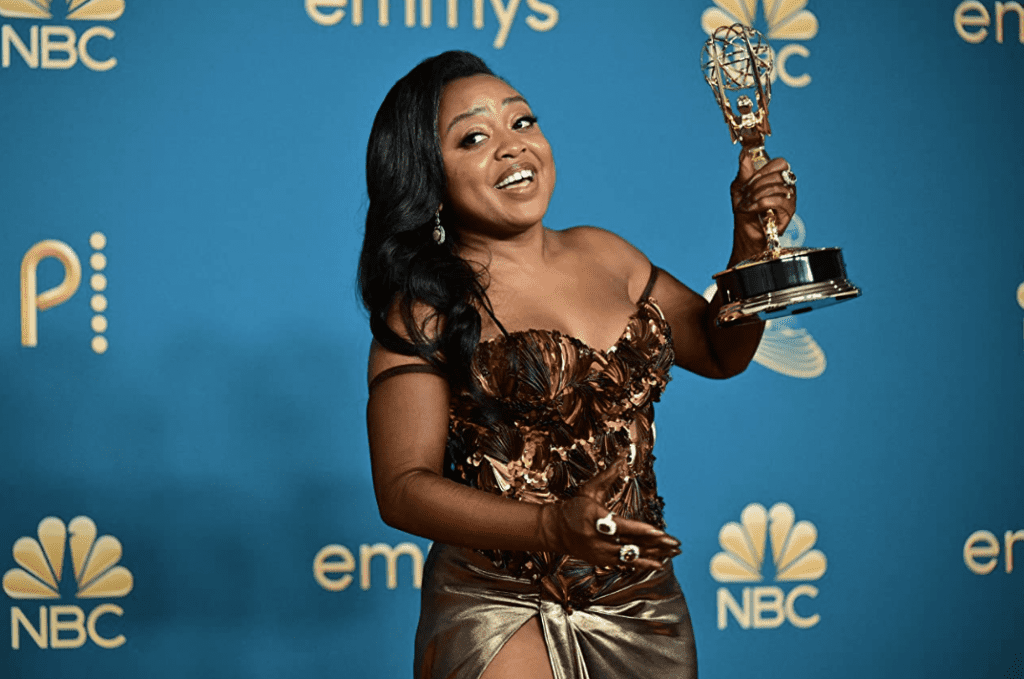 The new school year is well under way, and so is the second season of ABC's hit mockumentary sitcom "Abbott Elementary." The new episodes aired last month just as Quinta Brunson (who plays Janine Teagues) and Sheryl Lee Ralph (who plays Barbara Howard) took home Emmy Awards, winning for Outstanding Writing for a Comedy Series and Outstanding Supporting Actress in a Comedy Series, respectively. Brunson's and Ralph's wins, along with the rest of the cast's galvanizing performances on the show, are a timely reminder of the positive social impact comedy can have on audiences.
If you're all caught up on "Abbott Elementary" and itching for another show to watch until class is in session again, check out these seven series available on streaming services right now.
'Reservation Dogs'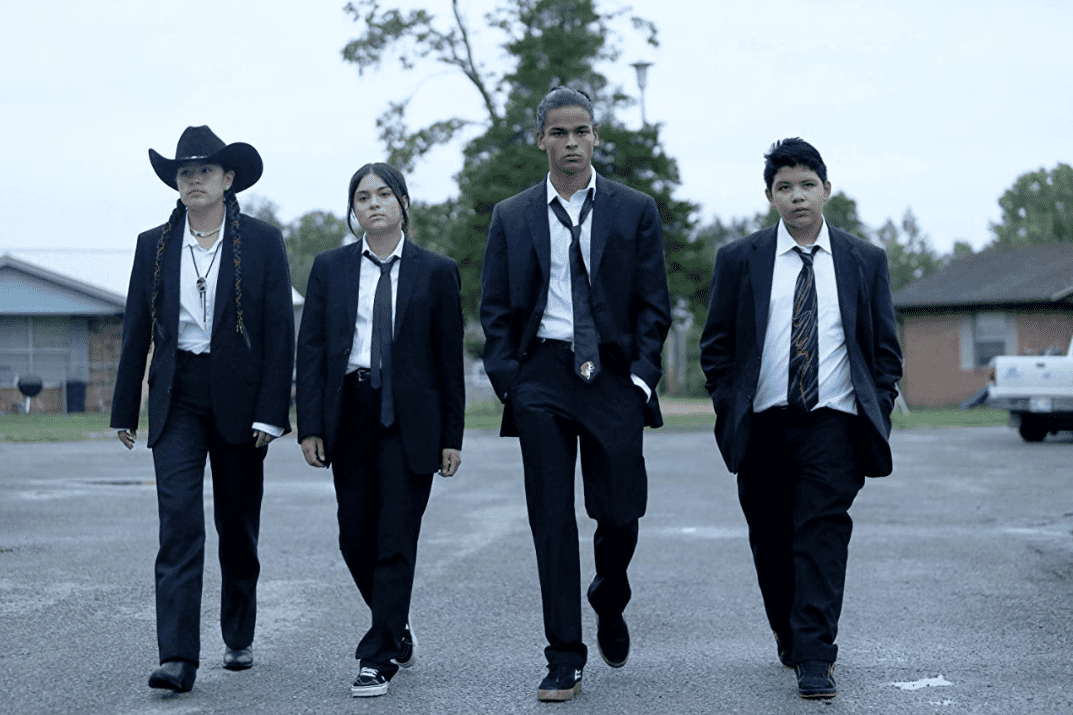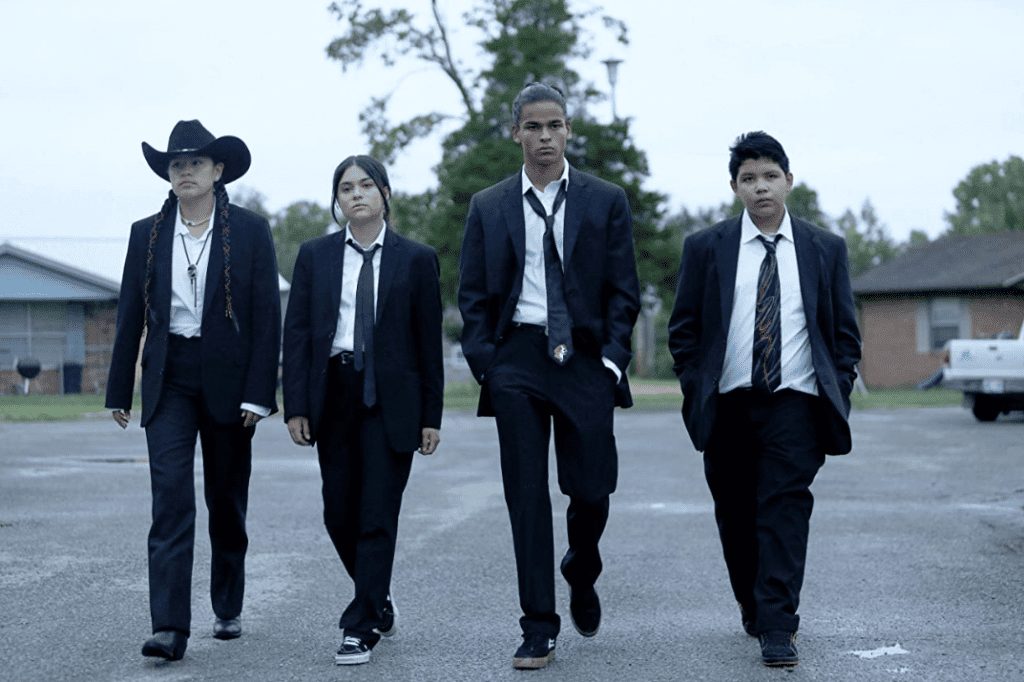 "Reservation Dogs" follows four Indigenous teenagers as they navigate life and loss on a rural Oklahoma reservation. In the first season of the comedy, the four main characters, Elora (Devery Jacobs), Bear (D'Pharaoh Woon-A-Tai), Willie Jack (Paulina Alexis), and Cheese (Lane Factor), make up a ragtag gang known as the Rez Dogs. The gang deals with teenage angst and the realities of growing up on tribal land, especially after the death of their friend Daniel prior to season one. "Reservation Dogs" focuses more on the collective good of the community rather than solely on the Rez Dogs, a trait shared with "Abbott Elementary."
One of the strongest features of "Reservation Dogs" is the way it bolsters and amplifies Indigenous voices in North America. Most of its actors, directors, writers, and producers self-identify as Native or Indigenous. At the heart of the comedy lies a story about teens who struggle with their dreams to save up enough money to move off-rez and start a new life in California. In her Emmy acceptance speech, "Abbot Elementary's" Sheryl Lee Ralph encouraged all the dreamers out there: "To anyone who has ever had a dream and thought your dream wasn't, wouldn't, couldn't come true, I am here to tell you that this is what believing looks like."
The first two seasons of "Reservation Dogs" are available on Hulu.
'American Auto'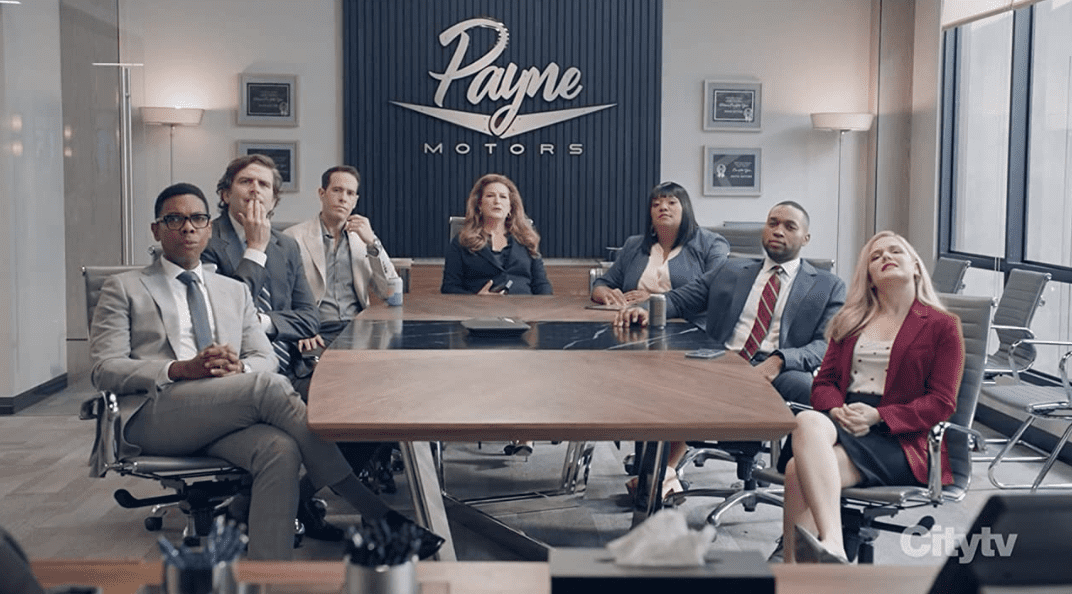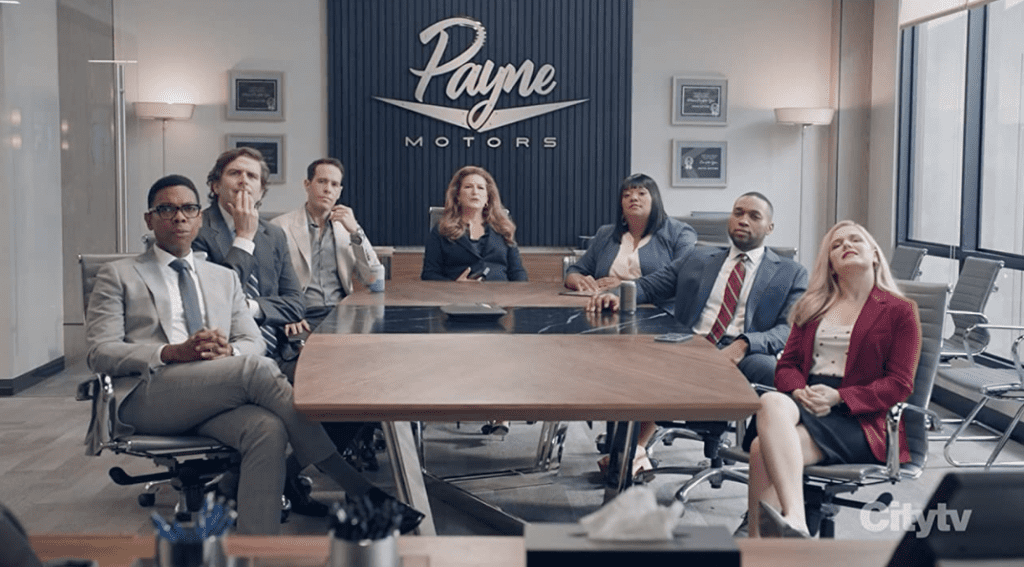 Ana Gasteyer stars as the new CEO of a Detroit-based auto company in "American Auto," a new comedy on Hulu. If you've enjoyed Janelle James's campy principal Ava Coleman on "Abbott Elementary," then you'll love Gasteyer's interpretation of former pharmaceutical executive Katherine Hastings as she takes the very shaky wheel of Payne Motors. The characters have no business running a business, but they touch on issues corporations face today, such as nepotism, undeserved executive positions, pushback against rapidly shrinking budgets, and, for the auto industry, a growing concern about the threat climate change poses to our planet.
One of the most memorable moments in "American Auto" is when the team backs itself into a corner and commits to designing and producing a car that would cost under $10,000. The result is the ugliest car you've ever seen, and the aesthetic issues are the least of its problems. "American Auto" puts Detroit and the auto industry back in the driver's seat, but with a new and refreshing twist that will have you wishing you could own a Payne Motors car — or not!
"American Auto" has been renewed for a second season that's rumored to air in 2023.
'Ted Lasso'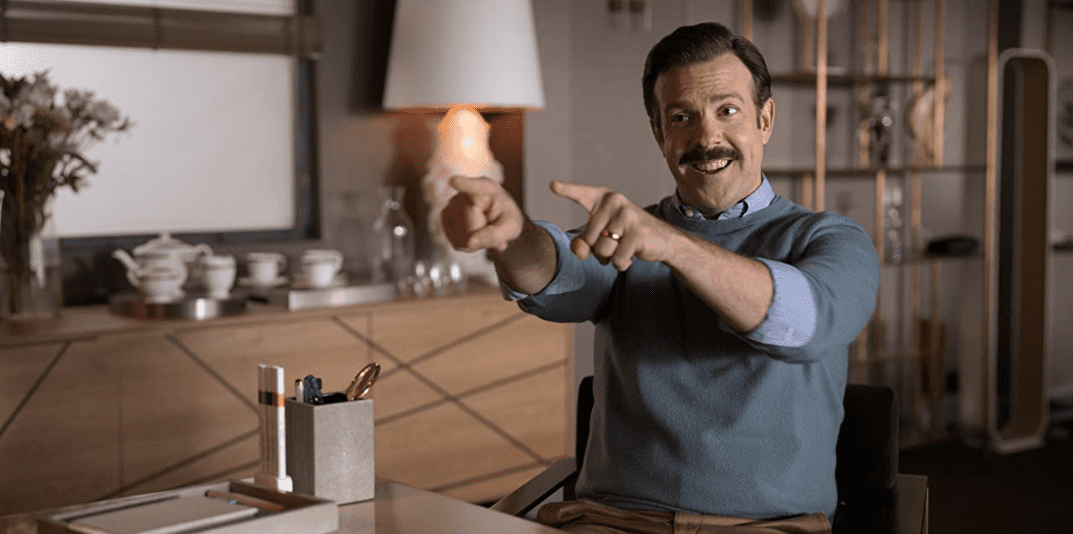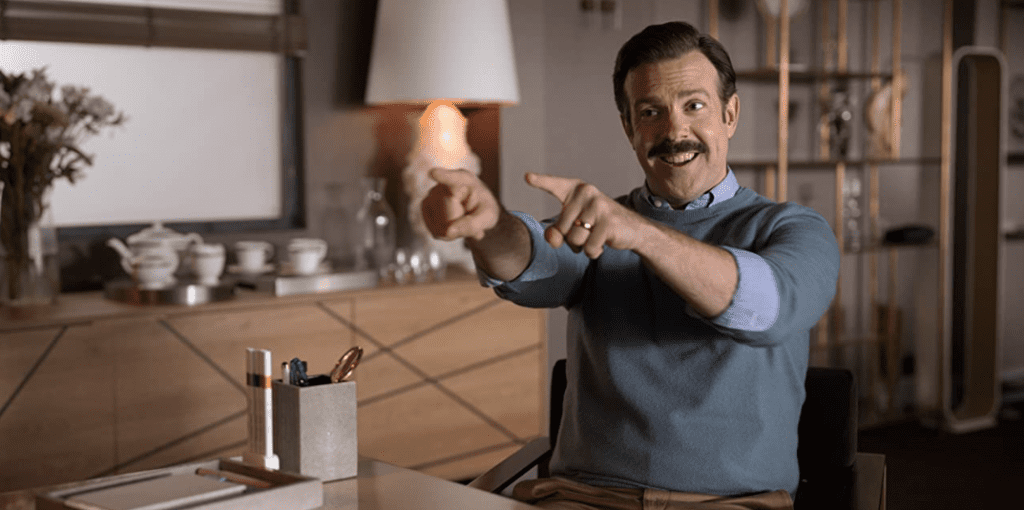 Another favorite at the Emmys this year, "Ted Lasso" is a comedy, like "Abbott Elementary," that usually makes us cry at least once an episode. Jason Sudeikis stars as the titular mustachioed American-football-coach-turned-English-football-coach, who finds himself in a sticky wicket (wrong sport!) when his unorthodox counseling and mentoring methods make him and his team, Richmond Football Club, successful and surprisingly popular among fans.
Sudeikis delivers an outstanding performance in "Ted Lasso," but the other MVPs of the cast include Hannah Waddingham, Brendan Hunt, Juno Temple, Toheeb Jimoh, Nick Mohammed, and Cristo Fernández, all of whom bring endearing, dynamic, and very human attributes to their characters. And don't worry if you're not a fan of soccer, because "Ted Lasso" makes the sport secondary to the community that loves and supports it.
Both "Abbott Elementary" and "Ted Lasso" present work — no matter how fun — as a necessary part of life and as space to explore common experiences across cultural and even continental divisions. In both shows, characters explore heartbreak, coping with mental illness, and what it means to thrive within more rigid and restrictive systems.
Two seasons of "Ted Lasso" are on Apple TV Plus, and the show has been renewed for a third season.
'What We Do in the Shadows'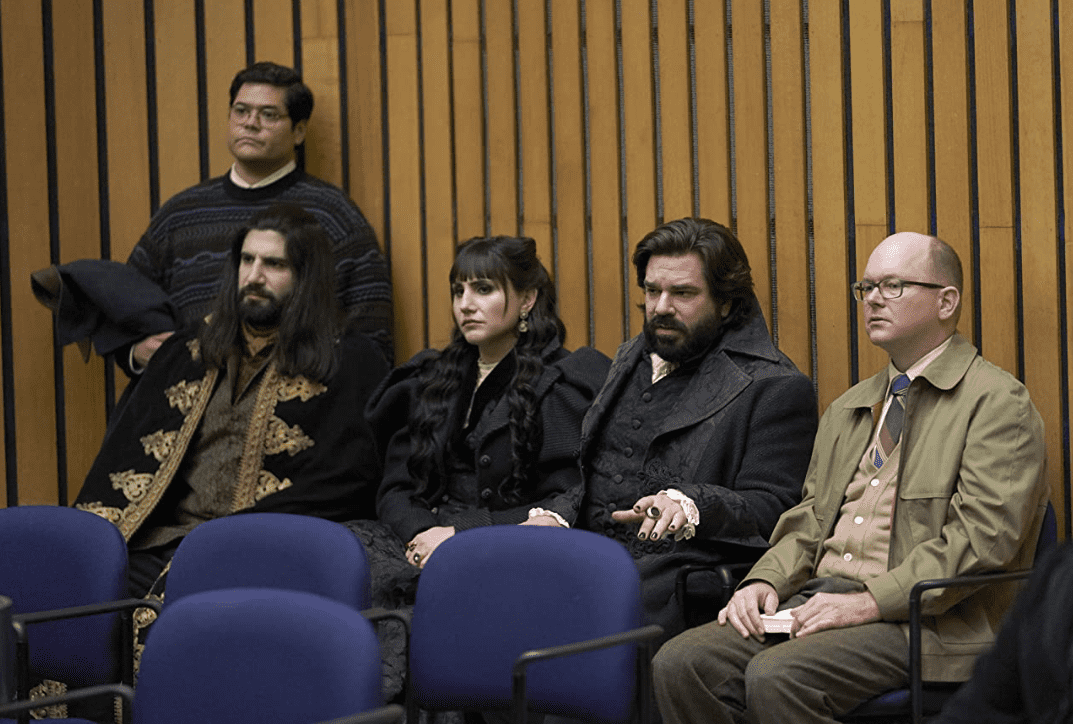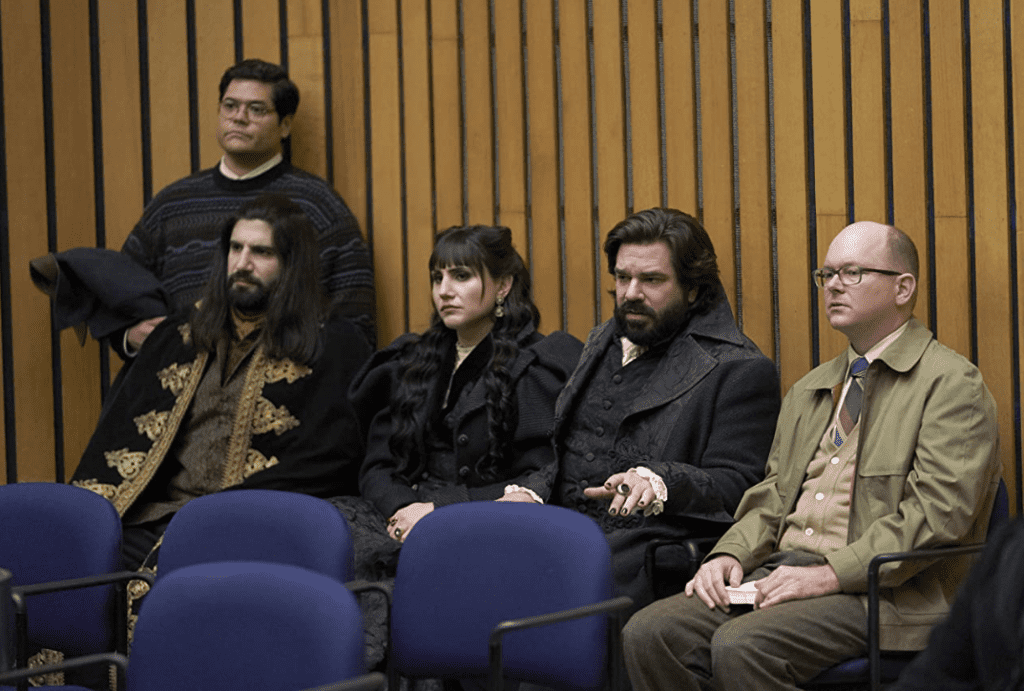 Like "Abbott Elementary," "What We Do in the Shadows" is a mockumentary that follows a group of colleagues through their day-to-day lives. Well, in the case of "What We Do in the Shadows," their night-to-night lives — because the main characters in this comedy are vampires who share a house in Staten Island, New York.
Based on the 2014 film of the same name from Jemaine Clement and Taika Waiti — one of the creators of "Reservation Dogs" — "What We Do in the Shadows" is about coping with the struggles of 21st-century life, especially when you're undead, almost 800 years old, and have a taste for your neighbors' blood. Vampire couple Nadja and Laszlo, ancient aristocrat Nandor the Relentless and his human familiar Guillermo, and Colin Robinson, a vampire who thrives by drinking in the emotional energy of those around him, promise to keep you gasping for air.
"What We Do in the Shadows" delivers audiences a different tone than "Abbott Elementary" because it's a horror comedy, but the cast and crew strike the perfect balance between both genres in a really compelling way. At its heart, "What We Do in the Shadows" is stripped of computer-generated effects and capitalizes on the well-established tradition of vampire stories. Ironically, the show explores what it means to be human even when it isn't always clear.
If you're looking for your next show to watch during the spooky season, try "What We Do in the Shadows," available on Hulu now!
'A Black Lady Sketch Show'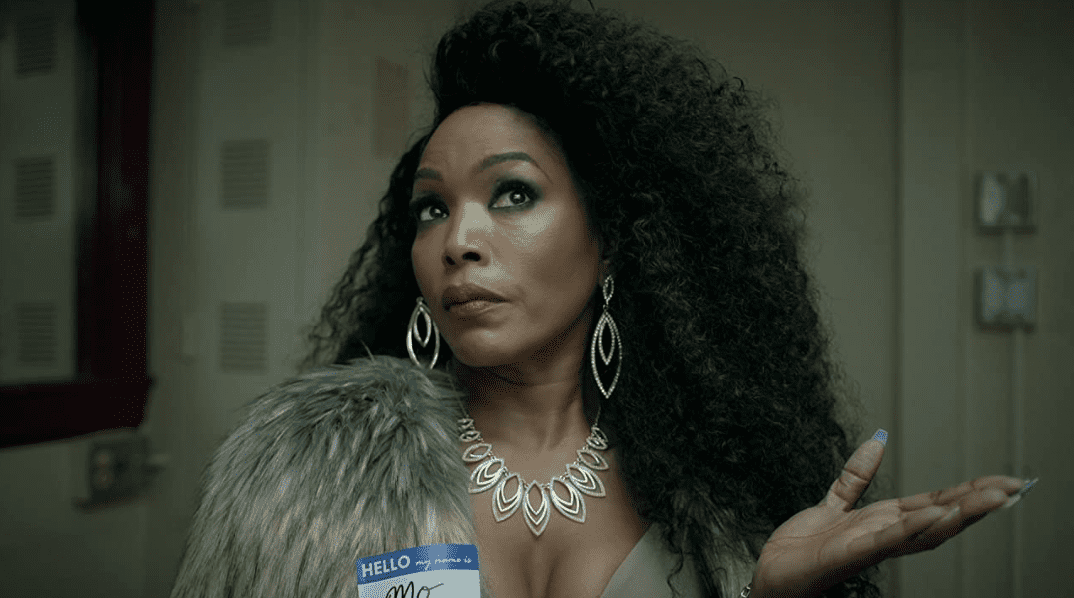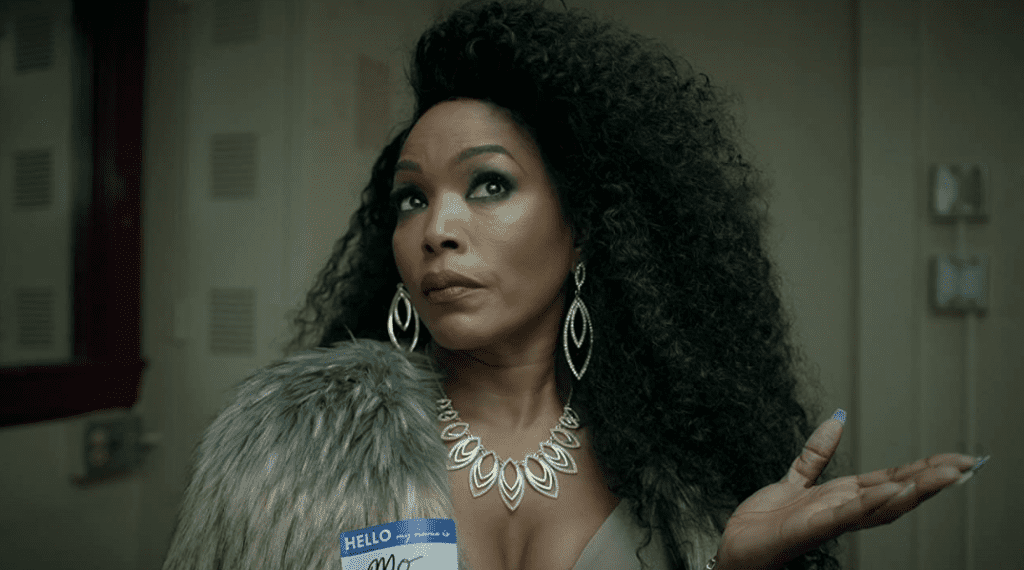 "A Black Lady Sketch Show" is the first comedy sketch series written by, produced by, and starring Black women. Created by Robin Thede, the first season of this hilarious show stars Thede, Ashley Nicole Black, Gabrielle Dennis, and none other than Quinta Brunson. Together these ladies aim to fill a gap in comedy and create content that is both exceptionally funny and completely unexpected. From the titles of the episodes — which include "Why Are Her Pies Wet, Lord?" and "Save My Edges, I'm A Donor!" — to guest appearances from icons including Angela Bassett, Patti LaBelle, Vanessa Williams, and Laverne Cox, "A Black Lady Sketch Show" is filled to the brim with skits that are sure to have you coming back for more.
Like FX's "Atlanta," "A Black Lady Sketch Show" plays with the theme of Afrofuturism and presents audiences with alternative and speculative futures for Black women in the U.S. More importantly, the series serves as a testament to Thede's goal of creating and showcasing to the world a vital perspective in comedy in the 21st century. In short, "A Black Lady Sketch Show" is one of the funniest and smartest comedies we watched during the pandemic, and it's on our list for a rewatch in the coming weeks.
You can savor every minute of every episode of "A Black Lady Sketch Show" on Max.
'Derry Girls'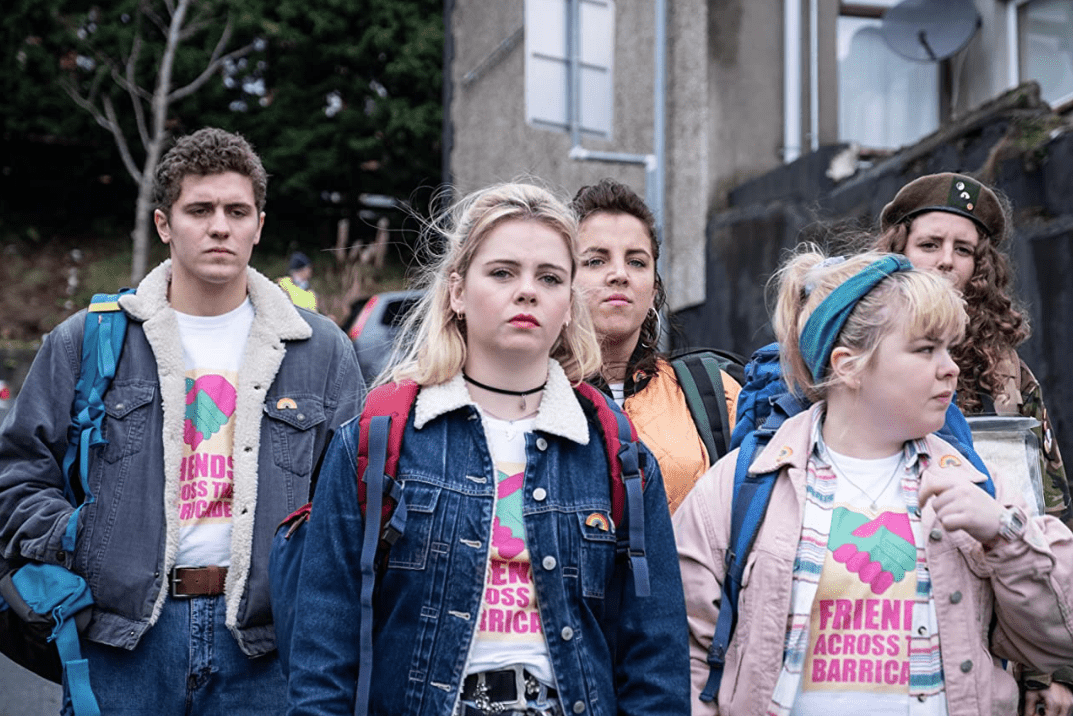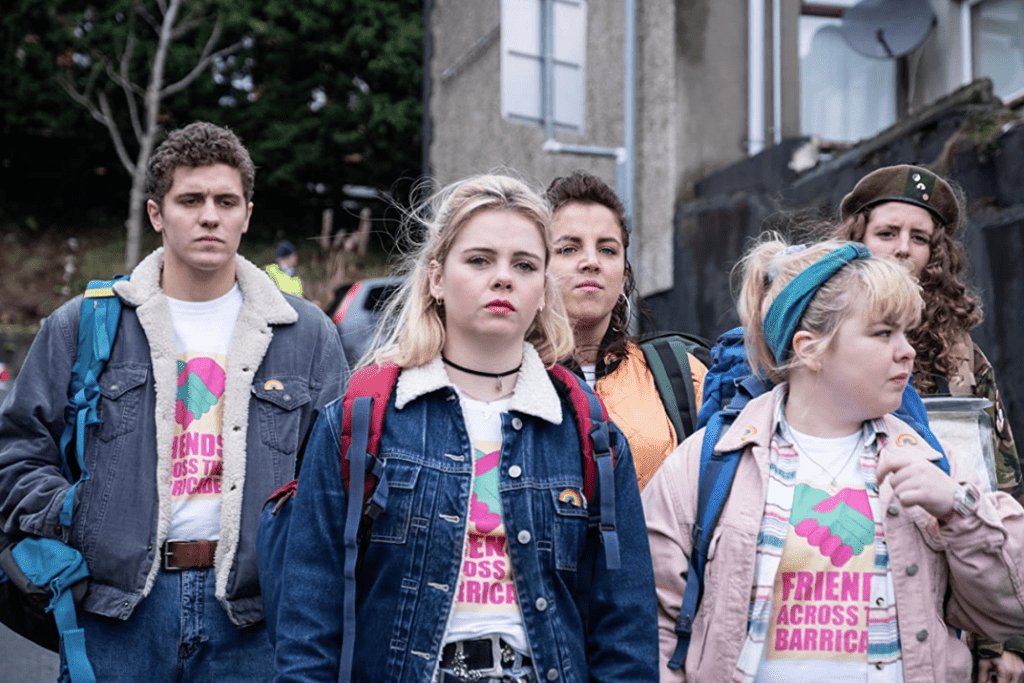 Set in the early 1990s, "Derry Girls" follows the hijinks and melodramas of five teenagers — protagonist Erin Quinn, her cousin Orla McCool, her friends Clare Devlin and Michelle Mallon, and Michelle's cousin James Maguire — at an all-girls Catholic high school in Derry, Northern Ireland. One of the jokes established early on in the show is that James, a boy and, what's worse, English, ends up enrolled at Our Lady Immaculate College out of concern for his safety at the local boys school.
"Derry Girls" is an intergenerational comedy that tells a universal story of finding your own voice and standing up for personal and community values. Like "Abbott Elementary," "Derry Girls" highlights a community with a long history of being ignored. It takes place against the backdrop of the Troubles, the war of attrition between the Irish Republican Army and the British colonial forces. Communities would frequently be torn apart by the differences in religion (Protestant and Catholic) and political allegiance. The Quinn family and Erin's friends serve as a reminder that there's always room for compassion and a few laughs despite these differences.
All three seasons of "Derry Girls" are now available on Netflix.
'Black-ish'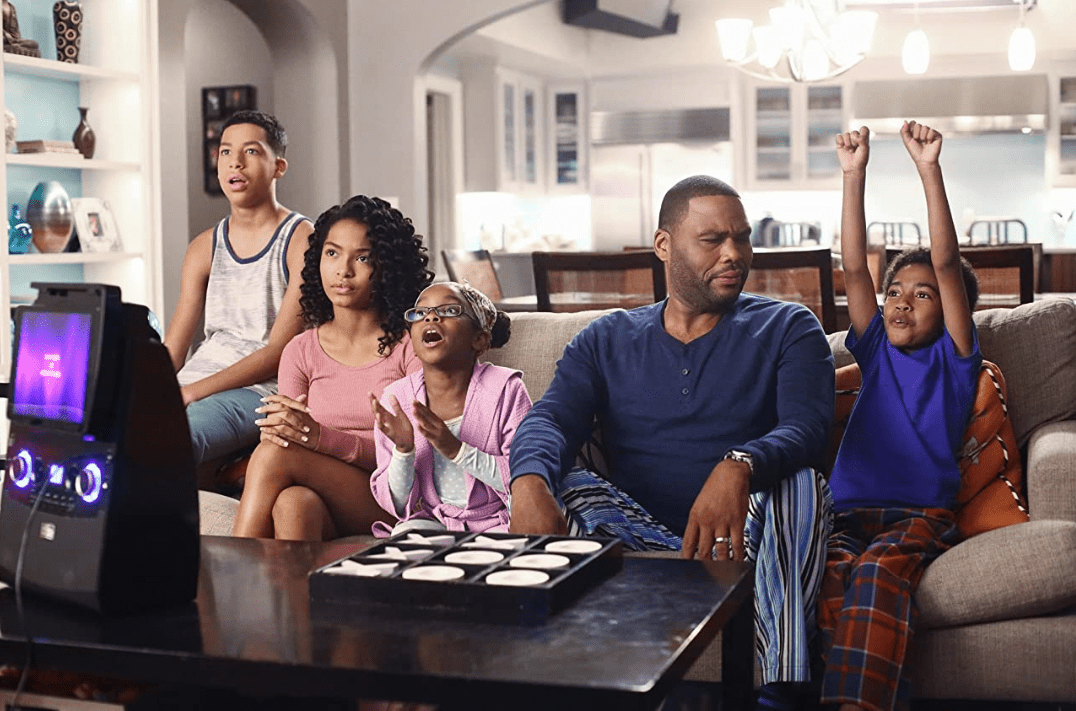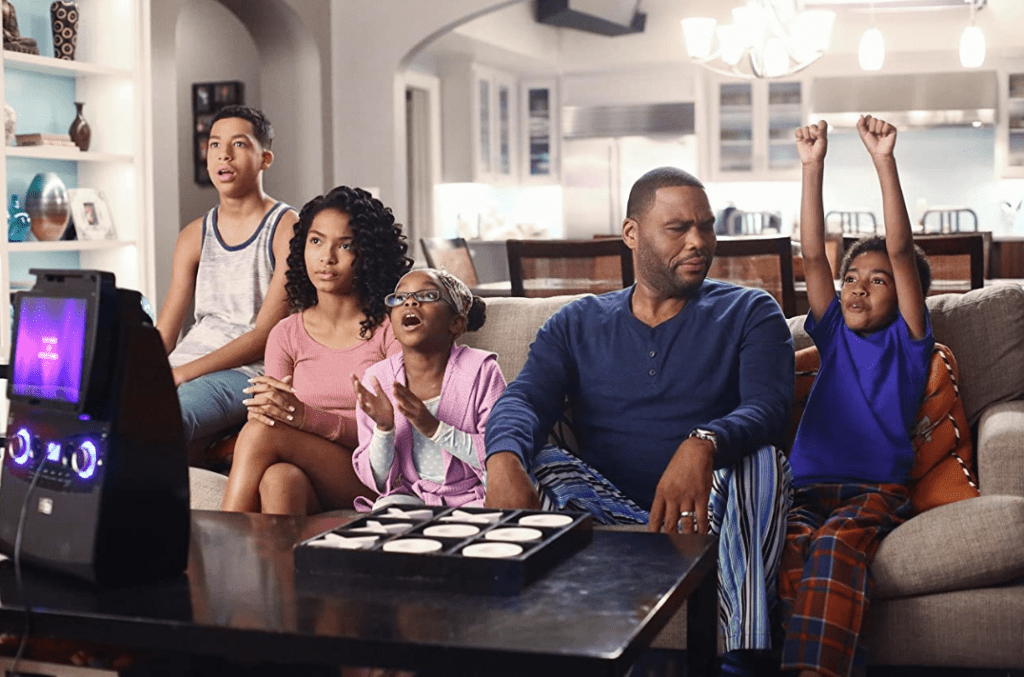 Having just ended its eight-season run on ABC, "Black-ish" is the perfect show to binge this weekend. It complicates the ideas and assumptions of what it means to be Black in 21st-century America. The sitcom follows three generations of a family in California and pushes audiences to think about the complex and intersecting relationships between race, ethnicity, gender, and class. "Black-ish" is an exceptionally endearing family show because the audience gets to see the Johnson children grow up and learn the lessons — both positive and negative — that many young Black Americans are forced to learn. We're reminded particularly of the instances and examples of excessive force used by police that "Black-ish" addressed in 2016, and how these conversations endure today.
Tracee Ellis Ross and Anthony Anderson star as parental figures Rainbow and Andre, with their kids played by Yara Shahidi, Marcus Scribner, Marsai Martin, and Miles Brown. Rainbow (aka Bow) and Andre's dynamic is compelling and their parenting style can be competitive, but when you meet their parents, you understand why. One of the most memorable characters is Andre's mom, Ruby (Jennifer Lewis), whose love for her son causes the occasional hiccup between family members. If you enjoy the way "Abbot Elementary" tackles bigger social issues, then you'll love how "Black-ish" is eager to educate and entertain audiences.
All seasons of "Black-ish" and its spinoffs, "Grown-ish" and "Mixed-ish," are available on Disney Plus and Hulu.