Congratulations! Whether you've finally decided to cut the cord on cable or are still weighing your options, there's a reason to celebrate. You're taking another step towards cheaper and better entertainment. But there's no reason to immediately sign up for a Netflix subscription simply because that seems to be what just about everyone else is doing. This is the perfect time to consider all of your streaming options — including slightly lesser-known ones like Philo and Sling TV.
Philo and Sling TV are two of the best video streaming services out there. These services have their fair share of similarities, but they also have a few key differences. Instead of reading through dozens of websites to determine which streaming service is best for your unique tastes, simply read our analysis below. Without further ado, let's take a closer look at Philo and Sling TV to determine which is best for you and your family.
Philo: Affordable Streaming Highlighted by TV Networks
Pros
High-resolution streaming
Capable of three simultaneous streams
Up to 10 viewer accounts
Unlimited DVR cloud storage
Solid channel lineup
70+ channels
Cons
Lacks local channels and major networks (ABC, Fox, and NBC)
Virtually no news or sports
Sling TV: Customizable Video Streaming With On-Demand and Live TV
Pros
Cable networks
Add-on channels
Customization options
Numerous price tiers
Cons
Pricier than some competitors, especially with add-ons
Cloud DVR limited to 50 hours of storage
Missing some major networks (CBS)
Less than perfect user experience
What Are the Differences Between Philo and Sling TV?
Both Philo and Sling TV offer streamers live network TV channels in exchange for a monthly subscription fee. They work a bit like cable, except that they stream online — and cost less!
Philo is quite new compared to Sling TV. Philo TV differentiates its service by keeping prices low — but it does that by eliminating sports and news. Philo focuses on entertainment channels at an affordable price.
Sling TV's basic bundle is pretty small, too, but Sling TV allows for extensive channel customization and pricing. Sling TV's bundles include add-on packs of channels. Sling also has more device support than Philo — in other words, it works on more devices.
What You Can Watch on Philo vs. Sling TV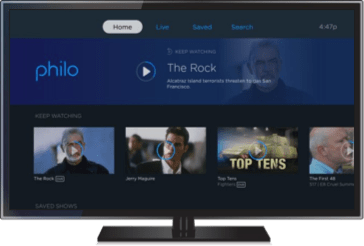 Philo provides live TV streams featuring plenty of entertainment channels. Philo lacks sports and cable news channels.
Sling TV provides lots of cable networks, and its selection includes sports and news channels such as FS1, ESPN, MSNBC, CNN, and Fox News. Philo does not offer any of these channels.
Sling TV also gives you the option to pay for your choice of add-on channel bundles and subscriptions. It's a more customized bundling option than Philo.
Philo also lacks the top broadcast networks like NBC, ABC, Fox, and CBS. Sling TV doesn't have a great selection in this department, either, but it does provide local streams of Fox and NBC in at least some markets (You should check Sling TV's website to see what's available in your area).
If you're looking for premium channels, Philo provides MGM+ and STARZ. Sling TV provides both of these channels as well as Showtime, all through add-on packages.
How Much Will You Spend on Philo vs. Sling TV?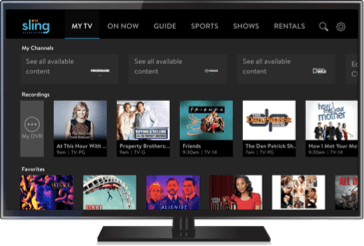 Most people venture away from cable TV because it's expensive and overloaded with commercials. By comparison, we think you'll find Philo and Sling TV very affordable. Neither service requires the lengthy contracts that cable mandates.
Philo is the more affordable of these two streaming services; its more than 70 channels are available for the low price of $25 per month. Philo is able to keep its prices low because it has only entertainment channels, which means you won't find any news or sports channels.
Sling TV's approach to pricing is completely different. With Sling TV, you'll be starting with a basic bundle and then adding as many (or as few) add-on bundles and subscriptions as you'd like. Sling TV's beginning price point is higher than Philo's: Sling TV customers can choose between a Sling Blue and Sling Orange package, each of which has its own unique channels, for $40-$45 per month. You also have the option to combine the packages for $60 per month.
You're not done after you pick a start bundle, though: Sling TV has add-on packs. Sling TV packs are arranged according to themes such as comedy, kids, sports, lifestyle, and news. Most of these packs run between $5 and $10 per month. This extra fee is added to the base package fee we talked about above.
Philo vs. Sling TV: Which Should You Choose?
If your budget is your primary concern, Philo is the best option. Those who prefer a multitude of channels and customization options will favor Sling TV. Sling TV carries news and sports channels, and its add-on system makes it easy to get the channels you want most without paying for lots of networks you won't watch.
If you and your family will want to stream on different devices and platforms, then we think you should take a closer look at Sling TV. Both streaming services function on the most commonly used streaming devices, including Apple TV, Amazon Fire TV, and Roku, but Sling TV works on more devices than Philo.
If you're looking for a slick and simple user experience, Philo might be your best option. Though we were mostly happy with Sling TV in our review, the service does confuse some people. Philo clearly has the edge in terms of the user experience, and we think it's easy to use for viewers of all ages and all levels of tech-savviness.