Brilliant picture. Powerful Performance. Now in 4K.
This isn't the first time we've reviewed the Fire TV Stick. We have to keep coming back, because it keeps improving! The Amazon Fire TV lineup has changed a lot since it debuted in 2014. The Fire TV Stick got an upgrade in 2016, and the remote design changed in 2019. The pricing has also changed — for the cheaper, I'm happy to say. Of course, I want a cheap price, not a cheap-o device. Does Amazon strike the right balance? Let's take a look at the latest iteration of the Fire TV Stick.
Pros and Cons
Pros
Alexa Voice Remote
Improved navigation menu and accessibility features
Access to wide variety of apps and channels
Easy set-up
Highly affordable streaming solution
Cons
Constant cross-promotion of Amazon products
Non-Amazon apps aren't always front-and-center on the menu
How It Felt to Use Amazon Fire TV Stick
I found the Fire TV Stick's setup process to be super simple. Amazon seemed to anticipate my needs: When the Fire TV Stick didn't want to fit into my TV's HDMI port, I found that Amazon had included an HDMI Extender that solved that problem. I plugged the stick into the extender, then plugged the extender into the port, and I was good to go.
The Fire TV Stick isn't new to the CordCutting.com crew, but I don't think you'll need to be familiar with it to have an easy time setting it up — it's pretty foolproof. Once I powered up the Alexa Voice Remote, I connected to my apartment's Wi-Fi and completed the on-screen setup. The prompts are very straightforward, so I think you'll have the same painless experience that I did.
Setting up the Fire TV Stick, I got an on-screen notification about a recent improvement that really impressed me: the new set of accessibility features. The new features include a text banner option for customers with vision impairments. You might not need features like these, but they'll mean a lot if you do.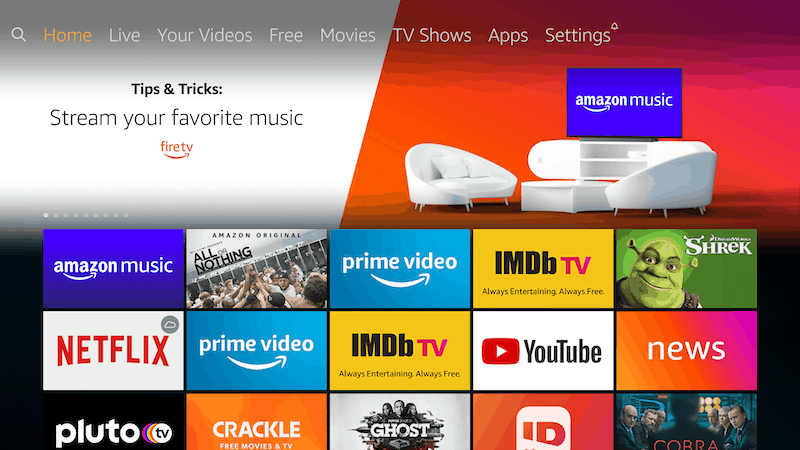 With setup done, I landed on the Fire TV menu, which I found to be organized, easy to use, and chock full of Amazon's own brands.
The top navigation menu has a couple of tabs that are new since we last reviewed Fire TV. My favorite newcomer is the "Free" tab. As you might expect, this tab is full of free things to watch! Amazon has a tendency to aggressively promote its original programming, so it was nice to get a break from constantly feeling like I had to buy something.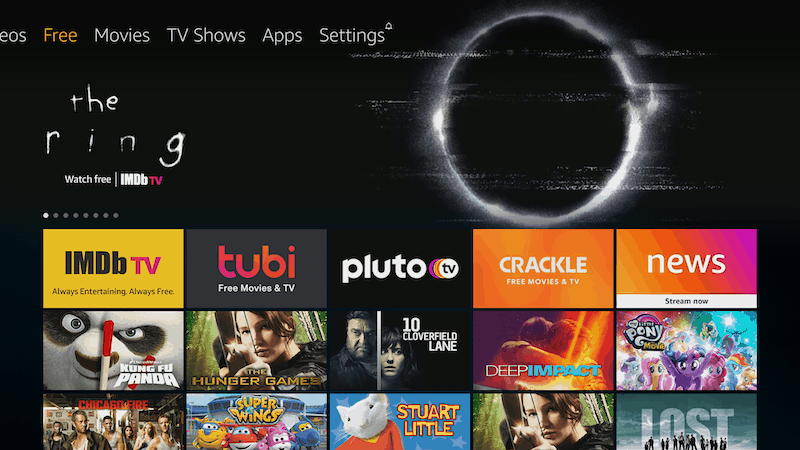 Of course, the Amazon cross-promotion is still alive and well even within the Free tab — the first app I saw in this section was Amazon's own free and ad-supported service, IMDb TV.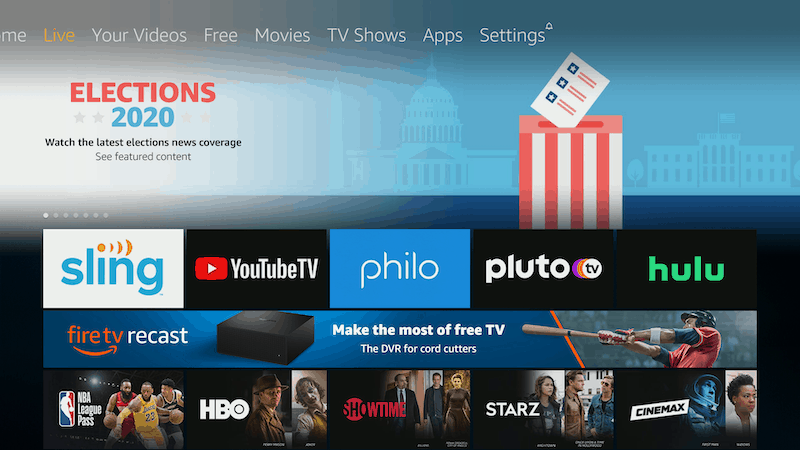 The "Live" tab is also new since our last Fire TV review, and I really liked it. Having this separate tab was a helpful way to distinguish the on-demand content from the live TV streaming services and "cable replacement" options, like live TV streaming pioneer Sling TV and Google's live TV service, YouTube TV. Scrolling down a little, I also found Prime Video "Channels," which are add-on streaming subscriptions that that Amazon would really like me to add to my Prime account.
Other tabs on the top menu include "Your Videos," "Movies," "TV Shows," "Apps," and "Settings." I loved using the Fire TV Stick, but I definitely never forgot that I was using an Amazon product: my Your Videos tab featured my Amazon watchlist and my Amazon library (movies and TV shows I'd purchased from Amazon), and the Movies and TV Shows tabs were stocked with streaming options from Amazon Prime Video (plus tempting suggestions from Amazon Channels add-ons like CuriosityStream).
Which isn't to say that I could only use Amazon's services with a Fire TV. The Apps tab and Home were both useful best jumping-off points when I wanted to access apps like Hulu and Netflix.
Still, I definitely noticed how much real estate Amazon kept for its own services — and how little it spared for third-party apps. To some extent, I get it: The Amazon Fire TV Stick goes great with Prime Video, and a lot of Fire TV Stick owners (including me) have Amazon services and Amazon video libraries. But I still didn't love the imbalance. Sometimes, I felt like I was trying to walk down one of those shopping mall corridors where all the kiosk salespeople are shoving products into everyone's faces. I could still stroll right to the store (or streaming service) that I wanted and grab a new sweater and an Auntie Anne's pretzel (or an episode of The Mandalorian). Maybe I'd even buy something from the aggressive salespeople, like one of those little light-up drones (or an Amazon Channels add-on subscription) — but I'd still feel a little bit hounded and a little bit annoyed. Sometimes, I longed for Roku's more hands-off (or should I say "brands-off?") approach.
With that said, some of Amazon's brand-integration features were actually really neat. Alexa, for example, was a real bright spot: I enjoyed playing with the Fire TV Stick's Alexa Voice Remote, and I found it to be surprisingly helpful in getting the right app or video up onto my screen. It takes a bit of trial-and-error — I soon found out that more specific requests are better — but I think you'll get the hang of it fast.
Alexa is pretty adaptable and very smart. I'm in the Pacific Northwest, so saying, "Alexa, show me sports stuff" brought up the most recent Mariners game score on the screen. I'm not a Mariners fan, so I said, "Alexa, show me hockey" and got offered apps like NHL TV and NBC sports, as well as a show called The Hockey Girls on Netflix. Finally, I said, "Alexa, can you get me hockey scores?" And lo and behold, she displayed the most recent scores for the NHL playoffs, which is something I really enjoyed during the Dallas Stars' miracle run. I didn't enjoy it as much during the NHL Playoffs, but that was the Tampa Bay Lightning's fault, not Alexa's. My advice: Don't overthink it when you press that Alexa button, but do be specific about what you want.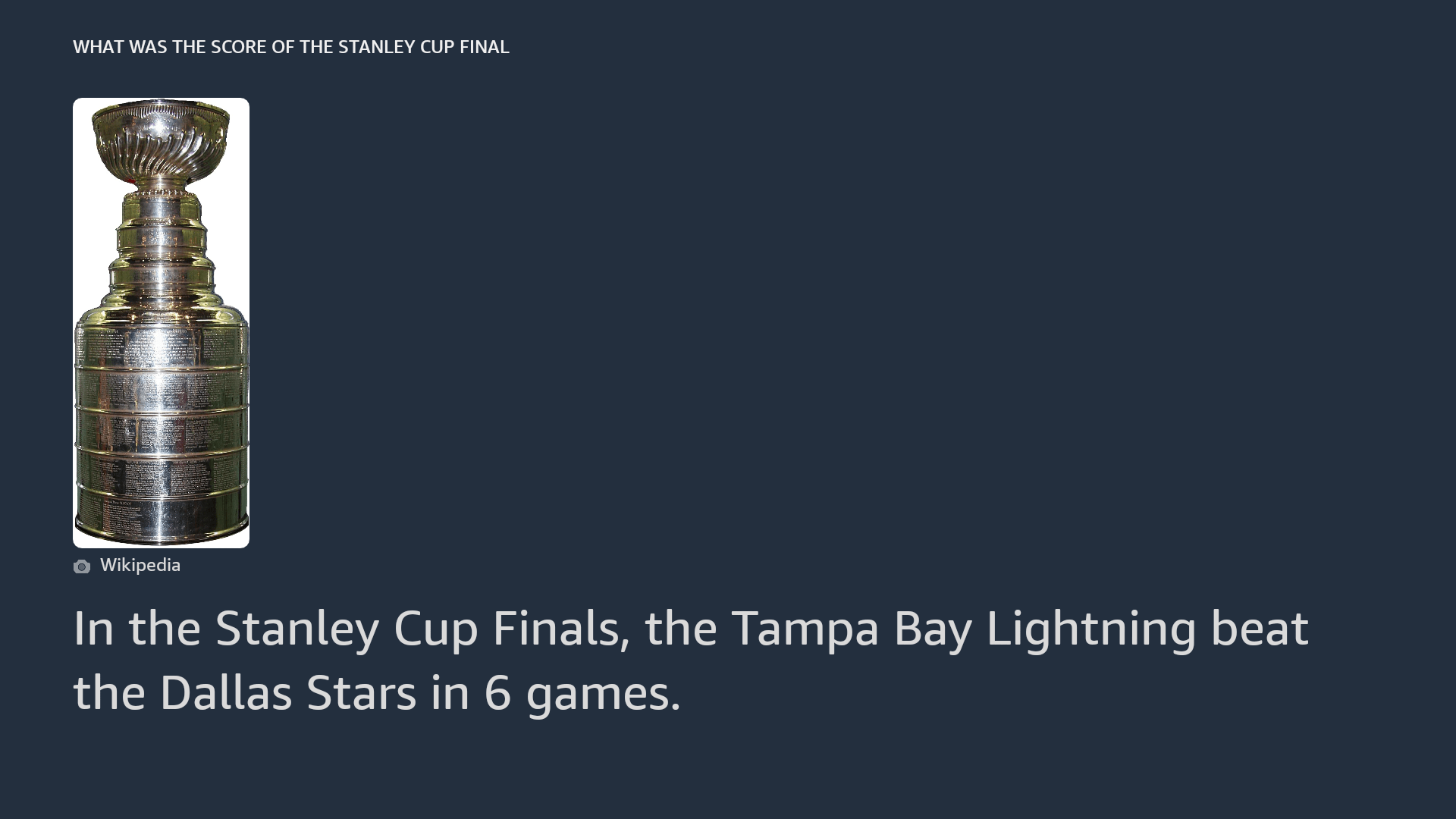 Alexa makes the Fire TV's voice controls much more powerful than the ones on competitor devices like the Roku Ultra. On top of getting the latest sports scores, I could even ask Alexa to set an alarm or timer. I can't imagine doing that for a morning wake-up call, but it's a nice addition for those interested in, for example, baking a cake while you're binging cooking shows. If you've ever sat down to watch a few minutes of TV while the water boils on the stove, and then forgotten all about it and let it boil over — well, then your savior is here.
What You Can Watch on the Amazon Fire TV Stick
There are plenty of well-known apps on Amazon's Fire TV platform: You'll have no trouble finding old favorites like Sling TV, Hulu, Disney+, Netflix, and YouTubeTV (to name just a few) in the Fire TV app store, and — needless to say — Amazon Prime Video is integrated throughout the home screens, no app required. If you like slightly lesser-known apps like Crackle, Pluto TV, and Tubi, you're in luck in that department, too. If you want weather apps or fitness apps, those are available as well.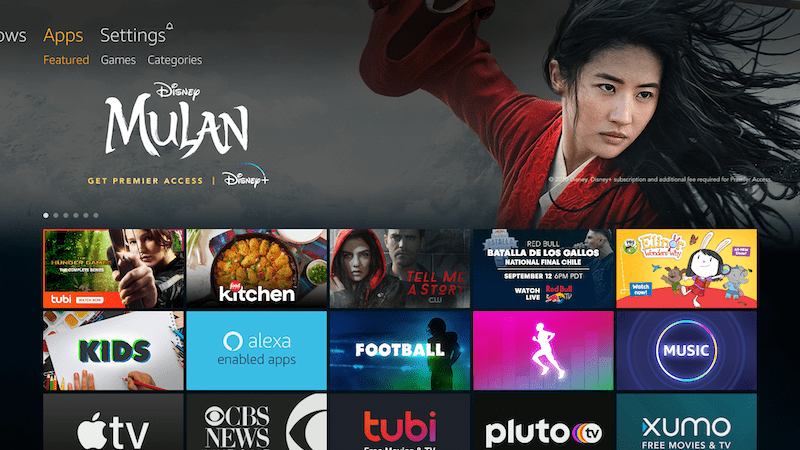 All of this means that there's a ton to watch on the Amazon Fire TV Stick. You can watch on-demand content from Amazon, including free content (IMDb TV), content included in Amazon Prime Video, and individual titles available to rent or buy. You can access on-demand content through other free services (like Crackle) and other subscription services (like Netflix), you can watch sports on ESPN+ or a league streaming service like MLB TV, and you can even watch live TV channels, cable-style, with any of several great live TV streaming services (like Sling TV and YouTube TV).
One of my favorite features wasn't an app that let me watch TV. Instead, it was the ability to listen to music on my TV. I signed up for Amazon Music Unlimited mostly because of the free 30-day trial, but if you'd rather use Spotify, Pandora, or Sirius XM, you've got those options, too (there's no Apple Music app, but you can work around that using Alexa).
Amazon Fire TV Stick Performance and Streaming Quality
The Fire TV Stick works seamlessly with Wi-Fi; the hardest part was putting in my password. I had no problems with streaming on-demand content. Live content streaming came with one or two buffering incidents, but it was nothing too aggravating. My impression of the Fire TV Stick's Wi-Fi was really good — which makes sense because this latest version comes with dual-band, dual-antenna Wi-Fi support built in.
That's a good thing, because the Fire TV Stick is Wi-Fi only — there's no Ethernet jack on this device. A wired connection is always faster, but I found that the Wi-Fi was plenty fast enough for me, and I think Amazon's choice to go with a slim form factor and no Ethernet jack was a smart one.
The standard Fire TV Stick tops out at 1080p HD streaming, but the fancier Fire TV Stick 4K can handle 4K UHD streaming. Keep in mind that the Fire TV Stick isn't going to be the only factor here, though. If you have a 720p HD TV, the Fire TV Stick is not going to magically turn it into a 1080p HD TV — you're going to be seeing 720p picture. And if you're streaming a service that only supports 720p video (which includes a lot of the free services and most of the live TV services), then it won't be the Fire TV Stick's fault that you're not getting full 1080p HD. What the Fire TV Stick brings to the table is a readiness to handle that level of picture (or 4K, in the case of the Fire TV Stick 4K) whenever your streaming services and TV can handle it.
Amazon Fire TV Value
The Amazon Fire TV Stick costs $39.99 when it's not on sale — and it's on sale pretty often, especially around Prime Day and Black Friday. In the past, Amazon has dropped the price another $10 to $29.99. Any way you slice it, this is a very affordable device. To put it another way, you can get a Fire TV Stick for less than most month-long gym memberships.
The Amazon Fire TV Stick is noticeably cheaper than the $69 Chromecast Ultra and the $49.99 Roku Stick+. But since those two products come with 4K, a better comparison might be Roku Express or regular Google Chromecast. Both of those cost $29.99, although neither includes a voice-controlled remote.
Of course, Amazon has its own 4K streaming stick: The Amazon Fire TV Stick 4K. That device costs $49.99 when at full price, though it, too, has been known to get as cheap as $29.99 when on sale.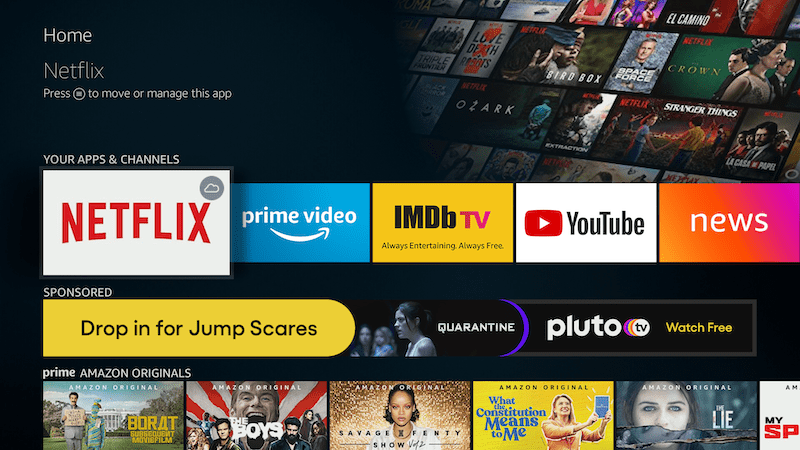 Amazon Fire TV Review: Our Verdict
The price of Amazon Fire TV Stick would make it appealing even if it weren't one of the best few streaming sticks on the market — and it is.
That's not to say I think that the Fire TV Stick is flawless: While there's a lot to like, I didn't love the constant reminders that I was playing on Amazon's turf. Amazon's constant improvements to the Fire TV platform have made it more user-friendly than ever, but the ease of use was clearly not Amazon's only goal — they clearly expected me to buy some Amazon Channels, rent some movies from Amazon, or at least watch some Prime originals. At some point in testing, I had to remind myself that The Marvelous Mrs. Maisel and The Boys were not, in fact, the only two TV shows currently in existence.
This didn't bother me that much in the end, but your mileage may vary depending on how big a fan you are of Amazon's services. If you have no interest in Amazon Prime Video or Amazon Channels, then you might like the cleaner experience of Roku, the Fire TV platform's arch-rival (and our other favorite here on the site).
But if you don't mind a little pressure to boost Jeff Bezos' already considerable net worth, the Fire TV Stick has some great advantages that you won't find anywhere else: It's supremely affordable and includes the streaming world's best voice-control features. Alexa and the price tag are two great reasons to buy one of the very best streaming devices out there.