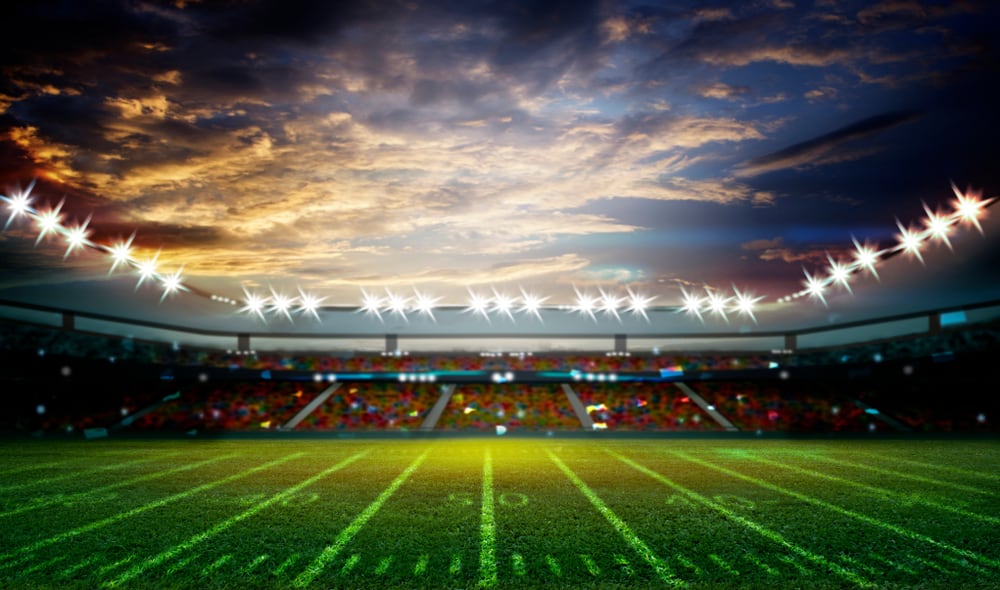 Running from Sept. 8 to Super Bowl LVII in February 2023, this NFL season is jam-packed with exciting matchups. Expect to find several grudge matches, rematches, returns to home turf, and even quarterbacks taking on their childhood favorites. Worried you'll miss the action because you don't have cable? Don't panic – our guide to watching NFL games without cable will help you out. In the meantime, we listed the must-watch games you should keep on your radar this NFL season.
Packers vs. Buccaneers (Sept. 25)
This 2020 NFC Championship rematch sees Aaron Rodgers and the Green Bay Packers face off against Tom Brady and the Tampa Bay Buccaneers. With Rodgers still determining his future with the Packers and Brady just returning from retirement, these two powerhouse quarterbacks are sure to give fans plenty of offensive fireworks. Find this daytime Sunday game on Paramount Plus and anywhere you can stream FOX without cable.
Chiefs vs. Buccaneers (Oct. 2)
Another rematch of one of last season's most dynamic games, this week 4 matchup pits the Kansas City Chiefs against the Tampa Bay Buccaneers. Quarterbacks Patrick Mahomes and Tom Brady have a history of pulling out all the stops against each other, making this Sunday Night Football game one you won't want to miss. Find it wherever you catch NBC without cable.
Chargers vs. Browns (Oct. 9)
Two of the NFL's most aggressive coaches go head to head during week 5, so expect to see two very different powerhouse offenses duke it out. The Los Angeles Chargers have been able to stick it to the Cleveland Browns 18 of the last 28 times, including the previous three times the two have met. This game comes almost exactly a year after the Chargers beat the Browns 47-42, so we can expect Cleveland to come in hungry. Don't miss it – watch this game on CBS without cable and Paramount Plus.
Bills vs. Chiefs (Oct. 16)
This matchup may have been the best game of last season, and this year we get to watch Josh Allen and Patrick Mahomes prove why they're two of the biggest names in the NFL. These two teams have a pretty even rivalry – the Buffalo Bills have the edge in this series 27-24-1, but the Kansas City Chiefs aren't far behind. Last season saw postseason overtime rule changes after these two met, so who knows what's in store for us this season. This daytime Sunday game can be found on Paramount Plus.
Packers vs. Bills (Oct. 30)
Old faithful Aaron Rodgers of the Green Bay Packers gets a shot at one of the NFL's up-and-coming greats, Josh Allen of the Buffalo Bills. The Bills have taken the victory 8 of the 13 times they've met the Packers but lost to the Packers 22-0 when they last saw each other in 2018, so how this Sunday Night Football matchup ends is anyone's guess. You can find Sunday Night Football on NBC even if you don't have cable.
Rams vs. Buccaneers (Nov. 6)
The Tampa Bay Buccaneers get a chance at vengeance after their playoff loss in this daytime Sunday game. Tom Brady must contend with Jalen Ramsey and Aaron Donald of the Los Angeles Rams, meaning this clash between the last two Super Bowl champs will thrill fans. Find this Sunday game on Paramount Plus.
Chiefs vs. Bengals (Dec. 4)
This daytime Sunday game serves up a rematch of last season's AFC Championship game – you know, the one that put the Cincinnati Bengals in the Super Bowl. The Bengals lead the series 17-14, meaning the Kansas City Chiefs aren't far behind. Include the fact that the Bengals needed overtime to win last January, and you can be confident that this will be a game you don't want to miss. Daytime Sunday Football is available on FOX streaming services, Paramount Plus, and CBS.
Buccaneers vs. 49ers (Dec. 11)
The San Francisco 49ers are Tom Brady's childhood favorite, and watching him go head to head against them is sure to excite. The Niners' Trey Lance is poised to establish himself as one of the NFL's newest rising quarterbacks, and he has Jimmy Garapolo to back him up. We get a chance to see for ourselves in this daytime Sunday game between the Tampa Bay Buccaneers and 49ers, which you can find on Paramount Plus, CBS, and FOX.
Bengals vs. Patriots (Dec. 24)
This Sunday game marks the first time the Cincinnati Bengals' Joe Burrow goes up against one of the NFL's biggest schemers, Bill Belichick. Burrow is a quarterback on the rise and looks to be well equipped to take on whatever the New England Patriots can throw at him – unless Belichick sniffs out some unknown weakness. This daytime Sunday game will be on FOX, Paramount Plus, and anywhere you can stream on CBS.