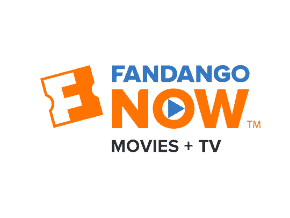 Fandango is a well-known name in the movie business. Even if you haven't heard of them, you may have seen some of the brands they own: movies.com, Flixster, or Rotten Tomatoes. Given their popularity in the movie world, it is no surprise that Fandango decided in 2016 to acquire a movie streaming service that it later rebranded as FandangoNow. Good for them — but what does that mean for streamers and cord cutters like us?
What does FandangoNow have to offer, and what makes it different from all of the other streaming services out there? We're glad you asked!
What Can I Watch on FandangoNow?
FandangoNow is not a subscription streaming service. While you might pay monthly for Netflix and expect a steady price for Hulu, FandangoNow doesn't work that way. Instead, what they offer us is the ability to rent or buy movies and some TV shows. As you might expect from Fandango, this includes several new and popular films. If you're looking for older and more obscure films, no problem: FandangoNow has those, too.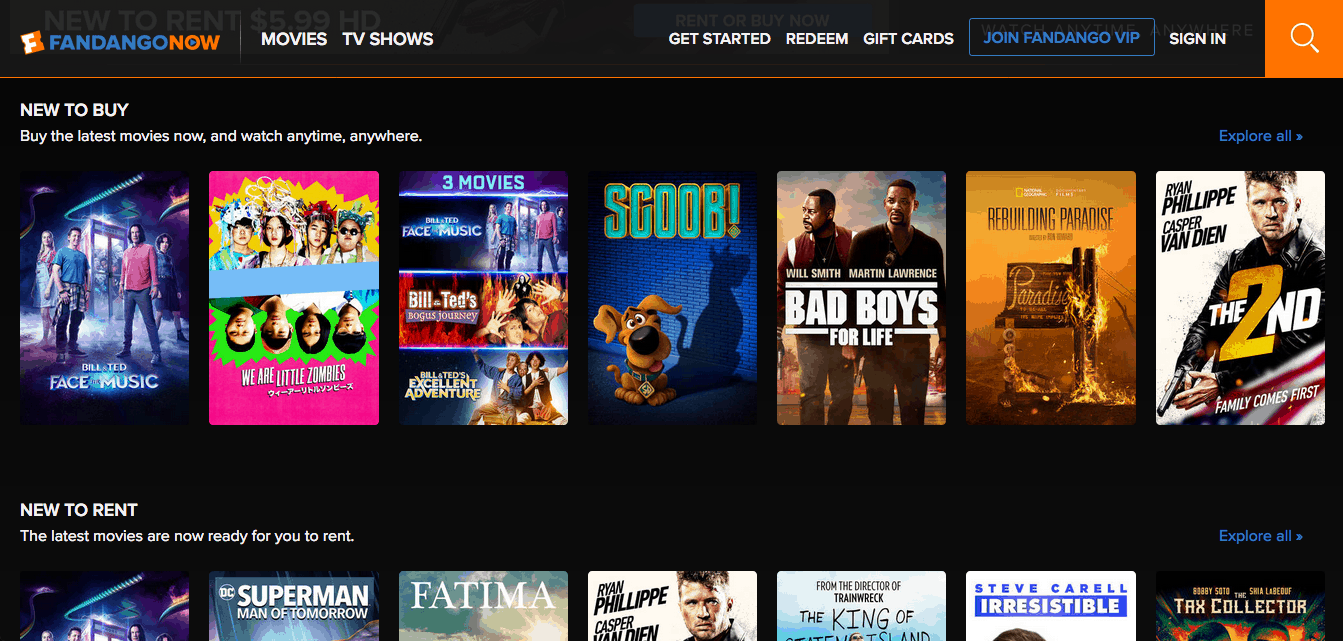 Their selection of TV shows includes recent and older shows from the major networks as well as HBO, Starz, and other premium channels. You can purchase these shows by the season, and you can even pre-purchase new seasons in order to gain access to each episode as it is released.
With most of FandangoNow's movie catalog, you can choose to rent or buy. Brand new movies, however, can typically only be bought — you have to wait a few weeks before you can rent them. TV shows can only be bought and cannot be rented.
One important note about rentals: Movie rentals on FandangoNow give you 30 days to start the movie and 48 hours to watch it once you've started. Before you hit play, make sure that you have time to finish the movie within those 48 hours, or you will have to pay to rent it again!
Here are some of the movies and TV shows currently available on FandangoNow.
Movies
Bill & Ted Face the Music
Scoob!
Bad Boys for Life
Trolls World Tour
Hard Kill
Bloodshot
Fatima
TV Shows
Bob's Burgers
The Real Housewives of Beverly Hills
Better Call Saul
Watchmen
The Boys
Friends
This is a good point to mention that you may already have access to some content on FandangoNow. Digital movies purchased through iTunes, Amazon Prime Video, Vudu, Google Play, and Microsoft Movies & TV can often be viewed through FandangoNOW because of their participation in Movies Anywhere, a service that lets you sync your digital movie purchases across providers. This includes any DVDs or blu-rays that you have purchased that came with a code for a digital copy.
What Devices Can I Use With FandangoNow?
Once you have rented or bought movies from FandangoNow, you can watch them on a wide array of devices. Their website even has step-by-step instructions for installation on most of these devices.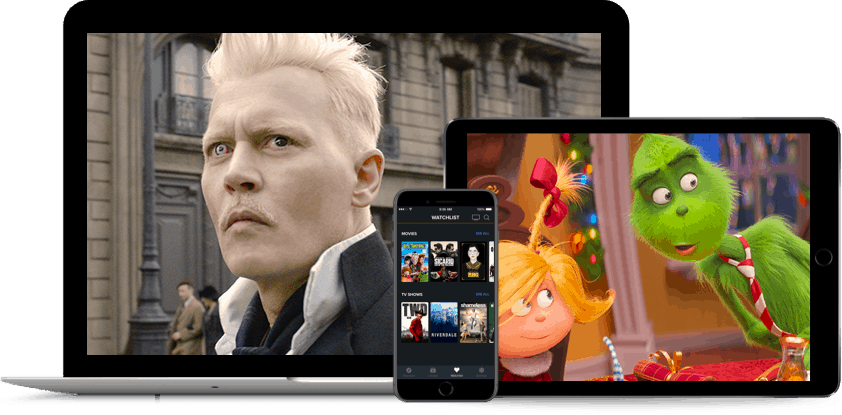 Let's run down a list of the big platforms and devices that you can use to watch FandangoNow.
Streaming platforms and devices
Android TV
Apple TV
Chromecast
Fire TV
Video game consoles
Mobile devices
Android
Fire (Amazon Fire phones and tablets)
iOS
Other
In-browser app (Mac, Windows, and more)
Select Blu-Ray and DVD players
Select smart TVs (Samsung, Vizio, LG, Sony, Hisense, and more)
How Much Does FandangoNow Cost?
There is no monthly subscription fee with FandangoNow. You pay only for the titles that you rent or purchase. This means that the cost will vary greatly based on how much content you use — and how new that content is, too, since the newer content tends to be more expensive on FandangoNow.
Movies on FandangoNow generally cost $19.99 to buy and $5.99 to rent when they are new, though there are occasional exceptions. When FandangoNow offers movies that are still in theaters (a rare situation that is more common in the wake of pandemic-related shutdowns), the purchase cost can be as high as $24.99 and the rental cost can be as high as $19.99. Older movies are often in the $10-15 range to buy and $3-6 range to rent. Movie bundles are often available, letting you buy a collection or series of movies at a reduced rate.
TV series are purchased by the season (sorry, no individual episodes) and can range in price from $10-40 per season. Older seasons tend to be on the lower end of this range, while recent and upcoming seasons tend to be at the higher end. For both TV shows and movies, the price will also be impacted by the video quality that you are looking to rent or buy, with 4K UHD videos typically being more expensive than HD and SD ones.
Deals on FandangoNow
FandangoNow often runs deals even on their most popular content. As of this writing, they have deals running on new movies as well as older films. We're also seeing some nice sales on larger collections and digital "box sets."
FandangoNow always has a selection of movies on sale to rent for under $3 and to buy for under $5. The titles in these selections vary, but they typically include movies that are at least a few years old.
If you already have a Fandango account that you use to buy movie tickets, there is another way to save money on your FandangoNow purchases. The points you acquire through Fandango VIP, Fandango's loyalty program, can be redeemed for FandangoNow rewards. Each ticket you buy nets you 125 points, and every 500 points you accumulate is worth $5 in either movie ticket or FandangoNow purchases.
How to Get a FandangoNow Free Trial
FandangoNow does not have a free trial subscription, and it doesn't need one: There is no subscription fee for this service! You can sign up for free, but you will need to pay for any movies you wish to rent or buy.
FandangoNow Contracts
Feeling down after hearing that there is no free trial? Hopefully, this will cheer you up: FandangoNow also has no contracts. You pay only for the movies that you rent or buy. Once you buy them, they are yours for life. (There is one technicality to this, and we'll talk about that next.)
There's another thing about how FandangoNow works that is worth mentioning. When you buy a movie on FandangoNow — or on any of the other major movie-buying marketplaces out there, including Amazon, Google Play, iTunes, and Vudu — you don't technically "own" it. Don't panic too much: this is a legal technicality and tends not to matter too much to end-users. But it is a little quirk that may bother some people. Here's how it works: FandangoNow (and Amazon, Google Play, and the rest) have a license to offer a movie, and they'll then sell you a license to stream it. That's a little different from owning a copy of the movie in the way that you would if you bought a Blu-Ray, because it means that FandangoNow (or, again, any other digital purchase platform) can take away your digital copy later on if they so choose. In practice, this very rarely happens, especially with major releases.
How to Cancel FandangoNow
Another piece of good news: Since there is no subscription fee, there is no need to cancel FandangoNow.
If you are looking to completely delete your FandangoNow account, though, you're out of luck. There is no way to do that as of this writing.
Read More About FandangoNow
For more information about FandangoNow, we recommend our FandangoNow review. You can also find more content related to FandangoNow by typing FandangoNow into our search bar at the top of the page.