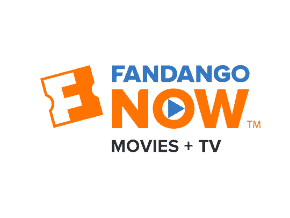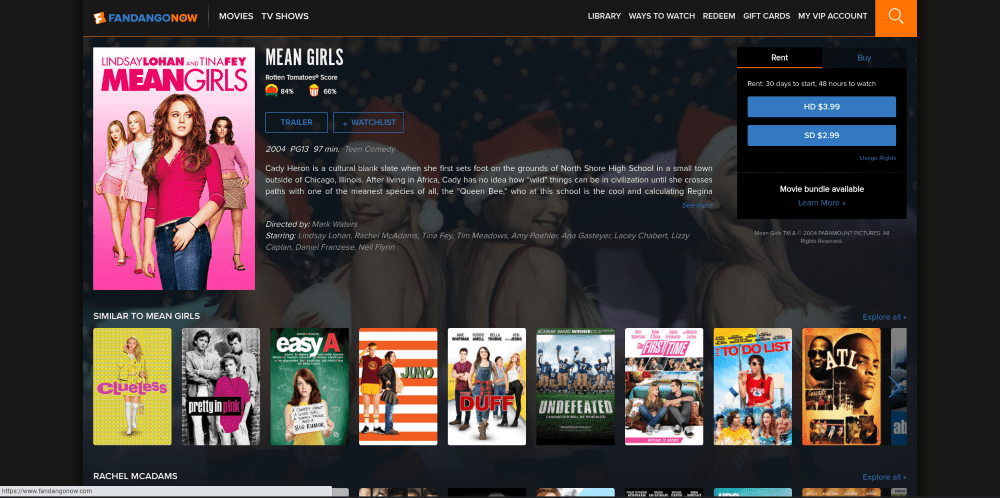 I first encountered Fandango Now in the frozen foods sections of my local grocery store.
It wasn't Wednesday, and I wasn't wearing pink, but there it was: a box of Toaster Strudels branded with Mean Girls. It included limited edition pink icing and an offer from FandangoNow. If I got two boxes of specially marked Toaster Strudels, I could watch Mean Girls for free on FandangoNow. I didn't take advantage of the offer, but it did get the name FandangoNow stuck in the back of my head, right next to the place where I store bizarre food items spotted at the grocery store.
Before the Toaster Strudel incident, I thought of Fandango only as a way to buy tickets to movie theaters — remember movie theaters? But the Fandango brand also includes FandangoNow, a place for digital movie rentals and purchases. Is Fandango ready to compete with Amazon, iTunes, Vudu, and the rest — or should it stop trying to make "fetch" happen? Find out the answer in our official FandangoNow review.
FandangoNow Pros and Cons
Pros
"Movies Anywhere" lets you sync your digital collection
Built right into the Roku platform
Large collection of 4K UHD titles
Cons
Search feature not built into Roku version
No way to purchase titles on mobile app
What You Can Watch on FandangoNow
So what can you watch on FandangoNow? Well, you could watch Mean Girls, even though the Toaster Strudel promotion is over. You can also watch other comedies not associated with breakfast foods! Those include The Goonies, Legally Blonde, and Planes, Trains, and Automobiles. I'd personally classify those as older movies that have held up well (Legally Blonde came out almost 20 years ago, somehow).
In each case, watching these movies means either renting or buying them one title at a time. This isn't like Netflix, where a monthly subscription fee nets you lots to watch: It's a movie and TV show marketplace like iTunes or Google Play Video, full of things to rent or buy.
Let's get back to the selection: If you want something new, there's a whole "Movies Direct From Theaters" category to peruse. Where I live, movie theaters have been closed for most of the last year, so I wasn't familiar with a lot of these titles. I recognized stuff like The New Mutants, The King of Staten Island, and Unhinged.
As I'll talk about later, most of these flicks cost around six bucks a pop to rent. But FandangoNow was good about grouping the best deals together in a "Deals" section of the menu, which I thought really enhanced the browsing experience. Going through the "Deals" section felt like looking through the remainders bin at the bookstore. On FandangoNow, the basic "Deals" category only contained 18 movies when I tested it. That's sparse! I found a bunch of Resident Evil movies, plus The Croods and Addams Family Values. There was also a separate category of Pixar movies on sale.
I really appreciated categories with names like "Watch for Under $3" and "Movies to Own for $5." Some of FandangoNow's competitors are missing this ability to look at just the cheap titles (I complained about this missing feature in our Vudu review, for example), so this is a nice feather in FandangoNow's cap. I really like having a specific price point as a reference before I delve into a category, and I think you will too. Notable titles I could get for $5 included Her, Inglourious Basterds, and Waiting to Exhale.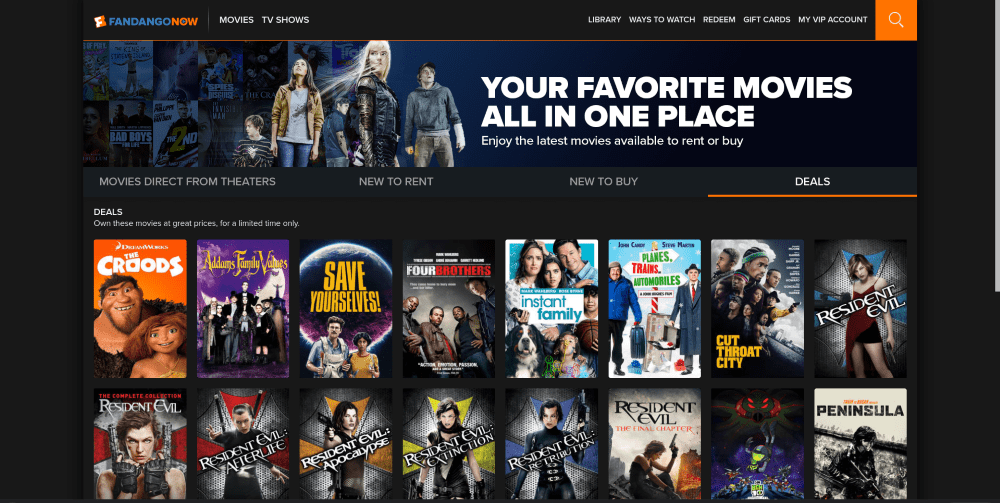 Many rental services have categories with seasonally-appropriate content, and that's true here as well. The "Home for the Holidays" category included A Christmas Story, It's a Wonderful Life, The Muppet Christmas Carol, and, uh, Eyes Wide Shut. Don't get me wrong: Eyes Wide Shut is definitely set around Christmastime, but it's not a movie I can picture watching with my family while we're gathered around the tree. On the plus side, it does promote mask usage.
In short, there are a lot of categories to scroll through. There were so many that I found it a bit overwhelming. I had to get past categories like "Indie Film Fest" and "Movies of Faith & Spirituality" just to get to the basic list of genres like "Drama" and "Romantic Comedy." I would have preferred that FandangoNow focus more on the quality of categories rather than just stuffing as many in there as possible.
One thing you won't find on FandangoNow is live TV. Some of FandangoNow competitors have "live" TV channels (which in this case means channels that constantly stream content on a schedule — but not familiar cable networks like the ones you'd find on a true cable replacement like Hulu + Live TV or its live TV competitor Sling TV). If you ask me, there's nothing wrong with that: I'd rather see services stick with what they know than see them branch out and risk cluttering their brand with content that's not very useful to most people.
There's also no ad-supported content on FandangoNow. That means you can't watch anything for free (unless you count trailers). That's okay with me, because I have plenty of other places to turn for free content. Still, it would have been nice to see FandangoNow stepping up to match its rivals in this department.
If you want to purchase TV shows, they are available on FandangoNow. I glanced at the "Top 50 TV" category and found shows like Blacklist, S.W.A.T., and This Is Us. If you're only missing one or two episodes of a particular show in your library, good news: You can buy single episodes as well as full seasons.
To browse FandangoNow, you don't need an account. You will need one if you want to rent or purchase anything, though — and since that's kind of the point, you'll pretty much have to make an account.
How It Felt to Use FandangoNow
I liked that FandangoNow was easy to find on my Roku: Thanks to some special deal with the platform, FandangoNow is built into the main menu on the Roku platform. It shows up in the menu as "Movie store by Fandango" and "TV store by Fandango." That made me feel like I was some kind of insider, one who didn't have to search for FandangoNow on the list of streaming apps before I could download it.
But while I'm on the subject of searching: There's no way to perform a search on my Roku that only looks for titles available on FandangoNow. If you just like to scroll through titles because you aren't sure what you want to watch, that's all well and good. But if you're like me, sometimes you go into an app like FandangoNow wanting to search for a specific movie. To do that on my Roku, I had to exit the movie store and go to the general "search" function on the home screen. Then, if I searched for something like Mean Girls, I got results for a bunch of different services, including Amazon, Vudu, and HBO. FandangoNow was on the list, but I had to scroll a bit to find it. It just felt like FandangoNow was making things a little harder than they had to be.
On the web, searching is simpler and more intuitive: click on the search icon in the top right corner, then type in the title you want to see. I'm much more used to that type of search mechanism.
Aside from that aspect, the web and TV apps have a lot in common. Expect a lot of scrolling, because there's a lot of categories. There's a "Not on Netflix" category with titles like The Neverending Story and Sleepless in Seattle. But I didn't find a way to really filter by things like price on either the web or Roku. Luckily, FandangoNow made its own categories to highlight deals and offers under certain prices.
I also couldn't sort by quality: While I could view the Rotten Tomatoes score by highlighting a title, there was no way to search by Rotten Tomatoes score. That matters to me. Rotten Tomatoes scores are by no means perfect, but they are a quick snapshot of how critically acclaimed or reviled a certain title is.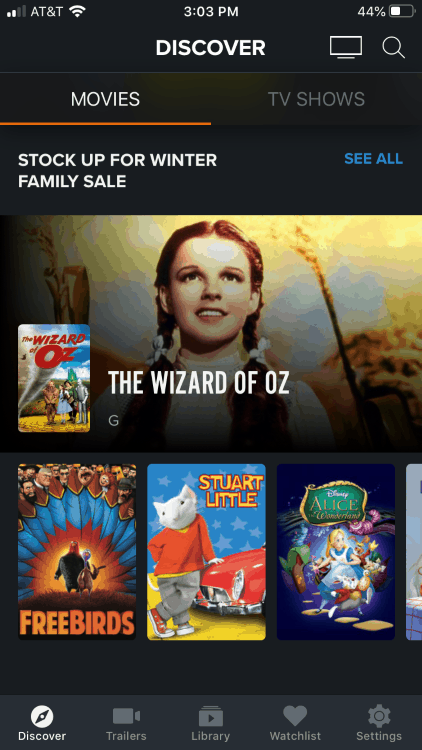 Like every other service, FandangoNow has rules about how much time you get to start watching a title once you rent in. The standard across services seems to be 30 days, and that remains true here as well. That part is well and good.
But how much time is your actual viewing window once you press "play?" On FandangoNow, it's 48 hours. That's close to the standard as well, although some competitors — like Vudu — only give you 24 hours for most titles. Part of me wishes I had 72 hours instead of 48 hours, but I have no real complaints about the 48-hour window. It meant I could watch roughly half of a title one night, then finish it the next night.
If you purchase a movie, it will show up under "My Movie Library." I also enjoyed the "My Movie Watchlist" feature. There are a few movies that I've been meaning to watch, so I added them to the watchlist to rent later. I don't know when, exactly, I'll have time to get to them, but I like knowing that they're waiting for me whenever I do!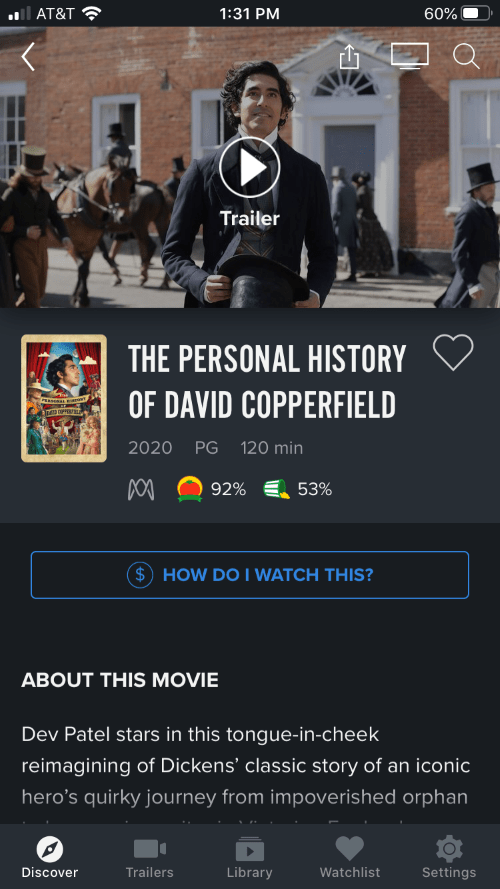 I found the iOS app pretty disappointing. The iOS app allows users to watch movies purchased through the web or another device, but there's no way to actually buy or rent a movie on an iPhone or iPad device. That's a pretty big problem, since buying and renting movies and TV shows is the whole point of FandangoNow! Fortunately, Android users don't have this same problem.
One other thing: I saw something called FandangoVIP and initially assumed it was some sort of upgraded FandangoNow service, kind of like how the Peacock streaming service has both free and premium tiers. But that's not it. Instead, it's simply a way to merge your Fandango and FandangoNow accounts. I had forgotten I had a Fandango account, but I did, and merging it with my FandangoNow account didn't take long. I did have to click the reset password link, but hey, that's why it's there.
FandangoNow Features and Streaming Quality
If you've got a 4K Ultra HD TV, you'll be happy to know that there are loads of 4K movies available to rent and purchase on FandangoNow. I would love to get more specific than that, but FandangoNow doesn't give an exact number. Instead, its help page promises its "massive collection" includes both "the latest releases and all-time favorites." My impression was that the selection was pretty robust — it seemed at least as extensive as the best 4K libraries the competition can offer.
But I'd argue that 4K support is not even the coolest thing about FandangoNow. If you've ever wished you could sync up your movie collection and watch everything on one app, good news: You can do exactly that with something called Movies Anywhere. It allows you to sync purchases from Amazon Prime Video, iTunes, Vudu, Google Play, and Microsoft Movies & TV. So if you bought Emma on FandangoNow and Pride and Prejudice on Vudu, you can now have a Jane Austen double feature without switching from one app to the other.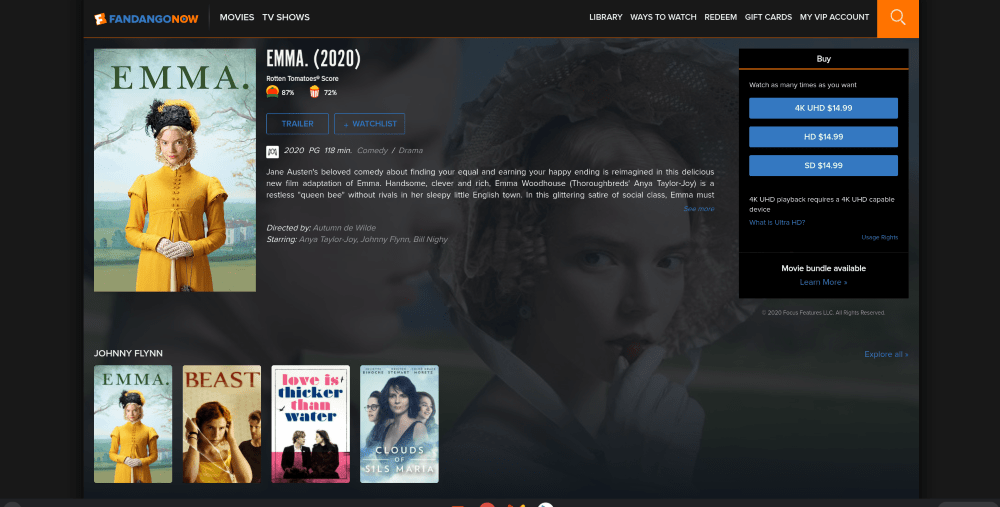 There are some caveats, though. Movies Anywhere only works with movies you purchase, not with movies you rent. It also won't work with any purchased TV shows. Additionally, only some studios are allowing their films to be included in Movies Anywhere. Sony Pictures, Walt Disney, and Warner Bros. are some of the participating studios. Paramount and Lionsgate are two studios that aren't participating, though that could change in the future.
FandangoNow Platform Support
FandangoNow has darn good platform support. For starters, it's compatible with a ton of Smart TVs: Samsung, LG, Vizio, HiSense, AndroidTV, Sony, Roku, and Vewd.
Streaming devices that work with FandangoNow are Fire TV, Roku, Apple TV, Chromecast, Portal TV, Nvidia, Xiamoi, and Xfinity Flex.
For video game consoles, you've got Xbox One. Other services are compatible with Playstation consoles, but that's not the case with FandangoNow.
Watching on a web browser? Try Chrome, Firefox, Safari, Edge, or Internet Explorer. HD streaming only works on Chrome and Firefox, though FandangoNow says it's "actively working" to get HD going for Safari and Edge.
For phones and tablets, FandangoNow works with Android, iOS, and Oculus.
I tested FandangoNow with Roku, iOS, Android, and the Chrome browser.
FandangoNow Value
Vudu doesn't cost you anything in monthly subscription fees. Instead, you pay for titles as you rent or purchase them. The most expensive purchases tend to be in the "Movies Direct From Theaters" category. There, I found movies for purchase as high as $19.99, though some were $14.99 or $12.99 instead. For rentals, expect to pay $5.99 or $6.99 for newer titles. Older ones are more likely to be $2.99 or $3.99. That's in line with what you can find on other services
Some titles charge the same price for HD and SD. In other cases, HD or 4KUltra HD costs a dollar more than SD. As mentioned previously, there's no ad-supported content on FandangoNow.
For TV shows, expect to pay $1.99 per episode. The price of a full season depends in part on the number of episodes, but you'll pay more for seasons that are currently airing. Otherwise, some shows are as cheap as $15 or $20 per season, while others cost more than $30.
All in all, FandangoNow's prices look pretty good to me. They're in line with the competition's pricing, and the constant sales sweeten the deal.
FandangoNow Review: Our Verdict
FandangoNow earns points for both its large catalog of 4K Ultra HD titles and its Movies Anywhere service. One of the trickiest things about these movie services is the question of library integration, and FandangoNow makes that easier by being part of Movies Anywhere.
I'm a little torn about FandangoNow's benefits for Roku users. It's conveniently built-in, but it's almost too integrated: Its only search function is Roku's app-agnostic general search feature. There were many categories within the FandangoNow menus, so if you like having a lot to explore, you might not mind the experience (personally, I found it only compounded the frustration when I had a specific movie in mind). Having a FandangoNow account is probably a good idea for Roku users, but don't be surprised if you find yourself using a competitor's app more often than you use the built-in FandangoNow menus.
Despite some drawbacks, I liked FandangoNow better than I liked Vudu and Redbox. It wasn't perfect, but it's a movie service that I can see myself going back to in the future. Consider FandangoNow a top-tier option for movie rentals and purchases.