MLB.TV is one of our favorite ways to stream baseball without cable, but it's not for everyone. As we noted in our (very positive) MLB.TV review, even a service this good has to have drawbacks — like the fact that you can't stream games that are on TV in your market, and that playoff games aren't included by default. Maybe downsides like this are keeping you from enjoying MLB.TV, or maybe your favorite team is tanking the season. Whatever your reasons, don't sweat it: We'll show you how to cancel MLB.TV.
How to Cancel MLB.TV
Before we dive into our simple step-by-step process for canceling MLB.TV, a word of warning. Like most streaming services, MLB.TV avoids long-term contracts and allows customers to cancel at any time. Cancellations take effect at the end of the current billing period. In other words, you'll never be billed again after you cancel — but you also won't get a refund for any unused days, weeks, or months of your current billing period. This is an important thing to know about services that offer annual billing, as MLB.TV does. If you pay for MLB.TV by the month, you'll save money by canceling. But if you've already paid for the whole season, that money is gone; the most you can do is call off the next season's subscription. There are some exceptions, and you may want to try your luck with customer service, but the general rule of thumb is that you shouldn't expect any kind of partial refund.
MLB.TV auto-renews during the offseason, near the start of Spring Training. If you're an annual subscriber, you may want to take a moment at the close of each regular season to consider whether you want to keep your subscription.
One more thing before we get started: If you signed up for MLB.TV through another service, such as Amazon Channels, you should expect to have to cancel through that service. Our instructions are for canceling with MLB. If you're confused, you can call the MLB.TV customer service line or contact them by email.
With that out of the way, let's get started! Here's how to cancel MLB.TV.
Step 1: Log into your MLB.TV account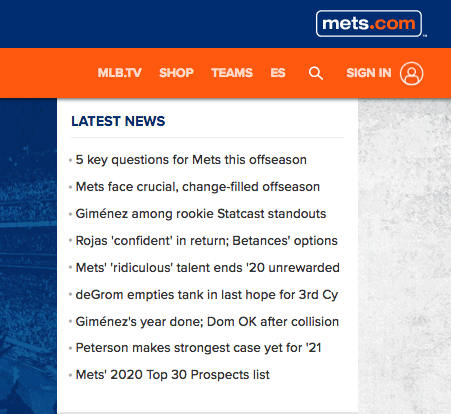 MLB.TV is run by Major League Baseball. If you subscribe to the service directly, then you subscribe through an MLB account — the same MLB account that you might use to subscribe to an MLB team's fan club or buy things in the official MLB store.
So go ahead and load up any page on MLB.com, then use the button in the top right to sign in. You can do this on any MLB.com page, whether it's the MLB TV home page or your favorite team's website (all the team sites are under the MLB.com domain).
Step 2: Select "Manage Subscriptions"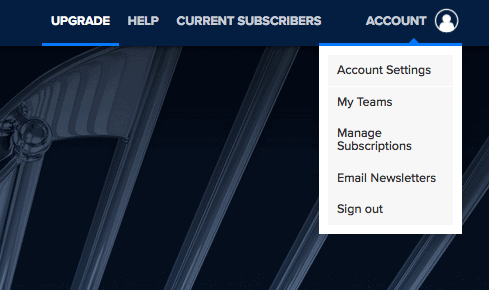 Once you're logged in, you should be able to access a little drop-down menu in the top right of the webpage. It will be labeled "Account," and one of the drop-down options will read "Manage Subscriptions."
Go ahead and click on that "Manage Subscriptions" option.
Step 3: Find Your MLB.TV Subscription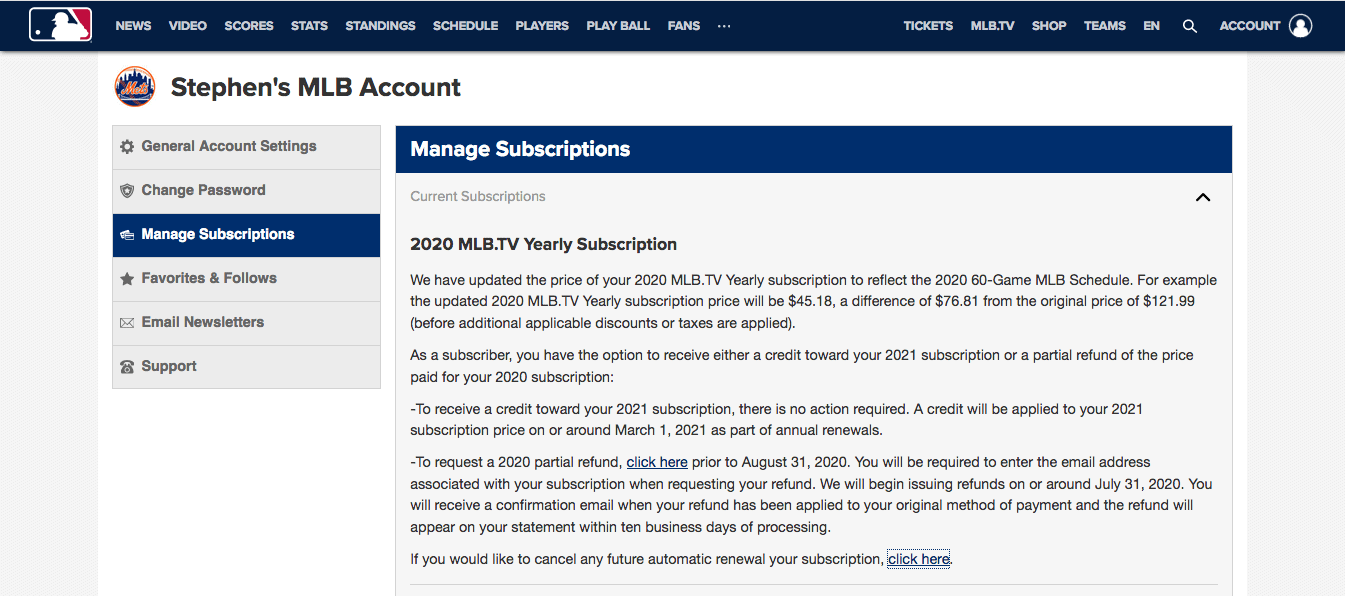 This part shouldn't be too tough. Your MLB.TV subscription might not be visible right away, but if you click on the section that says "Current Subscriptions," it should expand to show all of your current subscriptions — including any active MLB.TV subscription.
Step 4: Cancel MLB.TV
Under your MLB.TV subscription, you should see an option to cancel (it may read "cancel automatic renewal"). This will end your subscription once the current season is over.
Step 5: Confirm Cancellation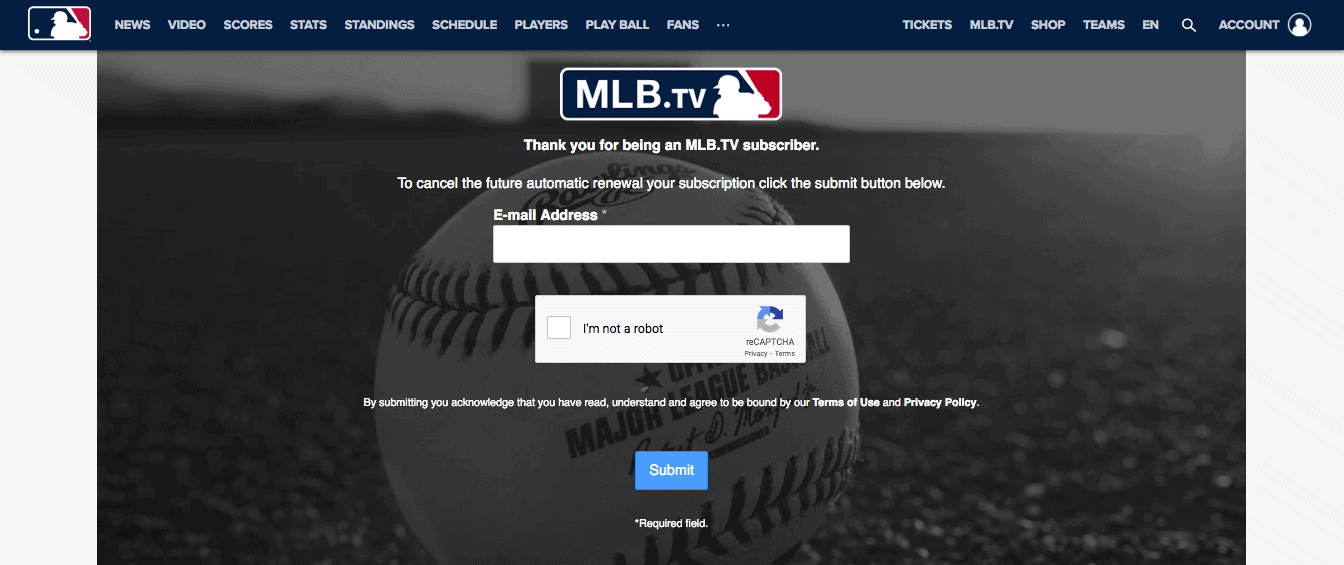 Click on the cancel button, and you should be sent to a screen that asks you to confirm your choice. You'll have to enter your email address (the one you use for your MLB account, of course), pass one of those tests where you have to prove you're not a robot, and then hit "Submit."
And that's it! You're all set.
So You Decided to Cancel MLB.TV — What Should You Try Next?
If you didn't like MLB.TV, that's okay. You have other options for watching baseball without cable.
Maybe you were bummed out by the lack of local broadcasts on MLB.TV. The service blacks out broadcasts in their local markets, which can make it tough when the local home team is your favorite. Is there any way around this? Not technically (though some streamings break MLB.TV's terms of service by using a VPN — we don't recommend this, though we do recommend using a VPN for other reasons, like privacy and security).
But the good news is that there are other ways to watch your home team. If you're looking to watch a regional sports network like YES without cable, then you should check out the live TV streaming services that include RSNs. Some of your options include Hulu + Live TV, fuboTV, and Sling TV (RSNs vary from market to market, so check out these services' websites or test them with a free trial to make sure your particular favorite RSN is covered)
If you're just not a huge baseball fan, you've got other options. NBA League Pass and NHL.TV are the basketball and hockey equivalents of MLB.TV, respectively. We're fans of both of those services, just as we are of MLB.TV. Have fun, sports fans!