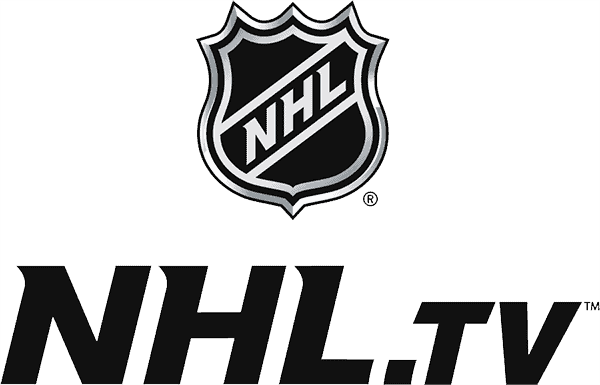 Streaming Video on NHL.TV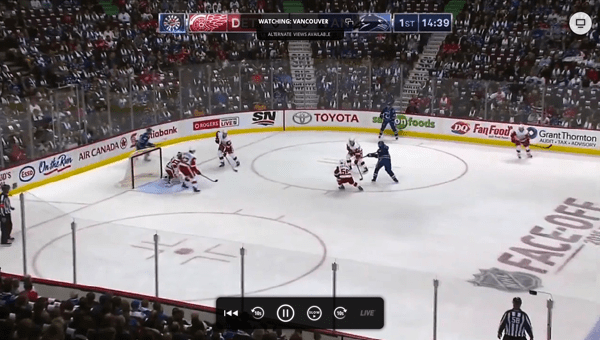 NHL.TV's video offerings are pretty robust. Users get the option of streaming either the home or away broadcast for each game, of course, but they also get additional angles: the service also offers in-goal cameras, which is a cool feature that sets it apart from some other sports streaming services. Audio-only feeds are usually (though not always) also available. One note: NHL.TV won't let you pair the TV video with the radio audio, which is a shame.
As with other streaming services, you'll be able to re-play games from earlier in the season. You can also re-play games from past seasons, though that feature isn't available on mobile devices (more on that in a moment). On replays, you get convenient little markers on the progress bar. Those indicate highlights that you may want to skip to (see screenshot above). It's a nice touch.
Of course, NHL.TV shares the common issue of pretty much all streaming services: blackouts. You'll be blacked out if the game is televised in your local market (the NHL does, at least, have a useful online tool to help you figure out which teams' games won't be available to you). You'll also find games blacked out if they're nationally televised on any network. That's annoying enough when it's NBC Sports, but it's particularly galling that the NHL blacks out the games that they broadcast on NHL Network. TV deals are a great revenue source for the NHL's teams, so a blackout of local games to benefit local cable channels at least makes logical sense, but why should the NHL's streaming service black out games that air on the NHL's own channel?
Perks
We already mentioned the inclusion of goalie cams and the lack of radio broadcast overlay, but we'd be remiss if we didn't mention one really cool feature of NHL.TV: NHL Vault. As the name suggests, this is a collection of classic NHL games that you can stream on-demand as a part of your NHL.TV subscription. You can also get NHL Vault through a separate subscription without buying NHL.TV.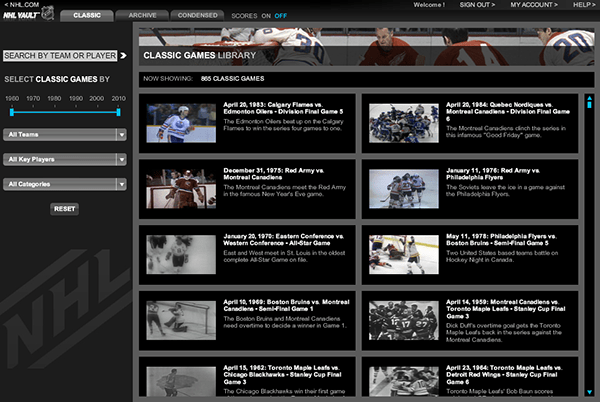 The selection isn't mind-blowing, and there are a few games excluded that will have fans scratching their heads (for instance, Penguins fans will find several games from the 2009 Stanley Cup Finals, but not the decisive Game 7). Quality on these games is also a little questionable, but that's understandable – they're old games, after all. The commercials and stoppages are cut out, so the games flow quickly. It's not by any means a perfect classics collection, but it's a cool perk that some other league packages don't offer.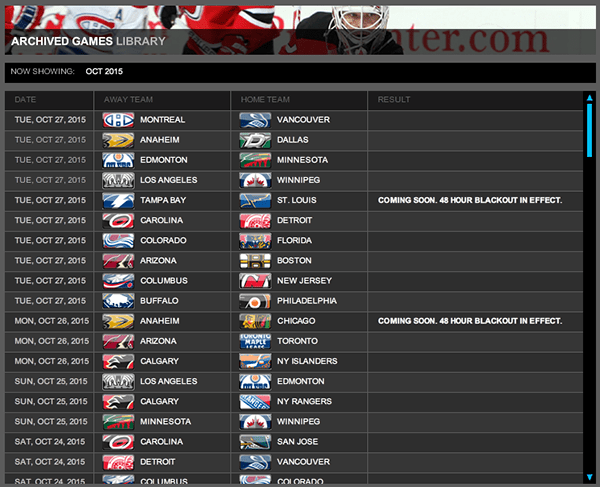 NHL Vault's dedicated site also includes every regular-season game from recent past seasons. That collection goes back to the 2009-10 season, and it's pretty cool.
The downside to these NHL Vault features is that they're not available on mobile devices. You can only watch NHL Vault on your computer or through non-mobile apps (like the one for Xbox).
Devices
NHL.TV works on a fairly robust selection of devices. It's pretty effective and easy to use on all of them. There are a few more quirks than with MLB.tv, which remains the best of the sports streaming services, but none of NHL.TV's quirks will ruin your experience.
The NHL's mobile app supports Chromecast, which is nice, though it's not done quite so crisply as one might hope. Casting a game to your television takes a series of taps. Apparently NHL.TV really wants to make super-duper sure that you really want to cast their content: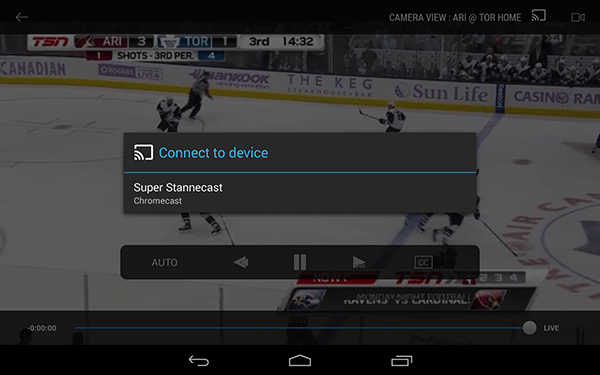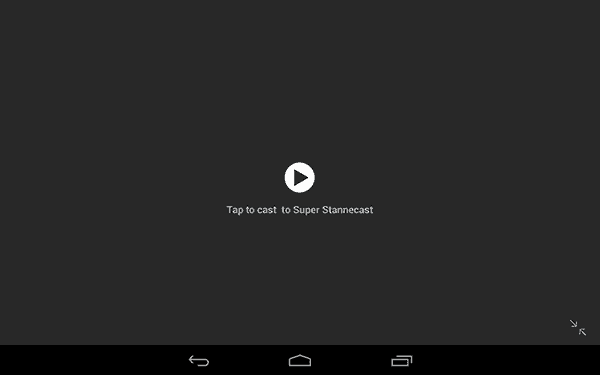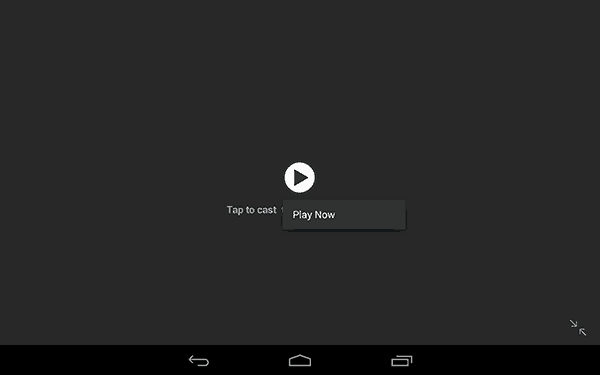 The most obnoxious thing we found when using Chromecast to view NHL.TV was that when we changed the feed (that is, to a different broadcast or camera angle), nothing happened on our TV – it just kept playing the original one. We had to disconnect from the Chromecast (at which point the proper feed started on our tablet) and then reconnect with it in order to make the change. It's not the end of the world, but it's pretty shoddy programing for an expensive service. This problem was observed when we were using an Android tablet.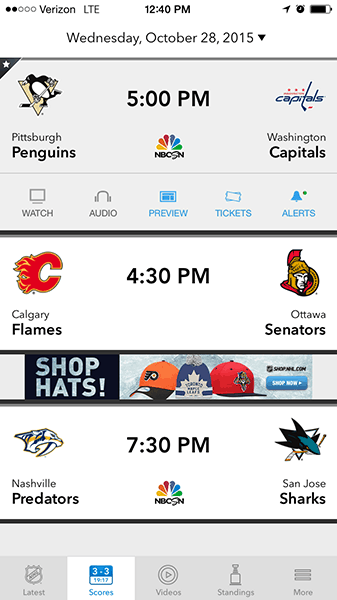 We didn't have serious trouble with any of the NHL.TV apps we tried, which included the Xbox, Android, iOS, and in-browser versions. They're all pretty simple and user-friendly, and they'll let you do the things you'd expect: choose between audio and video feeds, check scores, follow a favorite team, and so on.
Price
At $131.49 or $24.99/month, the NHL's streaming service is significantly cheaper than the NBA's or the NFL's, but still quite a bit more than the MLB's. Whether this is too much money to spend depends on how much you love your hockey, but there's no question that you'll be paying more for fewer games than fans of baseball are – even though baseball is the more popular sport of the two.
Verdict
Is NHL.TV worth $131.49? Well, it depends on how much you love hockey. But what we can tell you is that you can safely make your decision entirely about hockey: product quality isn't a concern, because NHL.TV delivers everything it says it will. It offers pretty reliable streaming across multiple platforms, a cool back-catalog of old games, and a pretty wide selection of match-ups (missing only, of course, games covered by your local and national broadcasts). Sure, we wish it was cheaper and as good as the near-flawless MLB.tv, but it's still a no-brainer for die-hards. If you're a big fan of hockey living outside your team's local market (or willing to use a VPN to illegally pretend you live elsewhere), we absolutely recommend it.