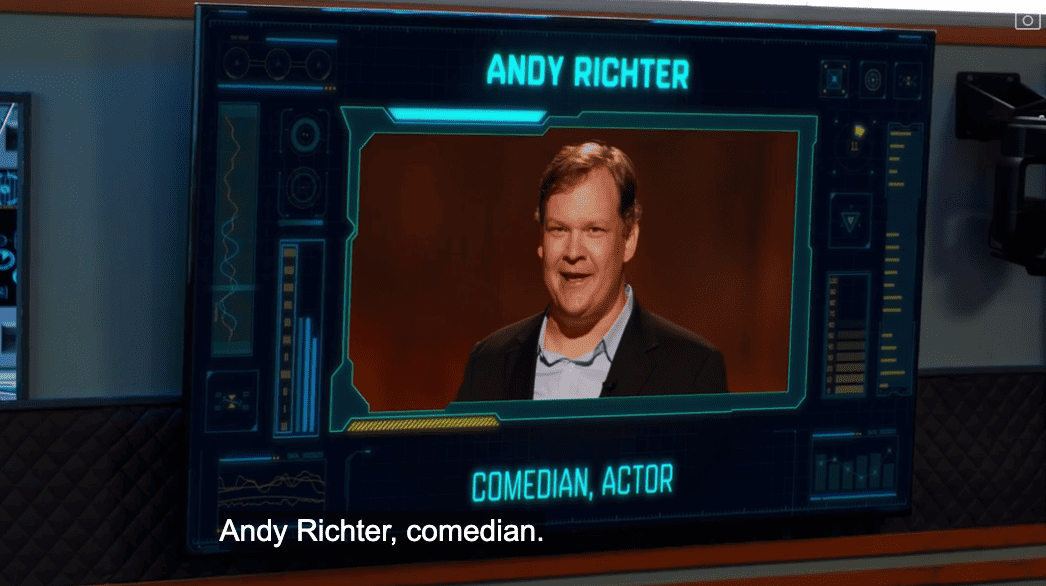 After last week's series of escalating fights, this week's episode of "Stars on Mars" felt downright friendly. But even with a well-liked base commander and a relatively drama-free ejection, this episode made some big changes to the balance of power in the hab. Let's take a look.
---
Past power rankings:
Week 1 | Week 2 | Week 3 | Week 4 | Week 5 | Week 6
---
1. Tinashe
Last week: 4 ↑
Tinashe performed well in the elimination challenge and continues to be pretty popular with her crewmates. She's been relatively neutral, though, so look for her to get a bit more aggressive with her alliances as the field dwindles.
2. Porsha Williams Guobadia
Last week: 1 ↓
Last week, Porsha seemed to be considering throwing her lot in with the hab's alliance of ex-athletes. That door may have just slammed shut, though: This week saw the voluntary departure of the best-liked and arguably most powerful member of the jock caucus, Ronda Rousey. Without their most diplomatic member, the jocks are left with only the three cruelest members of the crew, and it's starting to look like the Adam-Ariel alliance will have the support it needs to boot the bullies. At this point, teaming up with Marshawn Lynch and Lance Armstrong would be awfully risky for Porsha.
3. Andy Richter
Last week: 7 ↑
Still a fresh face in the hab, Richter is already very popular. He won the role of base commander in this episode, and appeared to adopt the anti-jock caucus as his home team. He selected Adam Rippon as his mission specialist and then managed to do what neither Ariel nor Adam could pull off during their own reigns as commander: He got a jock sent home.
4. Adam Rippon
Last week: 9 ↑
Adam locked down the role of mission commander in Episode7, but appeared to be at risk of elimination anyway, thanks to the unique nature of this week's emergency challenge. Adam still isn't showing much of a killer instinct, but he's well-liked and has managed to lock down protected roles pretty frequently.
5. Paul Pierce
Last week: 3 ↓
Paul became a full member of Team Jock just in time to watch the group fall apart. The one bright spot for Paul Pierce: He seems to have at least a little bit of a bond with some of the other new arrivals, which might allow him to jump ship to a more viable alliance before the jocks go down in flames.
6. Ariel Winter
Last week: 10 ↑
Ariel had a relatively quiet Episode 7. It will be interesting to see how Ariel is impacted by the departure of Ronda Rousey, who was friendly with Ariel's archenemies Lance and Marshawn, but who also seemed to be the only jock with a soft spot for Ariel.
7. Marshawn Lynch
Last week: 5 ↓
Like Lance, Marshawn had a relatively drama-free episode but will, nevertheless, enter Episode 8 in a seriously weakened position. Marshawn and Lance are basically a two-man team now, and they've lost the only member of their crew that anyone seemed to particularly like.
8. Lance Armstrong
Last week: 6 ↓
Lance was remarkably well-behaved in Episode 7. Unfortunately for him, no good deed goes unpunished: Lance's position is considerably weaker now that known Lance fan Ronda Rousey has voluntarily left the hab. It'll take more than one episode of good behavior to save Lance from the angry masses now that the jock caucus is definitively in the minority.
9. Cat Cora
Last week: 8 ↓
Cat Cora's only contribution to this week's challenge was to slip and fall face-first into the fake Martian dirt. Nevertheless, she was absolutely livid to find herself in the bottom three. Having escaped elimination, she seems determined to start a feud with the well-liked Andy Richter. That seems likely to backfire, but this writer would like to applaud Cat for her courage. This show needs more feuds.
---
Eliminated: Ronda Rousey (Episode 7)
Last week: 2
Despite having a very strong position as the best-liked member of the still-powerful jock clique, Ronda volunteered to go home in Episode 7. It was the most disruptive self-ejection yet.
Eliminated: Ashley Iaconetti (Episode 6)
Last week: N/A
Ashley Iaconetti arrived in Episode 5 and was promptly ushered out in Episode 6. Not much happened with her in between.
Eliminated: Tom Schwartz (Episode 4)
Last week: N/A
Tom was one of two people kicked out of the hab in Episode Four's surprise double-elimination (the other was Natasha Leggero). Tom's ejection seemed to have more to do with accumulation of bottom-three performances than it did with any specific mistakes he made in his final episode.
Eliminated: Natasha Leggero (Episode 4)
Last week: N/A
Like Richard Sherman the week before, Natasha actually requested to be sent home. The difference in her case was that she was absolutely getting booted off regardless.
Eliminated: Richard Sherman (Episode 3)
Last week: N/A
In easily the most shocking moment of the show so far, Richard Sherman effectively quit during the elimination phase of Episode Three. Technically in the bottom three but in no real danger of elimination, thanks to Marshawn's antics and Natasha's incompetence, Sherman declined to mount a defense. Instead he gave a short speech volunteering to be sent home. Base commander Tinashe obliged.
Eliminated: Tallulah Willis (Episode 2)
Last week: N/A
Tallulah managed to win the base commander job in Episode Two, only to meet with failure in the emergency challenge. The team's flop made Tallulah eligible for elimination, and mission specialist Natasha Leggero sent Willis packing.
Eliminated: Christopher Mintz-Plasse (Episode 1)
Last week: N/A
Poor McLovin was booted in the series premiere. Things move fast on Mars, and Mintz-Plasse just couldn't get out of the gate cleanly.