When the cord cutting trend began, it meant living with on-demand options: cable and satellite were still pretty much your only legal paths to live TV. The rise of the skinny bundle has changed that, and has sparked a gold rush in a business space that didn't exist just a few years ago. The latest skinny bundle on the scene is Philo. How does it measure up? Here's our complete Philo review, including everything you need to know about the channels it offers, the features that set it apart, and the price you'll pay if you sign up – plus, of course, my advice on whether or not you should!
Philo Review
User Experience
To start your free trial with Philo, you don't need any credit card information. That's great! The less great part is this: they need your phone number.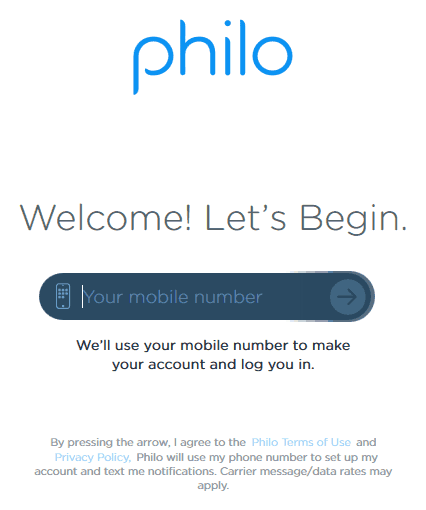 In Philo's FAQs, they explain that they need the number "solely to identify you and start a 7-day trial watching Philo without a credit card or other information (we will ask you later for payment information)." But there's no way that I saw to just give them the credit card information instead of the phone number. The phone number also becomes your primary login credential, so the "identify" part of that answer seems to be the key.
At any rate, I gave Philo my number.
Once it has your number, Philo texts you a code, you enter it in your browser, and you're off to the races: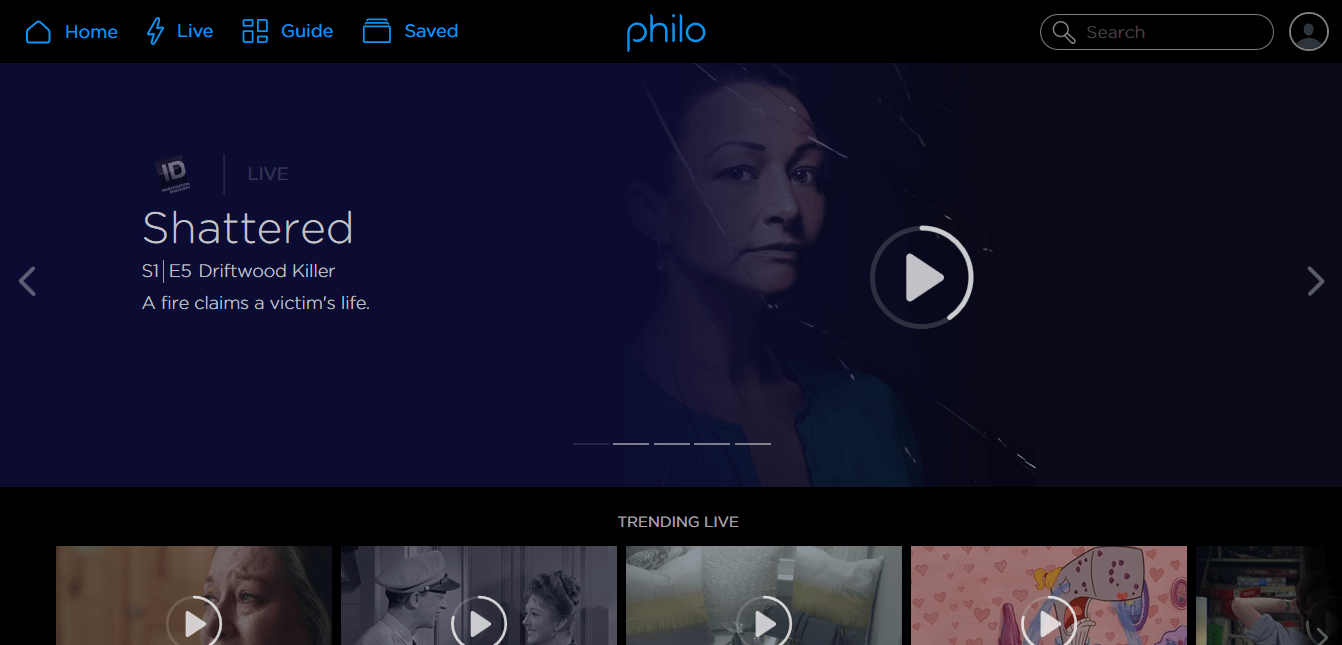 Yep, you are immediately in the web browser after entering the code. I was impressed with the simplicity – though, of course, you'll have to enter your credit card information eventually.
The web app is simple and pretty good. You can click over to "Live" and get a tiled menu of the channel selection, and you can click to the "Guide" tab and get everything laid out in the familiar cable-guide manner – and, frankly, those are the only two things I ever really want from a skinny bundle UI.
When you click on something to watch, Philo starts streaming it and automatically snaps to full screen, while helpfully reminding you via temporary pop-up that you can hit escape to get out of it. I wish it had been easier to channel surf, but the web app gets good marks from me.
But what about mobile? Well, Philo had texted me to say hi at this point, so I clicked the link in the text on my mobile device and logged in with my phone number again. Another text-code verification – Philo seems to use these in place of a password – and I was in, at which point I was able to click a link over to the app in the iOS app store, download it, and log in with my phone number (again) and a text verification code (again). I was able to pick up watching The Cheerleader Murders on Lifetime right where I left off, which was great, because I didn't want to lose track of the very complicated plot.
The mobile app – which is available for Android as well as iOS – looks a lot like the in-browser one, which is nice. The Roku channel looks the same, too. I liked them all, and they were all pretty much the same.
Philo has a DVR feature and lets you save favorites. Those features stack up nicely against the competition's.
All in all, Philo's user experience is where the service most shines. If you've got something you want to watch, Philo's UI is among the best ways to watch it on a skinny bundle – it's arguably the best interface, depending on how much you care about channel surfing. But, of course, for you to end up watching something on Philo, Philo would have to have something you want to watch – and this is where we hit a snag.
Content
Philo offers two basic packages: a 37-channel package ($16/month) and a 46-channel package ($20/month). Here are the Philo channels, as presented by Philo's website as of this writing: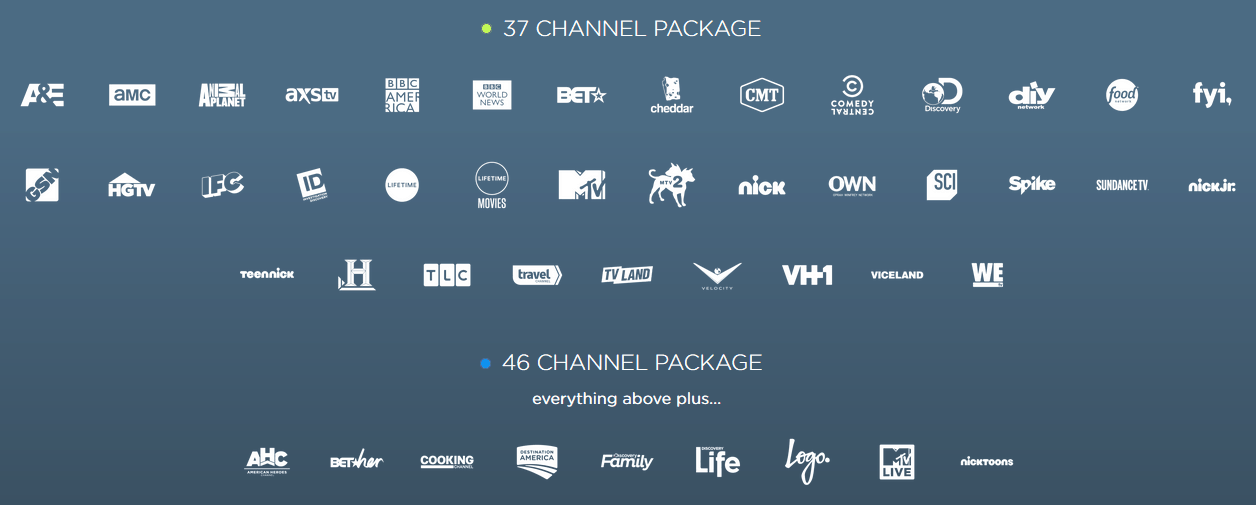 A few things jump out about this content right away. Philo is missing the four major networks, even as its many competitors are adding more local feeds and filling gaps in their major network coverage. Philo is also heavily reliant on Viacom networks: Comedy Central, MTV, Nick Jr., VH1, and some of the other big-name channels above are all Viacom-owned. This is interesting in part because Viacom has had its share of difficulties in dealing with competitor skinny bundles.
Philo has a ton of content for the price, but its bundles have some very big gaps. Disney's properties are nowhere to be found here. Neither are Fox's. The apparent lack of deals with Disney and Fox explains absence of two of the major networks (Disney-owned ABC and Fox-owned, uh, Fox) and it's also a big blow to the service's sports coverage (Disney-owned ESPN and Fox-owned FS1, along with their respective related networks, are MIA here). Fans of movies and shows lose a lot, too (Disney owns Freeform, and Fox owns FX and its related networks).
In the end, Philo feels very limited in terms of content. Hope you like Viacom networks!
Streaming Quality
Like most skinny bundles, Philo tops out at 1080p. It streams reliably and smoothly, though, on all the devices I tried (web, iOS, and Roku). Loading times were short, and HD video snapped in within seconds. On both Wi-Fi and wired connections, and on each of the mobile app, in-browser app, and Roku channel, I was quite impressed with Philo's streaming quality.
Platforms
Philo is a newcomer to the skinny bundle scene at the time of this writing, and it feels like it. Philo is available on only one major streaming box: Roku. It works on Android and iOS mobile devices, and it has a web app that works in browsers on both PC and Mac. For now, at least, Fire TV, Apple TV, Android TV, and Chromecast users are out of luck.
Price
Whatever else can be said about Philo (and I've said a lot of it), it's really cheap. Philo's pricier package ($20/month for 46 channels) is as cheap as the cheapest major skinny bundle on the market right now (Sling TV's Sling Orange). The even cheaper $16/month 37-channel deal is an incredibly cost-effective path to live TV, and as of this writing it's the lowest price available on any respectable live TV streaming service.
You can check out Philo for free for a week. Unlike other free trials, Philo won't even demand your credit card information right off the bat – you can get 48 hours into your trial before you have to share your billing details.
Verdict
Philo is incredibly cheap, but it's also incredibly underwhelming. It feels like a service that we would have raved about two years ago, when live TV streaming was in and of itself a new and thrilling thing to be happy with. But Philo isn't the first skinny bundle we've seen, and it's in an increasingly crowded and competitive market. We expect skinny bundles to have the major networks now, and Philo doesn't. We expect skinny bundles to have sports coverage, and Philo mostly doesn't. We expect streaming services of all kinds of have decent platform support, and while we can forgive a missing app or two near launch, the fact that Philo supports only one streaming box is too much to let slide.
It's good to have a new skinny bundle on the market. It's great to see one with such a good user experience. From where it is now, it would be easy to imagine Philo growing to add more channels and platforms, as many of its competitors have in the past. If it does, Philo seems destined to be among the best of the skinny bundles – but for now, save your money.
Please like us on Facebook to keep up to date on what's new in the world of cord cutting: