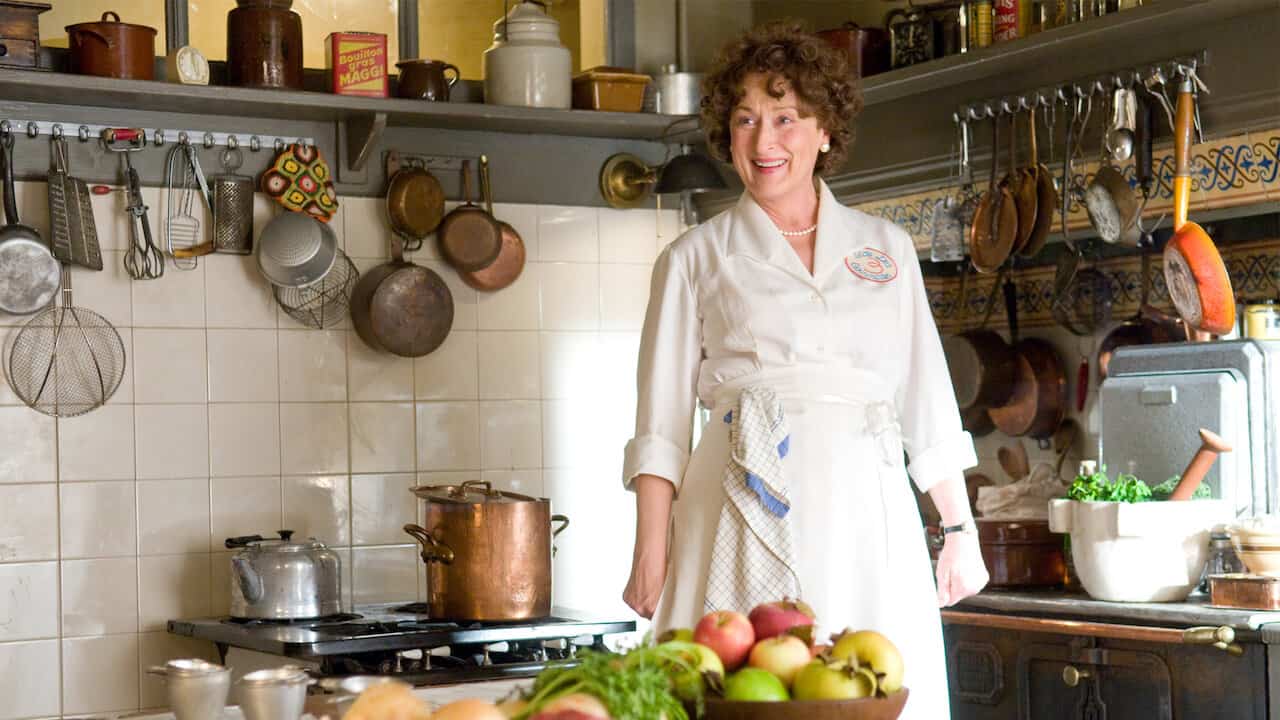 Food and film go together like wine and a charcuterie board. I'm not saying that should be your snack of choice when popcorn is easier, but there's no reason to limit your food options to just snacks while you watch a movie. Meals are more fulfilling not only in nourishing you, but also in your streaming entertainment. I've come across scenes in films that, just by watching, have made me hungry — even when they're not directly about food! Instead of watching a mukbang to satisfy your cravings, take a look at this menu of movies ranked by how much they make me want to dig in.
'Talladega Nights: The Ballad of Ricky Bobby' (2006) — Moderately Tasty

Comedy in the mid-2000s belonged to one man: Will Ferrell. After rising to fame on "SNL," Ferrell went on a mind-blowing run of instant-classic comedy movies. From "Elf" to "Anchorman" to "The Other Guys," he flexed his comedic chops as one of the funniest men on the planet. "Talladega Nights: The Ballad of Ricky Bobby" came out right in the middle of that run, and it may be Ferrell's most hilarious movie ever, as he takes the titular role of a bumbling NASCAR driver to comedic extremes.
One scene that made me chuckle is also the one that makes my mouth water: the fast-food banquet. Ricky gathers his family and best friend, Cal (frequent Ferrell collaborator John C. Reilly), for a meal that his wife, Carley (Leslie Bibb), "worked" hard on. The meal is actually just a huge collection of fast food. It's such a funny and effective scene because who among us, upon gaining the wealth of a professional athlete, wouldn't be tempted to spend it in an equally silly, excessive way? Many of us have indulged in fast food for one reason or another, so of course it looks delicious all in one place.
"Talladega Nights: The Ballad of Ricky Bobby" is available to stream on Hulu.
'Cloudy With a Chance of Meatballs' (2009) — Getting Hungrier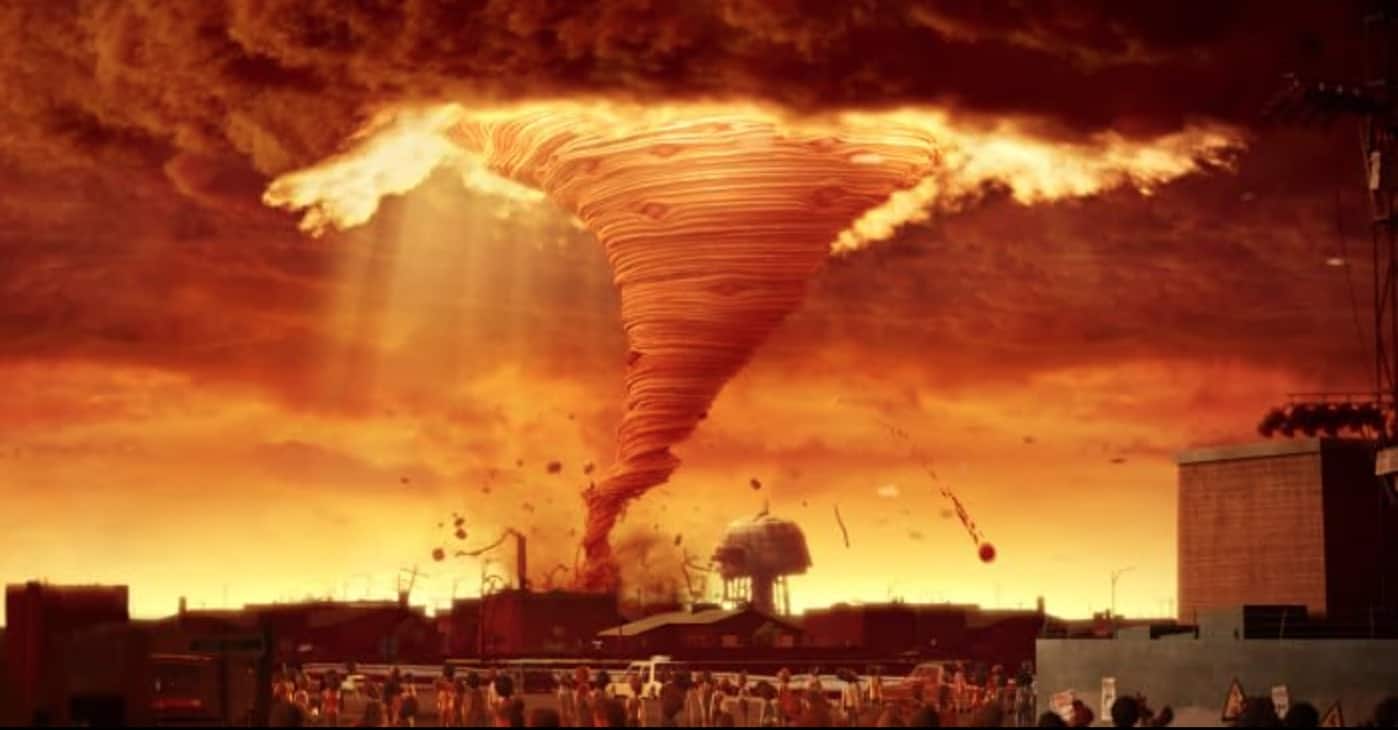 Animated films have a distinct advantage in the tasty food category. Unbound by the difficulty of making food look good on camera, animators can go wild in creating delectable-looking treats. It makes sense that "Cloudy with a Chance of Meatballs" is enough to make anyone's mouth water. Based on the children's book of the same name, the animated movie revolves around inventor Flint Lockwood (Bill Hader), who creates a machine that transforms water into food and eventually delivers a surprisingly topical look at the cost of corporate excess and greed.
Amid a bevy of food-based weather phenomena and puns, it's hard to choose just one dish. The giant Jell-o house Flint builds for his love interest, Sam (Anna Faris), is certainly impressive, but the nod has to go to the titular meatballs. Naturally, they're spawned from a giant spaghetti tornado, and spaghetti and meatballs is such a classic meal that it's hard not to be hungry even if it comes as a destructive force. Just think how many leftovers you'd have to reheat after such a storm!
"Cloudy with a Chance of Meatballs" is available to stream on Peacock.
'The Irishman' (2019) — A Go-To Snack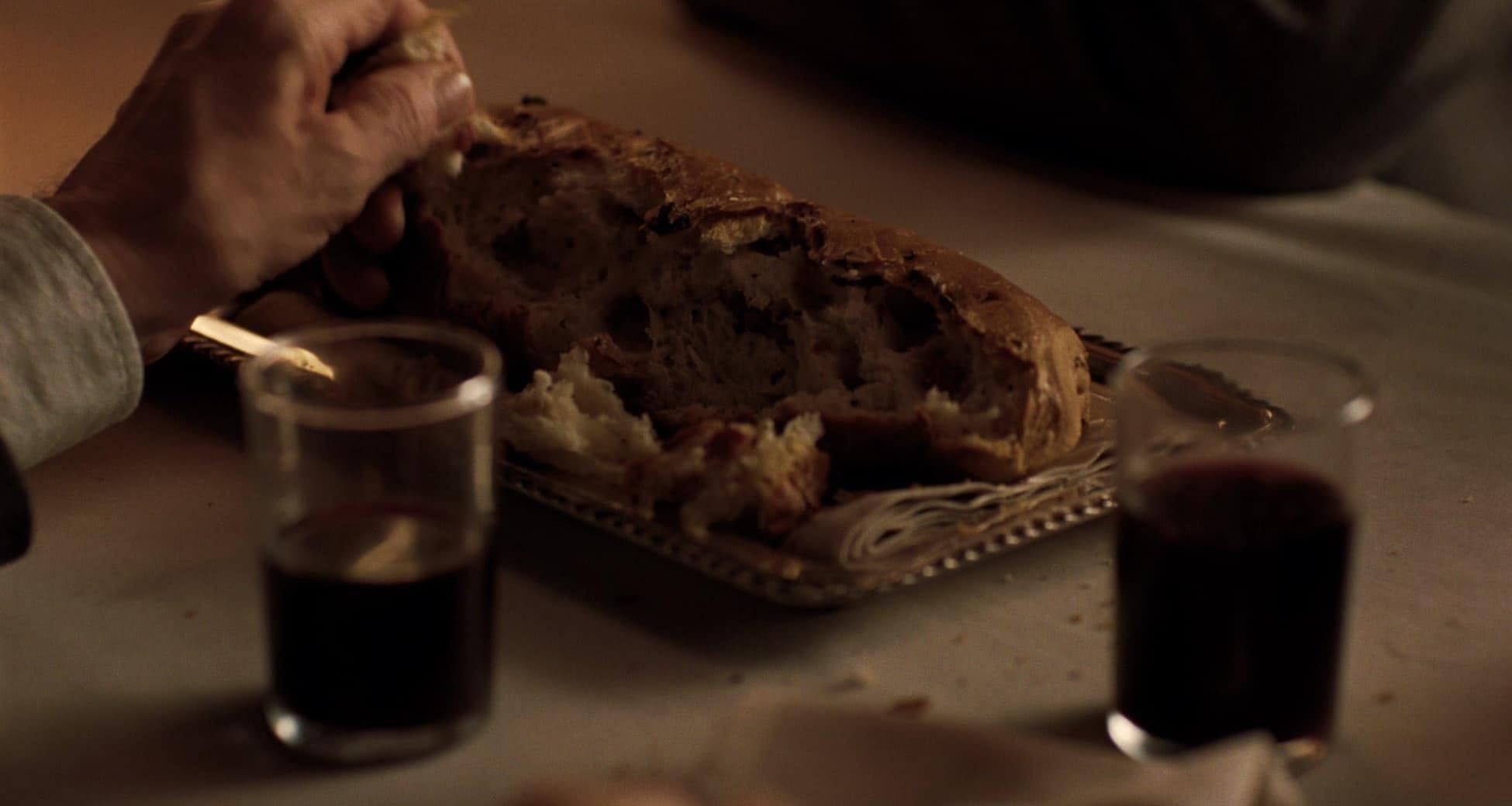 Martin Scorsese is one of the premiere filmmakers of our time. A master of his craft, he has plenty of experience showing lives full of opulence that often stems from crime and vice. The highs never last for his characters, many of whom meet gruesome, ignoble endings. This is especially true of  "The Irishman," Scorsese's three-and-a-half-hour epic following the life of Frank Sheeran (Robert De Niro) as his life intertwines with crime boss Russell Bufalino (Joe Pesci) and Teamsters head Jimmy Hoffa (Al Pacino). It's the bleakest film Scorsese has made, as it drills down on the inability of these criminals to escape old age and isolation.
The few moments of connection in "The Irishman" take place in restaurants and over food. Coney dogs appear just as the action fatefully moves toward Michigan, but the most meaningful conversations are had over the literal breaking of bread. Russell and Frank share a bond over prosciutto bread, a traditional Italian loaf with prosciutto mixed in before baking. As depicted in the film, it's served with red wine to dip it in. "The Irishman" uses its food to convey deep symbolism, adding a whole other layer to how delicious it looks.
"The Irishman" is available to stream on Netflix.
'The Matrix' (1999) — Compliments to the Chef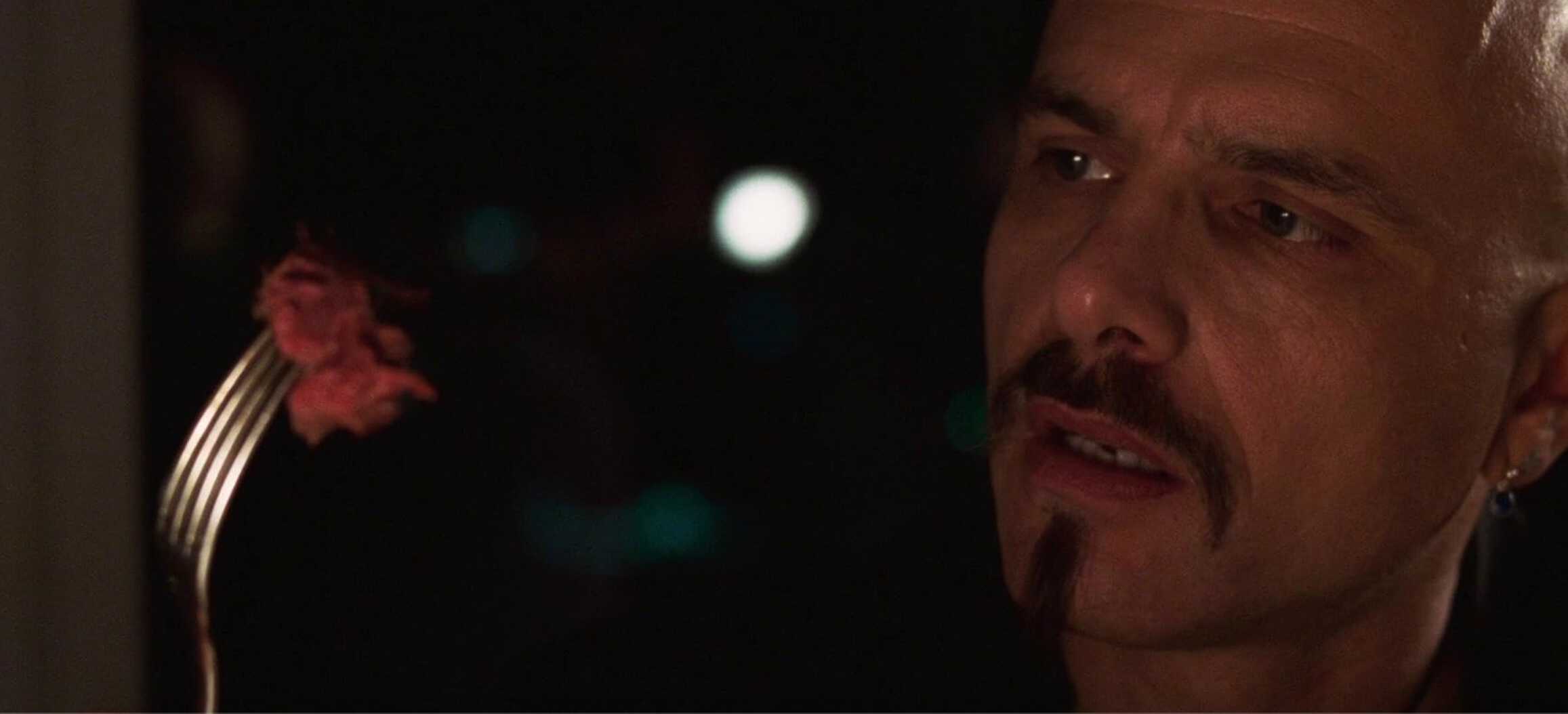 There are few action movies more influential than "The Matrix." Many of the techniques the Wachowski sisters pioneered in 1999 — from slow-motion "bullet time" to introducing more overt sci-fi and philosophical themes — have become ubiquitous in the decades since. Neo's (Keanu Reeves) journey from hacker to the Chosen One of a reality outside our own with the help of Morpheus (Laurence Fishburne) and Trinity (Carrie-Anne Moss) still blows minds today.
The food in the "real world" of "The Matrix" is nothing to rave about. It's goop that looks terrible and exists simply for nutritional value. But in a pivotal scene inside the Matrix when Cypher (Joe Pantoliano) betrays his comrades in order to live a life of comfort, he eats one of the most scrumptious steaks I've ever seen. It appears cooked to perfection and, based on Cypher's reaction, it tastes just as divine. You can almost sympathize with wanting to go back into the Matrix to eat food like that!
"The Matrix" is available to stream on Max.
'Chef' (2014) — Seconds, Please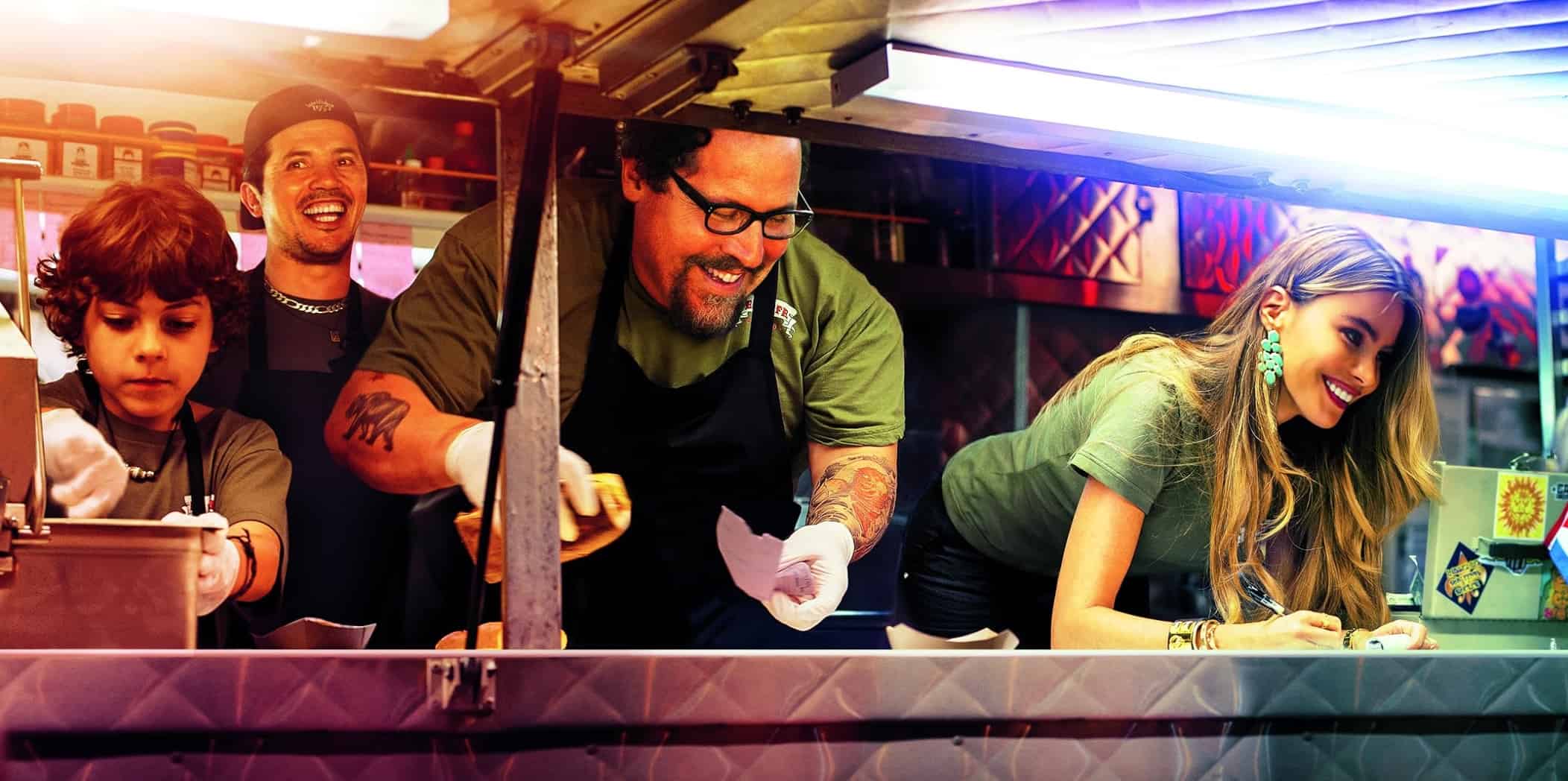 It's only natural that a movie literally named "Chef" appears on this list. Jon Favreau imbues this passion project — he wrote, directed, and starred in it — with an appreciation of food that's evident in every frame. The movie follows Carl Casper (Favreau), a prestigious chef stifled in his current role by restaurant owner Riva (Dustin Hoffman). After a series of events, including a Twitter feud (extremely relatable) and viral video, Carl takes off across the country with his son, Percy (Emjay Anthony), and line cook, Martin (John Leguizamo), to rediscover the joy and artistry of cooking.
Many dishes jump off the screen in "Chef," from simple favorites like pasta to regional delicacies such as beignets and barbecue. The most delectable of them all, though, is the Cuban sandwich Carl makes out of a food truck for his hungry followers. A king among sandwiches, the overload of salty goodness — from the ham and pickles balanced with cheese and just a bit of mustard — is unbeatable. You can tell that the Cubans Carl makes have the perfect ratio and toastiness.
"Chef" is available to stream on Hulu.
'Ratatouille' (2007) — A Signature Tasty Meal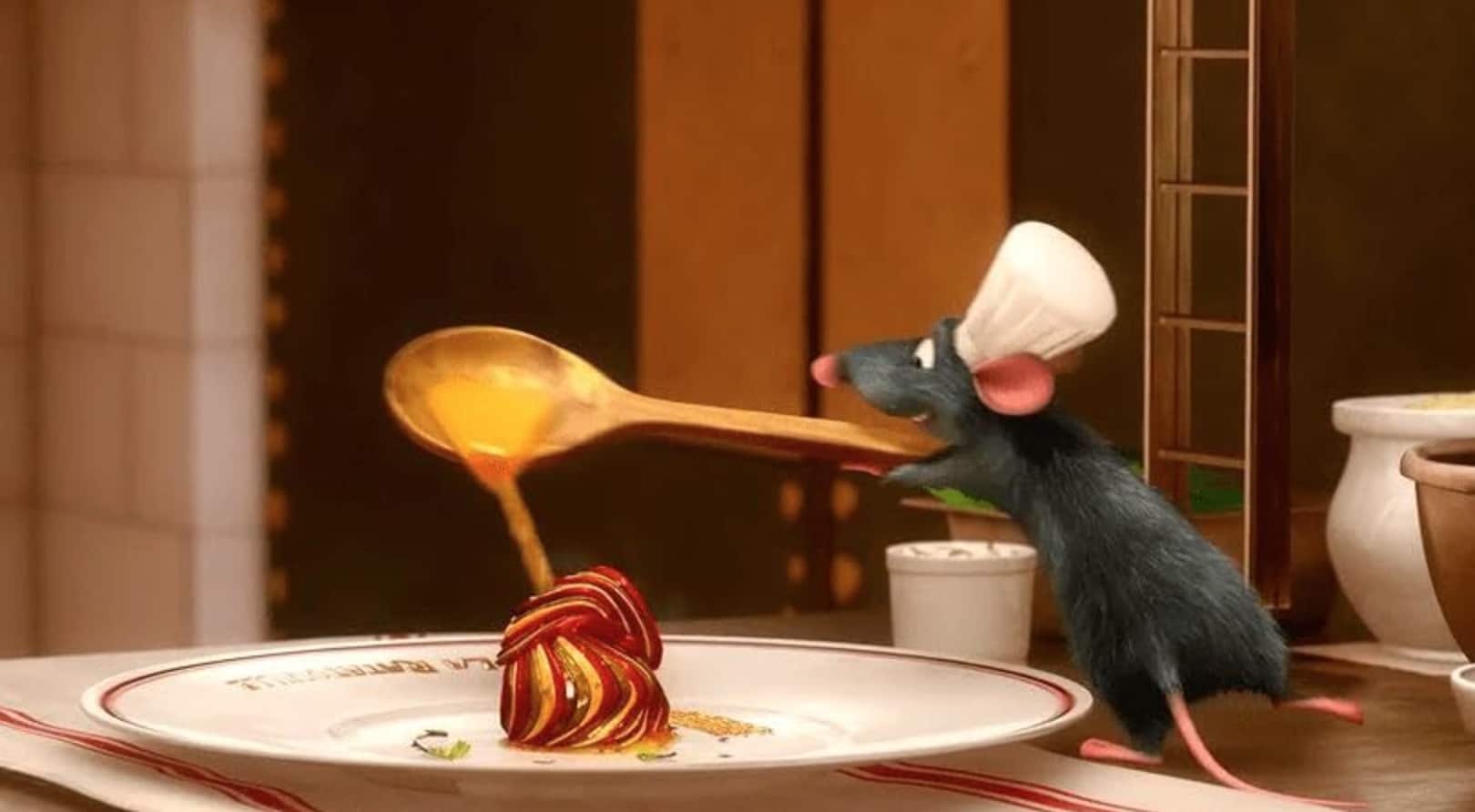 If the words "food" and "Disney" come up, "Ratatouille" is the first movie that comes to almost anyone's mind. The 2007 film from the House of Mouse is a beloved classic for a reason. The story of rat Remy (Patton Oswalt) partnering with bumbling but loveable cook Linguini (Lou Romano) to pursue his dream of becoming a chef is charming, heartfelt, and incredibly funny. And, of course, it's full of mouthwatering food!
The star is the titular dish, a hearty serving of fresh veggies served in a nourishing sauce and enhanced with fresh herbs. It's animated in painstaking detail, practically popping off the screen at viewers. As the film's food critic, Anton Ego (Peter O'Toole), notes, it serves as a reminder that food is personal for everyone, and those connections only make it taste better.
"Ratatouille" is available to stream on Disney+.
'Birds of Prey' (2020) — Mouthwatering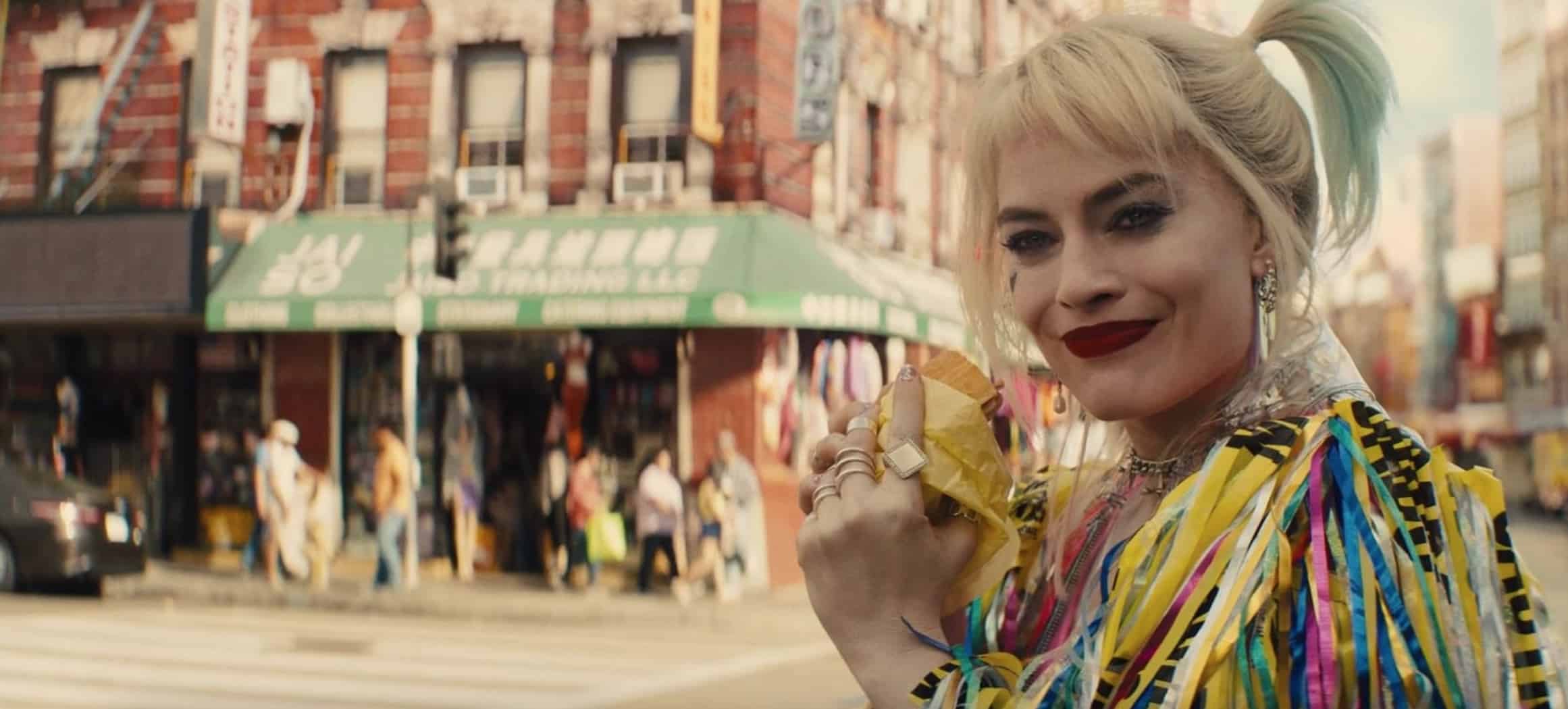 In recent years, Harley Quinn has turned into something of a secret weapon for DC. Originally just a henchman for the iconic villain the Joker, Harley has morphed into her own character known for mischievous, chaotic shenanigans and a deeper message of finding oneself after escaping a toxic relationship. She has primarily been an animated character for most of her existence, but Margot Robbie launched herself to a new level of stardom by playing the live-action iteration of Harley. Introduced in 2016's ensemble piece "Suicide Squad," Robbie's portrayal in the more Harley-centric "Birds of Prey" is the one that really shines.
As Harley works to get her life together, she gets a breakfast sandwich, which the film treats with the rapture such a food deserves. A bacon, egg, and cheese sandwich is by no means fancy, but it's the combination of three simple ingredients that elevates it to something more. Every single person can tell you about their hometown diner or deli's breakfast sandwich, which they swear is the best on the planet. Harley Quinn's breakfast sandwich and the film's loving attention serves as a spot-on stand-in for everyone's favorite breakfast sandwich.
"Birds of Prey" is available to stream on Max.
'Julie & Julia' (2009) — The Main Course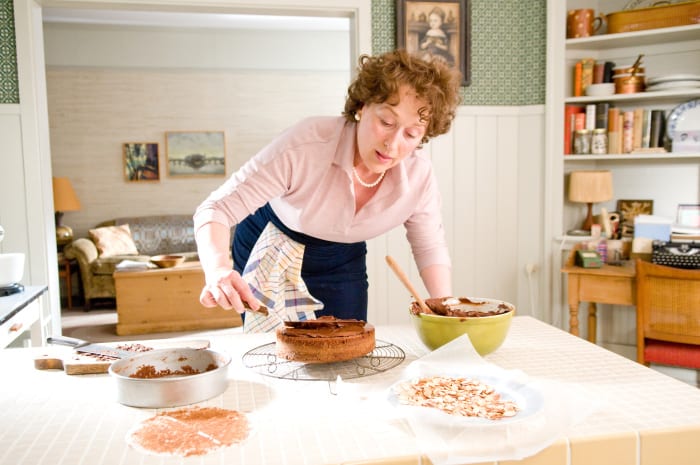 Could there be any other film to end this list? "Julie & Julia" follows two food icons from two generations. First, there's Julia Child (Meryl Streep) who revolutionized cooking television and made French cuisine accessible to the masses beginning in the 1950s. Then there's Julie Powell (Amy Adams) whose journey to cook every recipe in Child's cookbook and write about it online became one of the earliest and biggest viral blogging stories. It also holds a special place in our hearts as Nora Ephron's final film. Ephron is known for her witty dialogue and the immense amount of heart she pours into her films, and her final effort is no different.
With so many recipes packed into the movie, you can take your pick of what to eat. There are no bad choices among the numerous French dishes on display. I'm going with the lobster, a delicacy that's as labor-intensive as it is tasty. We get to see Julie struggle with boiling them (both practically and emotionally), which makes the payoff when her friends love it even better. The dish also comes with a side of braised cucumbers that are apparently quite the discovery, making it a complete course to finish with.
"Julie & Julia" is available to rent or buy on Amazon Prime Video.